Do you often encounter the following situations in digital marketing:I'm tired of making ad creatives. How to quickly create ad creatives that users are interested in?

How can I see all of my competitors' ads when their orders increase?

We are going to develop a new app. What type of app is most popular in the market?

At this time, you need advertising intelligence tools to gain market insights and get the newest ad creative. Here are two handy advertising intelligence tools, App Growing Global and ADSPY, for marketers to gain market insights. With these tools, you can search hot and new apps, ad creatives, hot copies in the market to help you build better creatives in marketing campaigns.

Let's briefly compare the background of these two ad spy tools.

App Growing Global is a global mobile marketing data analysis platform. Based on their proprietary algorithms and digital marketing technology, it tracks 20+ global traffic media in real-time. It currently covers 350 million+ creatives, updates 2 million+ creatives daily, and monitors 165,000 + Apps.

ADSPY is designed for e-commerce and advertisers. ADSPY is a classic and searchable database of Facebook and Instagram ads to discover ads you need quickly.

Next, I will compare the ad spy tools in detail. I will make a comparative analysis from the following aspects:

(1) Database: The accuracy and timeliness of advertising data directly affect the effectiveness of advertising monitoring.

(2) Search and filter: It gives users a good product experience.

(3) Price: Use money where it is needed most.
Database
These two tools are equipped with advanced intelligent technology to ensure a powerful database. I tried it out, and the data of the two advertising spy tools are accurate and consistent with the actual situation. But their core functions will be somewhat different. ADSPY only collects two media data, Facebook and Instagram. App Growing Global covers 20+ main and emerging media. In addition, the mobile game advertising intelligence function is very powerful. General advertising spy tools can only see advertising creatives. App Growing Global can also see APP rankings. Click on the TOP APPS on the left side of the tool. See the current most popular apps and also support filtering regions and devices
App Growing Global
ADSPY
Ads volume
Over 200 million
114.8 million
Catagory
Game

App

Website

Social Account

Advertiser Name

Brand

Website

Media
Social Media

Facebook, Instagram, YouTube, Twitter, Pinterest, TikTok(Beta), Messager

Ad Network

Facebook(FAN), Admob, Unity Ads, Mintegral(Beta), Vungle, Applovin, Adcolony, ironsource,Chartboost

Local Media

Line Japan, yahoo_japan, SmartNews Japan, TopBuzz Japan

Facebook

Instagram

Coverage
Global coverage
Global coverage
Language supported
Chinese

English

English

Search and filter
Both tools have more than a dozen search and filter options to suit a variety of use cases, such as:
Enter a URL to see all of your competitors' ads.
Enter your app name to see ranking changes and understand the effectiveness of your marketing campaigns.
Filter countries to see which ad creatives local users prefer.
Filter time/interaction indicators to see the characteristics of popular creatives.
The highlight of ADSPY is that you can filter by age and gender to view competitor ideas for a specified age and gender.
The highlight of App Growing Global is that each item has reasonable classification settings. For example, when selecting multiple countries, you can select all with one click or by region, and you do not need to select countries one by one.
App Growing Global
ADSPY
Keyword Search
√
√
Search options
Game

Application

Website

Social Account

Copywriting

App ID

Comments,Advertiser Name,URL,Landing Page URL,Landing Page Text
Game catagory
√
×
Game Tags
√
×
Media
√ (facebook, instagram, etc. 20 kinds of media)
√ (facebook, instagram)
Start date
√
√
End date
√
√
Active days
√
×
Country
√
√
Call to action button
√
√
Languages
√
√
Platforms
√
√
Ad format
√
√
Creative type
√
√
Video duration
√
×
Dynamic ads
√
×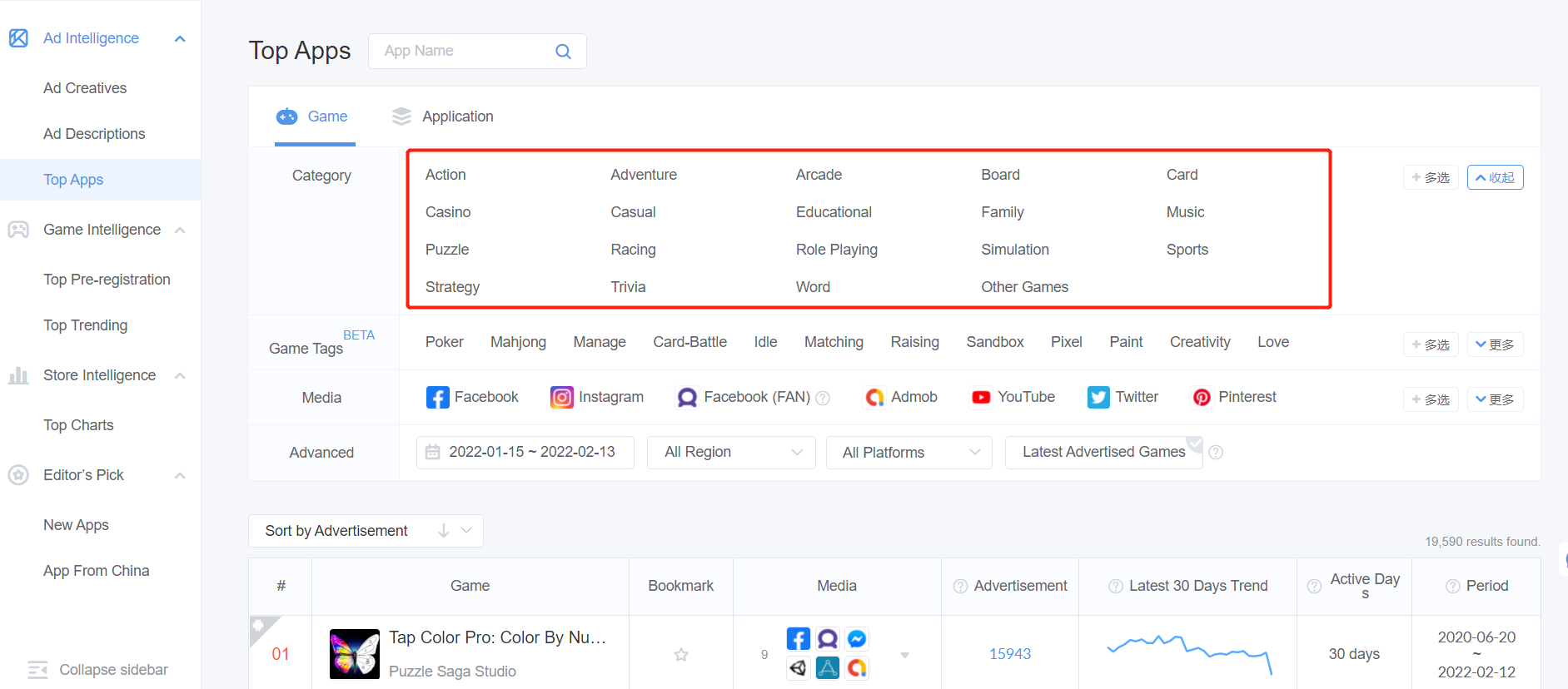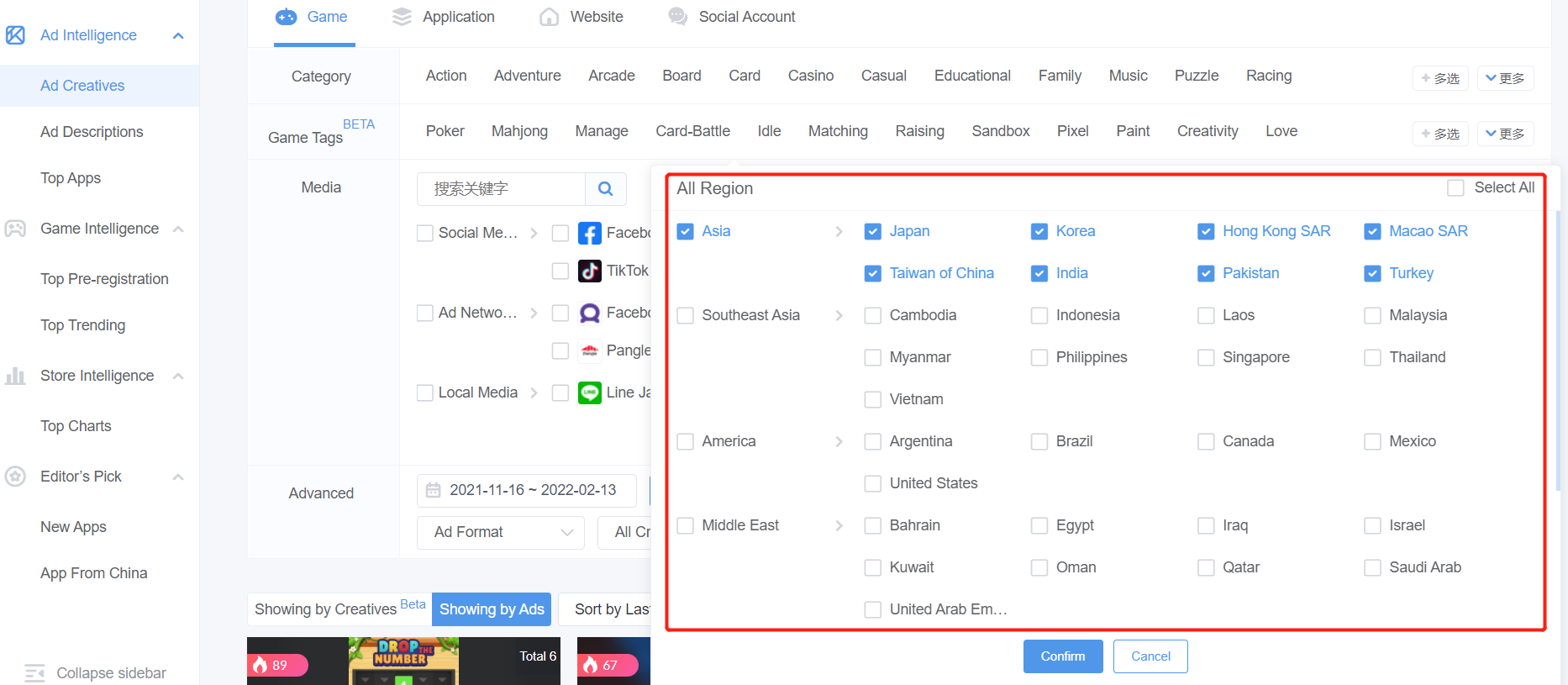 Price
ADSPY currently only has one price of $149/month and does not support the free trial. App Growing Global currently has three prices, and the monthly price is more favourable at $129/month. If you still think it is too expensive, you can register for a free trial, and you may receive some coupons after you register. The tools on the market that only collect advertising creatives are generally $100-$200/month. App Growing Global provides advertising creatives monitoring + APP trend list + monthly/annual global industry reports at the same price.
App Growing Global
ADSPY
Price
Free Trial  $0

Basic $129/Month

Advanced $299/Month

$149/Month
Payment Method
Alipay

WeChat Pay

Jingdong payment

Bank card

Bank card
Free Trial
√
×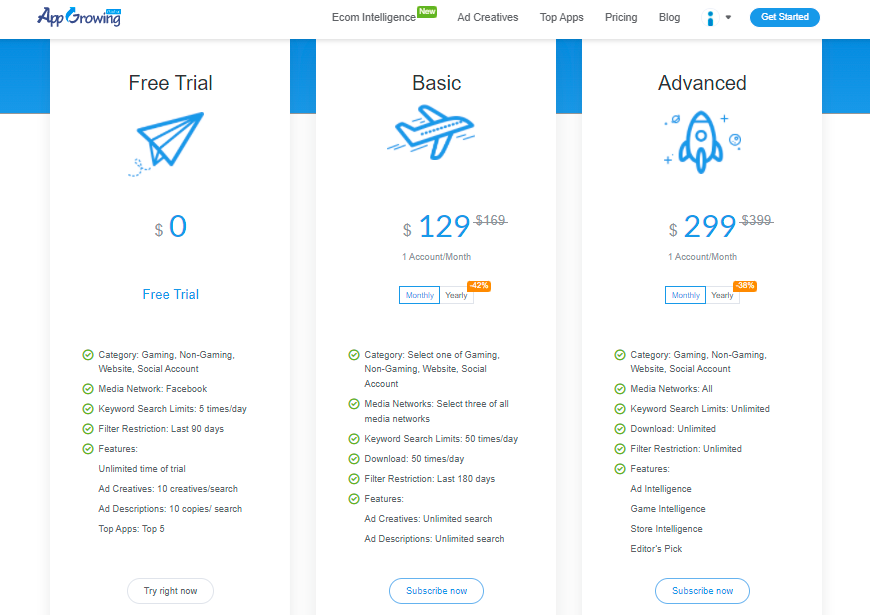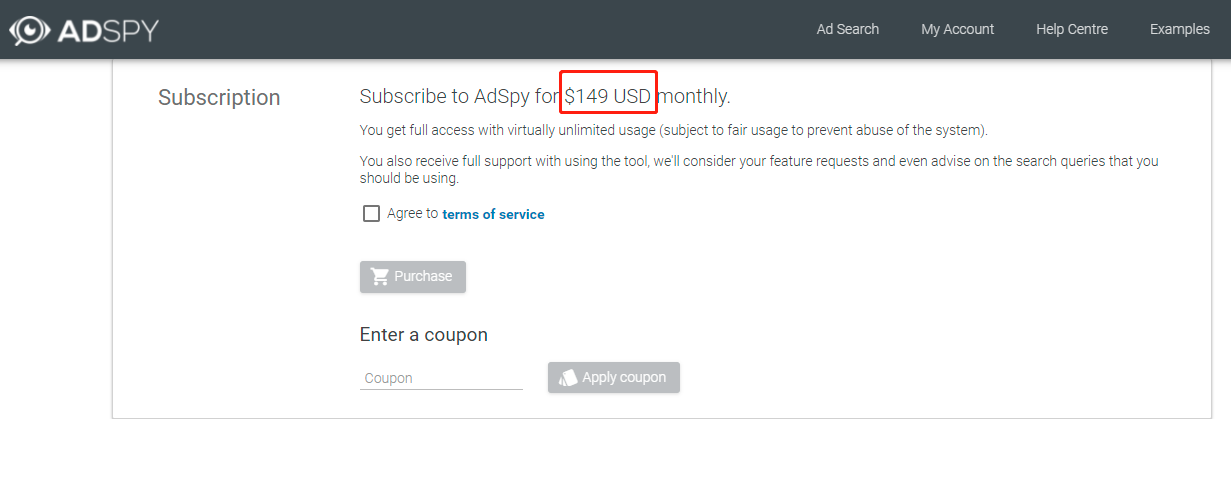 Summary
Compared to the two tools, the two ad spy tools have their advantages and can be combined according to actual needs. Suppose you are a marketing promoter in the mobile game industry. In that case, it is recommended to use App Growing Global, the industry's leading mobile game advertising database and an intuitive panel to quickly understand the mobile game ranking/mobile game creativity/mobile game copywriting you want to know, multi-dimensional analysis competitor. You can also use multiple tools simultaneously to obtain more comprehensive advertising intelligence information.