BigSpy is a traditional  ad spy tool for global advertisers, app developers, and marketers. With BigSpy, users can view e-commerce and app ads, find the most suitable ads, formulate digital marketing strategies and get new products inspiration.
AppGrowing is another powerful  tool whose parent company has been established for more than 10 years and has accumulated many years in digital marketing. AppGrowing is currently covering 350M+ advertising creatives, updating 2M+ creatives daily, and monitoring 165K+ Apps.
AppGrowing provides you with professional advertising performance insights through massive ad creatives and ranking dashboards. Its accuracy and practicability is endorsed by consumers and partners.
1. Media Platform
advertising data from 7 media can be found on BigSpy, including Facebook, Twitter, AdMob, Pinterest, YouTube, Instagram, Yahoo.
AppGrowing can monitor advertising data from 11 ad networks, 9 social media and 4 local media.
Social Media:
| Facebook ✅ | Instagram ✅ | TikTok ✅ |
| --- | --- | --- |
| Twitter ✅ | Snapchat ✅ | Kwai ✅ |
| Messenger ✅ | Pinterest ✅ | YouTube ✅ |
Ad Network:
| Meta Audience Network ✅ | AdMob ✅ | Unity Ads ✅ |
| --- | --- | --- |
| Mintegral ✅ | Vungle ✅ | AppLovin ✅ |
| AdColony ✅ | Chartboost ✅ | Pangle ✅ |
| ironSource ✅ | AdSense ✅ | |
Local Media:
| Line Japan ✅ | Yahoo Japan ✅ | SmartNews Japan ✅ | TopBuzz Japan ✅ |
| --- | --- | --- | --- |
If you only advertise on mainstream social media, both spy tools can help you. If you want to monitor the multi-channel marketing activities of competitors, especially those on ad network and local media in Japan and South Korea, AppGrowing will be a better choice.
2. Ad Creatives
BigSpy provides multiple filters, by which ads can be filtered basing on creative types, ad formats, and ad specifications, specifically including 4 creative types (image, video, carousel, html) and 5 ad formats (vertical, horizontal, square, banner).
On AppGrowing, ads can't be filtered by ad specifications, but by 9 ad formats and 12 creative types. That qualifies advertisers for most work.

Games and Game Ads will not be roughly categorized, but put on Game Tags, and Creative Tags through AI to form a dynamic genre system. Besides, there are two views: Showing by Materials and Showing by Ads. The material view combines multiple highly similar ads to improve efficiency.

BigSpy provides very detailed specifications like popularity, impression, duration, like, comment, share, and last seen time.
AppGrowing synthesize all these specifications into Active Index to reduce visual fatigue caused by too many indicators. With the bright UI design, you can quickly discover advertising trends.
More detailed content can be found on Detail Page with one click, including creative type, ad format, related ads, dimensions, active days, period, media, advertiser, region, etc. Bar charts, pie charts, and data tables are very intuitive.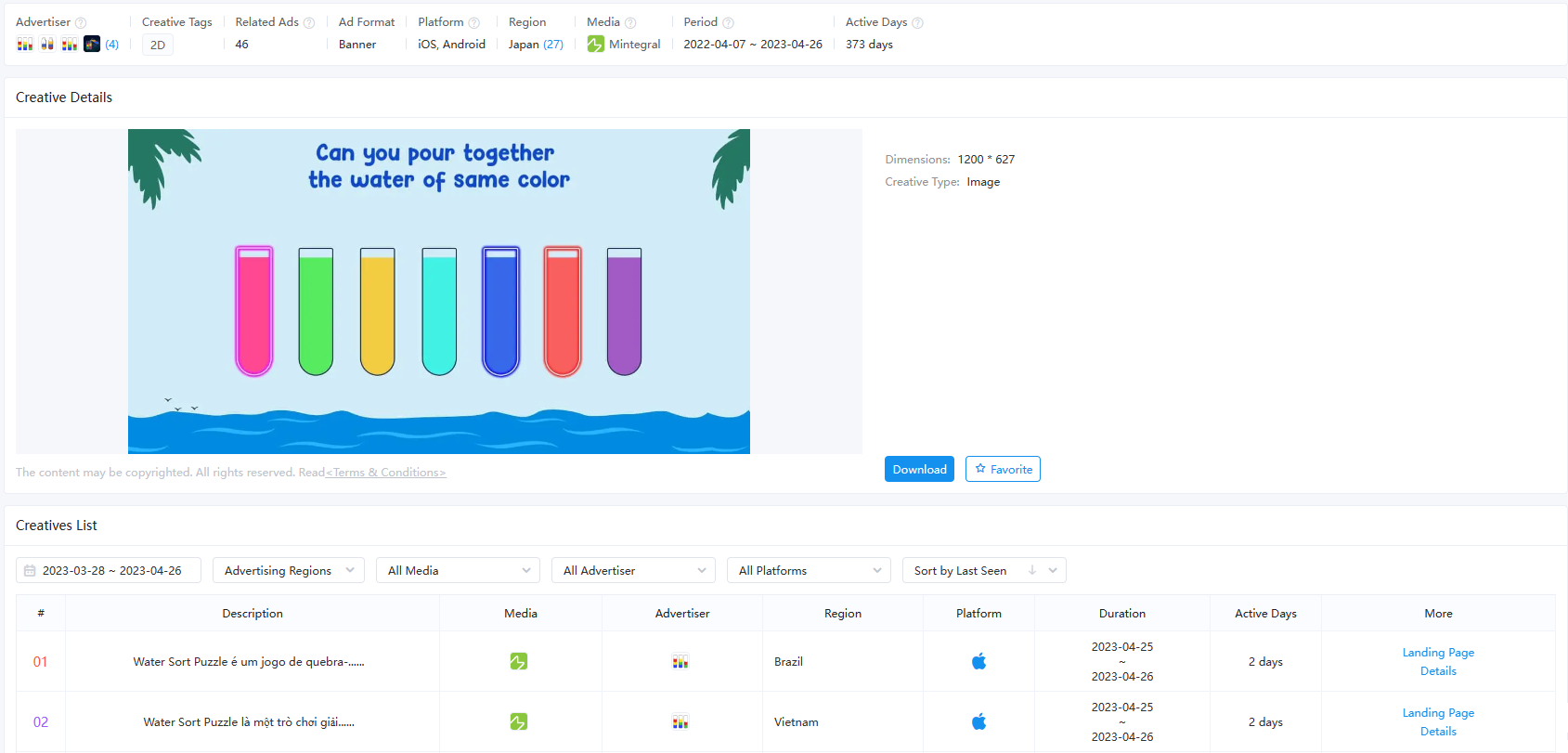 3. Ad Descriptions
Both BigSpy and AppGrowing can monitor advertising descriptions and filter by categories, media, regions, and languages. AppGrowing show 60 results per page, which can be quickly flipped through. Each advertiser uses a small LOGO design.
4. Top Charts
BigSpy has launched two sections, Top Charts, and Feature Ads, to rank all advertisers and creatives, which can be filtered by media and country.
AppGrowing's Top Charts uses a line chart to show the trend of the past 30 days, which is very intuitive. You can see the whole process of application growth and decline at once.
AppGrowing has specially launched game intelligence for game advertisers, including Top Pre-registration and Top Trending, which can also be filtered by region, device, and game category. Apps can be bookmarked and collected into My Favourite, so there is no need to repeat the search in the future.
Click on the app, you can see more detailed information about the game, including App Store Information, Ranking Changes, Ad Creatives, and Ad Descriptions.
Tag Cloud shows current game advertising trend, and quickly conveys prevailing theme and gameplay.
There are also New Apps dashboards, providing informations on the latest apps.
The core feature of Bigspy is to monitor ad creatives, especially for e-commerce. There are very few spy tools dedicated to making dashboards for games. AppGrowing is worthwhile trying to track mobile game advertising trends. In addition, AppGrowing publishes periodical professional industry reports, helping you better understand industry changes and the latest marketing methods.