Rise of Kingdoms is a strategy game that allows players to create their own civilizations and battle with other players in real-time. The game features historical commanders, diverse cultures, and immersive gameplay. It is developed and published by Lilith Games, a Chinese company that also produces other hit titles such as AFK Arena and Warpath.
Source: AppGrowing
As one of the most successful strategy games in the global market, Rise of Kingdoms has a strong and effective advertising strategy that helps it attract and retain players. In this article, we will use AppGrowing, a professional mobile advertising intelligence platform, to analyze the advertising data and trends of Rise of Kingdoms, and reveal its secrets of success.
01 How many ads does Rise of Kingdoms create and where does it advertise?
According to the data monitored and collected by AppGrowing, Rise of Kingdoms has created 11,005 ads in total, covering 45 areas and 10 media. This shows that Rise of Kingdoms has a wide and diverse reach in terms of its target audience and channels.
The top five media where Rise of Kingdoms advertises are AdMob, Facebook, Instagram, Facebook (FAN), and Messenger. These are all popular and reputable platforms that offer high-quality traffic and performance.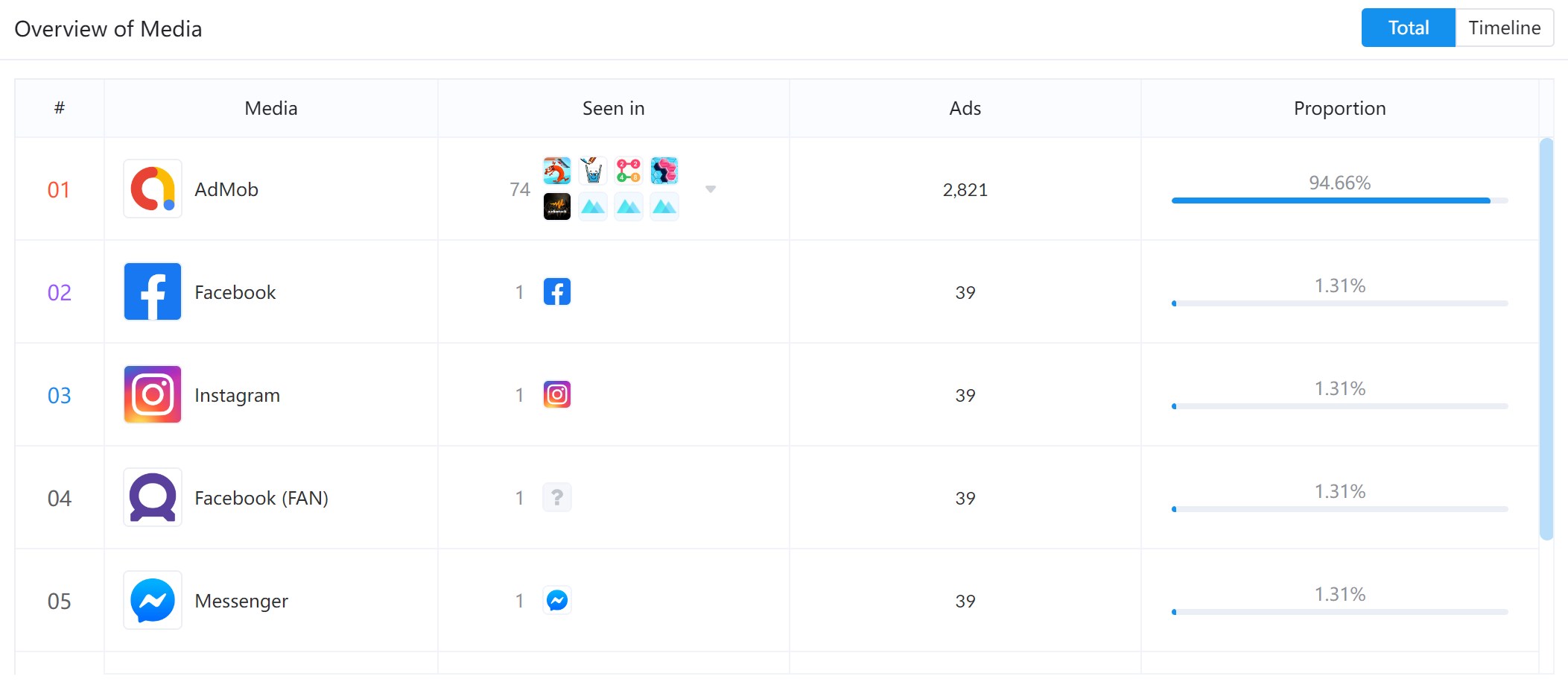 Source: AppGrowing
02 What are the types and styles of ads that Rise of Kingdoms uses?
Source: AppGrowing
Taking 2023-04-30 to 2023-07-28 as an example, Rise of Kingdoms created 2,863 ads in total, around 54.05% of which are in the form of Rewarded Video. Rewarded video is a type of ad that rewards users with in-game currency or items for watching a video. This is a smart way to increase user engagement and retention, as well as monetization.
Source: AppGrowing
Ad creatives are mainly Horizontal and Square Video. Their proportion is around 79.57%. Video ads are more effective than static images or text in capturing user attention and conveying the game features. Horizontal and square videos are also suitable for different screen orientations and sizes.
The peak of ad volume in a single day was 348, which appeared on 2023-05-22. This may be related to some special events or promotions that Rise of Kingdoms launched on that day.
03 What are the main themes and messages of the ads that Rise of Kingdoms delivers?
By using AppGrowing's AI technology to analyze the ad creatives of Rise of Kingdoms, we can identify some common themes and messages that the game uses to appeal to its audience.
One theme is the historical aspect of the game. Many ads feature famous commanders from different civilizations, such as Julius Caesar, Joan of Arc, Genghis Khan, etc. These ads highlight the authenticity and diversity of the game's content, as well as the possibility for players to create their own history.
Another theme is the strategic aspect of the game. Many ads show scenes of battles, alliances, diplomacy, exploration, etc. These ads emphasize the complexity and depth of the game's mechanics, as well as the challenge and fun for players to test their skills and strategies.
A third theme is the social aspect of the game. Many ads showcase the chat system, voice chat system, alliance system, etc. These ads stress the importance and benefits of cooperating and communicating with other players, as well as the sense of belonging and community that the game fosters.
---
*The content and media in this article are protected by copyright laws. Some information is cited from public sources for illustrative purposes only, with ownership retained by the original authors. This article provides general information only and is not meant as opinion or advice for specific situations.
Follow AppGrowing's social media accounts or register immediately at AppGrowing to learn more mobile advertising insights.