Casino games are one of the most popular and profitable genres in the mobile gaming industry. However, they also face fierce competition and challenges from various factors, such as regulations, cultural differences, and user preferences. How can a casino game stand out from the crowd and achieve success in a specific market?
In this article, we will analyze the case of Boss Domino, a casino game published by BossGAME. We will use the advertising intelligence data provided by AppGrowing to explore how Boss Domino leveraged its ad creatives, media channels, and regional targeting to rank NO.1 in Indonesia on Google Play.

Source: AppGrowing
01 Boss Domino: A Casino Game That Offers More Than Just Fun and Games
Boss Domino is a casino game that allows players to enjoy various domino games, such as Gaple, QiuQiu, Remi, and more. The game features realistic graphics, smooth gameplay, social interactions, and generous rewards. The latest version of the game is V1.06.
Source: AppGrowing
According to AppGrowing's data, Boss Domino has created 607 ads in total, covering 15 areas and 7 media. The game has a strong focus on the Indonesian market, where it ranked NO.1 in the Casino category on Google Play as of 2023-07-11.
02 The Power of Video: How Boss Domino Used Engaging and Appealing Video Ads to Attract Users
One of the key factors that contributed to Boss Domino's success is its ad creatives. AppGrowing's data shows that Boss Domino mainly used the types of ad formats: In-feed. In-feed ads accounted for 36.1% of the total ads.

Source: AppGrowing
Among the ad creatives, Boss Domino favored Horizontal & Square Video formats, which made up 61.78% of the total creatives. The videos showcased the gameplay features, the social aspects, and the rewards of the game in an engaging and appealing way. The videos also used catchy slogans, such as "Domino lovers must play", "The most exciting domino game", and "Win big prizes every day".
The peak of ad volume in a single day was 193, which appeared on 2023-06-21. This indicates that Boss Domino adopted a burst campaign strategy to boost its downloads and rankings in a short period of time.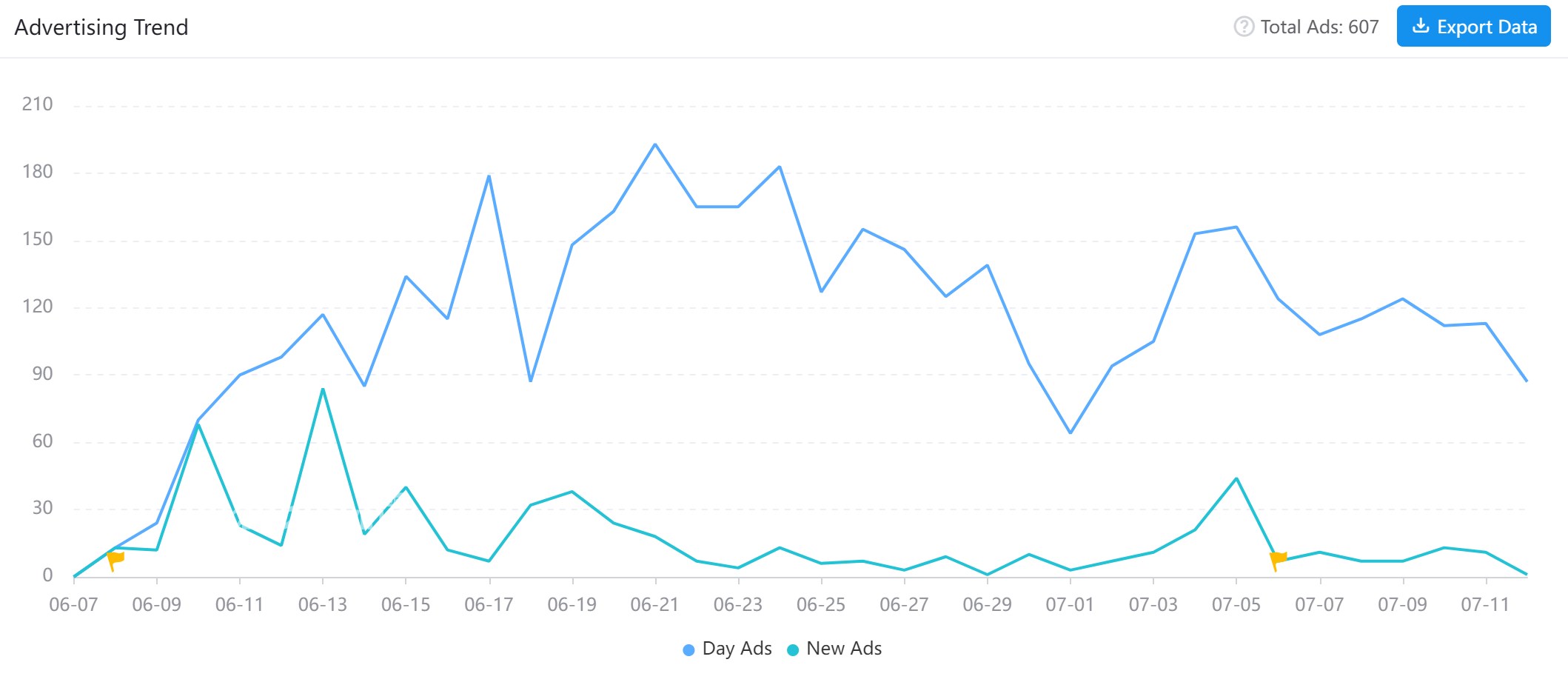 Source: AppGrowing
01 The Art of Media Channel Selection: How Boss Domino Optimized Its Ad Performance Across Different Platforms
Another important factor that influenced Boss Domino's performance is its media channel selection. AppGrowing's data reveals that Boss Domino advertised mostly on Facebook (FAN), with a total of 39.05% ads. Facebook is one of the most popular and effective platforms for mobile game advertising, as it has a large and diverse user base, rich targeting options, and high-quality ad inventory.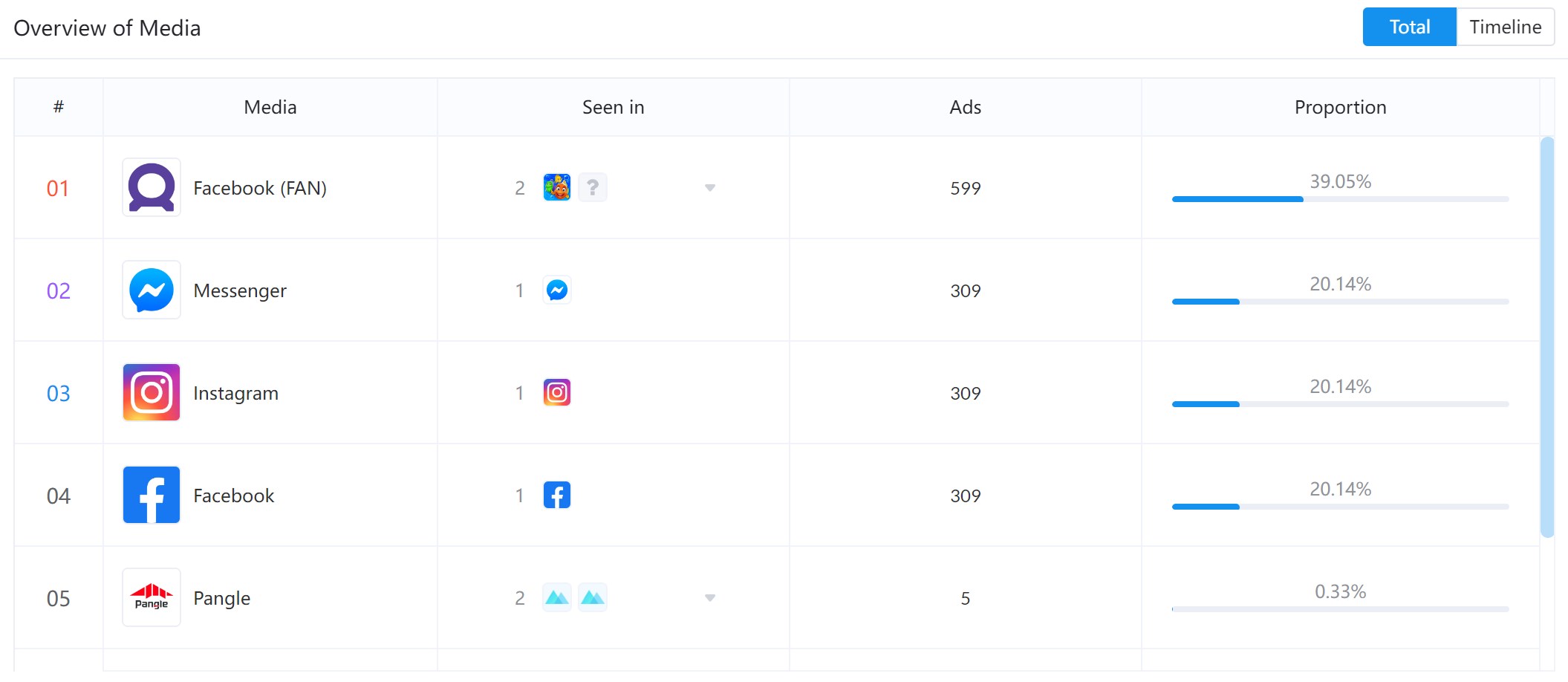 Source: AppGrowing
Boss Domino also used other media channels, such as Pangle, AppLovin, and ironSource. These channels offer different advantages and disadvantages for mobile game advertisers, such as reach, cost, quality, and format.
By using a mix of media channels, Boss Domino was able to optimize its ad performance and reach different segments of potential users.
04 The Magic of Localization: How Boss Domino Tailored Its Ad Creatives to Suit the Indonesian Market
The last factor that we will examine is Boss Domino's regional targeting strategy. AppGrowing's data indicates that Boss Domino targeted 15 areas in total, but most of its ads were concentrated in Indonesia (66.18%). Indonesia is one of the fastest-growing and most lucrative markets for mobile games in Southeast Asia, with a population of over 270 million and a smartphone penetration rate of over 60%.

Source: AppGrowing
Indonesia is also a country where domino games are very popular and culturally relevant. According to a report by Niko Partners, domino games are among the top three genres that Indonesian gamers play on their smartphones.
By focusing on Indonesia as its main market, Boss Domino was able to tap into a large and loyal fan base for its game genre. It also tailored its ad creatives to suit the local preferences and trends, such as using local celebrities, languages, and currencies.
---
*The content and media in this article are protected by copyright laws. Some information is cited from public sources for illustrative purposes only, with ownership retained by the original authors. This article provides general information only and is not meant as opinion or advice for specific situations.
Follow AppGrowing's social media accounts or register immediately at AppGrowing to learn more mobile advertising insights.