Twisted Tangle is a Puzzle game that challenges players to untangle colorful ropes in various shapes and patterns. The game was developed and published by Rollic Games, a Turkish company that specializes in hyper-casual games. It has climbed to the top of the charts in many countries, thanks to its addictive gameplay and effective advertising campaign. In this article, we will analyze the advertising intelligence data of Twisted Tangle, collected and monitored by AppGrowing and provide some tips and suggestions for other game developers who want to replicate its success.
01 How Twisted Tangle Dominated the Puzzle Game Category
According to AppGrowing, Twisted Tangle has created 2,905 ads in total, covering 49 areas and 10 media. The game has achieved impressive results in various markets, especially in Europe, North America, Oceania, and Asia.
Source: AppGrowing
As of 2023-07-06, Twisted Tangle ranked NO.1 in Canada and Switzerland on Google Play charts. It also entered the Top 10 in 19 other countries, including United Kingdom, Australia, Germany, New Zealand, Sweden, France, Netherlands, United States, Korea, Singapore, United Arab Emirates, Hong Kong & Taiwan of China, Norway, Qatar, Kuwait, Turkey, and Israel.
These rankings show that Twisted Tangle has a broad appeal across different regions and cultures. The game's simple yet satisfying gameplay can attract and retain players of all ages and backgrounds. The game's colorful and minimalist design also makes it stand out from other Puzzle games on the market.
02 How Twisted Tangle Leveraged In-feed Ads and Vertical Videos
From 2023-05-05 to 2023-07-06, Twisted Tangle created 2,752 ads in total. AppGrowing data also reveals that the peak of ad volume in a single day was 1155, which appeared on 2023-07-02. This indicates that Twisted Tangle has adopted a burst campaign strategy to boost its visibility and downloads. A burst campaign is a short-term intensive advertising campaign that aims to generate a large amount of traffic in a short period of time.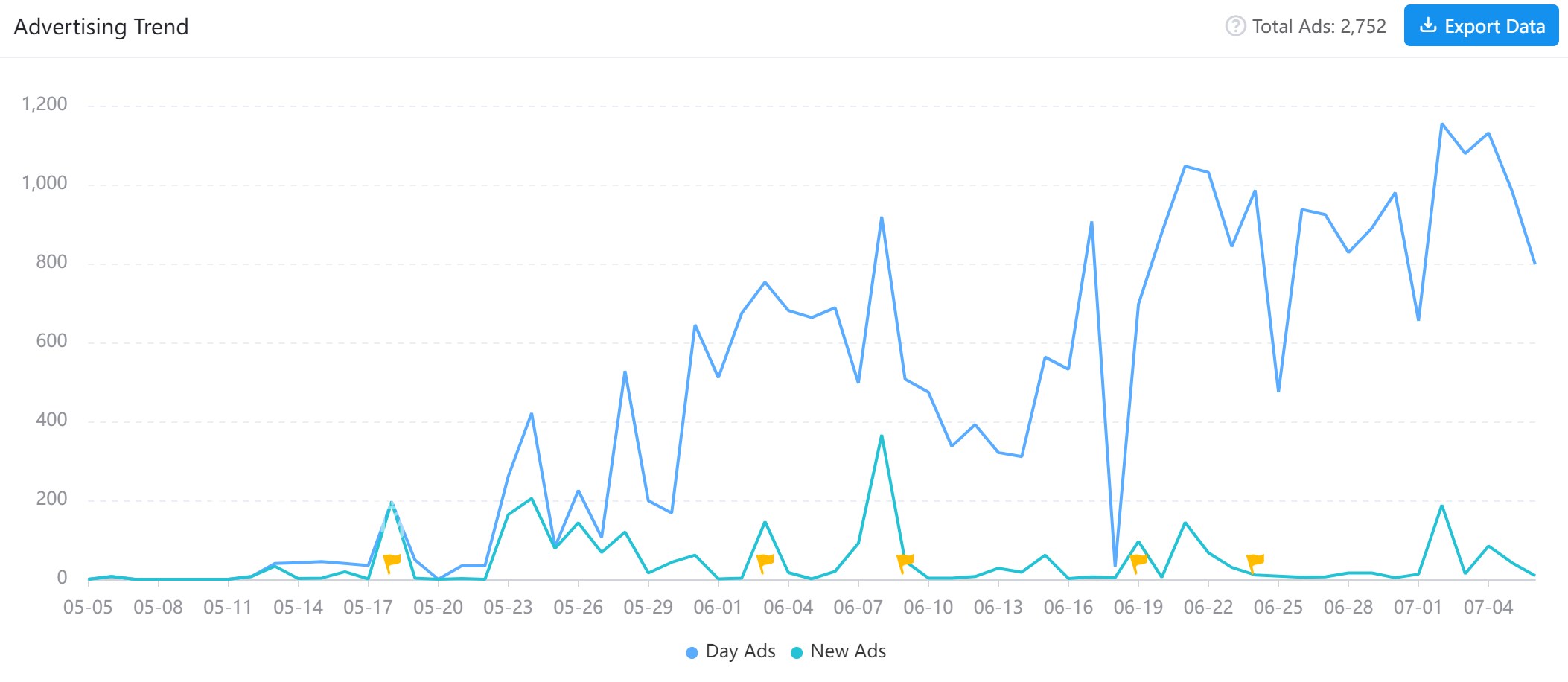 Source: AppGrowing
A burst campaign can help a game rank higher on the app store charts and gain more organic downloads from users who discover it through word-of-mouth or social media. However, a burst campaign can also be costly and risky if not executed properly. Therefore, it is important to monitor the performance of the ads and optimize them accordingly.
According to AppGrowing, around 74.91% of Twisted Tangle's ads are in the form of In-feed. In-feed ads are ads that appear within the content feed of a social media platform or an app. They are designed to blend in with the surrounding content and offer a seamless user experience.

Source: AppGrowing
In-feed ads are ideal for hyper-casual games like Twisted Tangle because they can showcase the gameplay in a short and engaging way. They can also encourage users to download the game directly from the ad without leaving the app they are using.
AppGrowing data shows that Twisted Tangle's ad creatives are mainly Vertical Video. Its proportion is around 92.37%. Vertical Video is a video format that is optimized for mobile devices. It allows users to watch the video without rotating their phones or switching to full-screen mode.
Vertical Video is a smart choice for Twisted Tangle because it can capture users' attention more effectively than horizontal or square videos. It can also demonstrate the game's features and mechanics more clearly and vividly. Vertical Video can also increase the click-through rate (CTR) and conversion rate (CVR) of the ads.
03 How Twisted Tangle Optimized Its Ad Creatives
AppGrowing data shows that Twisted Tangle so far advertised mostly on Facebook (FAN), with a total of 24.26% ads. Facebook (FAN) is a network of third-party apps and websites that display ads from Facebook's advertisers. It allows advertisers to reach more users beyond Facebook's own platforms.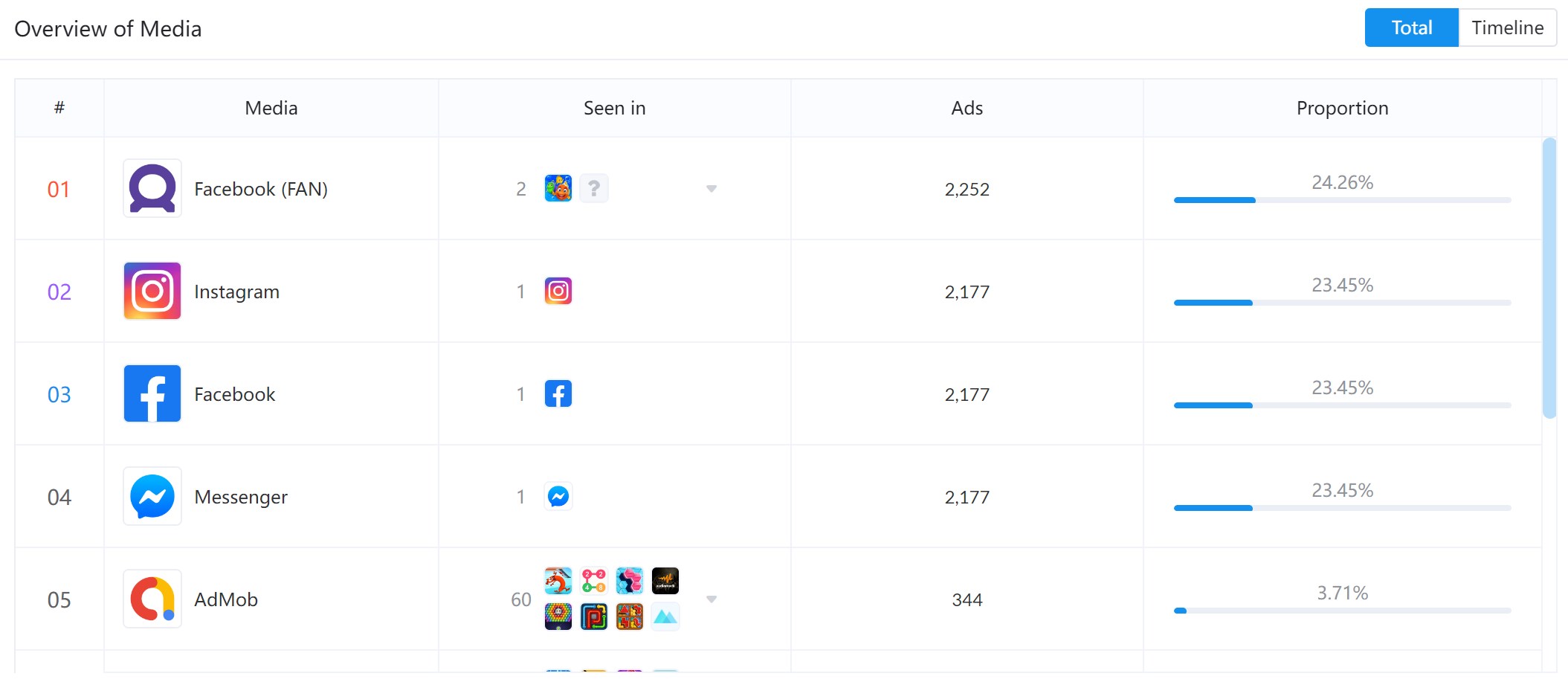 Source: AppGrowing
Twisted Tangle's ad creatives on Facebook (FAN) are mostly short and catchy videos that highlight the game's core features and benefits. For example, some of the ad creatives use slogan "I can't untie the knot", which can arouse users' curiosity and interest in the game.
Source: AppGrowing
---
*The content and media in this article are protected by copyright laws. Some information is cited from public sources for illustrative purposes only, with ownership retained by the original authors. This article provides general information only and is not meant as opinion or advice for specific situations.
Follow AppGrowing's social media accounts or register immediately at AppGrowing to learn more mobile advertising insights.