Initially launched in SEA in June 2022, and then globally in April 2023, Farlight 84 is the first shooter game by Lilith Games. This wasteland-themed action mobile game was considered to be the most low-profile game, since Lilith Game has not carried out advertising for it. However, according to AppGrowing, in June, Farlight 84 eventually began massive advertising.
01 No Pre-heating Advertising, Farlight 84's Post-Released Ad Strategy
As Lilith Games' first third-person shooter developed with UE4, Farlight 84 was announced at Unreal Open Day 2020. After a few betas, it was officially released last year by the new global publishing brand "Farlight Games" from Lilith Game, reflecting its high status in the company's gaming empire.
Contrary to expectations, Farlight 84 did not run a large-scale advertising campaign. In contrast to its "quiet" launch, the game's early market performance wasn't impressive. Some media even believe that it wasn't a good decision to release Farlight 84 in Southeast Asia, an emerging market. Fortunately, the shooter with its unique technique and art style has managed to break out of the domination of strong competitors such as PUBG, APEX, and Free Fire.
Farlight 84 is set in a doomsday wasteland, a common shooter setting. However, Lilith Games, which is known for a distinctive art style, makes extensive use of bright colors and edgy designs instead of the stereotypical shabby and plain art.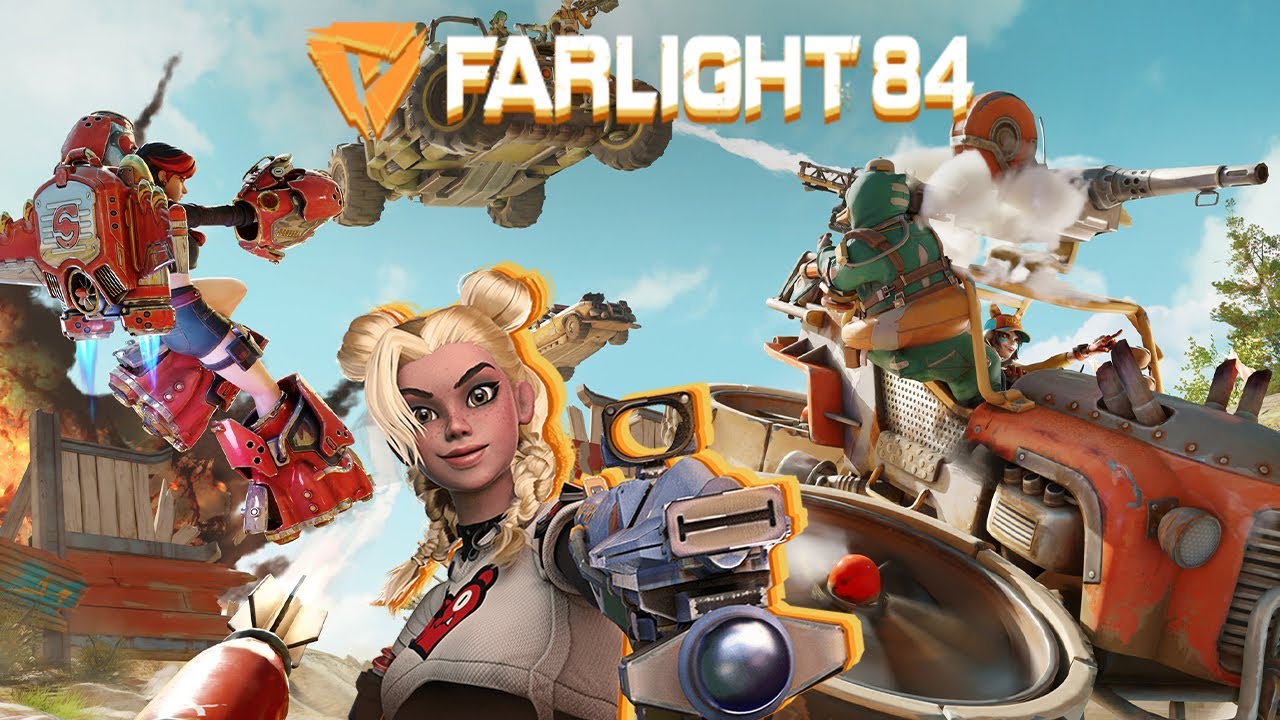 Image Credit. Farlight 84
In addition, Farlight 84 has innovated in its gameplay. One of the most appealing features is the jetpack enabling the character for prolonged flight. Moreover, Farlight 84 has designed vehicles with different functions and shapes to serve as the second weapon besides guns.
Attempting to continue the success achieved before, Farlight 84 is released globally in April 2023 and is simultaneously available on Steam. It quickly topped Google Play in 13 countries and App Store in 20 countries, and entered the Top 10 in 49 countries, according to AppGrowing. Still, no mass advertising appeared until June.
02 Advertising Analysis of Farlight 84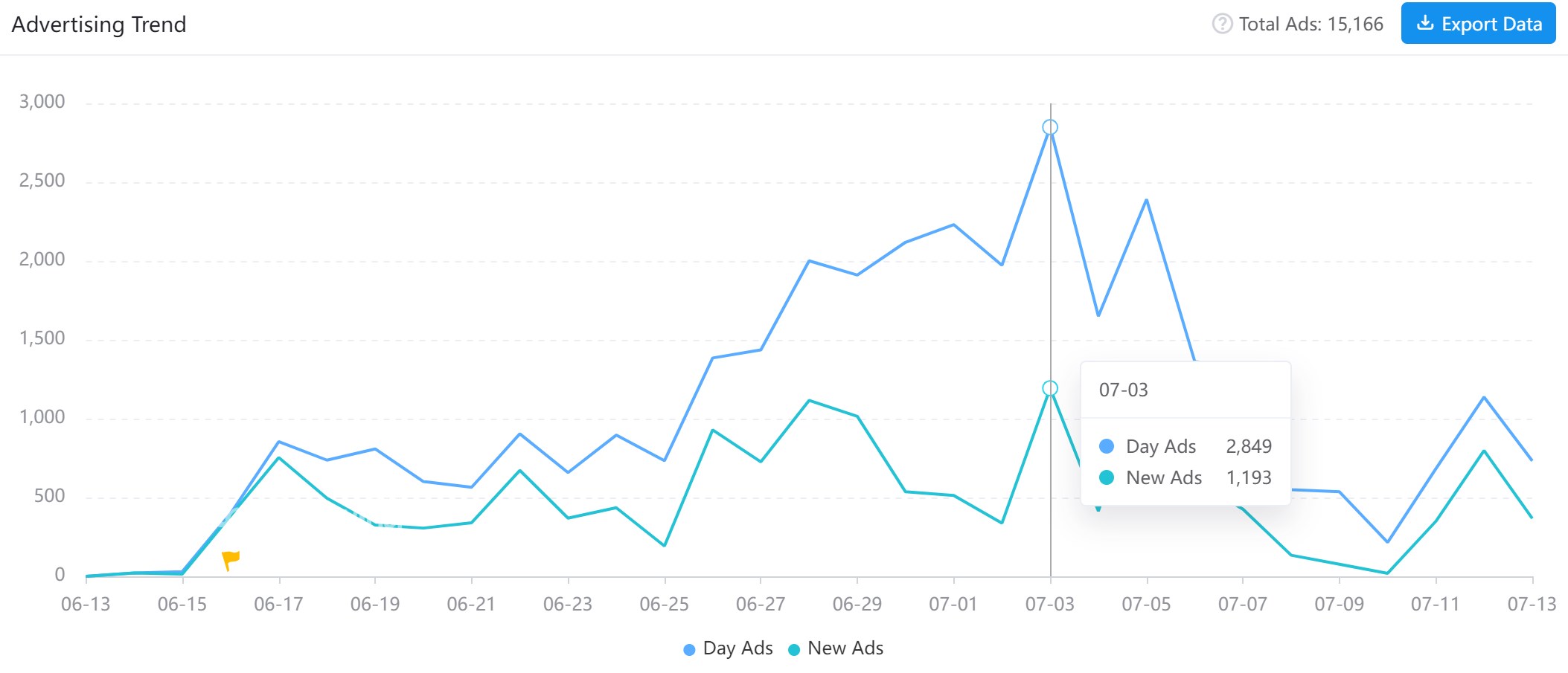 Source: AppGrowing
The massive ad campaign for Farlight 84 began on June 14th and saw a total of 15,166 ads posted within a month, according to AppGrowing. The time coincides with the game's last update on June 16th. The peak in ad volume occurred on July 3, reaching 2,849. It can be seen that the ad volume has mostly stayed at a high level over the past 30 days.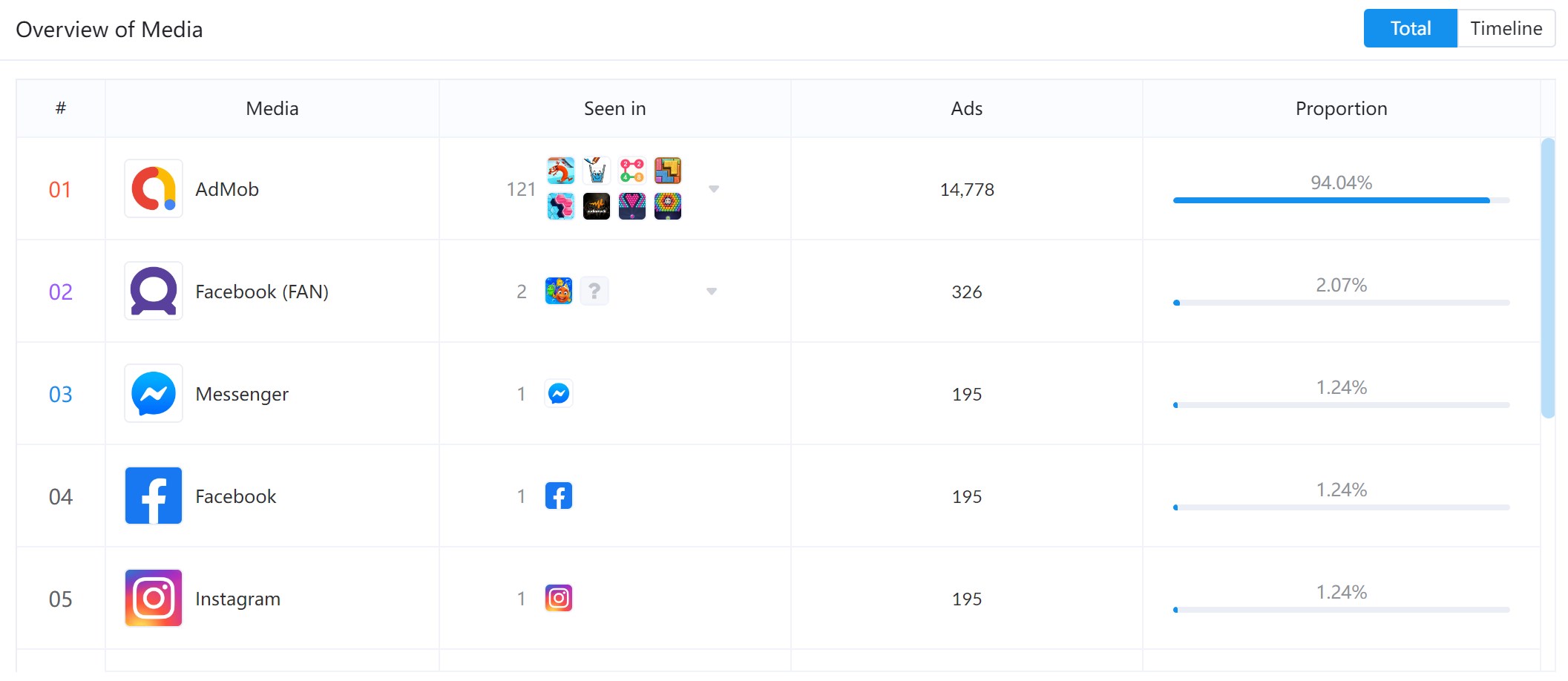 Source: AppGrowing
Farlight 84 invested almost all on AdMob. Accordingly, rewarded videos and interstitials dominate in ad formats, and creatives are mostly videos.

Source: AppGrowing
In terms of creative content, Farlight 84 is clear on what differentiates it from other games in the genre. As mentioned above, jetpacks and well-designed vehicles that bring a fresh experience to the player are the core of Farlight 84's ads. Combat scenes, which are essential to a shooter, are also featured in Farlight 84's ad listings.
While falling from the sky is one of the similarities of PUBG-like games, it must be pretty exciting when you realize that it's not dropping, it's flying. As the video below shows, it begins with a flight-landing screen that smoothly moves on to a combat screen where you're shooting with a jetpack. The sudden intrusion of amplified text such as "First Suppression" and "Double Kill" changes the pace of the video and inspires the player to fight.
Many mobile game advertisers struggle with too many battle scenes that can make the video boring. Then try inserting CG animation like Farlight 84. In this ad, there is a continuous jet leap followed by a smooth switch to the PV, which not only allows for a more flexible perspective but also shows more surroundings and characters.
The various vehicles that Lilith Games has spent great effort to create are also the highlight of Farlight 84's campaign. The video takes a fixed POV and quickly switches among the various vehicles to show how they shape and move. Several scenarios and battles reveal the features of each, such as entering the water, climbing up a hill, shooting flames, and so on. With a comprehensive display, it attracts players who are interested in vehicles.
Additionally, Farlight 84 has created videos that focus on a particular vehicle. The video below, for example, meticulously shows it's running, jumping, and discharging skills with exquisite and realistic modeling created with UE4. The voiceover adds more information and inspires viewers' curiosity and desire to play.
For a shooter game, cool vehicles and transportation can be eye-catching, but the most essential point is the shooting gameplay. Knowing this, Farlight 84 has posted a number of videos focused on shooting. The following video quickly captures the target audience of the shooter by featuring continuous high-speed shooting and defeating scenes. The non-stop switching of camera viewpoints is also a case of Lilith Games' fast and exciting ad creative strategy.
It's hard to make a less tasty meal when all the ingredients are delicious. Try to show off all those highlights of the game that you think players should know about. Like this, flying with a jetpack, fighting in a vehicle, exciting and smooth shooting, and uniquely designed characters all appear and integrate into the video.
03 Shift in Marketing Strategy for Farlight 84
As a hard-core game with high expectations, it's atypical that Farlight 84 didn't embark on a massive advertising campaign early on or even before launch. Certainly, the high quality enabled Lilith Games to accomplish good results without intentionally marketing, and that appears to have been the truth.
But in the highly competitive market, the hardest thing is not to reach the top, but to stay on top. Lilith Game's choice to invest heavily in ads 2 months after the game's launch may be due to the fear of falling.
According to AppGrowing, Farlight 84 is mostly advertised in regions where the game is fast fading its popularity, such as Indonesia, India, and Japan. It's a campaign aimed at revival, and the ads have made it fluctuate its ranking in these regions.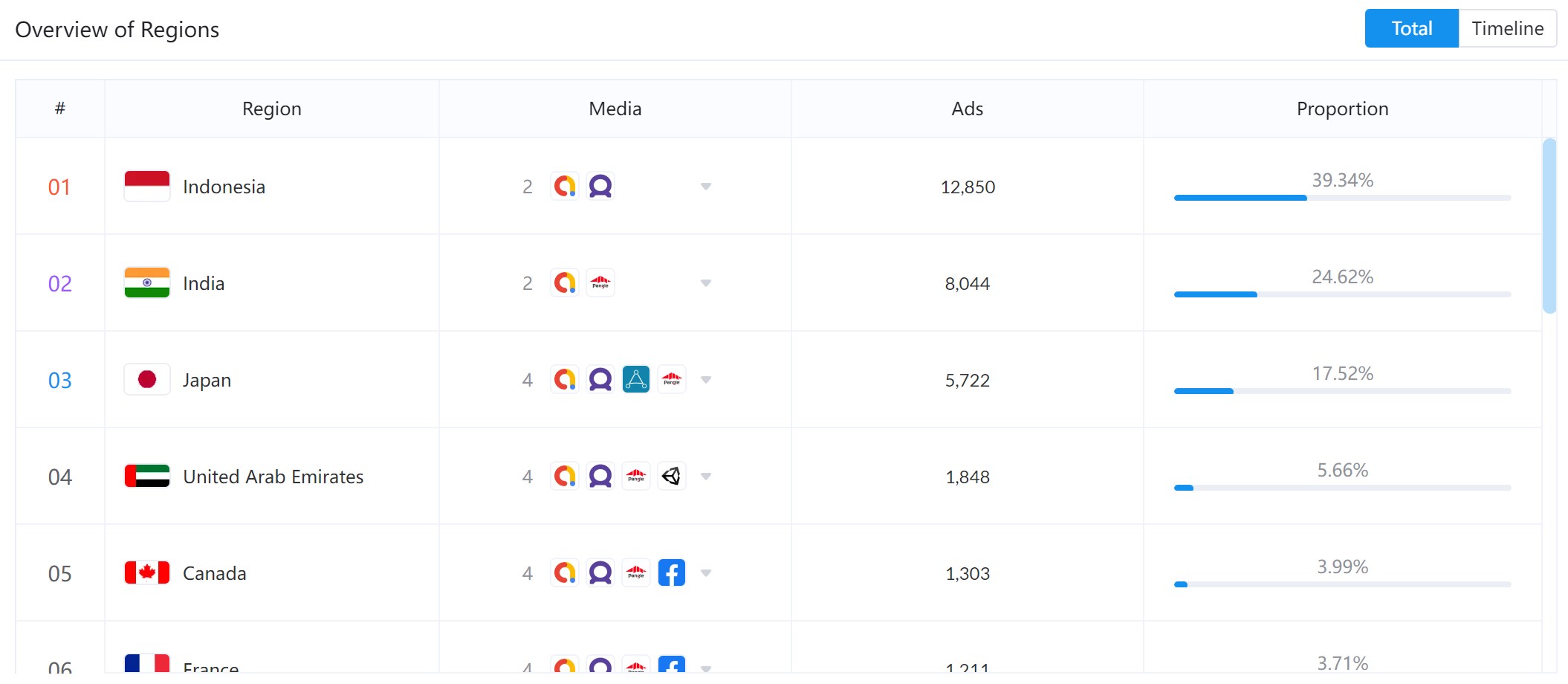 Source: AppGrowing
Predictably, the lessons learned from this ad campaign will help Farlight 84 with its upcoming release in China's mainland. It gained the publishing license in late June 2023 and will debut in fiercely competitive China's mainland mobile game market. How to make Farlight 84 stand out? How to acquire more users and revenue? How to continue the success story? Lilith Games' answers are worth waiting for.
---
*The content and media in this article are protected by copyright laws. Some information is cited from public sources for illustrative purposes only, with ownership retained by the original authors. This article provides general information only and is not meant as opinion or advice for specific situations.
Follow AppGrowing's social media accounts or register immediately at AppGrowing to learn more mobile advertising insights.