Farlight 84 is an action game that combines shooting, survival, and parkour elements. It was developed and published by Lilith Games, a Chinese company that is known for creating popular games such as Rise of Kingdoms and AFK Arena. Farlight 84 was released in December 2020 and has since been one of the most played and praised games in the action game genre. How did Farlight 84 maintain its popularity and competitiveness in such a crowded and dynamic market? In this article, we will use the advertising intelligence data by AppGrowing to analyze the advertising strategies and tactics of Farlight 84.
01 The Consistent Performance of Farlight 84
One of the most impressive aspects of Farlight 84's advertising performance is its consistent performance. According to AppGrowing, Farlight 84 has created 12,429 ads in total, covering 22 areas and 10 media. This shows that Farlight 84 has a stable and diversified market presence and reach.
For instance, as of July 2, 2023, Farlight 84 ranked No.1 in the Google Play charts in the Philippines, which is one of the fastest-growing and most lucrative mobile game markets in Southeast Asia. This indicates that Farlight 84 has retained its appeal and demand among Filipino players who enjoy a fast-paced and thrilling action game experience.
An example of Farlight 84's ad creatives that reflect its consistent performance:
This is a fast-paced video consisting of numerous shooting scenes. With the fast switching of the screen and the rhythmic bgm, players who like shooting and pubg type games would like to click and download.
Source: AppGrowing
Such ad creatives highlight the core features and selling points of Farlight 84: its action-packed gameplay, its diverse and customizable equipment, its realistic and immersive graphics, and its competitive and cooperative modes.
02 The Preference for Rewarded Video Ads and Horizontal Videos
Another notable feature of Farlight 84's advertising strategy is its preference for rewarded video ads and horizontal videos. According to AppGrowing, from June 15 to July 2, 2023, Farlight 84 created 9,281 ads in total, around 49.36% of which were in the form of rewarded video ads. Rewarded video ads are ads that offer users an incentive, such as in-game currency or items, in exchange for watching a video ad. They are designed to increase user engagement and retention.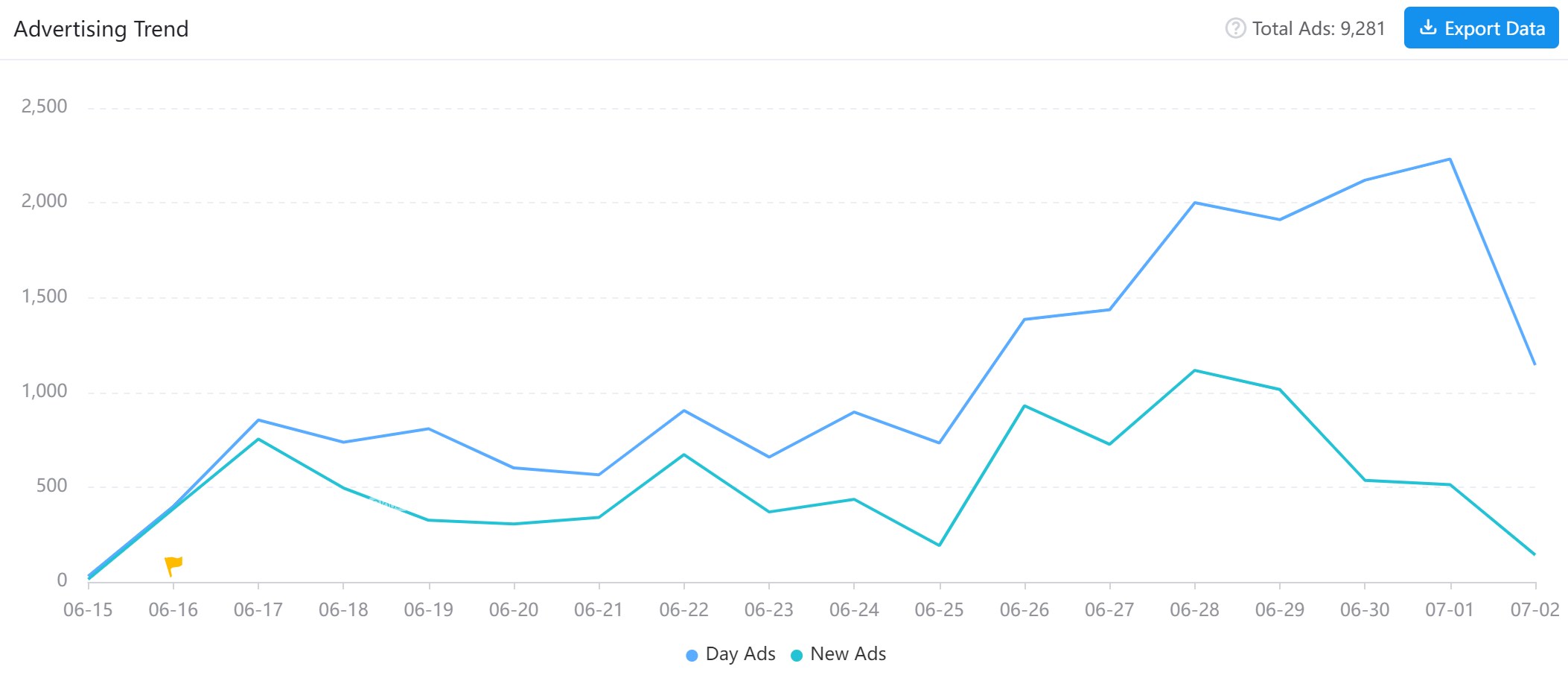 Source: AppGrowing
In addition, ad creatives were mainly horizontal videos. Their proportion was around 79.95%. Horizontal videos are videos that are optimized for mobile devices with landscape orientation. They are more suitable for displaying action-packed and cinematic scenes than vertical videos.

Source: AppGrowing
The preference for rewarded video ads and horizontal videos suggests that Farlight 84 is well aware of the importance of user motivation and satisfaction. By choosing these formats, Farlight 84 can incentivize users to watch its ads and reward them with valuable benefits. Moreover, by using horizontal videos, Farlight 84 can showcase its stunning graphics and gameplay features more vividly and attractively.
03 The Reliance on AdMob
The third aspect of Farlight 84's advertising strategy that we will examine is its reliance on AdMob. According to AppGrowing, Farlight 84 advertised mostly on AdMob, with a total of 90.93% ads. AdMob is Google's mobile advertising platform that allows advertisers to display their ads on millions of apps that use Google's ad services. It offers advertisers access to a large and high-quality inventory of ad placements and formats.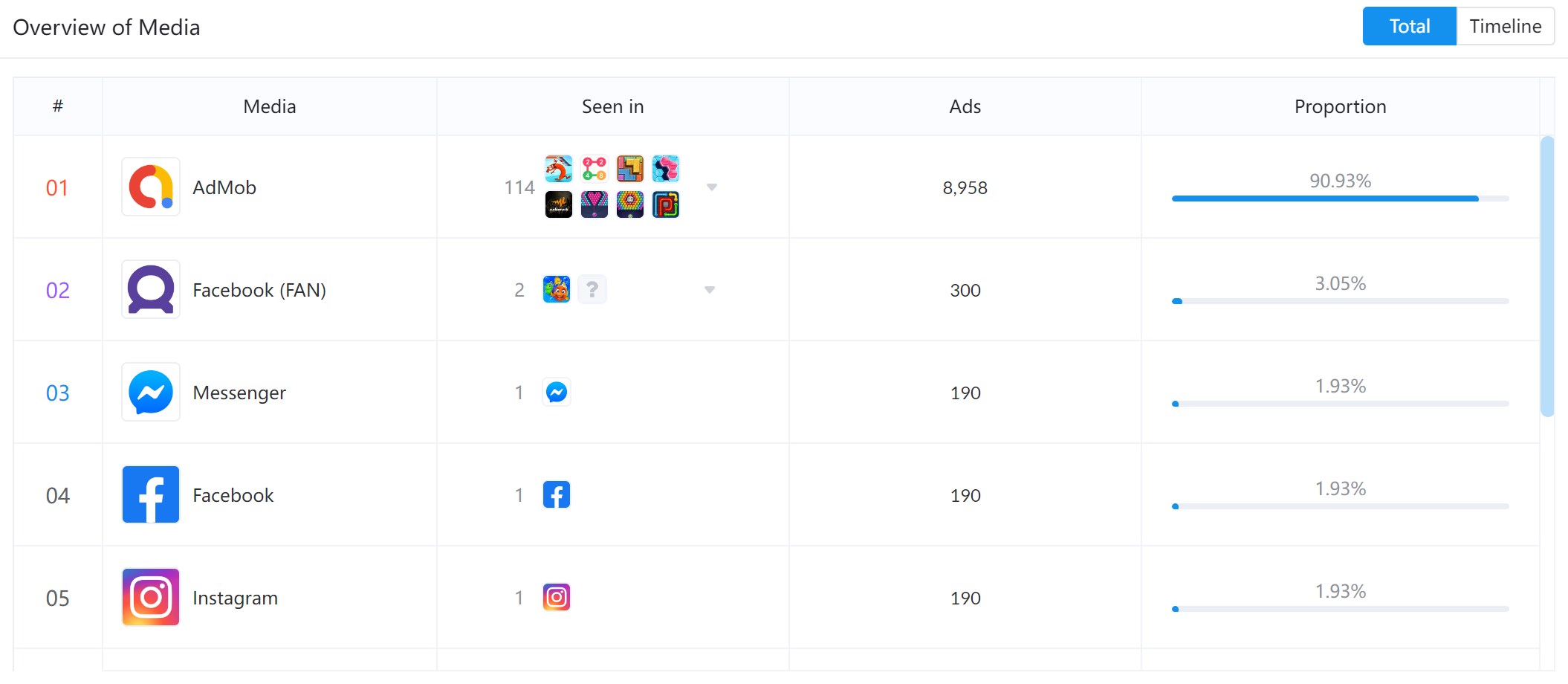 Source: AppGrowing
The reliance on AdMob indicates that Farlight 84 values the scale and quality of Google's mobile advertising network. By using AdMob, Farlight 84 can leverage Google's powerful targeting and measurement capabilities to reach more relevant and interested users across different apps and genres. Furthermore, by using Google's creative tools and best practices, Farlight 84 can optimize its ad creatives for different placements and devices.
---
*The content and media in this article are protected by copyright laws. Some information is cited from public sources for illustrative purposes only, with ownership retained by the original authors. This article provides general information only and is not meant as opinion or advice for specific situations.
Follow AppGrowing's social media accounts or register immediately at AppGrowing to learn more mobile advertising insights.