According to the data from APP Growing Global, on August 25, Ranking List of Newly launched casual games on iOS and Google Play in the United States is as follows.
▼Top New Games On American iOS Store Rank▼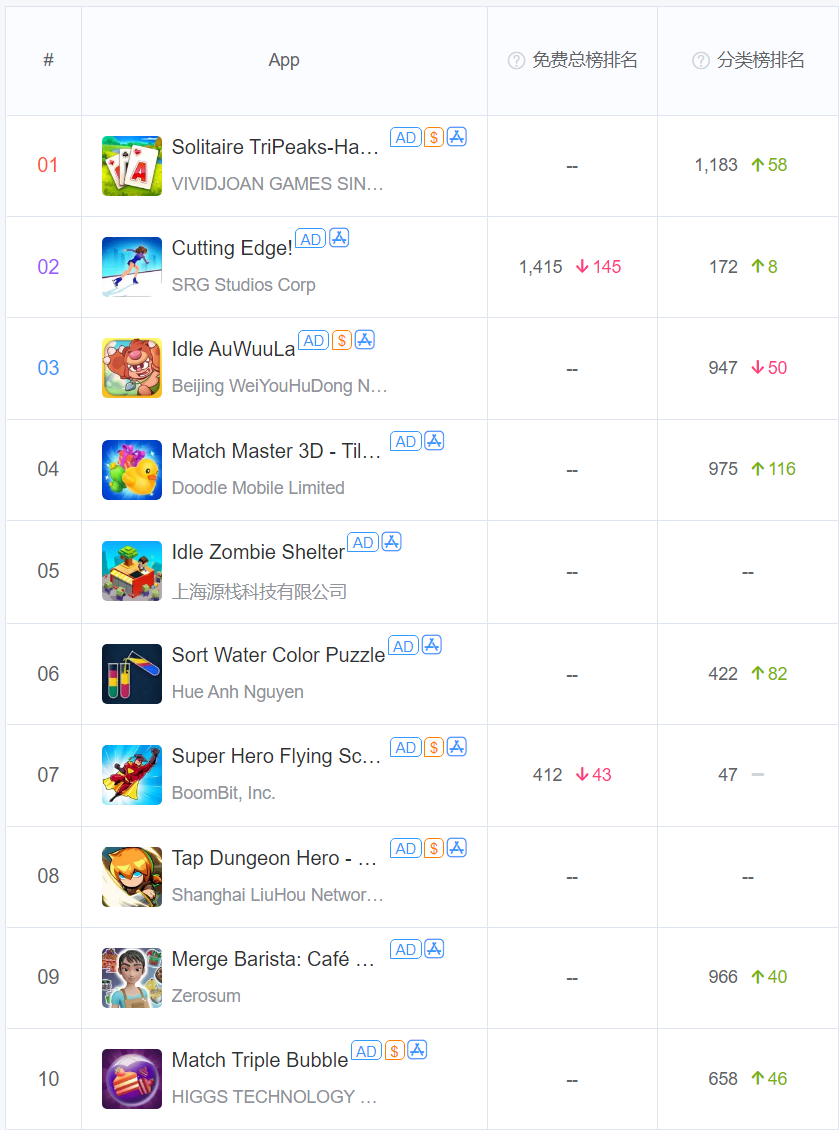 ▼Top New Games On American Google Play ▼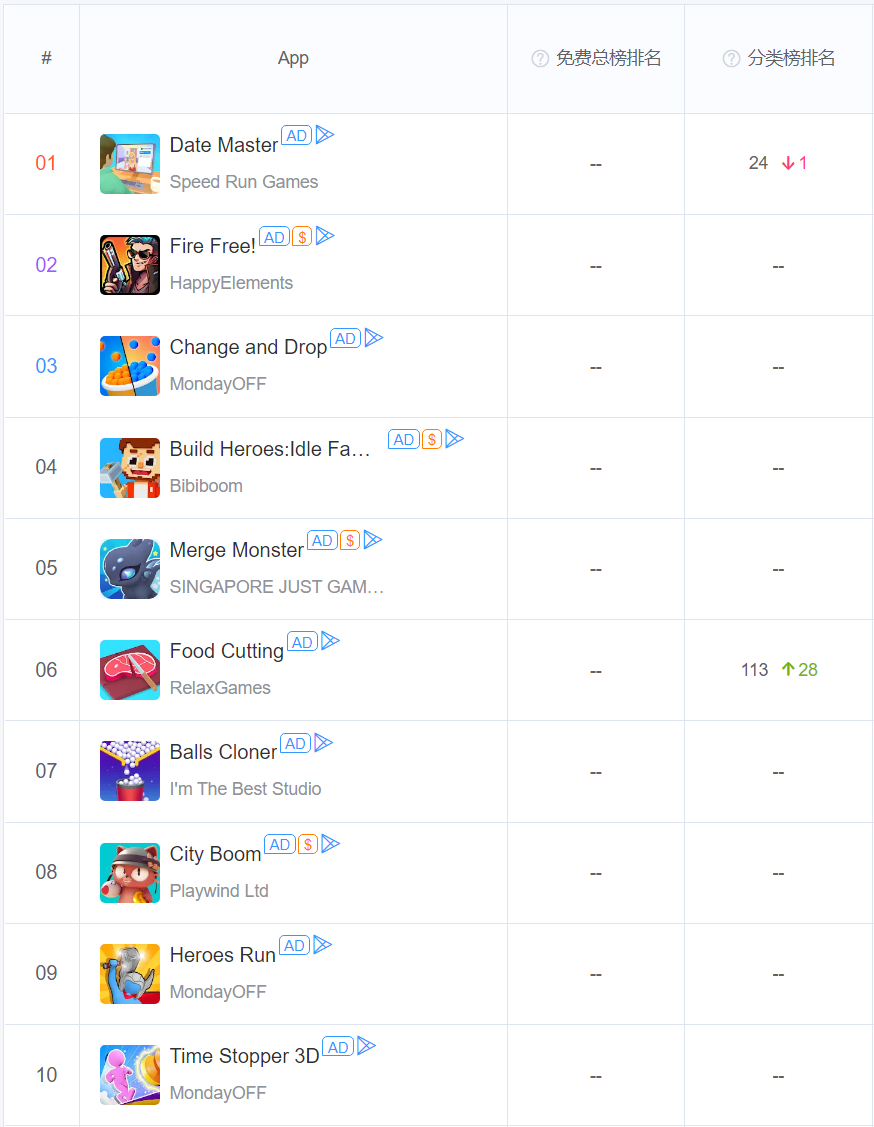 In these two lists, there are at least 9 games that can be confirmed coming from Chinese publishers, including Yaoji Technology, Doodle Mobile, Happy Elements and other well-known manufacturers, as well as many small and medium-sized manufacturers.
Korean casual game publisher MondayOFF has the most games on the list, as"Change and Drop", "Heroes Run" and "Time Stopper 3D", all entered the Top 10 New Games on Google Play of the day.
Aside from the manufacturer's perspective , some current industry trends can also be found through observation.
01
Match-3 Game
Match-3 mobile games have been popular all the way to the present, some people applaud, some sing badly, but there is always a steady stream of new match-3 games. "Match Master 3D", "Match Triple Bubble", and "Merge Monster" in this list are all match-3 games. The first two games have innovatively used 3D painting style. Not only the eliminated objects themselves, but also the stacking of objects are presented in 3D.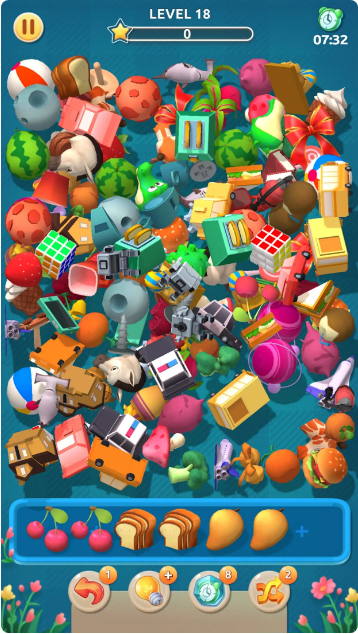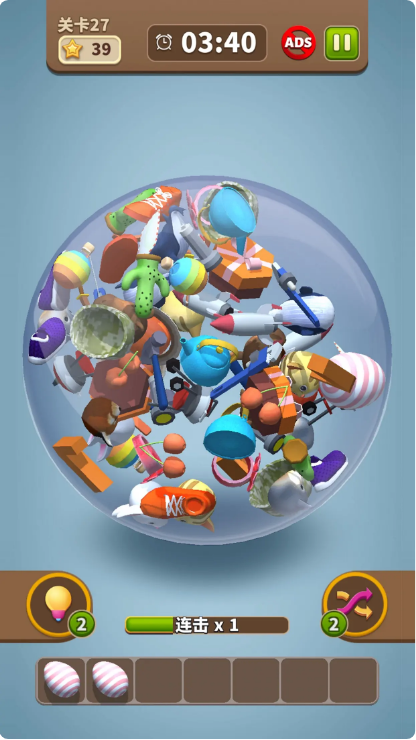 "Merge Monster" adopts the popular "Match 3+" mode. Abandoning regular themes like garden, home, and castle, it adopts a fantasy style by integrating "Match 3+" gameplay with cute pets in order to strengthen the game's practicability.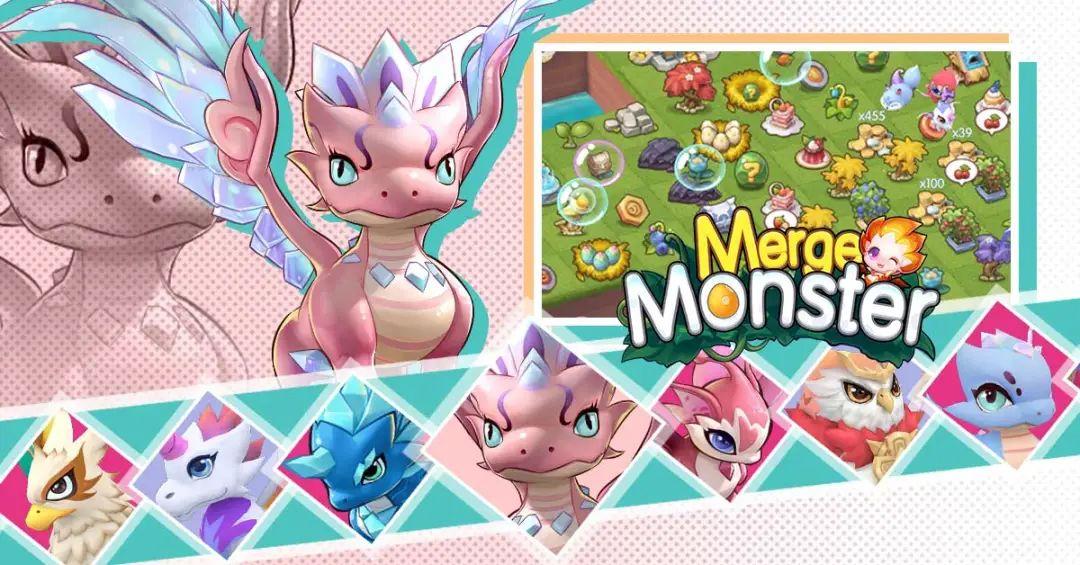 To a certain extent, The popularity of "Match 3+ game" also helps other kinds of "Elimination game" be famous. Although "City Boom" and "Merge Barista: Café Decoration" do not belong to Match 3 from the perspective of the gameplay shown in the advertisements, they still absorb the integration experience of "Match 3 +" by combining elements such as construction, operation, and combat into their game content.
Merge Barista: Café Decoration (left) and City Boom (Right)
Source: App Growing Global
02
Idle
Another type of game that frequently appears on the list is idle game. Idle AuWuuLa, Idle Zombie Shelter, Build Heroes: Idle Family Adventure and Tap Dungeon Hero all belong to the idle game and they all happen to come from Chinese game manufacturers.
Both Idle Zombie Shelter and Build Heroes: Idle Family Adventure choose the zombie theme. Also, there are some similarities in the gameplay. Players need to build shelters, defeat zombies, and save survivors. The pixelate art style enhances the degree of leisure, and the cute character image also distinguishes it from other apocalyptic survival RPGs.
Idle Zombie Shelter (Left) and Build Heroes (Right)
Source: App Growing Global
On the other hand, Idle AuWuuLa and Tap Dungeon Hero focus more on turn-based combat. Players need to collect game characters, obtain resources through battle to upgrade the lineup, and unlock more advanced levels. The idle elements are more embodied in automatic battles. Players only need to click and operate easily, which is more casual than other RPG games. Lilith Games' AFK Arena has had a very eye-catching market performance with similar gameplay.
Idle AuWuuLa (Left) and Tap Dungeon Hero (Right)
Source: App Growing Global
03
Multiplier
Multiplier is a popular growth mechanism in hyper casual games this year. Both Balls Cloner and Change and Drop adopt this mechanism. In these two games, players need to control where the ball falls, and obtain the corresponding growth rate to increase the number of balls to meet the clearance requirements. Compared with the hyper casual game that simply simulates the falling phenomenon, the introduction of the multiplication mechanism enriches the difficulty of the game's operation and strength game's practicability.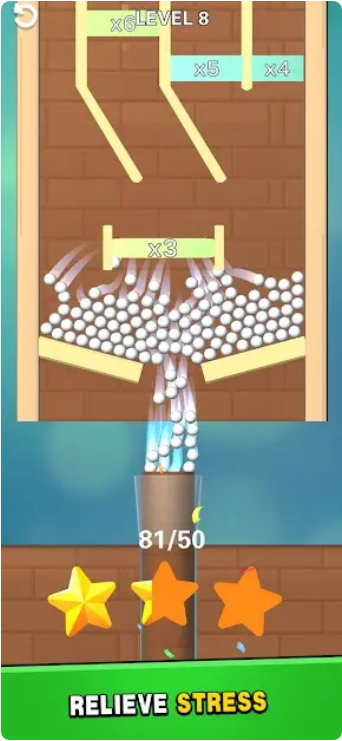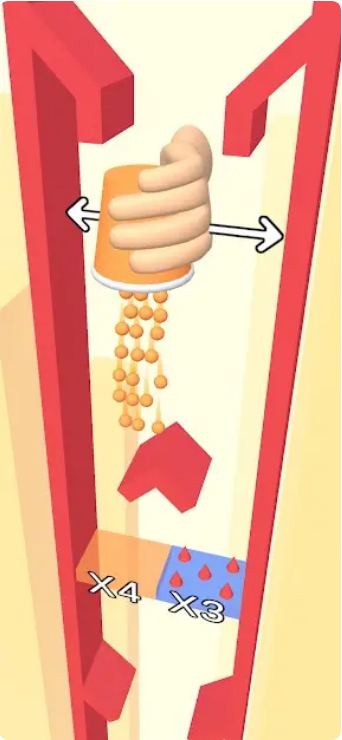 Balls Cloner (Left) and Change and Drop (Right)
Source: App Growing Global
The well-known manufacturer Voodoo released the same type of game Bounce and collect in April of this year, and the game performed well, with Google Play installations exceeding 1,000w.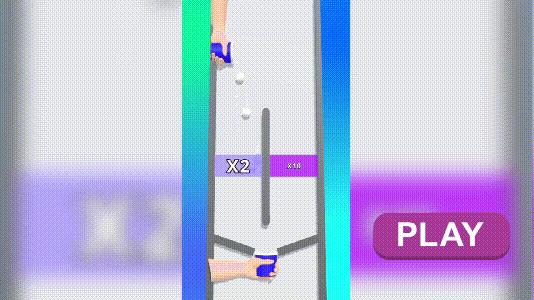 04
Parkour
In the first half of the year, the hit of High Heels! brought a wave of parkour category "Renaissance", and people realized that classic parkour gameplay + popular themes can also be well received. Therefore, all kinds of "jelly people", "unspeakable things" ran away one after another.
The three games Cutting Edge!, Time Stopper 3D and Heroes Run are all parkour-focused games.
Among these three games, the gameplay of Heroes Run is most similar with High Heels!'s. While controlling the character to avoid obstacles, players needs to upgrade by collecting props to obtain higher scores.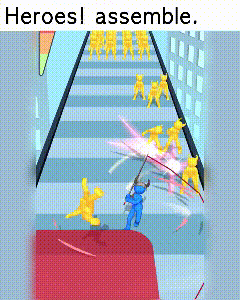 Cutting Edge! is more inclined to avoid obstacles. Players need to control the skaters to choose the correct actions to smoothly pass the obstacles. The theme of figure skating shows that this game is the same as the High Heels!. Both of them are oriented in Women customers. Judging from the views of advertisements, the characters and movements are very real and smooth.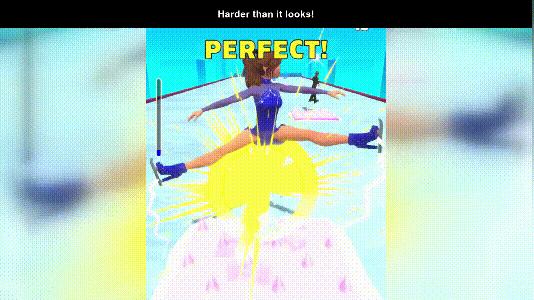 Time Stopper 3D further innovated the gameplay by changing player's perspective. Players don't need to control the game character, helping the character quickly pass the obstacle and collect more companions. This seems a bit different from the definition of the parkour game, since players don't directly control the game character, but it does offer some new ideas.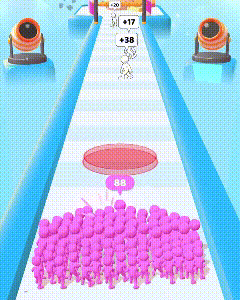 The above is "Mobile Advertising Analysis of New Casual games in U.S. Market: Repeated Gameplay and Numerous creative ideas", log in App Growing Global now to get more mobile advertising information.
The above-related advertising creatives are sourced from App Growing Global, which are only used for research and analysis. All Rights Reserved.