On August 31st, the "Symbiosis" YouCloud Digital Growth Conference was successfully held in Guangzhou, China. Focusing on enterprise digital marketing, the conference gathered 30+ senior experts from industries such as e-commerce, short drama, and game to discuss the new path of future marketing trends, business growth, and eco-win.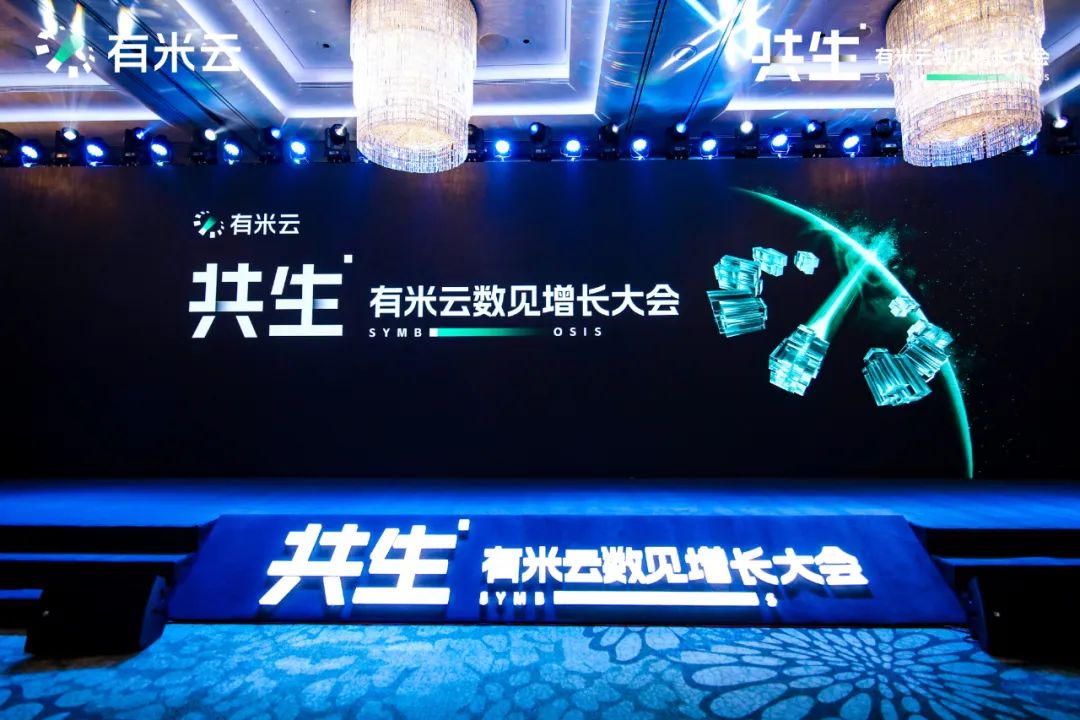 The conference attracted thousands of elites in mobile advertising and internet technology. At the same time, YouCloud officially announced its new brand identity "Dagital & Intelligence Leader", focusing on symbiosis, exploring the essence of marketing, and assisting enterprises in the new process of digital marketing.
At the "Global Game Marketing and Growth Forum", AppGrowing collaborated with guests from Snapchat, Unity, Xsolla, YFCH, Google, etc., focusing on the new direction of global game publication and discussing the trends and opportunities in the entire chain of game development, monetization and marketing.
Ted, partner and CTO of YouCloud, presented a keynote speech on "Mobile Game Global Marketing Trends 2023: Refinement and Localization" and unveiled AppGrowing's new brand image.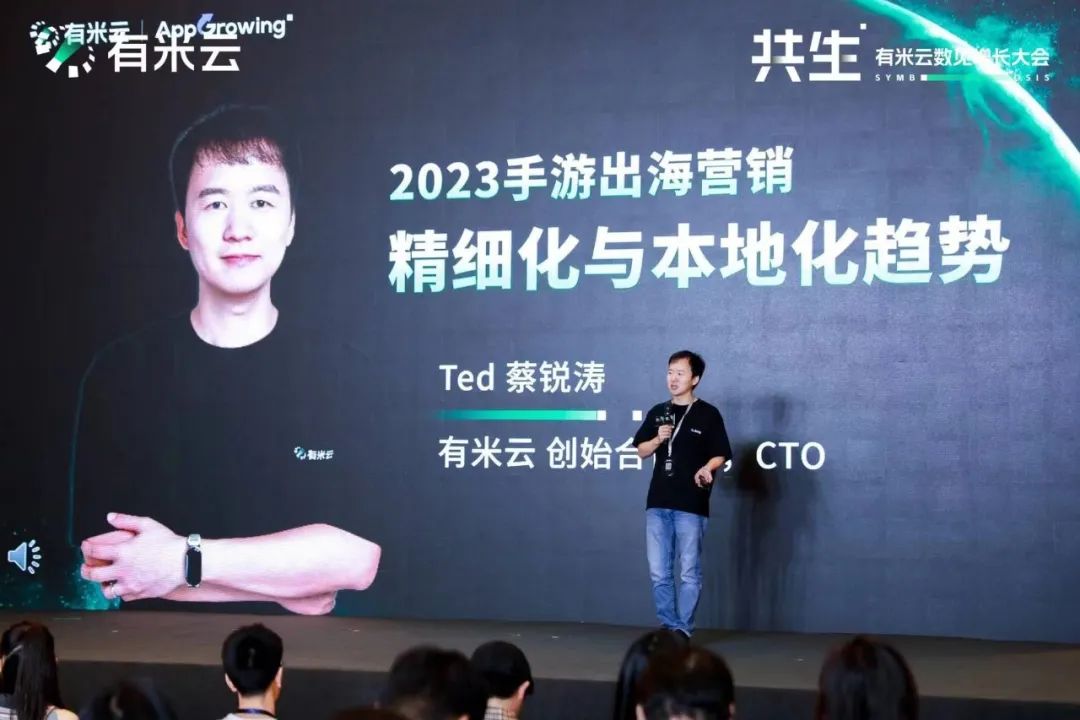 The new VI continues the well-known "Growing G" icon and has been upgraded and optimized to be in line with current aesthetics. With a more complete graphic structure and recognizable upward momentum of "growth", it carries AppGrowing's vision of assisting the refinement and localization of global marketing.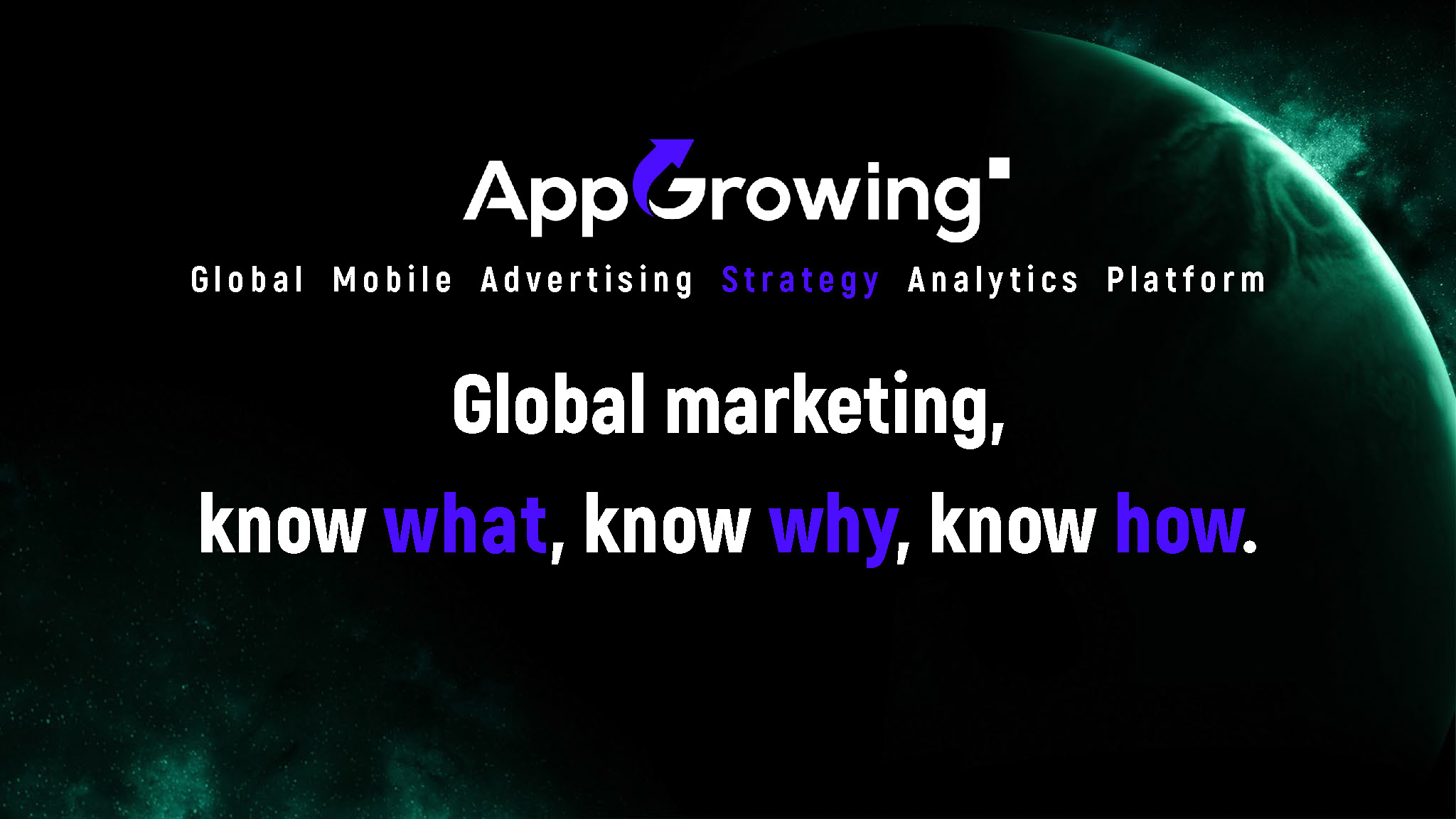 ---
Ted stated that the global gaming industry is facing multiple challenges and opportunities in the current market with increasing uncertainty. Basing on the big data of global advertising, AppGrowing observed 3 significant trends.
First, the game industry has returned to the mode of high investment and high return. Second, more than 80% of game ad creatives are in the form of video, which has become the overwhelming mainstream choice. Third, advertising technology has also ushered in new changes, with AIGC being introduced into the ad production, while data has become a hard threshold.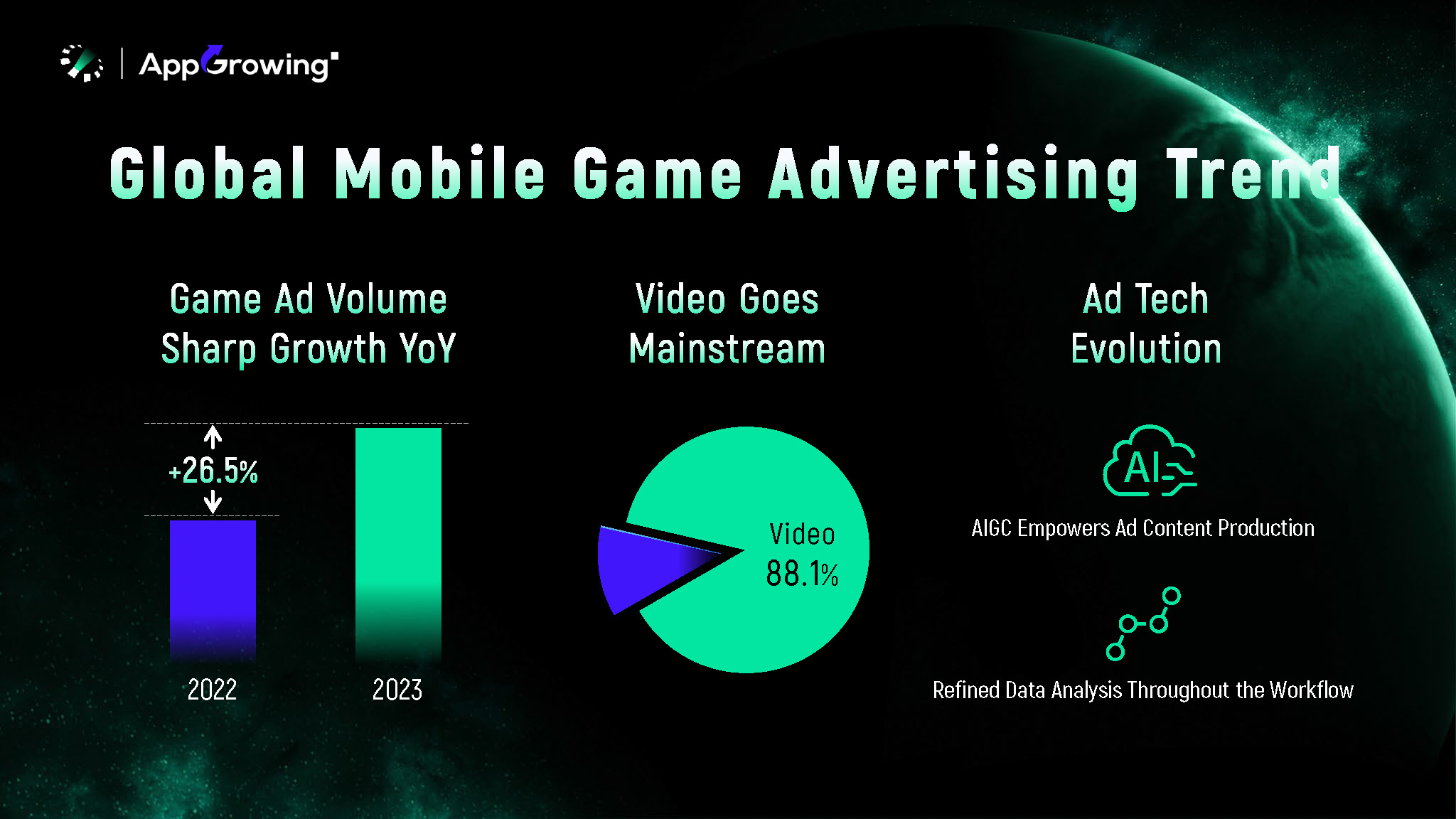 Such a market environment has put forward higher requirements for global game practitioners, especially marketers, than ever before. Through years of insights into the global market, AppGrowing has concluded three essential competencies for mobile game global marketing nowadays: data-driven competency, localization adaptation competency, and creativity capture competency.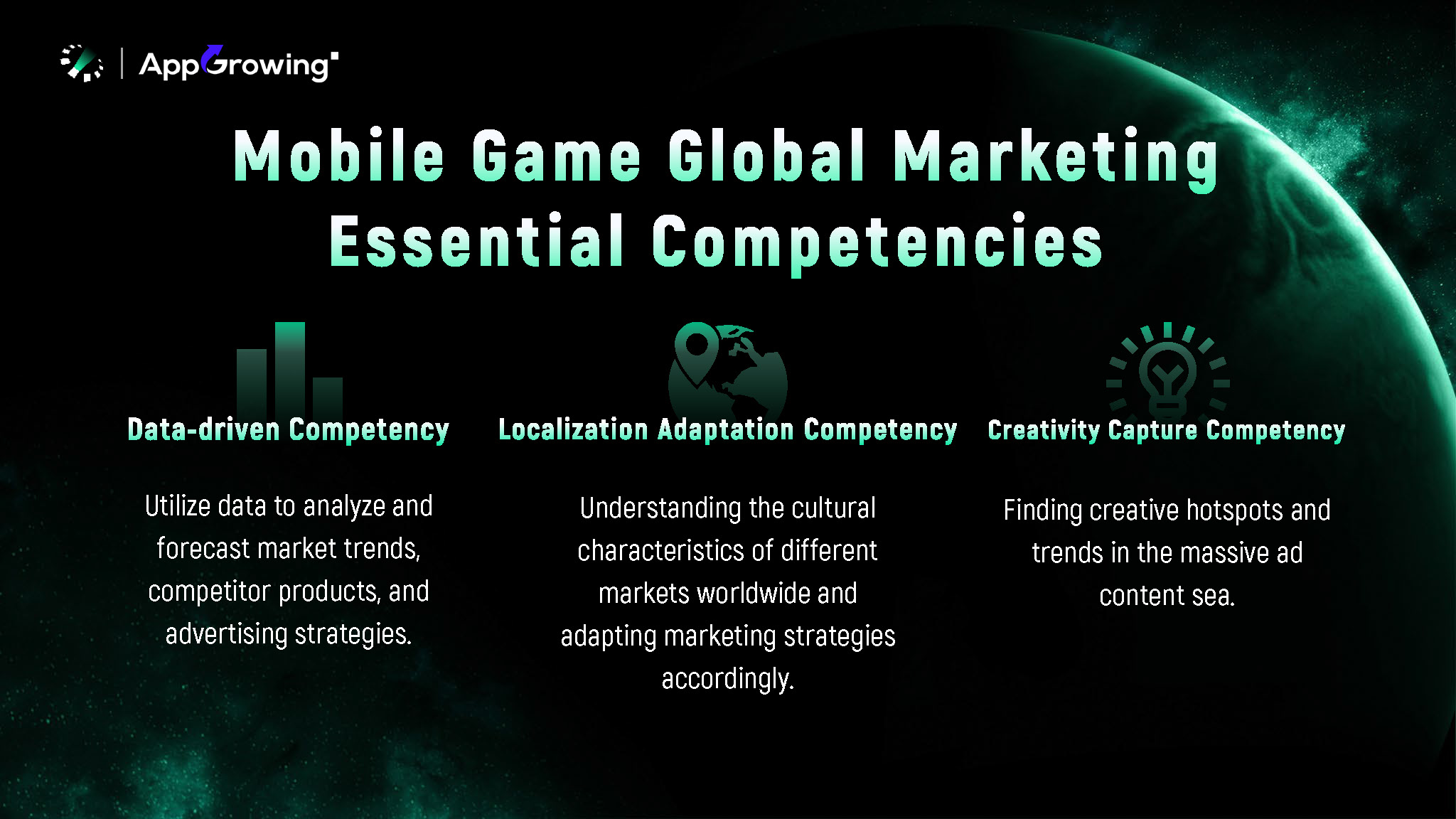 Thereby AppGrowing has upgraded to "Global Mobile Advertising Strategy Analytics Platform" with the new brand identity and launched the new slogan "Global marketing, know what, know why, know how." We hope to not only help global game practitioners gain insights into market trends, but also understand the reasons behind it and grasp the way to win, so as to stand out in the global wave.
01 Refined Ad Creative Analysis
Nowadays, ad creative production has entered a new stage of rapid evolution. On the one hand, the life cycle of creatives is rapidly shortening, requiring a speed-up production. On the other hand, the ad content has become more diversified, so as the corresponding management needs. Obviously, sharp insights and deep understanding of data are key for marketing teams to accurately predict the market trends and make informed decisions.
Following the marketing trend, AppGrowing continues to upgrade in both granularity of data analysis and dimension of creative breakdown.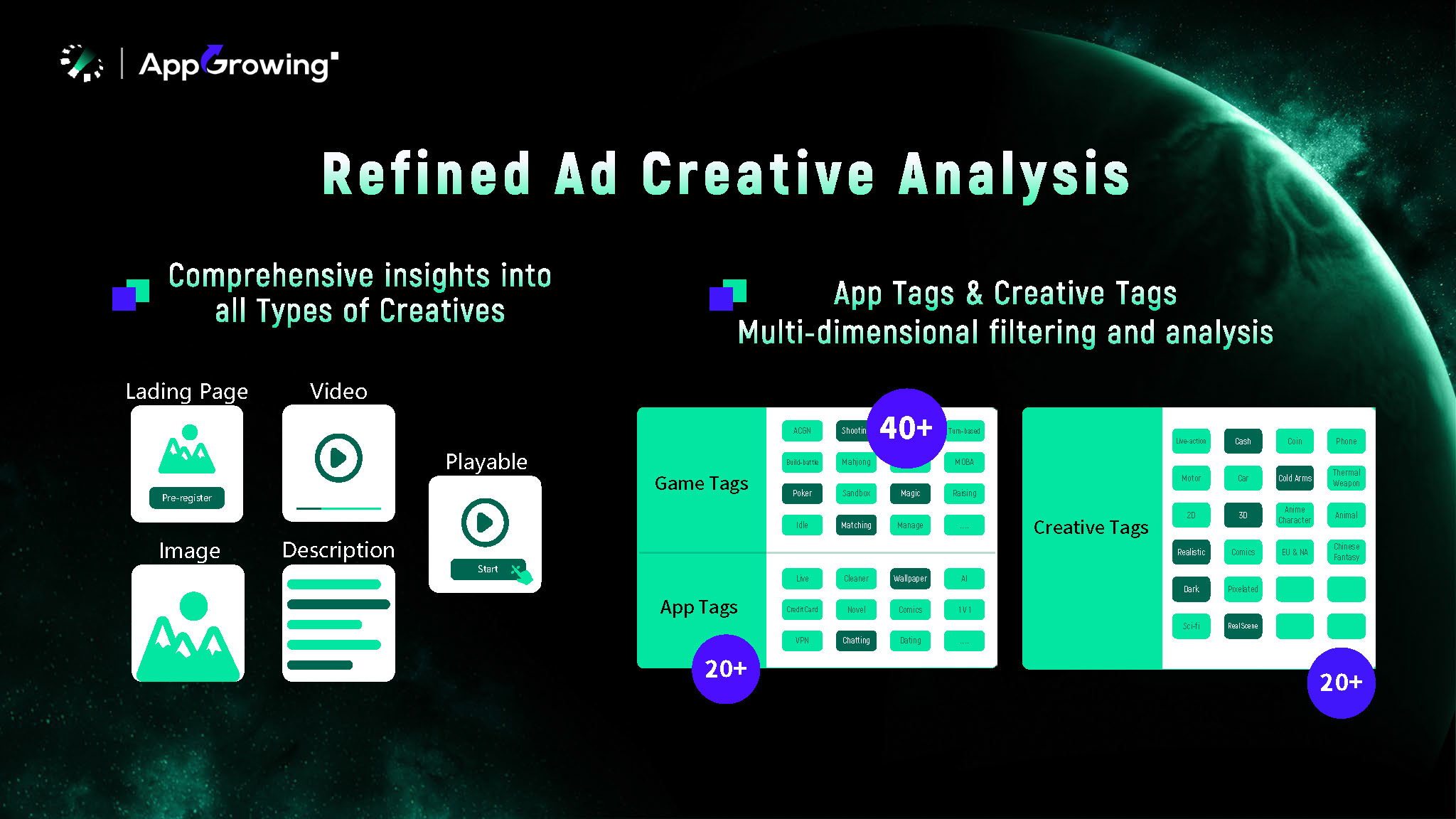 In terms of the granularity of data analysis, AppGrowing specifically collects data on landing pages and playable ads, and comprehensively covers the 5 major types of ad creatives. The 2 display choices, creative view and ad view, help users efficiently obtain, evaluate and analyze creatives. We refine the filtering category, exclusively combing a series of App tags, to improve the efficiency and effectiveness of creative search and analysis.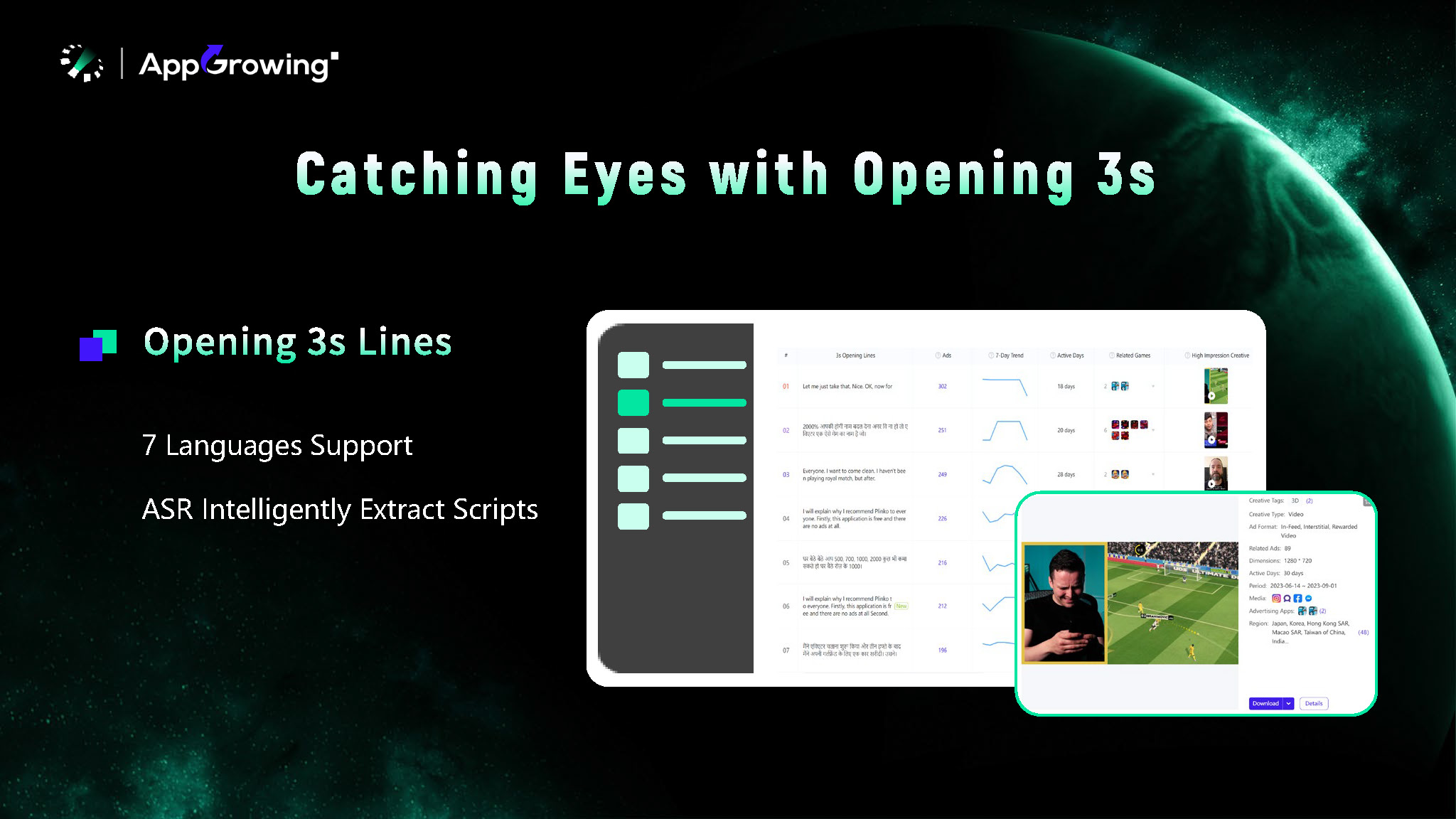 In terms of creative breakdown dimension, AppGrowing's "Creative Tags" allows users to distinguish common design elements such as "live-ation", "coins", "cars" and overall art styles, which makes it easier to scientifically and precisely analyze creatives. For video creatives, AppGrowing launches "Opening 3s Lines" to provide efficient references.
02 the Fundamental Logic of Advertising Localization
For globally released games, localization has long been a consensus. However, as the global mobile game market turns from blue ocean to red ocean, the hidden culture under the cultural iceberg becomes more important, and "localization" is not just about language and UI adaptation.
Specifically, in the past, most games paid more attention to explicit things such as language, art style, etc., which is enough in the previous market. Some even globally acquired users with only English creatives. However, when it turns into a red ocean, an ad needs to trigger players' sense of immersion and identification, and reflect appropriate values to impress them.
As a result, there are new requirements for localization: in the face of multi culture, a marketing team needs to be cross-culturally sensitive and able to understand the cultural characteristics in different regions to adapt the marketing strategy accordingly.
For example, it can be seen that many publishers have attempted to do localization in "non-core gameplay advertising", which is popular among midcore and hardcore games. Although most  creatives are mini-games, AppGrowing noticed that some leading companies' ads had made corresponding changes according to players referrences in different markets, presenting obvious regional features.
On the other hand, cultural differences also bring about the " pre-registration marketing trend". Today, the "mass marketing" strategy  overwhelmed the global market with more games invest more into the beta and pre-registration stages.
As AppGrowing observed, many hit games tend to use image creatives during the pre-registration to quickly confirm players' acceptance of basics such as game themes, art styles, and background settings. Latter on, as the ad content becomes abundant, video creatives are used more frequently.
Considering the above demands, AppGrowing has launched "Marketing Calendar" and "Pre-register Calendar" to make it easier to create better localized ads according to the festivals in target regions. Also, users could view the release time of competitors' to modify marketing strategy in time.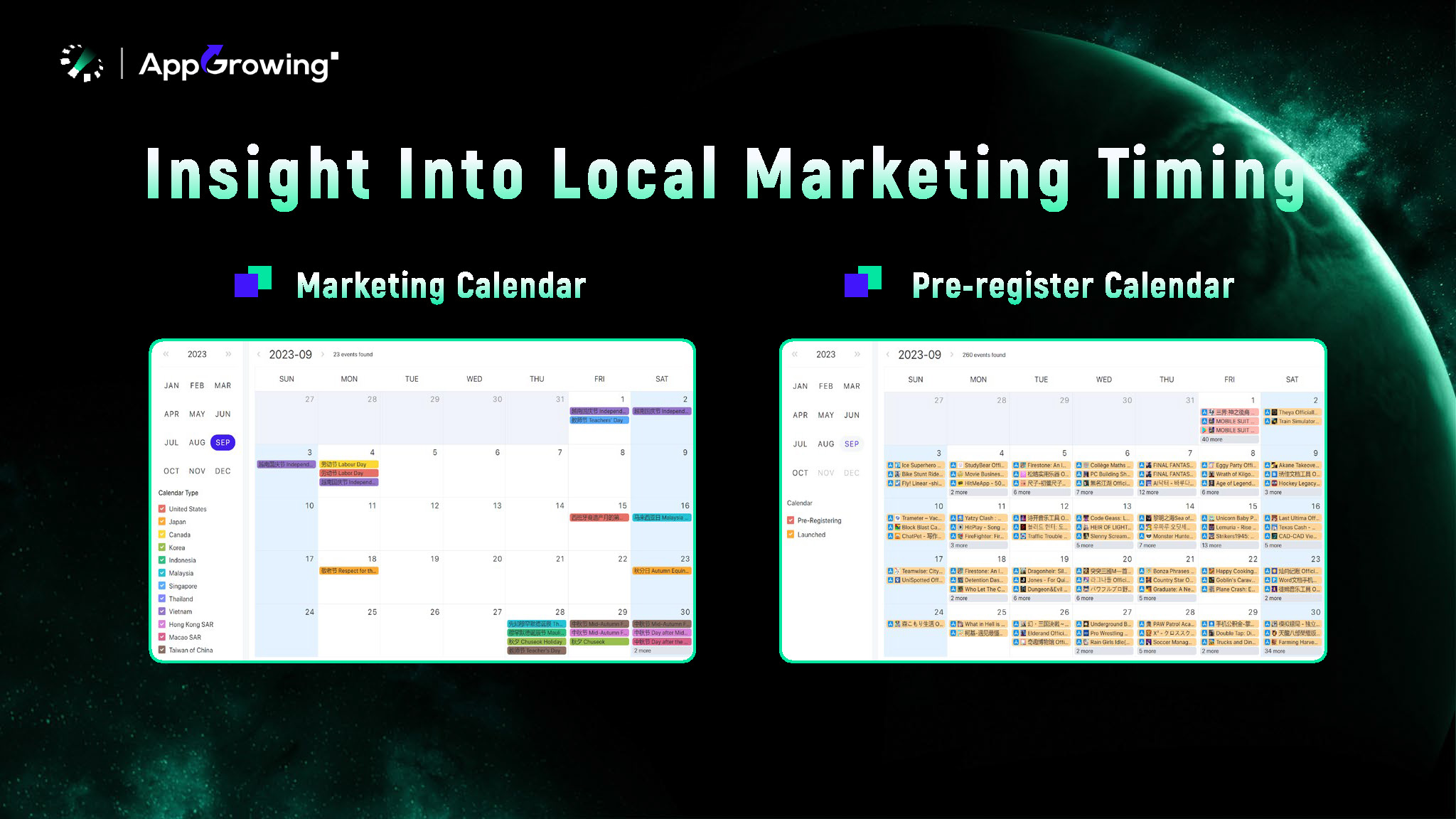 In addition, AppGrowing has launched "Stage Analysis", which can separate a game into different stages of its lifecycle for comparative analysis, so as to help marketers better understand its stage features and marketing strategies, and evaluate the effects of different strategies.
03 How to Do Agile Global Mobile Game Marketing ?
The rapidly changing global market also demands "agile marketing" for marketing teams. As Ted put it, similar to "agile development" in software development, "agile marketing" can be realized in game marketing with the technology evolution. Regular campaigns and feedback over a certain period allow for a quick response from market testing to data feedback. Based on our insights into the global market and discussions with practitioners, AppGrowing has come to 3 solutions.
First, farewell to ineffective and repetitive work. At present, many advertising intelligence platforms just provide data. Game marketing teams have to spend a lot of effort gathering and organizing data, and making charts and reports. As a result, the excavation and tracking of creativity is not timely enough.
Therefore, AppGrowing launched "My Subscriptions" to automate the report production process. Users simply subscribe the games to get weekly reports on their critical marketing data. Marketing teams could focus on data and creatives analysis, eliminating the tedious and repetitive data collection upfront.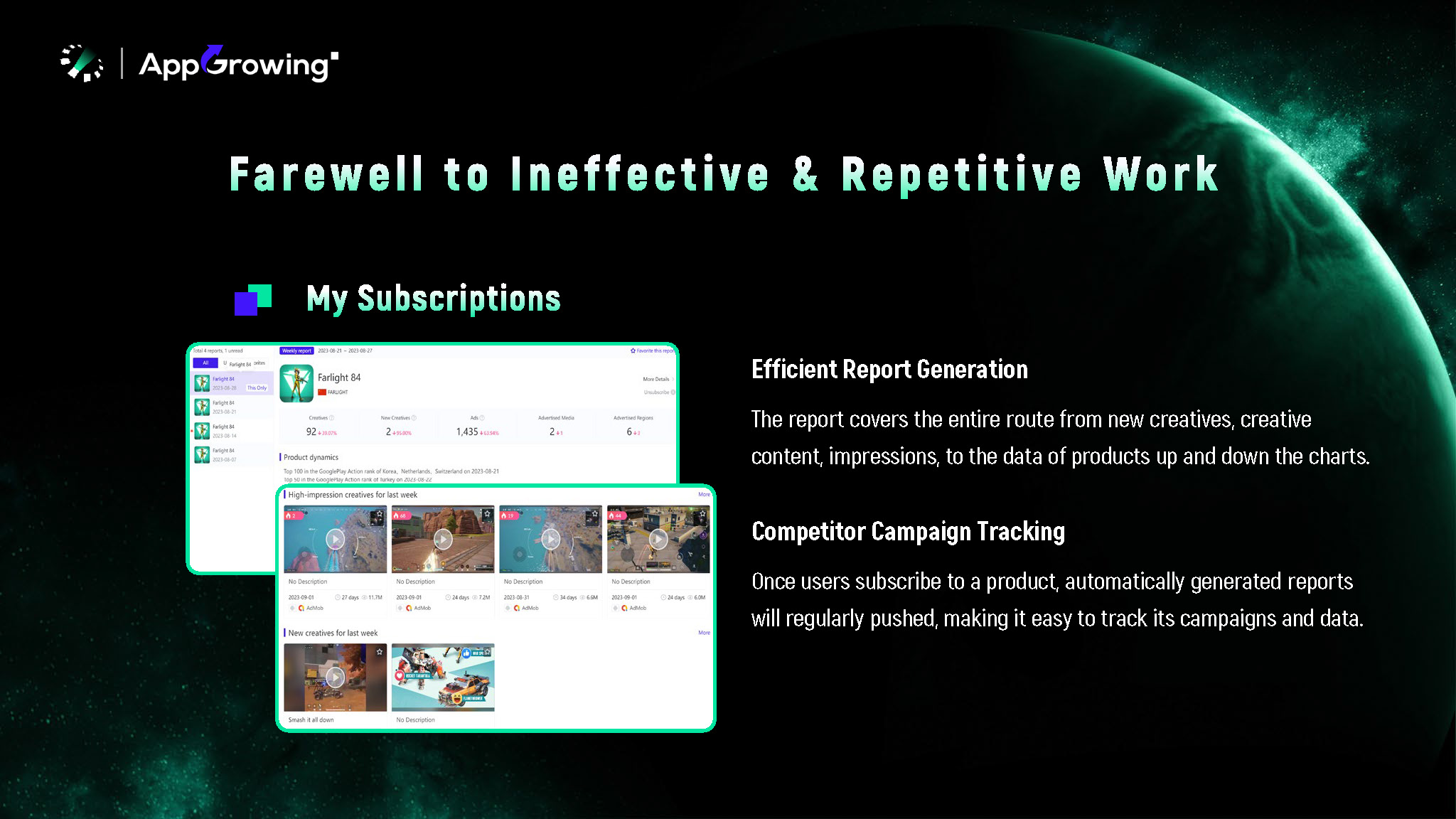 Second, AIGC should be integrated into the workflow to improve the efficiency of ad production and localization. Compared with images, the localization of video creatives involves more content and costs more. With the "AI Voice Generator" of AppGrowing, users can create video voiceover and scripts in 15 languages within a few minutes by simply inputting the basic information and selling points of a game. Also, users could make customized adjustments to the accent, mood, and speed of speech, which greatly improves the production efficiency of multilingual ads.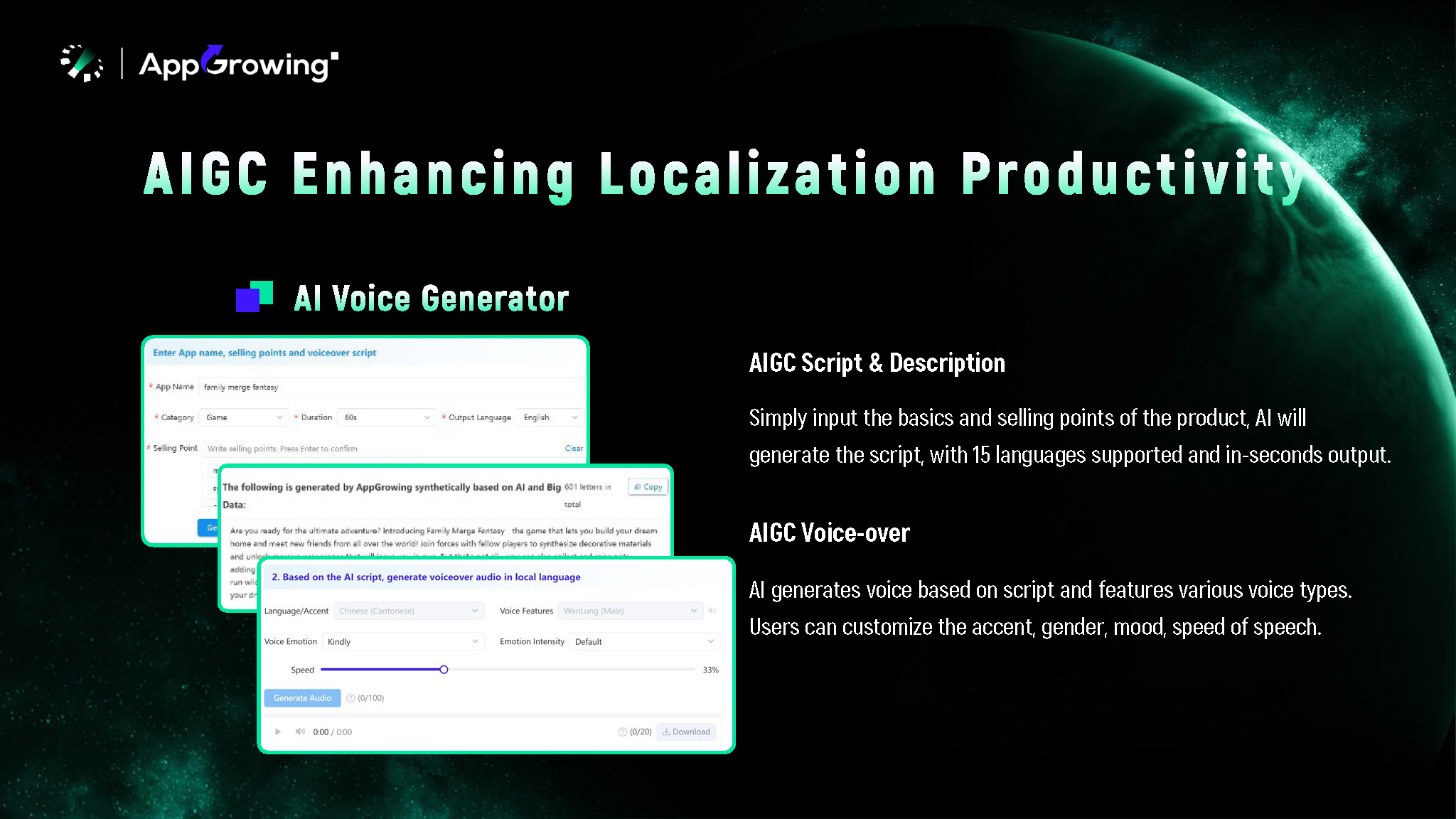 Third, break the team collaboration barriers. According to the research by AppGrowing, the daily creative sharing process of game marketing teams is cumbersome. To improve teamwork efficiency, AppGrowing launched "Collections" to bridge the content sharing among the entire team. Through the browser plug-in, users can collect all the high-quality ad ideas from inside and outside the website into the inspiration library, which drives to smoother information delivery and more efficient collaboration.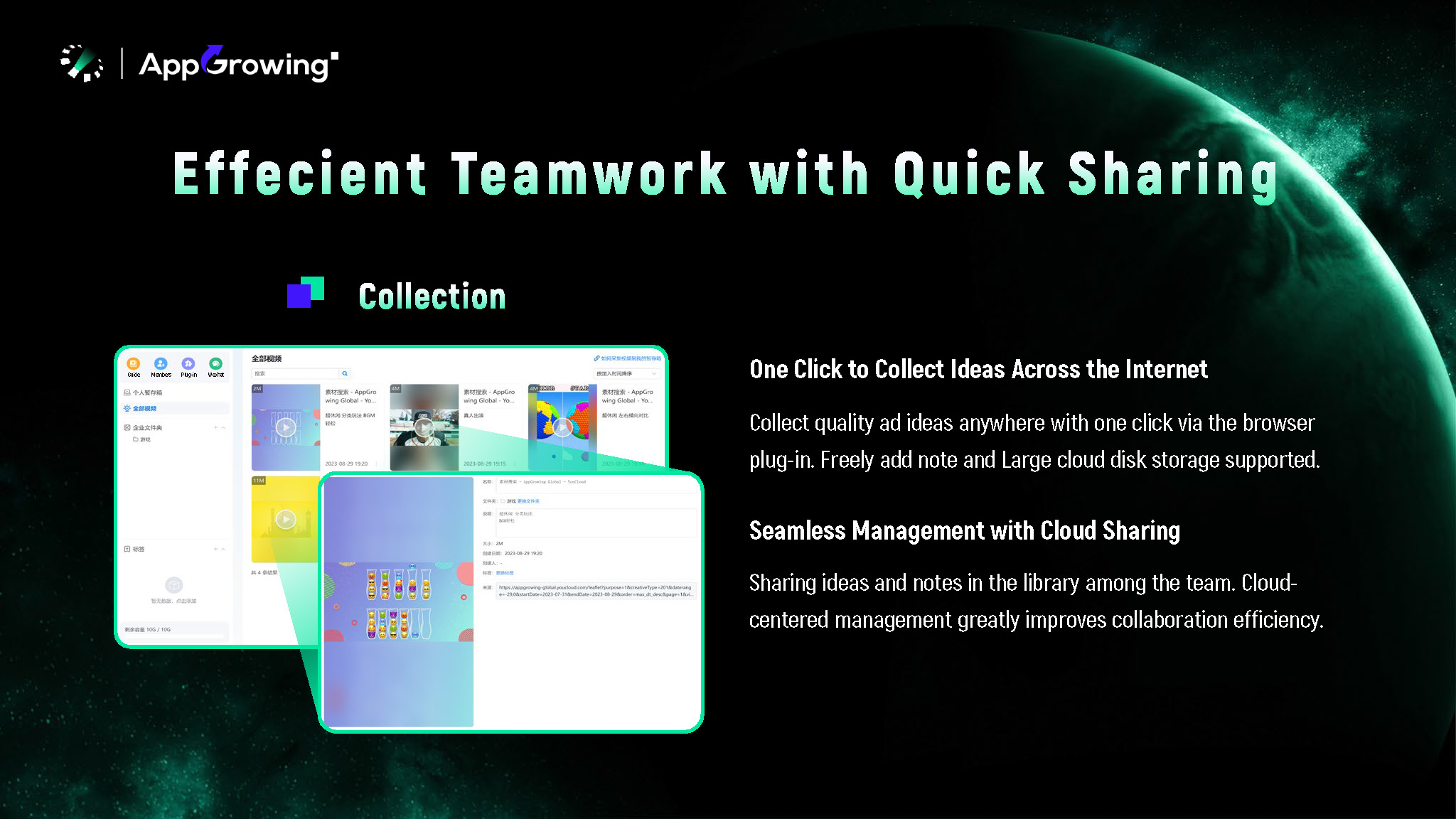 04 New AppGrowing for Two-Way Driven Growth
The global game industry is in the face of challenges and opportunities. AppGrowing has upgraded from a simple "Know What" creative tool to a "Know Why, Know How" global marketing solution, reflecting the global marketing's shift from crude to refined.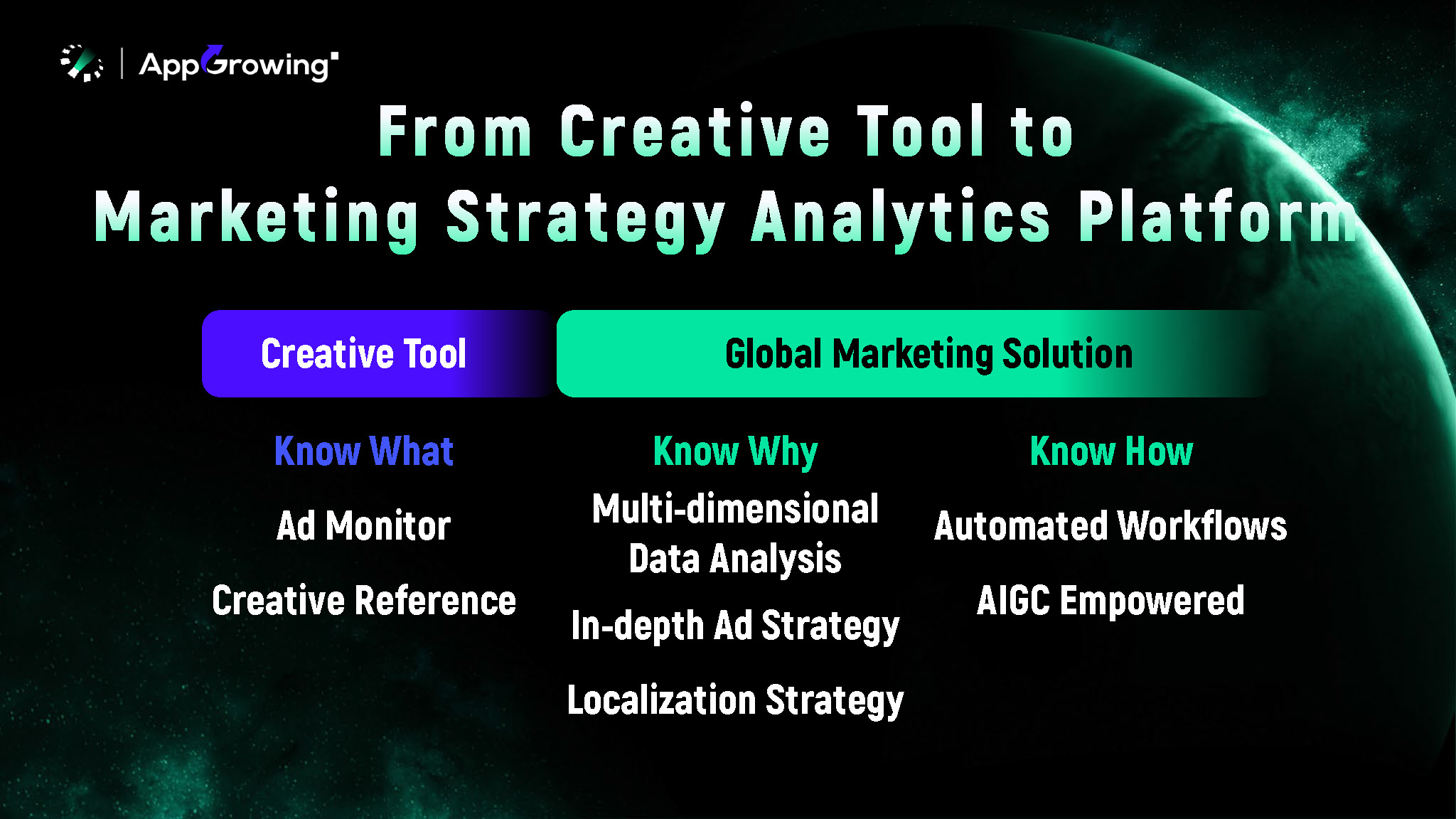 The newly upgraded AppGrowing will become a powerful booster for global marketing growth, and promote game marketing practitioners to stand out in the global mobile wave.