Metal Slug, the classic run-and-gun game from Japanese developer SNK, is one of the brightest stars of the arcade era. In August 2023, Metal Slug: Awakening, a licensed mobile game developed by TiMi Studio of Tencent from China, was officially released in Hong Kong, Macao & Taiwan of China, and Southeast Asia by Vietnamese NPH VNG. According to AppGrowing, Metal Slug: Awakening immediately topped Google Play and App Store game charts since its availability on August 22nd.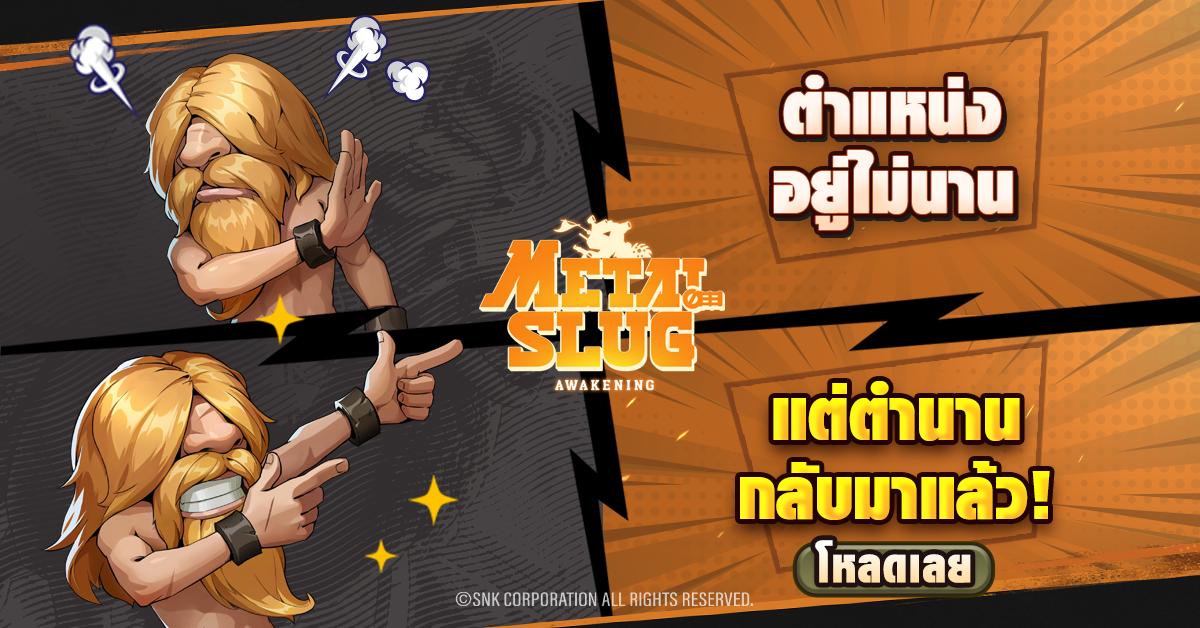 Source: AppGrowing
01 Metal Slug's Maximum Reproduction and Innovative Gimmicks
Arcade games have been popular worldwide since last century, and there are two main ways in which they moved from the game halls to mobile phones. First, they continued to develop games with varying content in line with technological evolution, such as Nintendo's Mario series. Second, when arcade games became niche, they were not adapted to current devices or had sequels released in time, thus fell silent for a time, as in the case of Metal Slug.
For the former, games can be serialized and differentiated in content and gameplay. For the latter, "copying" may be the first priority for IP-based mobile games. Then, according to the demands of players in the new generation, innovation and upgrading can be the icing on the cake.
Metal Slug: Awakening fully retains the iconic World Adventure gameplay of the arcade game. The game reveals a number of nostalgic Easter egg surprises, and many of the classic elements such as fat Marco and undecayed mummies can be seen in the mobile version. No need to worry for experienced players about not being able to fit into the surroundings, especially when you see the familiar fellows in the arsenal of weapons and vehicles.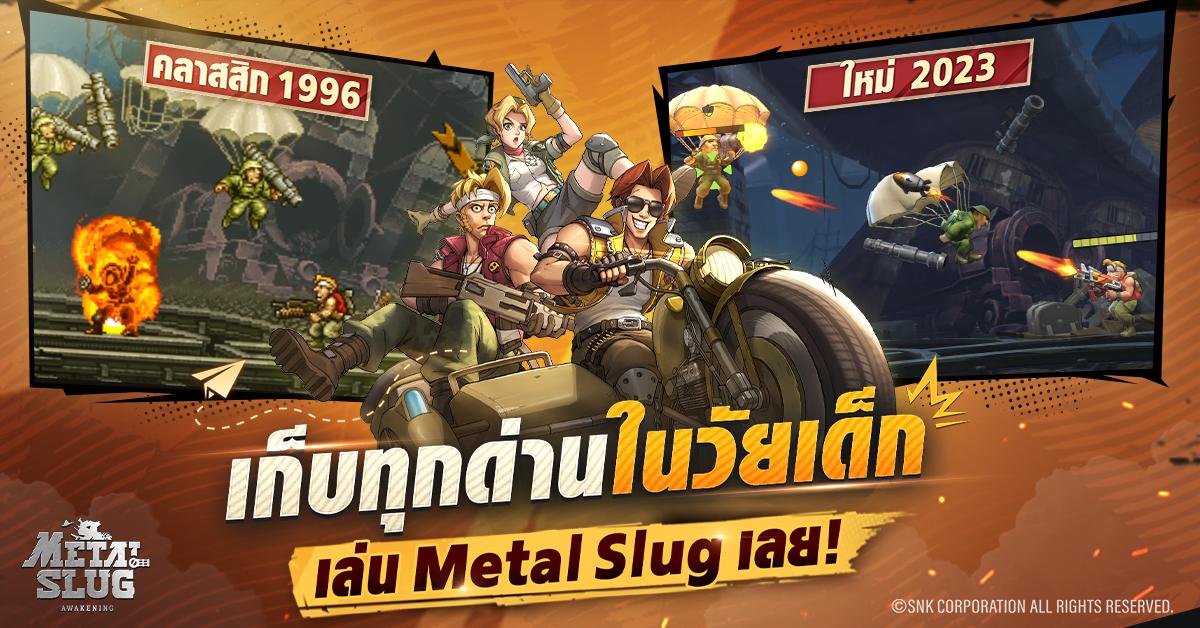 Source: AppGrowing
Exploration is another basic human desires. Players won't pay for an uninspired replica. Needless to say, the game has been technically upgraded, and 3D maps are already a norm for such games. Metal Slug: Awakening has made upgrades to the graphic quality and the operating system to provide a smooth and comfortable gaming experience.
As a shooter RPG, the game upgrades classic weapons and vehicles to increase playability and powerfulness. For example, the classic SV-001 tank has a more flexible mobility and the capability to fire bullets. New characters, weapons and vehicles can be seen in the mobile game, enhancing the available options for players in different battlefield environments.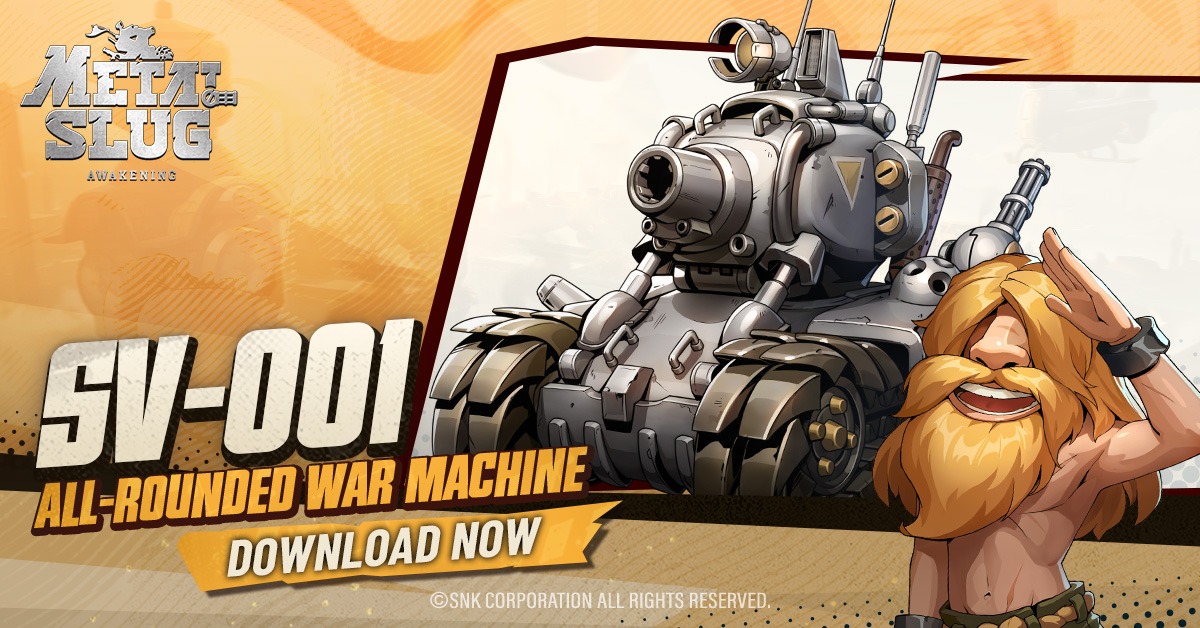 Source: AppGrowing
02 Metal Slug's Nostalgic Marketing and Excellent Localization
Metal Slug: Awakening was first introduced at the Tencent Games Conference 2021. After years of development, the game was released in mainland China in April 2023 and topped the Top Free chart. As the game was proven to be successful, Vietnamese publisher VNG quickly began pushing for its official release in Southeast Asia.
According to AppGrowing, the game starts pre-registration in July 2023 with a progressively scaled-up ad campaign.
Source: AppGrowing
In June, Metal Slug: Awakening began advertising on a modest level, which could be considered as an early test for the target market. Since about 10 days before launch, the daily ad volume for the game ramped up to nearly 500. After its official release on August 22, the ad volume increased dramatically, reaching a peak of 2,098 on August 29th.

Source: AppGrowing
VNG trusts on the support that social media can provide for the mobile games to acquire users, posting about 95% of the ads on Meta Media represented by Facebook. Accordingly, in-feed formats account for more than 80% of the ads. Video ads account for about 60% of all, with more horizontal videos and the rest are mainly image ads.

Source: AppGrowing
In terms of ad creative content, the advertising strategy for Metal Slug: Awakening is centered on Nostalgic Memories, similar to many successful classic IP-based mobile games. In addition, as the publisher for the whole Southeast Asia, VNG has done extensive and excellent localization work on the ads released in different regions.
The following video, which was heavily advertised in Hong Kong, Macao and Taiwan of China, is a typical example. Firstly, it is presented in the form of live-action video which is favored by players in these regions. Secondly, the 2 actors are famous gamers who are able to attract viewers on social media. Thirdly, memories of the arcade version and the mobile game introduction are unfold naturally in their dialog. The vivid expressions and the reality-show-like plot make the whole ad organically structured.
The video in a retro film form and pixel art style is one of the most straightforward among the numerous nostalgia-themed ads of Metal Slug: Awakening. It shows classic scenes in the with scrolling film pictures, along with a arcade-like art style that enables viewers to associate it with the classic one.
Multi-language ads are the least requirement for mobile games released across regions. What counts as excellent localization means that the game marketing team has comprehensive insights into local culture, customs, and other invisible features. According to AppGrowing, VNG created various ads of diversified content for different regions.
Thailand is one of the more advanced regions in terms of film and television industry in Southeast Asia, and Thais are keen on dramas and live-action ad creative. According to AppGrowing, Metal Slug: Awakening accordingly oriented its ad videos towards plot-based there. The video below, for example, begins with a dramatic "heist," in which the character receives an in-game weapon and defeats the attacker. The "fight back" storyline and cosplay elements are key to encouraging viewers to download the game.
Macao is famous for its gaming industry, and Casino mobile games are often well received here. Taking this insight, VNG has created ads that incorporate gaming content, such as the video below, which begins with a slot-like image.
Source: AppGrowing
03 Metal Slug's Message to IP-based Mobile Games Awaiting Release
IP-based games are at the forefront of global mobile market revenues. In fact, many perennially chart-topping mobile games are originating from classic IPs such as Mobile Legends: Bang Bang, PUBG MOBILE and the recently global released Harry Potter: Magic Awakened.
However, we found that they are often the first type of IP-based mobile games mentioned above, with an ever-renewed game series and branded content that players have always been familiar with. Metal Slug: Awakening is a good example of another type: one that focuses on "nostaligic marketing" and optimized ad localization.
From the very beginning of the establishment of the classic IP adapted mobile game, the selling point of nostalgia has been hidden in its genes. It is the basis to gain the first batch of players, but also in turn limited the growth by the influence of the IP itself. To break through the inherent group of audience, it is necessary to conduct advertising campaigns with a wider coverage, which requires more refined localization.
According to the global insights of AppGrowing, ad localization competency has become one of the top 3 hard thresholds for global mobile game marketing. Besides visible language differences, invisible barriers such as communication patterns, social customs, and values have become more important. Mobile game marketing teams no longer simply attach multi-language subtitles to ads, but rather, they need to conduct in-depth insights into the cultural characteristics of various regions, and create targeted ad creatives in a refined way.
Source: AppGrowing
Classic IP games often enjoy a wide audience around the world and have generated a variety of new topics in combination with local cultures. In terms of advertising strategy, how to combine the fruits of such recreations to write new success stories will be a matter for IP-based mobile games still awaiting release to think about.