Bingo Game is a popular entertainment game, with a lot of players in the world. Players need to mark the number randomly assigned by the dealer on a piece of square paper with many numbers written on it. The first player who completes a horizontal, vertical, or diagonal and shouts "Bingo" wins.
The Bingo Gameplay is easy to play without any restraint. All people from the older to the younger can participate in it, which brings a huge user base and business potentials to Mobile Bingo Game.
The industry analysis web Deconstructor of Fun points out that, in 2020 the IAP income of Bingo game reached 406 million dollars, up 52% year on year, as the second highest growth rate, which ranked №3 in the 4 categories of casino games. Given that social casino gaming in 2020 saw a single game like Coin Master account for more than half of the category's revenue, bingo's actual revenue and growth rate ranking, excluding special items, is likely to be higher.
For individual games, According to Sensor Tower's 2020 global mobile gaming revenue ranking, Israeli publisher Playtika's Bingo Blitz was the third in the Casino category, and was also in the top 10 grossing games in both the US and Europe.
As a game launched in 2011, Bingo Blitz has been running for nine years, which in part explains the long life time and high profitability of Bingo category.
For Chinese manufacturers, Yaoji Technology 's Elestorm Game focuses on casual casino games, publishing Bingo Party and Bingo Scapes (Bingo Journey). When Yaoji Technology acquired the equity of Elestorm Game, it disclosed that the revenue of Elestorm Game was 79.36 million yuan in 2019 and 55.98 million yuan in the first half of 2020 alone, which once again proved the growth potential of bingo category in game market.
In order to analyze the way of Bingo Game being popular in global market, App Growing Global analyze Bingo Game's global advertisements based on global advertising data from 42 foreign countries and regions, covering 21 global mobile advertising platforms including Facebook, YouTube, Admob, Unity, IronSource, Twitter and so on.
01
Media Buying Market Overall Trend
Searching on App Growing Global with Bingo as the keyword, 120 games from both iOS and Google Play can be found.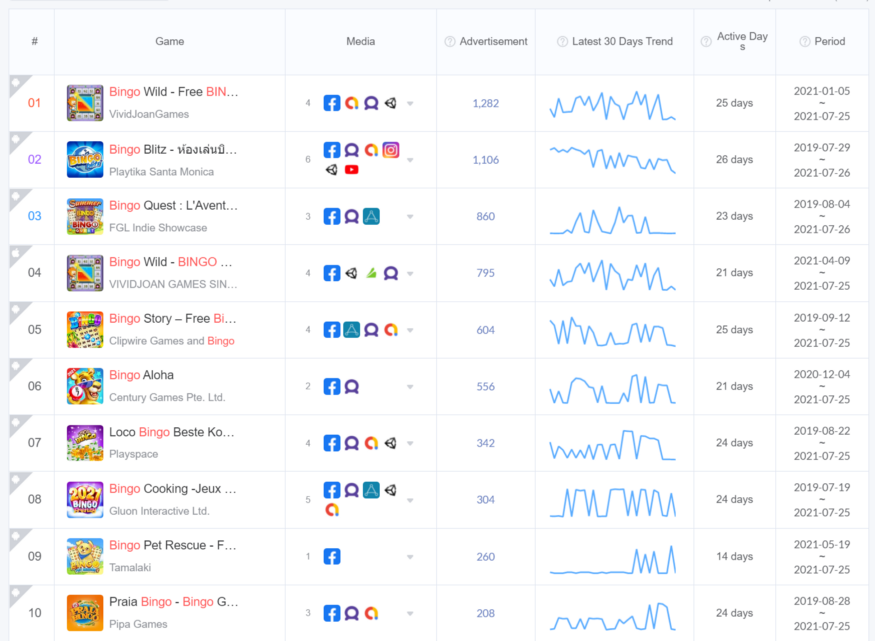 According to the ranking of advertisement volume in July, it can be seen that there is a significant gap between the volume of the head game and the tail game among Top 10 games. The Ads volume of №1 Bingo Wild has been over 1,200. However, The Ads volume of №10 Praia Bingo just has reached 200.
Among the Top 10 Bingo Game promotion list, there're two games from Chinese publishers. They are Yaoji Technology's Bingo Wild and FunPlus's Bingo Aloha.
From the Ads Volume data, it can be seen that a large amount of Bingo games served T1 countries, including the US and Europe, as their major market. There are 7 games placing most ads into America among the Top 10 promotion list. Except western countries, some games target Ads in Australia, New Zealand and other English countries, because users from these countries have better habits of paying.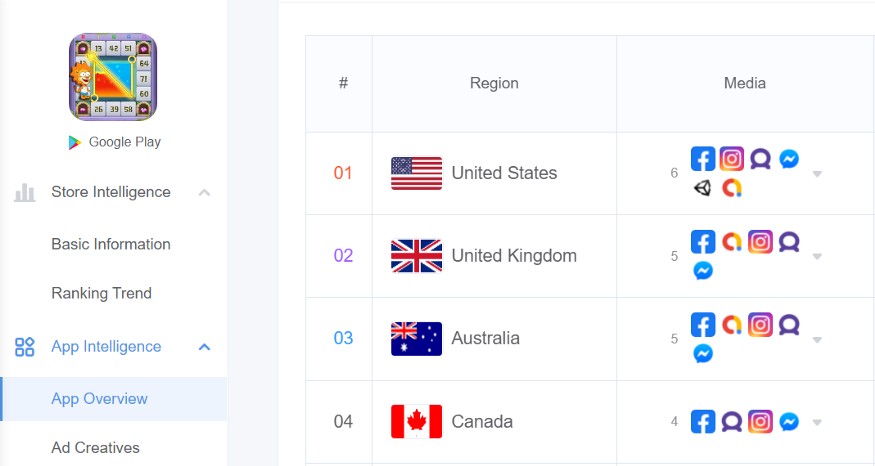 In addition to these regions, some games with operating base will also pay attention to Southeast Asia, the Middle East, and other markets with strong potential. The leading Bingo game Playtika's Bingo Blitz recently placed its ads into Philippines, India, Thailand and so on.
Based on the advertising data, The Philippines, Indonesia and Malaysia are the most popular destinations for bingo games in Southeast Asia; In the Middle East, Dubai and the United Arab Emirates.
02
Analysis on Ad creatives
1. Reward Hint, Stimulate User Psychology
One of the most popular characteristics of Casino Game Ads is to convey to users that they can easily win big prizes or make big money. However, due to the regulatory constraints of media platforms and target markets, all kinds of advertising hints are endless.
In addition to the use of emoticons in copywriting, jumping index, gushing gold coins or chips, and the use of red, blue and gold color in large quantities in advertising videos are all common stimulants.
2. Multiplayer Online Mechanism with Social Traits
A lot of users of Bingo games are casual gamers who play games in order to release pressure. Some publishers will highlight the social function of games in ads, hoping to attract social gamers to expand their player circle.
Taking Bingo Blitz for an example, the function of friend battle in the game not only helps users to build social groups, but also brings more sense of achievement to users who prefer competition, so that win more target users.
3. Cartoon Style + Integrated Gameplay, Being More Leisure
Observing several high-volume Bingo games, it's not difficult to see that many advertising creatives are in the cute cartoon style. It also exploits cartoon characters to be more friendly. Therefore, these ads attract more users widely and break down obstacles in promoting. Bingo Pet Rescue from the Top 10 promotion list is directly using adorable pet elements in its ads.
Repetitive level gameplay tends to tire users easily. Therefore, cooperating with other casual gameplay is a common way for Bingo games to extend its popular period, which is often advertised as a selling point. Many games will highlight collections, simulation and so on in ads that complete with the core Bingo gameplay.
All in all, even with the characteristic of casino game, a large proportion of Bingo game still adopt casual casino promotion way emphasizing leisure and relieving gamble. It will also enhance gameplay through integrated gameplay, in order to attract more players, so it will explore lasting vitality and realize the long-term operation.
The above is "Global Mobile Advertising Analysis of Bingo Game: Easy Way of Leading Products to be popular" Take The Road to Advertising", log in App Growing Global now to get more mobile advertising information.
*The above-related advertising creatives are sourced from App Growing Global, which are only used for research and analysis. All Rights Reserved.