Sports games are one of the most popular and competitive genres in the mobile gaming market. According to data.ai, sports games accounted for 6.2% of global downloads and 4.5% of global consumer spend in 2022. To stand out from the crowd, sports game publishers need to adopt smart and creative advertising strategies that can attract and retain players.
In this article, we will analyze how Dream League Soccer 2023, a sports game published by First Touch Games, a publisher from United Kingdom, uses AppGrowing's advertising intelligence platform to monitor and optimize its global campaigns. We will also share some insights and tips on how to create successful sports advertising campaigns based on the latest trends and data.
01 Dream League Soccer 2023: A Global Hit with Over 100M Downloads
Dream League Soccer 2023 is a soccer simulation game that allows players to build their dream team from over 4,000 FIFPRO™ licensed players and compete against the world's best soccer clubs. The game features realistic 3D graphics, immersive commentary, and various customization options. The game also supports online multiplayer mode, where players can challenge other players from across the globe.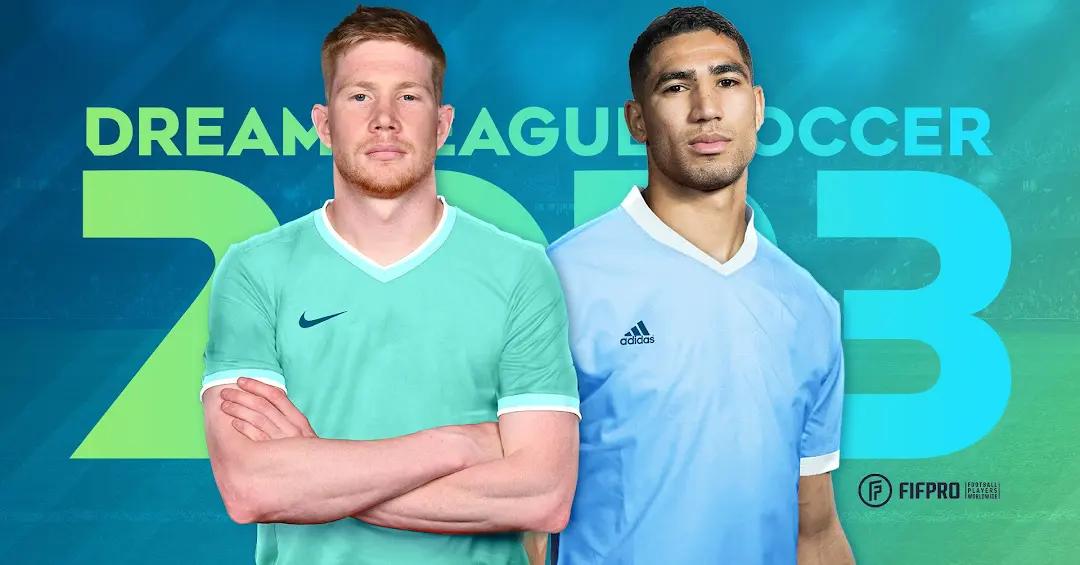 Image Credit: Dream League Soccer 2023
The game was launched in May 2022 and has since achieved over 100 million downloads on Google Play Store and App Store. The game is especially popular in emerging markets, such as Nigeria, Brazil, Mexico, Turkey, Egypt, Argentina, and Saudi Arabia. According to AppGrowing's data, Dream League Soccer 2023 ranked NO.1 in Nigeria on App Store charts on June 28, 2023. It also entered the Top 10 in Singapore, Switzerland, Brazil, Mexico, South Africa, Turkey, Egypt, Argentina, Israel, United Arab Emirates, Qatar, Saudi Arab, Bahrain, Oman, Kenya, Kuwait as well.
How does Dream League Soccer 2023 achieve such impressive results? Let's take a closer look at its advertising strategy.
Dream League Soccer 2023: A Diversified and Data-Driven Advertising Strategy 
According to AppGrowing's data, Dream League Soccer 2023 has created 13,598 ads in total, covering 50 areas and 16 media. The game mainly uses in-feed ads (58.19%) and video ads (90.36%) to showcase its gameplay and features. The game also experiments with different ad formats, such as rewarded video (18.71%), interstitial ads (15.52%), native ads (5.93%) and banner ads (1.65%).
Source: AppGrowing
The game's peak ad volume in a single day was 782, which appeared on May 19, 2023. This coincided with the launch of the game's last version (V10.21), which introduced new features such as new player animations, new stadiums, new events, and new soundtrack. This shows that the game leverages timely updates and promotions to boost its visibility and retention.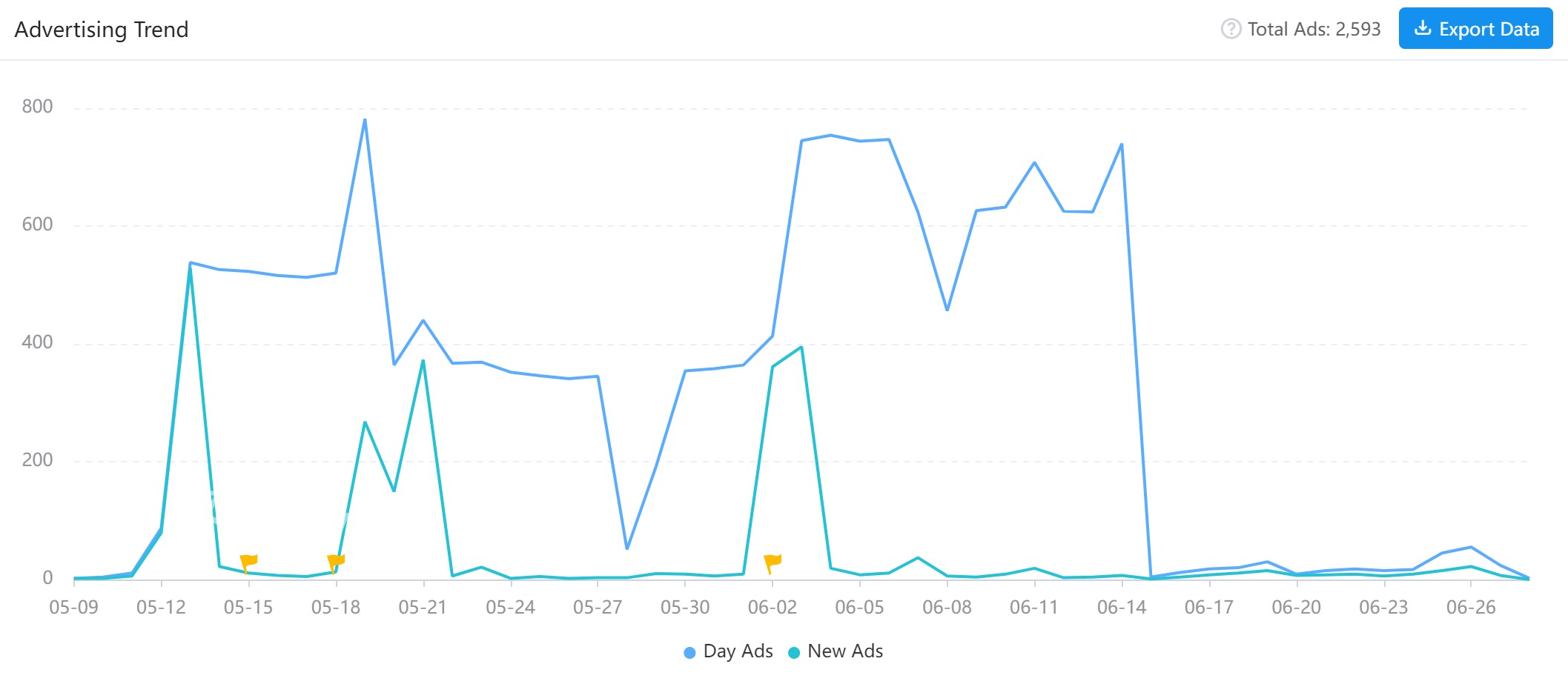 Source: AppGrowing
The game's top advertising media is Facebook (FAN) (22.25%), followed by Instagram (21.74%), Facebook (21.74%), Messenger (21.74%), and AdMob (12.55%). This shows that the game adopts a diversified and data-driven approach to reach different audiences across different channels.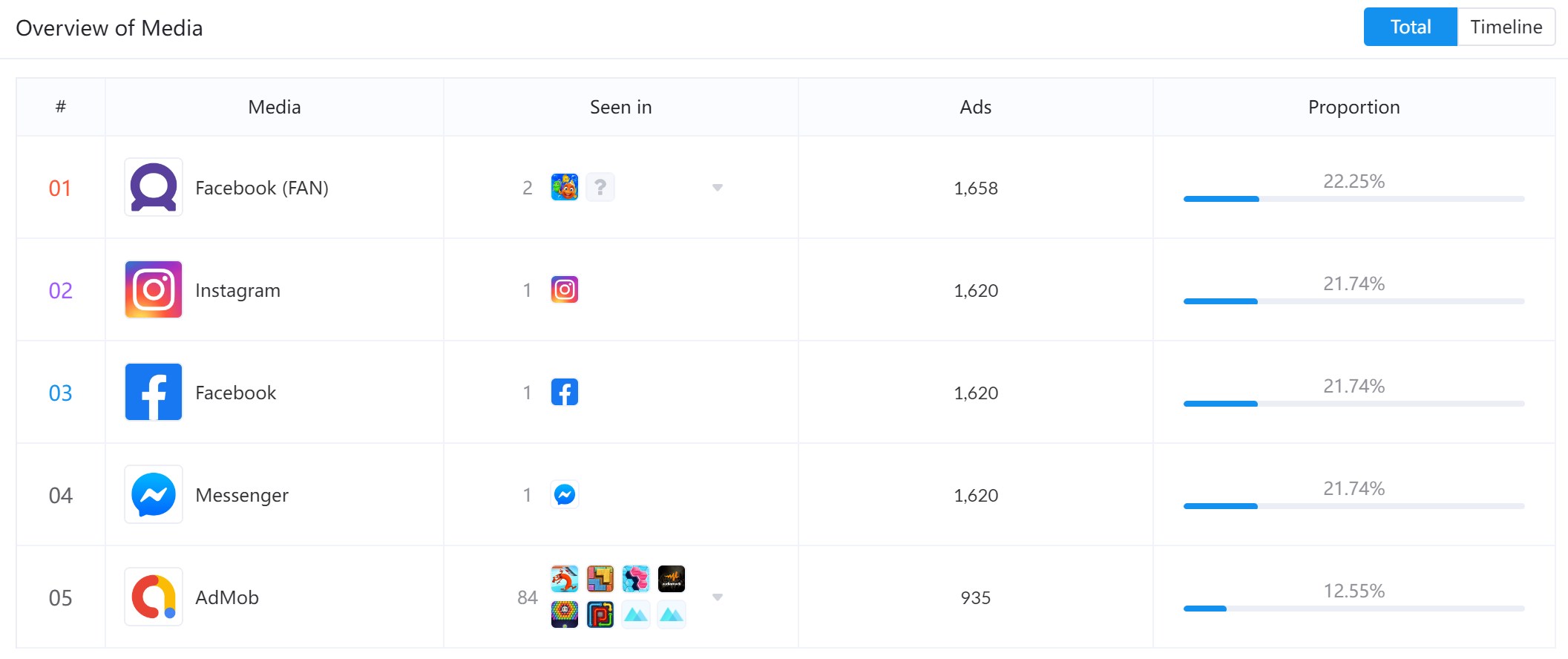 Source: AppGrowing
The game also tailors its ad creatives to different regions and languages. For example, the game uses Arabic text and voice-over for ads targeting Middle Eastern countries, Spanish text and voice-over for ads targeting Latin American countries, and English text and voice-over for ads targeting English-speaking countries. The game also features local celebrities and influencers in some of its ads to increase its appeal and credibility.
One of the game's most effective ad creatives:
The following video ad begins with the soccer athletes images to attract viewers. It then shows a collection of players as they enter and shoot at goal, which is some of the most exciting moments in a soccer game. The ad uses dynamic camera angles and dramatic music to highlight the excitement and realism of the game.
Source: AppGrowing
03 Tips and Insights for Sports Advertising
Based on our analysis of Dream League Soccer 2023's advertising strategy, here are some tips and insights for sports advertisers:
Use a variety of ad formats and platforms to reach different segments of your target audience. Experiment with different types of ads, such as video, playable, banner, interstitial, and native, and test their performance on different platforms, such as Facebook, Google AdMob, Unity Ads, TikTok, IronSource, Vungle, Snapchat, Twitter, Instagram, YouTube, and others. Analyze the data and feedback from your campaigns and optimize your ad budget and strategy accordingly.
Showcase the unique features and benefits of your game in your ad creatives. Highlight the aspects of your game that make it stand out from other sports games, such as realistic graphics, licensed players, customization options, online multiplayer mode, etc. Use clear and catchy text and voice-over to convey your message and call to action. Use dynamic and engaging visuals and sounds to capture the attention and interest of your audience.
Tailor your ad creatives to different regions and languages. Adapt your ad creatives to suit the preferences and expectations of different markets and cultures. Use local languages, currencies, celebrities, influencers, events, etc. to increase your relevance and credibility. Research the best practices and trends of each region and avoid any potential cultural or legal issues.
Leverage timely updates and promotions to boost your visibility and retention. Keep your game fresh and exciting by adding new features, content, events, challenges, rewards, etc. regularly. Promote your updates and offers through your ads and social media channels. Encourage your existing players to share their feedback and invite their friends to join the game.
---
*The content and media in this article are protected by copyright laws. Some information is cited from public sources for illustrative purposes only, with ownership retained by the original authors. This article provides general information only and is not meant as opinion or advice for specific situations.
Follow AppGrowing's social media accounts or register immediately at AppGrowing to learn more mobile advertising insights.
LinkedIn: https://www.linkedin.com/company/app-growing-global
Twitter: https://twitter.com/ag_global_
Facebook: https://www.facebook.com/AppGrowing/