Compared with the gradually rebounded H1 2023 ad market, the first month into H2 saw an overall downward trend in global mobile game advertising, with publisher's intention to advertise weakening.
According to AppGrowing, the volume of ad and app of global mobile games decreased significantly in July, with the former dropping by 14.4% MoM. However, leading publishers and games were not seriously affected, and continued heavy advertising. Matchingham Games, Playrix, Lilith Games, IGG, NetEase, and other well-known publishers having games in the Top 15 by ads.
For pre-registrations, a number of mobile games from China made the list, such as XD Games' 《鈴蘭之劍:為這和平的世界(Sword of Lily of the Valley: For This Peaceful World)》.
Here is AppGrowing's analysis of the global mobile game advertising markets in July 2023, based on advertising data from 25 global media platforms in 50 countries/regions.
01 Advertising Trend
Overall, the global mobile game advertising market in July saw MoM reductions in ad volume, game app volume, and creative volume. Game app volume in July 2023 was 22,767, a MoM decrease of 8.1%, and the ad volume was 3.54M+, a MoM decrease of 14.4%, while the creative volume was 1.07M+, a slight decrease of 0.5% from June.
In terms of ads on a single day, the peaks of ad volume and game App volume appeared early, with July 5 having the highest of both, at 830K+ and 13308 respectively. Game App volume changed little throughout July, with weekly figures broadly above 15K. Ad volume in each week in July was above 1.20M, with which of week 2 peaked.
In terms of interval distribution of ad volume of a single mobile game, 74.74% were in the range of 0~99, slightly lower than that of June. 13.83% of mobile games had an ad volume in the range of 100~299, while 5.79% in the range of 300~599, which were both higher than that of June.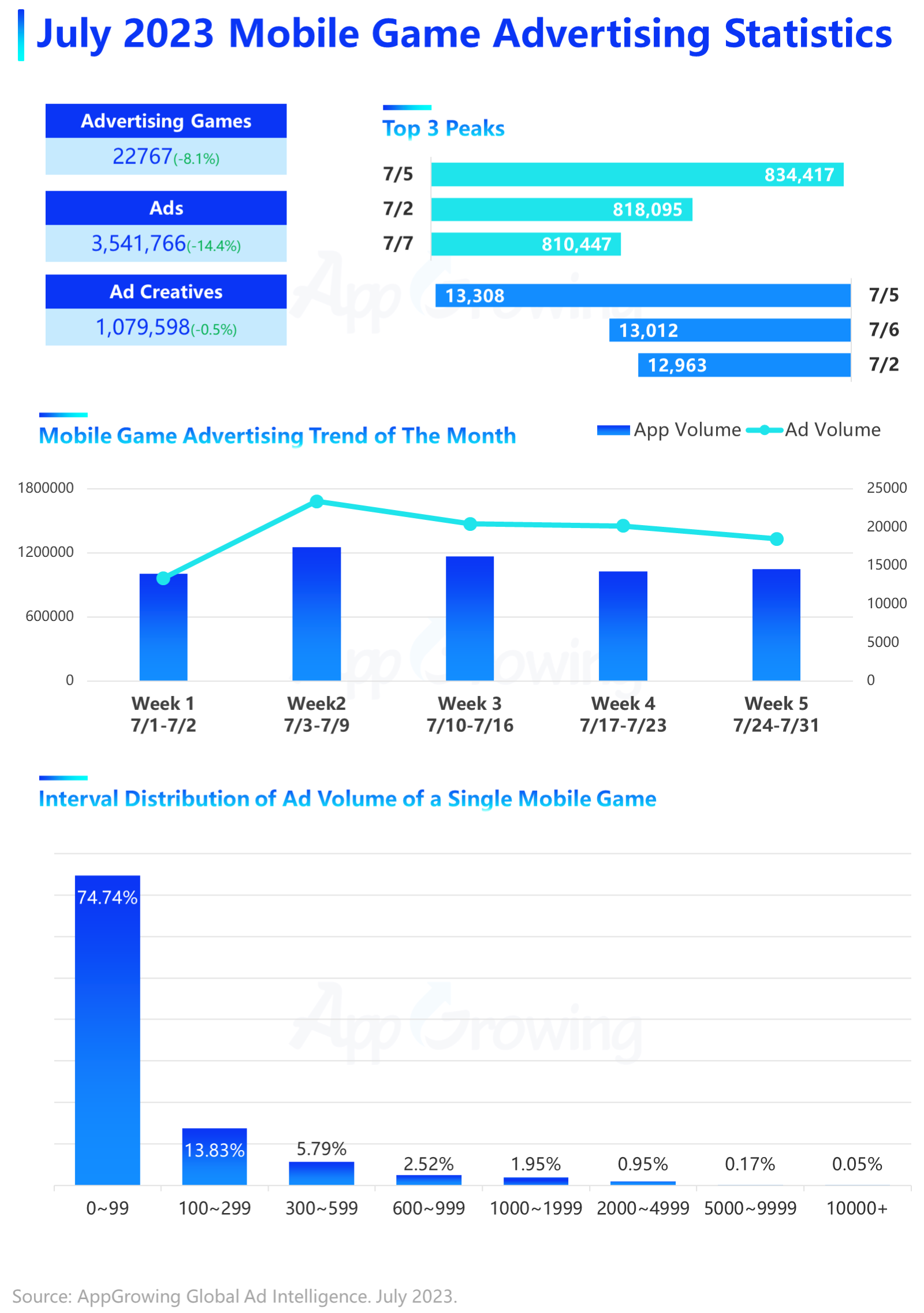 ---
From the category point of view, the Casual still took the No.1 spot in game app volume and ad volume, with 19.4% and 18.1% respectively, a slight increase in the former. Puzzle still ranked No.2, with 13% of game app volume and 15% of ad volume.
The Top 5 in average ad volume of a single app are Word, Strategy, Music, Role Playing, and Puzzle. Except Word and Music, all others showed MoM declines.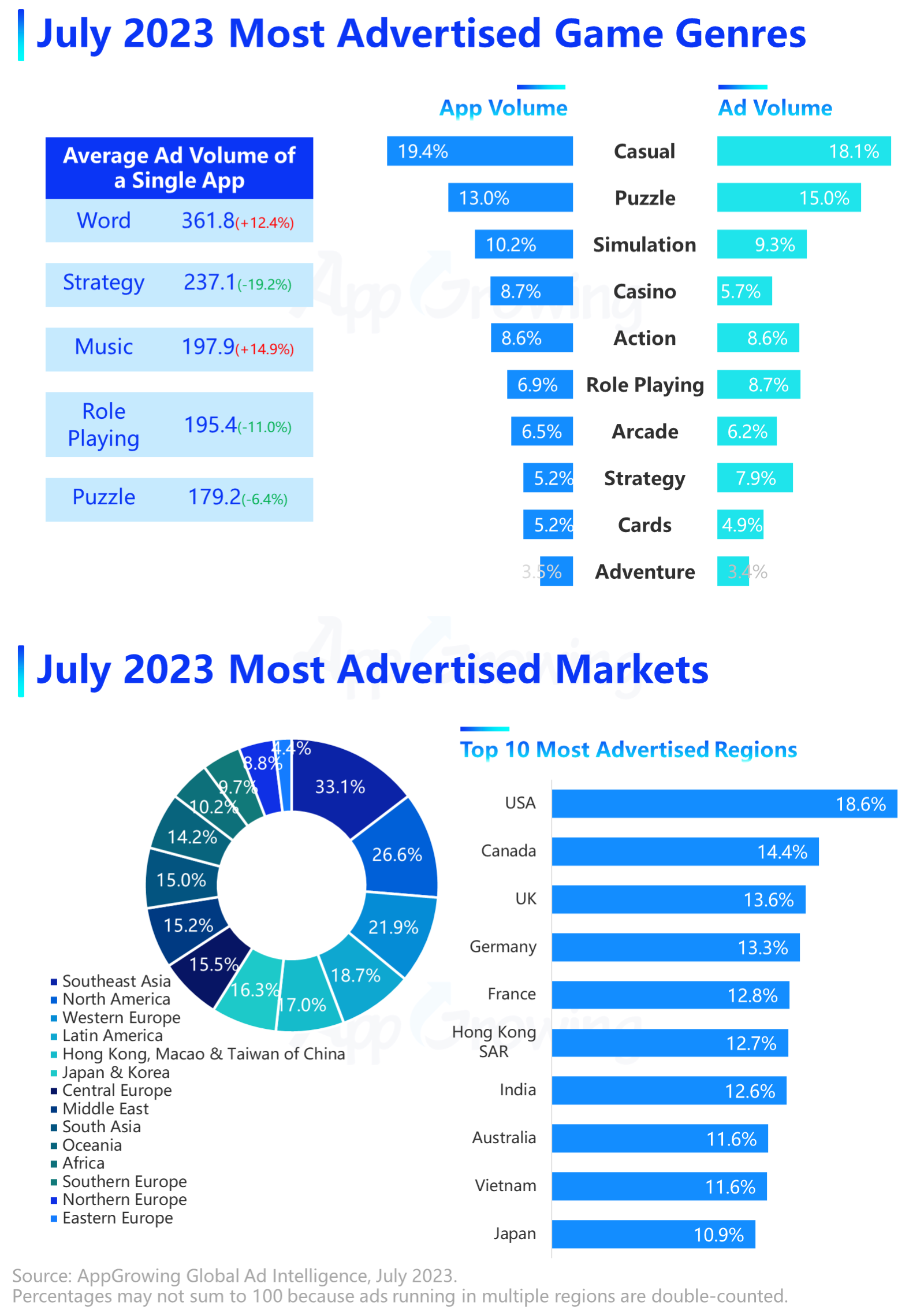 In terms of advertising regions, Southeast Asia remains No. 1, with 33.1% of ad volume, up 4.3% from June. North America and Western Europe followed with 26.6% and 21.9% respectively. The new No. 4 spot is Latin America, with more ads than Hong Kong, Macao & Taiwan of China, and Japan & South Korea.
Specifically, the USA saw a recovery with 18.6% of the total. The TOP 2-5 were Canada, the UK, Germany, and France, all of which belong to European and American markets.
02 Most Advertised Games
Looking at developer regions, China's mainland publishers still led the way, with 32.3% of ad volume, a slight weakening of their dominance. Their share of game app volume was 21.5%, a slight increase compared to June, reflecting that more mobile games from China competed for paid traffic in the global marketplace in July.
The 2nd largest share of ad volume is still from Vietnamese publishers with a percentage of 14.2%, an increase of 1.6% compared to June. However, in terms of game app volume, France came in 2nd with a 13.8% share.
Crazy Labs, an Israeli developer specializing in the hyper-casual genre, took the No. 1 most advertised developers in July. The game it mainly advertised was Phone Case DIY, an hyper-casual game that simulates painting a phone case.
2nd and 3rd place went to Matchingham Games and OneSoft. Overall, the top 10 developers for July were again dominated by those specializing in casual/hyper-casual games.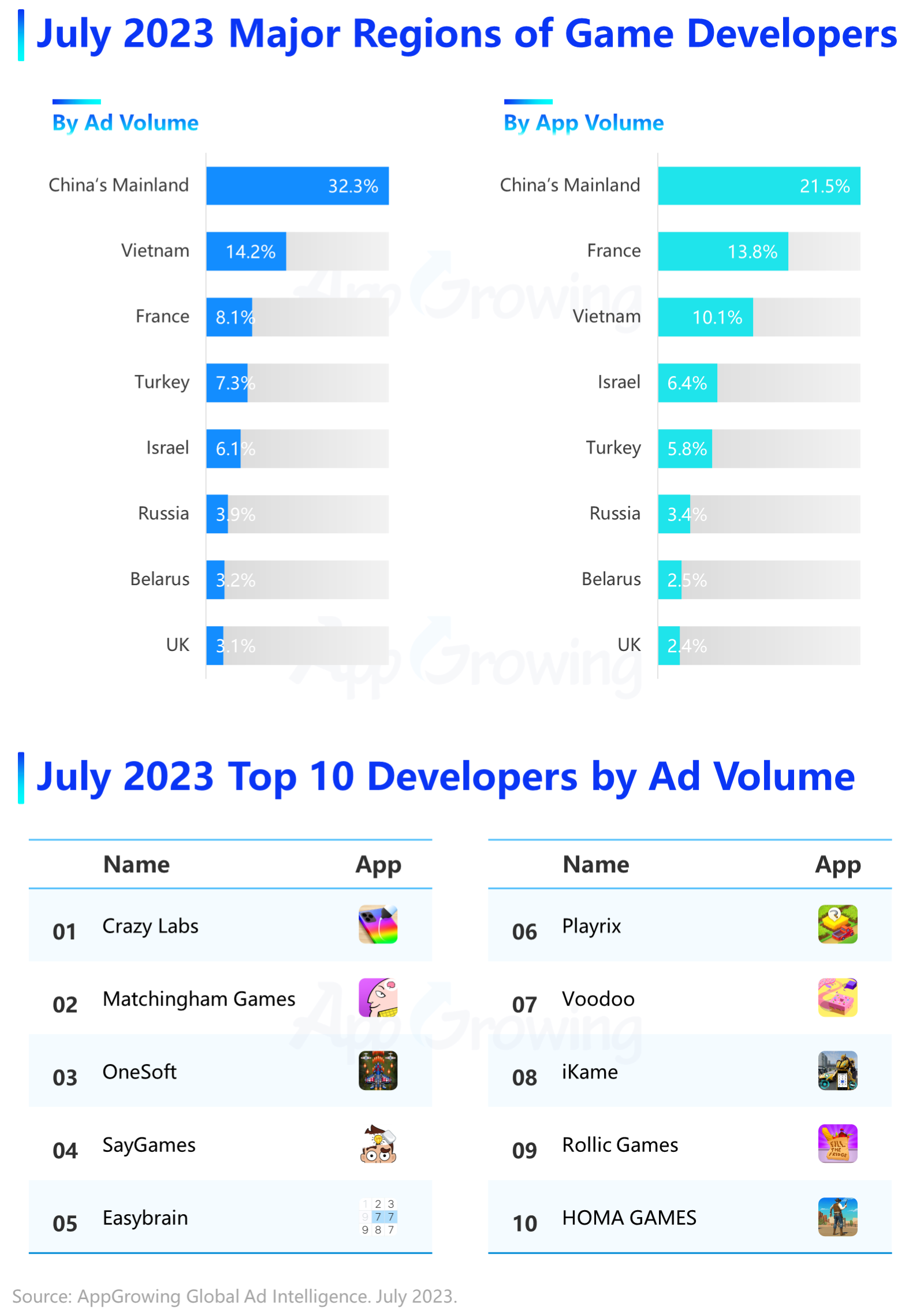 ---
The July mobile game ad charts featured 5 Puzzle games on Google Play, 2 of which made the Top 3. The Word game Braindom: Brain Games Test continues to hold the No.1.
There were 3 mobile games from China that hit the top 10: Efun's 《AOA神之怒:雅典娜(AOA Wrath of God: Athena)》, Lilith Games' Farlight 84, and IGG's Lords Mobile.
Firstly released in South Korea (named DeathGard),《AOA神之怒:雅典娜》 is a fantasy MMO published by Efun and launched in Hong Kong, Macao, and Taiwan of China in July. Efun launched a massive advertising campaign in the first week of its launch, with the highest daily ad volume exceeding 2,000. At the same time, the collaboration with "Golden Light Puppetry", a famous local IP, has once enabled the game to be one of the Top 5 grossing games on Google Play in Taiwan.
On the App Store, OneSoft's 1945 - Airplane shooting games remained No. 1. Tap4Fun's Age of Apes is at No. 6, the SLG that recently added a non-core gameplay of "monkeys grabbing bananas" and actively advertised it, successfully bringing this 3 year old game "back from the dead".
Other mobile games from China on the App Store list include IGG's Lords Mobile, NetEase and Warner Bros. Games' Harry Potter: Magic Awakened, FunPlus' Stormshot, and Archosaur Games' Madtale: Idle RPG.
Madtale: Idle RPG is a dark fairy tale themed mobile game with European and American illustration art. It is the first time for Archosaur Games to be a global publisher agency. Previously, Eskyfun launched a similar theme and style game 《魔鏡物語(Magic Mirror Tales)》 in Hong Kong, Macao & Taiwan of China, and Japan & Korea, which achieved favorable market results. There is still market potential for "niche theme + card gameplay" to be explored.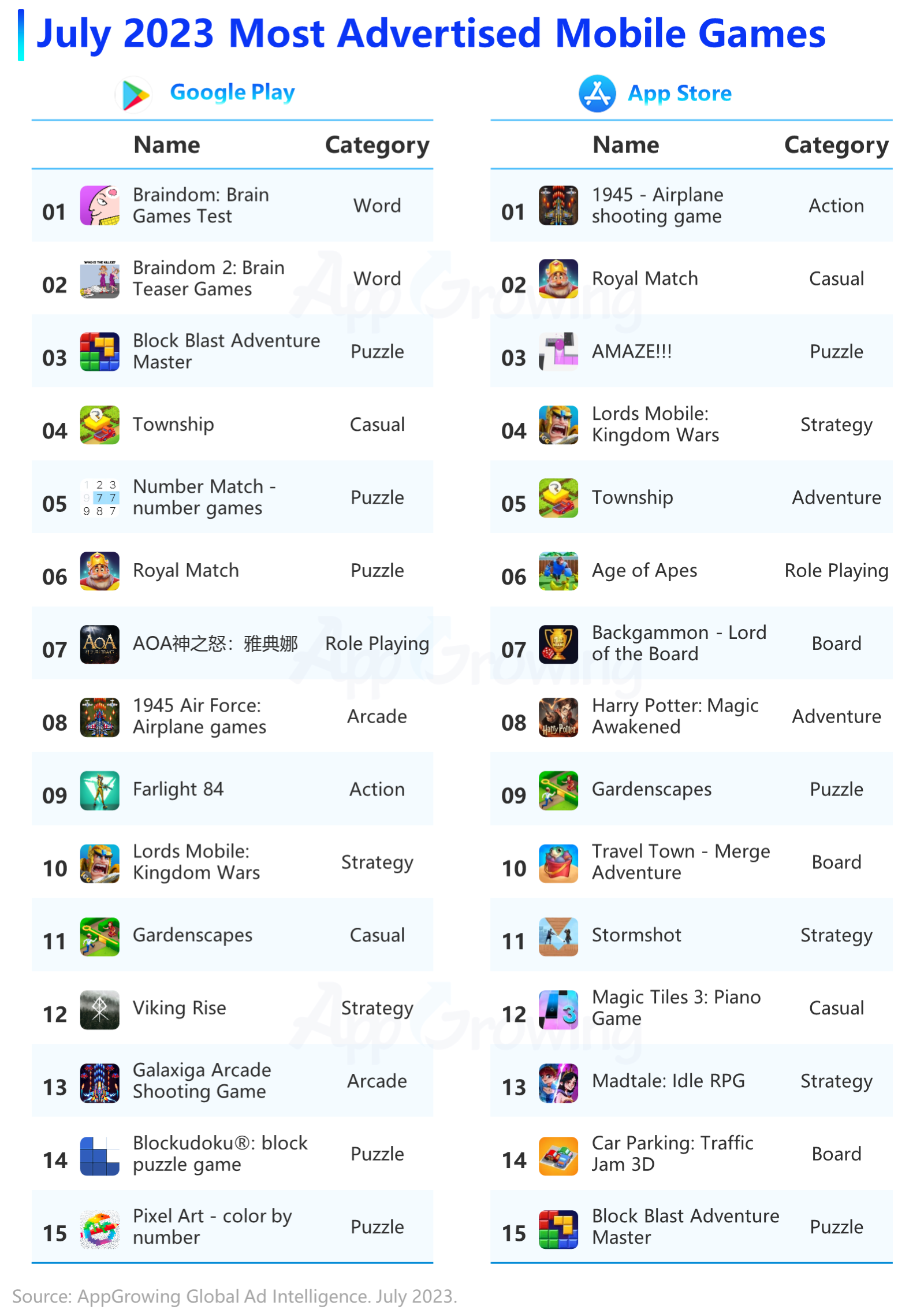 ---
On the App Store's most advertised pre-registering games in July, 《合金彈頭:覺醒(Metal Slug: Awakening) 》 took the No.1, with Hong Kong, Macao & Taiwan of China, and Southeast Asia as its target markets. Leiting Games'《Overmortal-Idle RPG》was ranked No.2, with the USA as its pre-registration region. It is worth following whether the Chinese-style fantasy idle mobile game can successfully acquire European and American users. In addition, Qingci Games' Super Snail entered the Top 6, pre-registering in Canada, the USA, Australia and New Zealand.
On Google Play, the No. 1 pre-registering mobile game was the MMO 《天命三國志(Fate of the Three Kingdoms)》, which is now officially available in Hong Kong & Taiwan of China, and Southeast Asia. SPGames' new mobile game [TT: 타이니 테일즈], an anime-style mobile game for the South Korean market, came in at a close 2nd place. In addition, XD Games' self-developed SRPG 《鈴蘭之劍:為這和平的世界》 ranked No.5 by ads, with Hong Kong, Macao & Taiwan of China as the regions in pre-registrations, and it has also obtained the license for publishing in China's mainland not long ago.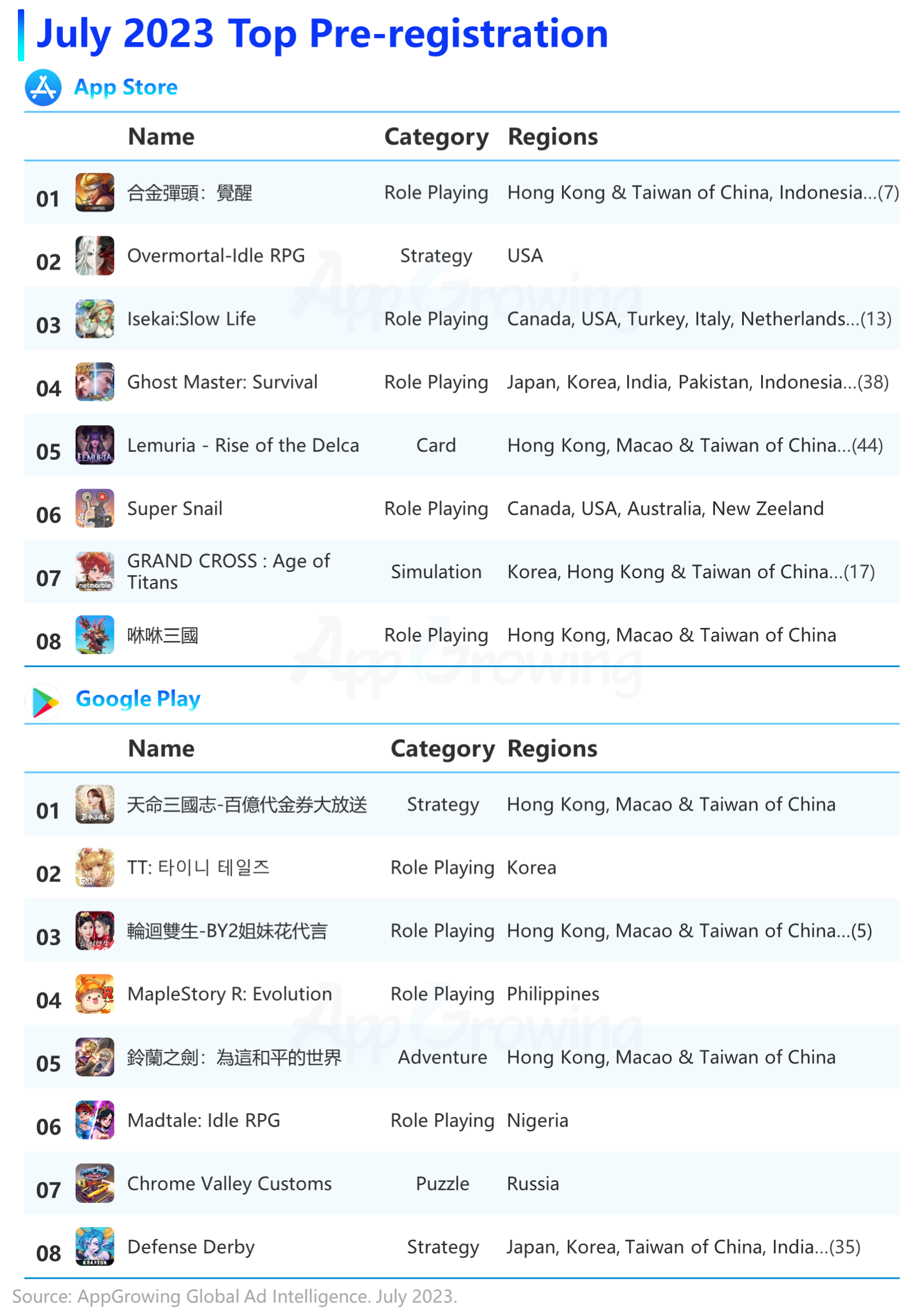 03 Mobile Game Advertising Case Analysis
Farlight 84 is the most noteworthy new release from Lilith Games, previously launched on Steam. In June this year, an employee of the company revealed that the DAUs of the game had naturally grown to 1 million, a remarkable market performance.
Currently, Lilith Games kicked off a massive ad campaign for the game. According to AppGrowing, in July, Farlight 84 had more than 10K ads on Google Play. The game is mainly advertised in Indonesia, India, Japan, UAE, and Canada. Its creative type is mainly video, with a high proportion of horizontal and square videos.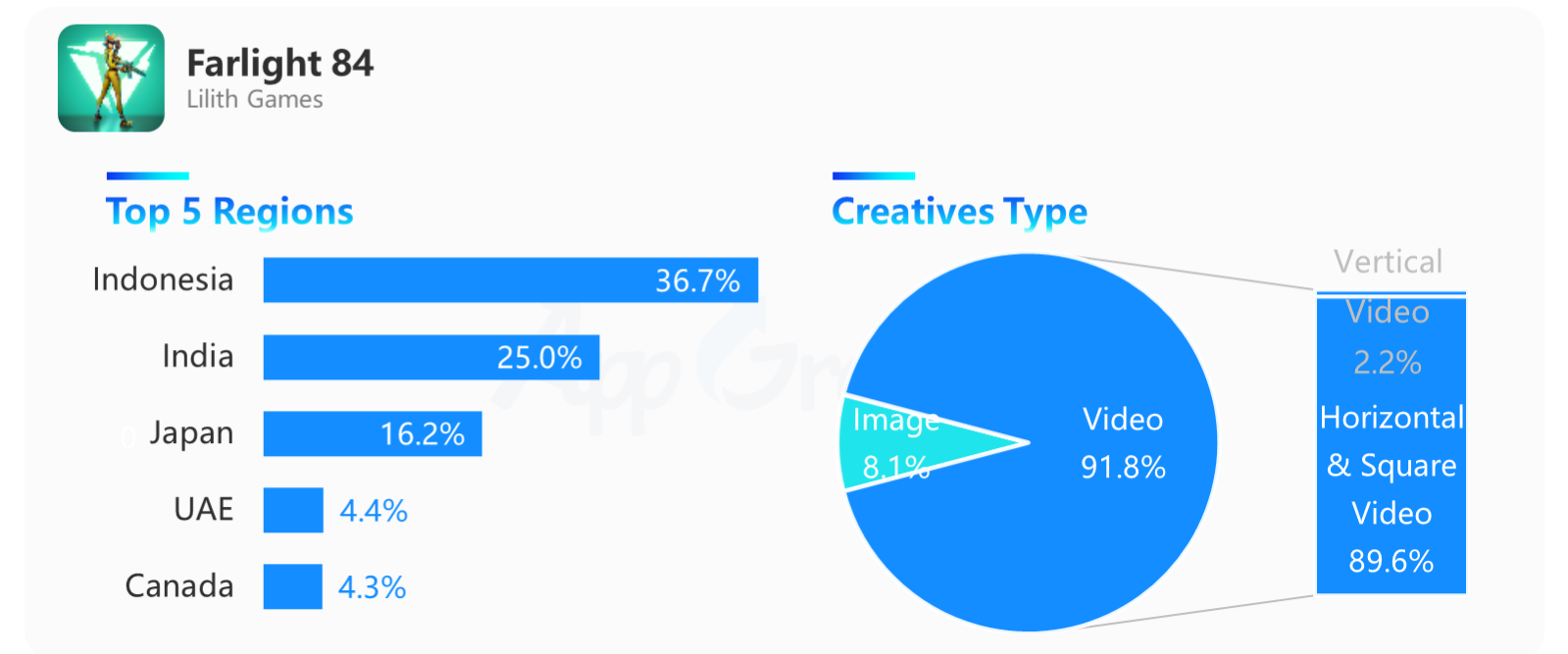 On creative content, Farlight 84 is largely centered on the game itself, focusing on the gameplay and art. Taking the following video as an example, the combination of the first and third person view, together with the fast-paced BGM and features like jetpacks and vehicles , emphasized the excitement of the game.
Character-based creatives emphasize the game's high-quality art style. The video below showed the new skins and weapons in the Summer Battle Pass. The high-precision indicated a high-quality game. The SR and SSR rarity tiers are more familiar to Asian players.
Self-developed and published by XD Games, 《鈴蘭之劍:為這和平的世界》 launched in Hong Kong, Macao and Taiwan of China on August 8. It also got the license to publish in China's mainland a few days ago. The anime+pixel style SRPG, was exposed 2 years ago and received a lot of concerns.
According to AppGrowing, 《鈴蘭之劍:為這和平的世界》 started pre-registration on June 15 and ran ad campaigns a week later. The game's ads in July were mainly in Hong Kong, Taiwan & Macao of China, with Hong Kong accounting for the largest share. Creatives were predominantly videos, with horizontal & square videos accounting for more.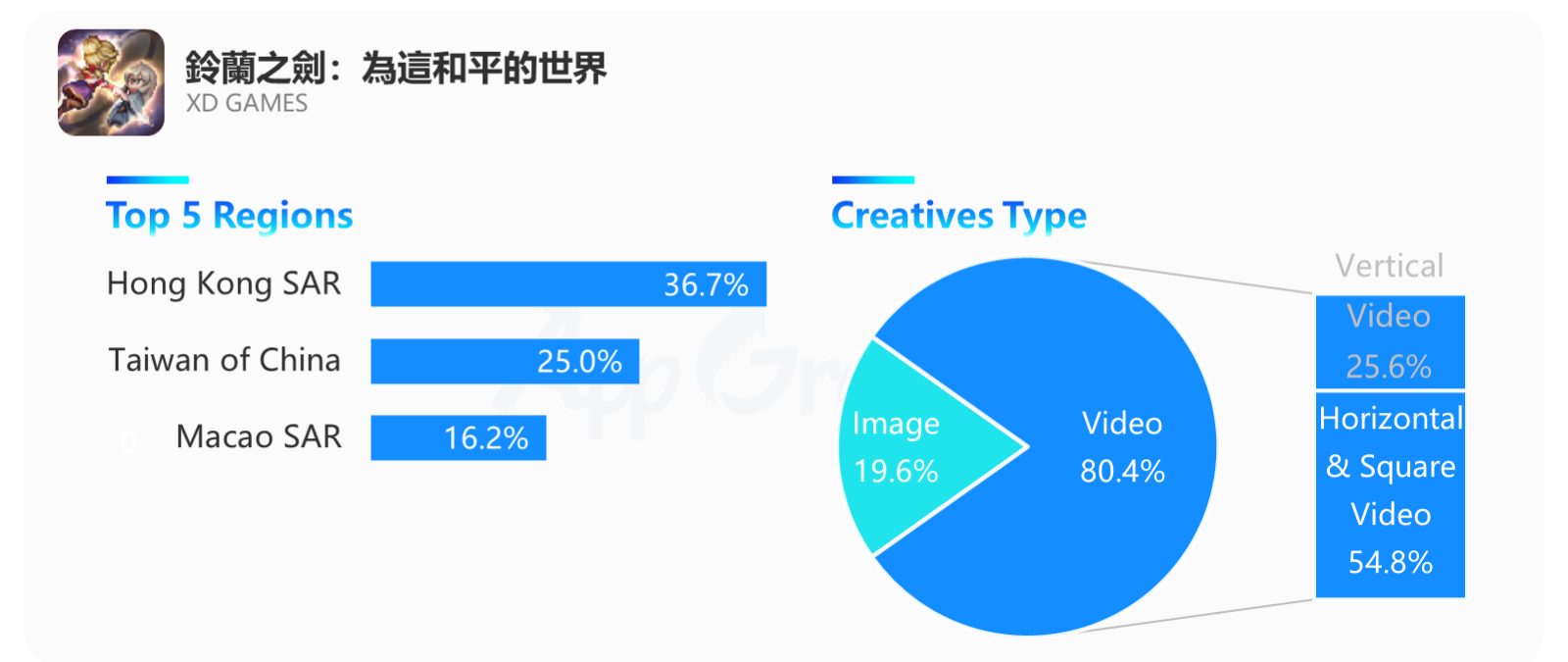 In terms of creatives, high-quality Japanese anime style art is one of the strengths of 《鈴蘭之劍:為這和平的世界》, thus the game's image ads featuring the art. For example, the foreground image are delicate character portraits, while the back view is a pixelated game screen, showing the Japanese-style anime and pixelated art style of the game.
Source: AppGrowing
The videos show more of the gameplay and are paired with live-action elements favored by players in Hong Kong, Macao and Taiwan of China. The following video is organized with game graphics + live-action voice-over. By shouting "Hold on! Don't swipe away! You'll regret it!" in the first 3 seconds, the video quickly attracts viewers' attention.