The first half of 2023 has passed. Compared with the contraction of advertising volume and the caution of advertisers in Q1, the mobile game advertising market showed a positive trend in Q2. Both ad volume and game app volume had obvious growth.
Globally, after the downturn in Q1, ad volume and game app volume have been growing since March. The MoM growth rate of ad volume from March to May exceeded 20%, showing that advertisers' confidence has returned.
To assist mobile game practitioners to comprehensively understand the changes in the global market, AppGrowing officially released the H1 2023 Mobile Game Global Advertising Report, which provides a thorough and systematic analysis of the global mobile game advertising trends, key categories, key markets, and more.
Here are some of the excerpts. Click Here for a free copy of the full report.
01 Mobile Game Advertising Trends
On a monthly basis, the game app volume in H1 2023 declined in January and February, but quickly rebounded in March. It kept growing into Q2, overtaking last December's volume by June.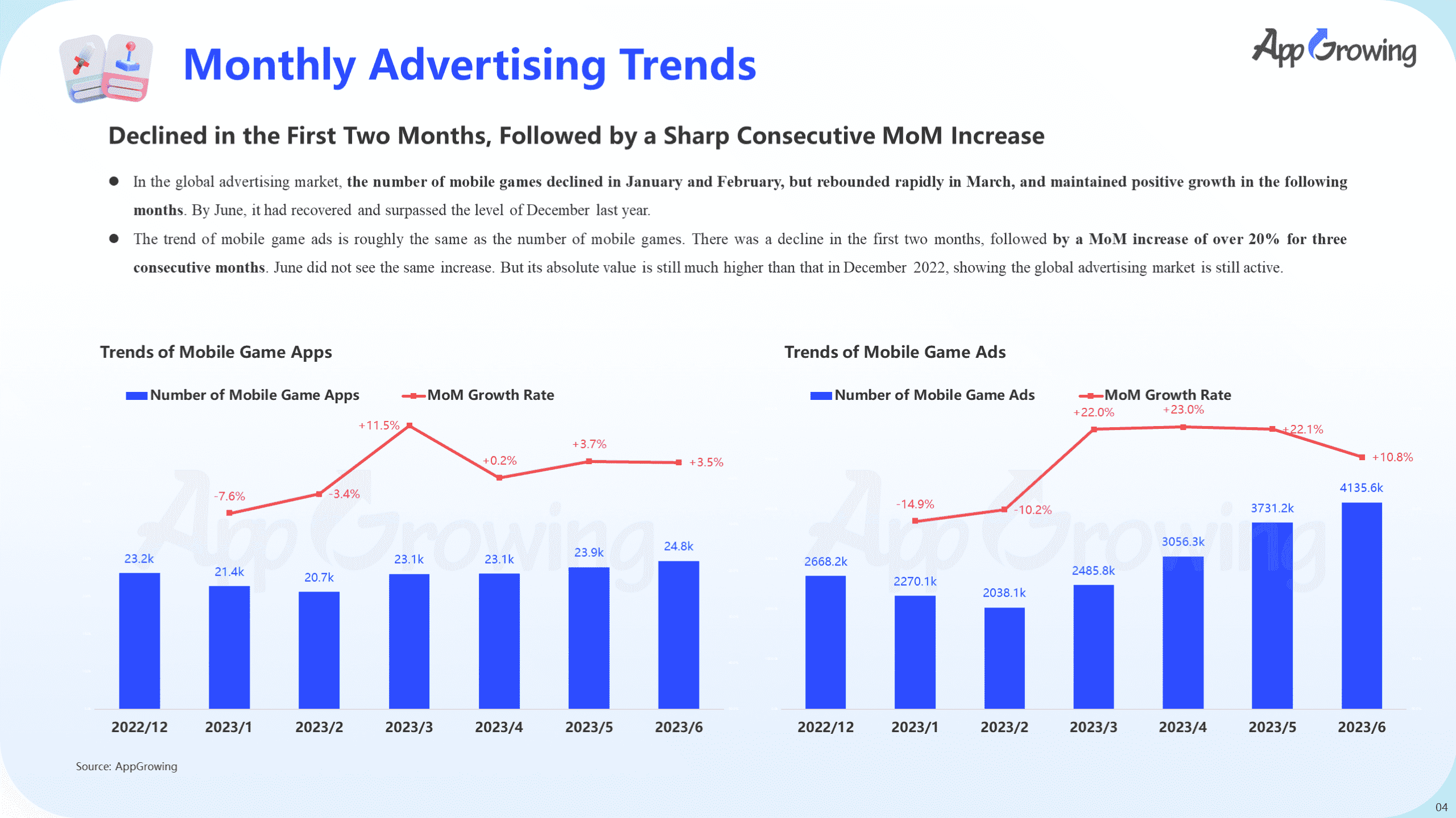 The ad volume trend was largely similar to the game app volume. After the decline in January and February, ad volume from March to May continued to rise, with an MoM growth rate above 20%, reflecting advertisers' increased confidence. In June, the MoM growth rate dropped to 10.8%, probably due to that some games were at the final stage of their quarterly marketing campaigns. But in absolute terms, ad volume in June was higher than that of last December.
From a category perspective, the top share of the ad volume is Casual, Puzzle, Role Playing, and Strategy. The top 4 in terms of game app volume are Casual, Puzzle, Simulation, Casino, and Action.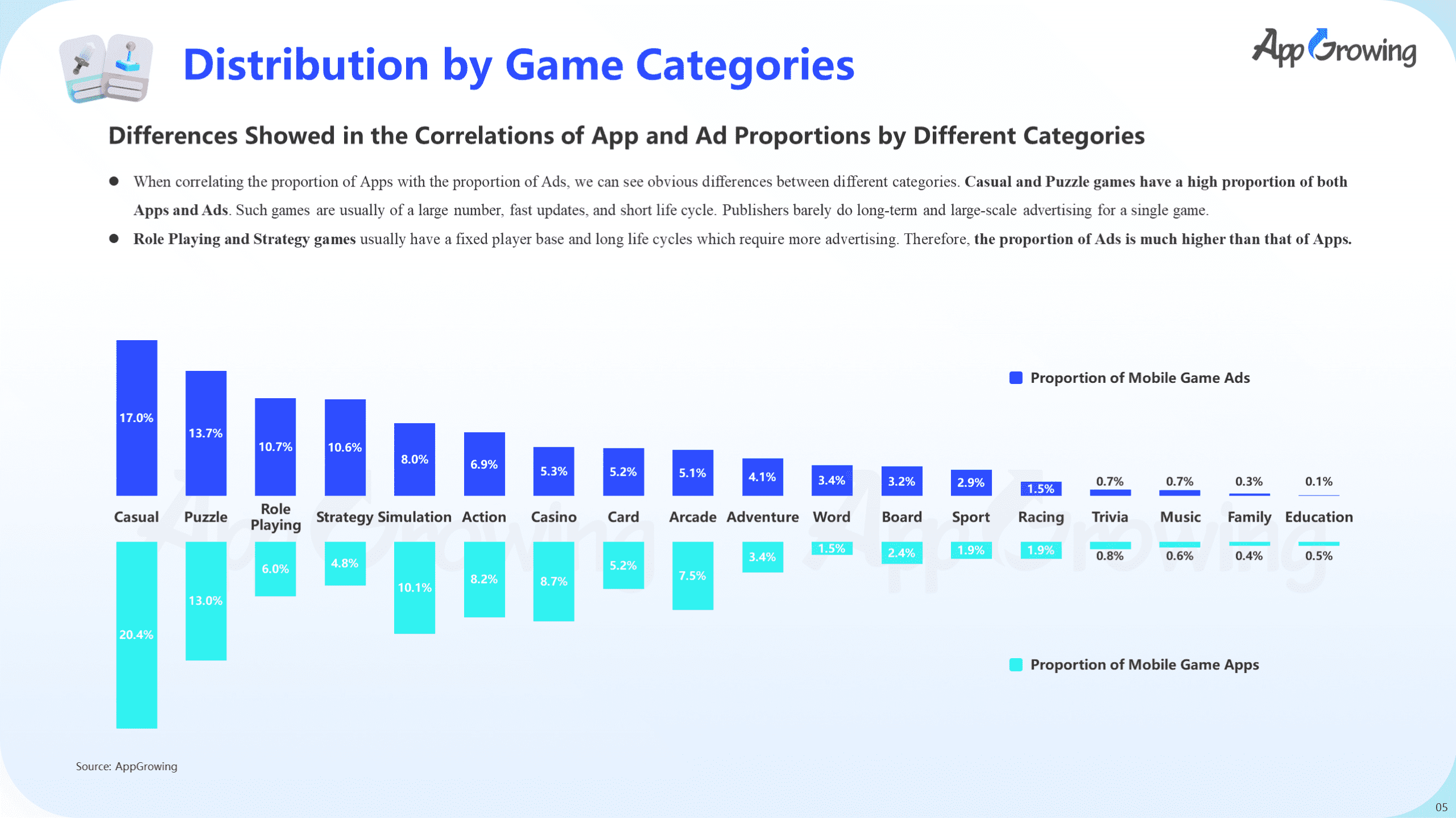 Specifically, Casual and Puzzle have both large numbers of games and ads, reflecting that the two are quickly updated, short in life-cycle and large in number. Casual accounted for 17% of ad volume and 20.4% of game app volume, which is an obvious gap. At present, Casual games are still "winning by quantity".  There're less likely to carry out long-term and large-scale advertising for a certain game.
Only 2 hardcore categories, Role Playing and Strategy, entered the TOP 5 ad volume share. The Strategy is heavily advertised in terms of the ad volume for the overall category and the ad density of a single game. It accounted for 10.6% of ad volume, only 0.1% less than Role Playing, but only 4.8% of the game app volume, significantly less than that of Role Playing, which was 6%. SLG is a genre with a longer lifecycle and payback cycle. Developers are required to run continuous advertising campaigns to acquire players and promote monetization growth.
From the perspective of YoY growth, in H1 2023, the share of ad volume of two hardcore categories, Action and Role Playing, declined significantly, down 2.8 and 3.8 percentage points respectively. Hardcore games are oriented to a relatively fixed group of players, with limited room for growth under years of fierce competition in advertising. It's necessary to look for other growth strategies besides advertising.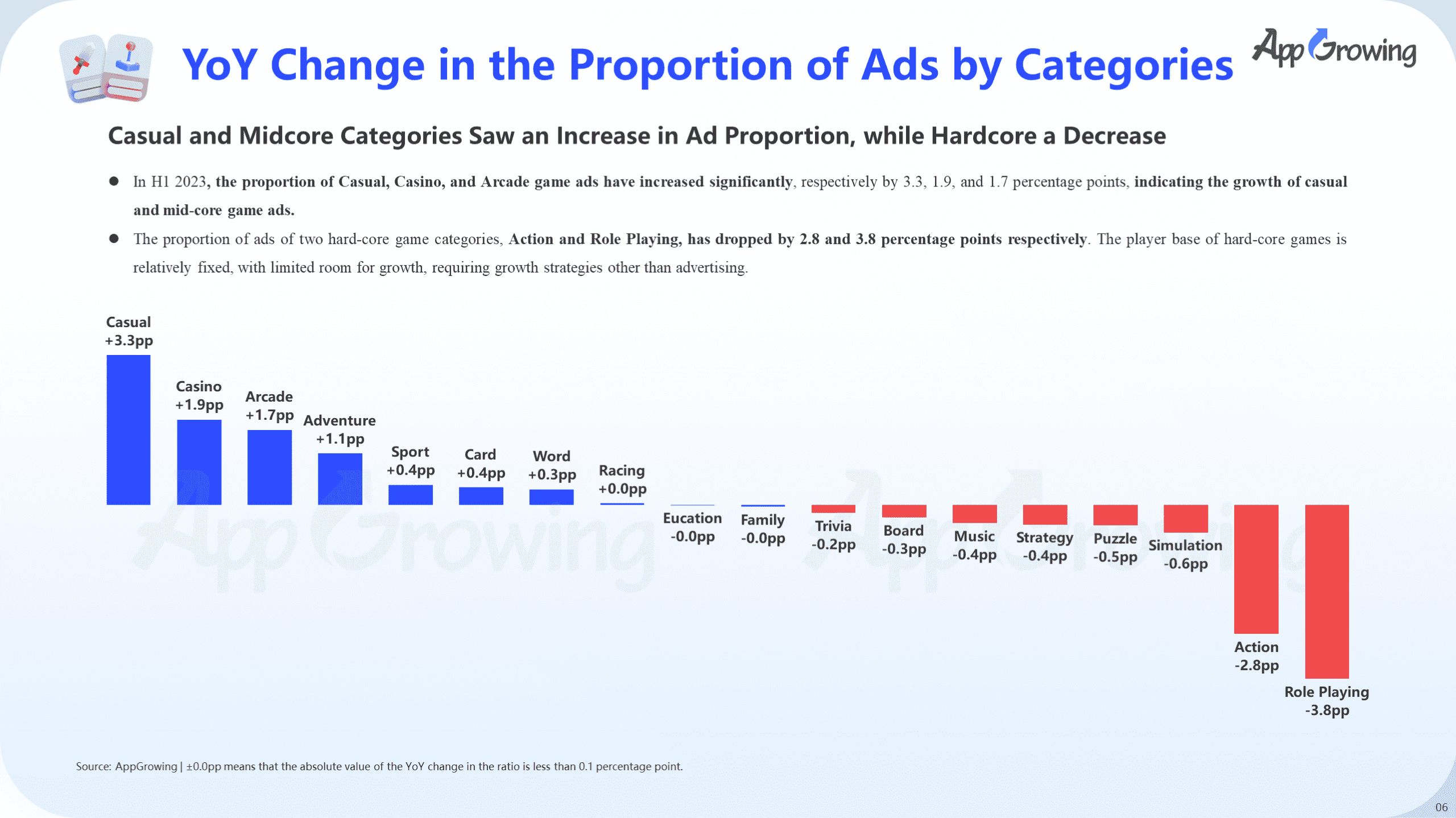 Conversely, in the midcore and lightcore categories, the Casual, Casino and Arcade saw a large increase in their share of ad volume in H1 2023, up 3.3, 1.9 and 1.7 percentage points, respectively.
Looking at the key markets, in the first half of 2023, leading markets such as North America, Japan and South Korea, and Oceania all saw a decrease in game app volume proportion, with Oceania declining by 13.2 percentage points. Emerging markets showed a growth trend, with large growth in Latin America, South Asia, and Africa. South Asia, in particular, saw game app volume increase by 10.9 percentage points YoY.
In addition, there are significant differences among the different regions of Europe. Western Europe had a large share and growth, Central Europe had a slight growth, and the others had a low share and negative growth.
By media, global mobile game advertising is still dominated by ad networks. Data shows that in H1 2023, 52.9% of mobile game ads were in social media, and 96.8% in ad networks.
Overall, lightcore and midcore games are more likely to advertised on platforms like Facebook, AppLovin, Mintegral, etc. Strategy has the highest ad volume on AdMob. Role Playing has a higher share of ads on content-based social media like TikTok and YouTube.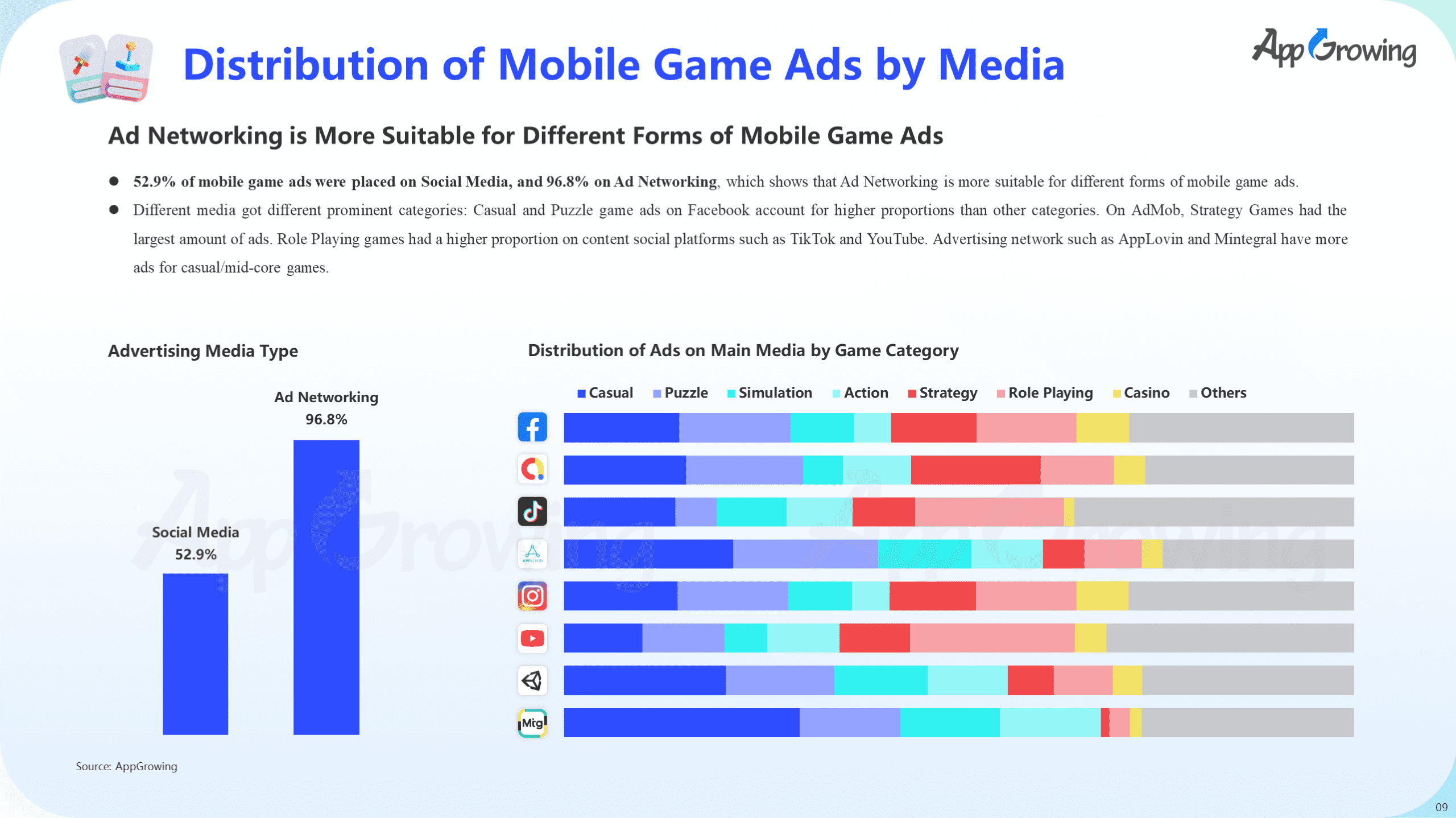 02 Selected Game Categories
The trend of Role Playing game ads is basically the same as that of the overall market, showing fluctuations. However, during the declining period, the decline rate of Role Playing game ads was higher than the overall level, and in the subsequent rising period, its growth was generally lower, resulting in a continuous decline in the proportion of its ads.
By June, Role Playing game ads only accounted for 8.9% of the total, a drop of 4 percentage points compared to December 2022.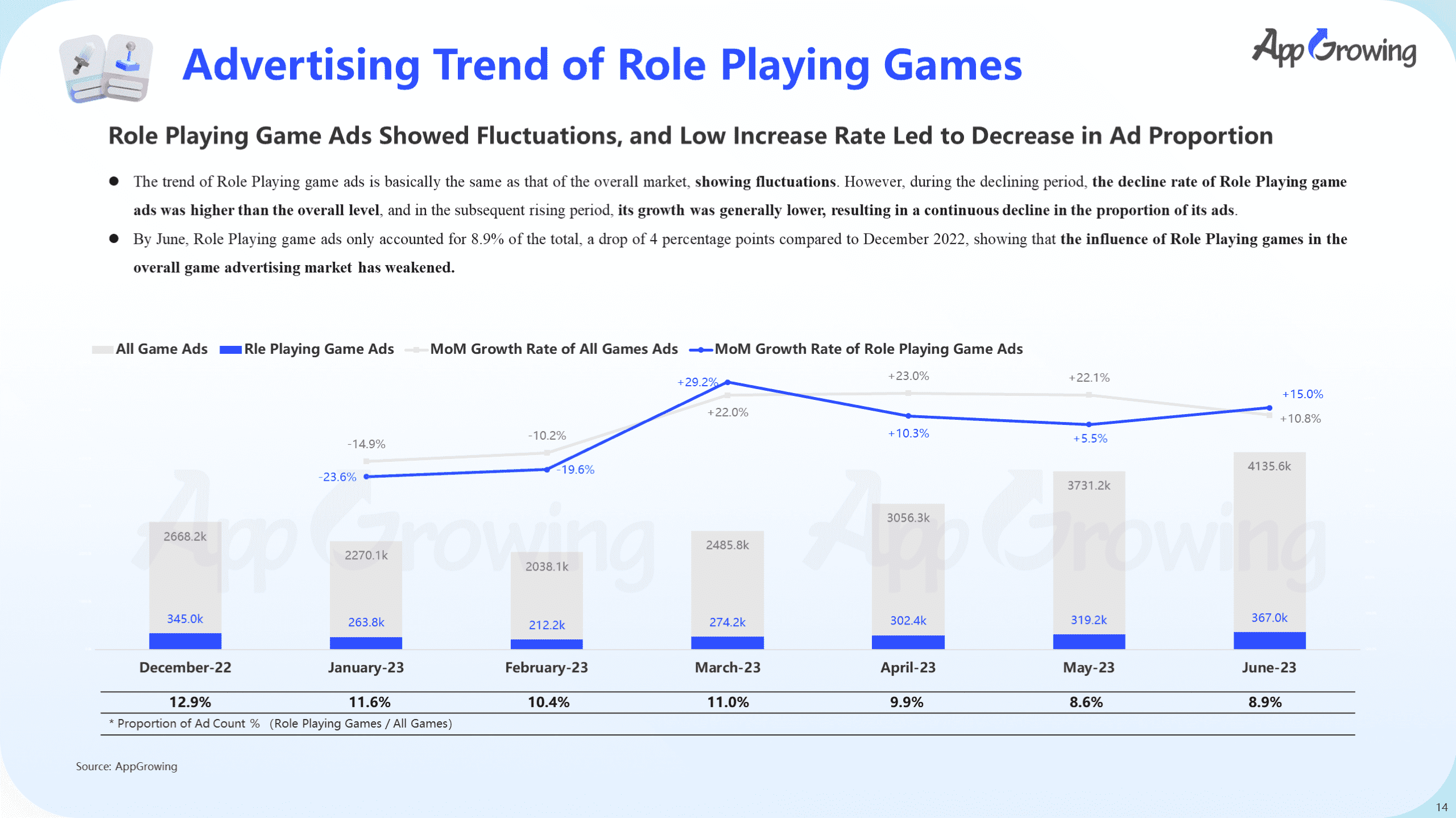 SEA is still the primary advertising market for Role Playing games. 36.3% of the ads covered this region, but has declined by about 1.7 percentage points YoY.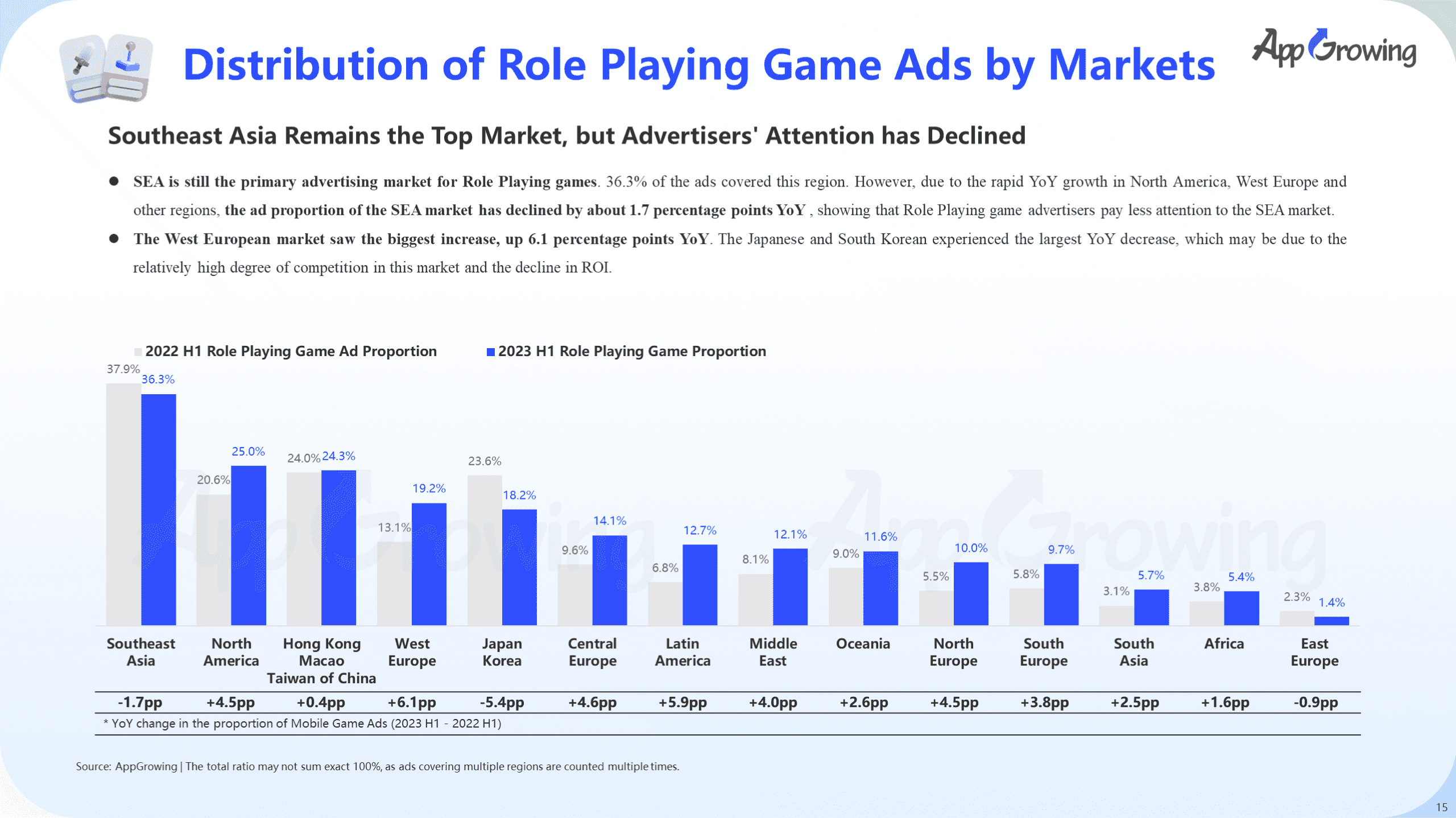 The West European market saw the biggest increase, up 6.1 percentage points YoY. The Japanese and South Korean experienced the largest YoY decrease, which may be due to the relatively high degree of competition in this market and the decline in ROI.
China's mainland publishers were dominant in the growth of Role Playing mobile game advertising. With 36.6% of mobile game app volume and 55.6% of ad volume, they far outpace developers in other regions.
Vietnamese developers similarly account for a larger share of ad volume (10.2%) than game app volume (9.2%), and are the main competitors of China's mainland developers publishing Role Playing mobile games in the Southeast Asian market.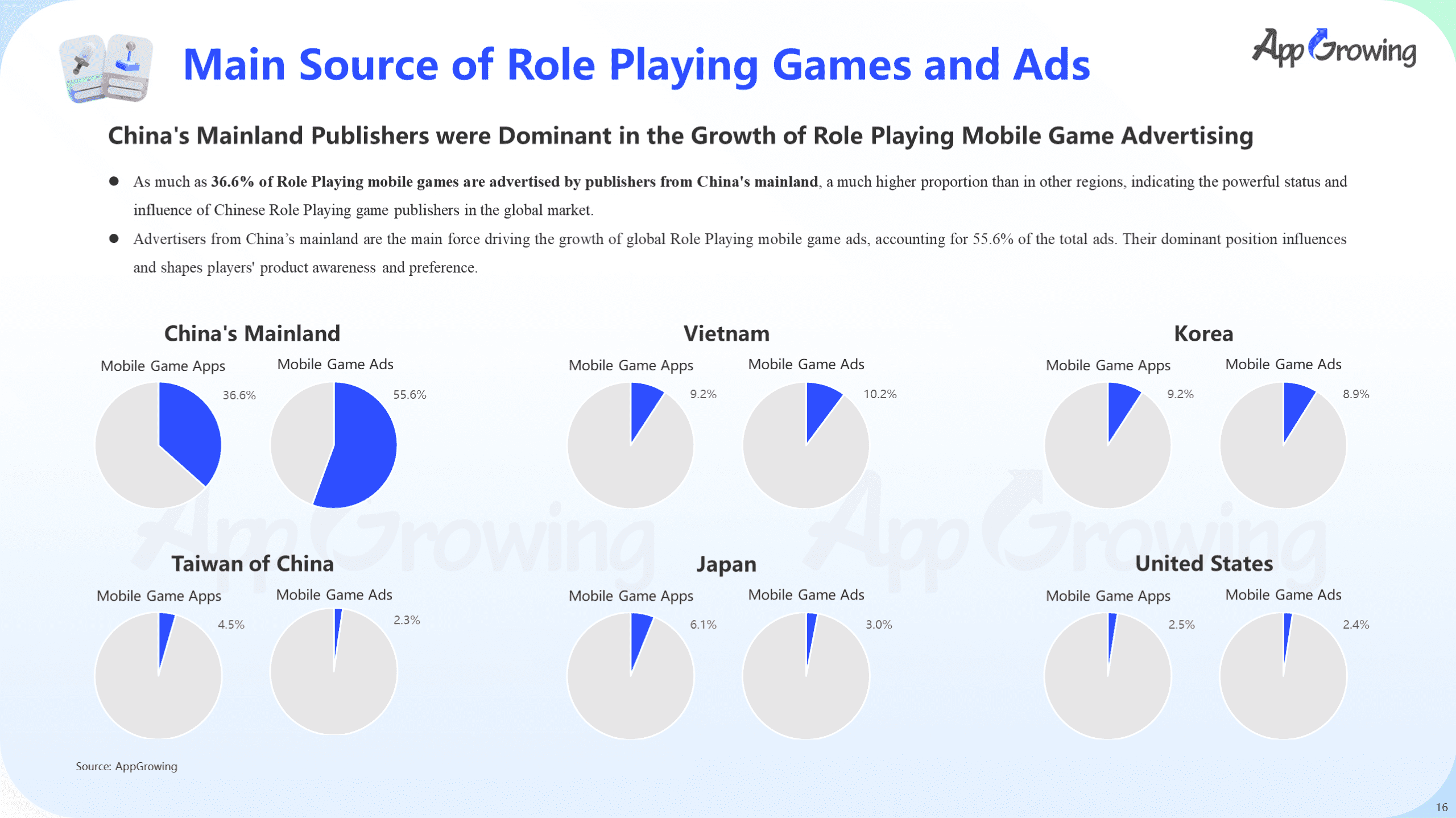 Looking at the ranking, Bingchuan Network's Epic Heroes took the first place, showing that the strategy of "card + non-core gameplay advertising" is successful.
Mighty Party, the No.2 game, also relies on non-core gameplay advertising. According to AppGrowing, it has been using the "Black Hole Devouring" gameplay and creatives since Q2 2023, and its icon has been changed to a similar one.
In terms of genres, most of the MMO mobile games on the ranking are from China, with three from SPGame - 《暮色雙城》, 《天際傳說》, and [이모탈 소울]. The No.18 is Nuverse's new game Dragonheir: Silent Gods, a TRPG set to officially launch in September 2023.
More2 Game's 《馬賽克英雄》(Mosaic Heroes) is worth mentioning. After its success in Hong Kong, Macao and Taiwan of China, the game has recently achieved good results in South Korea, with its first month's revenue exceeding 100 million. Ujoy Games, the publisher for the Korean market, basically continued its previous idea of "high benefits + spokespersons" as the main content of creatives.
The advertising campaign for Epic Seven, an anime-style card game published by Smile Gate, adopted a precise market targeting and creative strategy. The United States was given top priority, followed by Hong Kong & Taiwan of China, Japan & Korea, as well as developed countries in Europe where there is a high density of anime card game players.
Its ad creatives are mainly images. The ad content highlighted the anime features of the game, sent a clear brand signal to players, and accurately attracted target users.
For example, partnering with another popular animation IP "That Time I Got Reincarnated as a Slime", this ad leverages the influence of anime pop culture and emphasize the game's anime attributes to enhance its appeal to the target audience. The mechanism of " 7-day sign in to get a 5-star character for free " better stimulated the player's anxiety about missing out and attracted them to download.
The trend of Strategy game advertising is basically consistent with the overall market trend. After experiencing a decline in January and February, it began to pick up. The proportion of Strategy game ads is stable at 9.5-10.5%.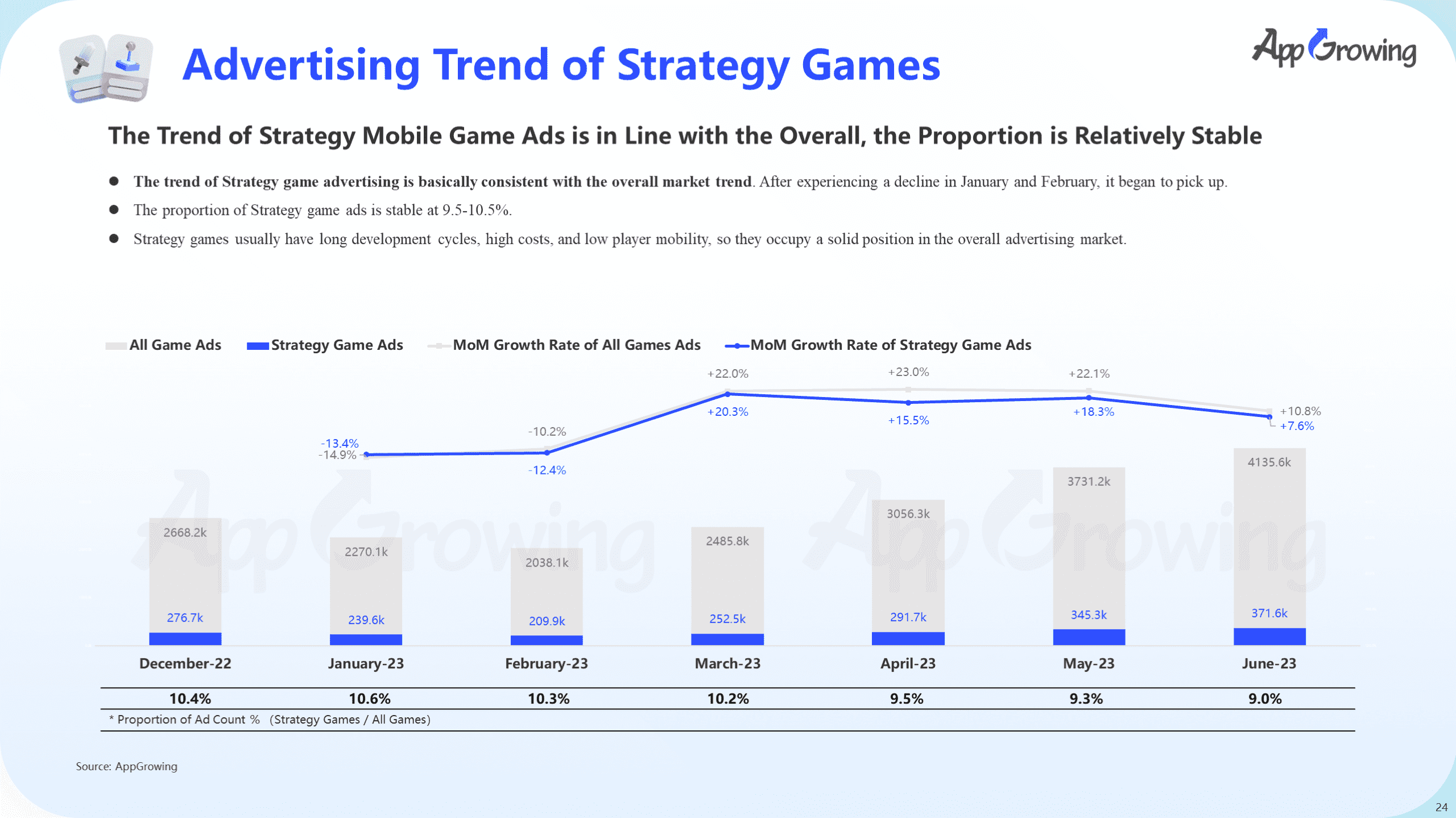 In H1 2023, the most strategy mobile game ads were in North America and Southeast Asia. However, Southeast Asia's share declined by 3.4 percentage points YoY, indicating a shift in publishers' investment to other markets.
West Europe's proportion rose by 3.4 percentage points YoY to 27.9%, while Latin America's rose by 2.9 percentage points to 15.6%. South, Central, and North Europe also saw increases of varying degrees. Strategy mobile game ads are tilting toward the European and American markets.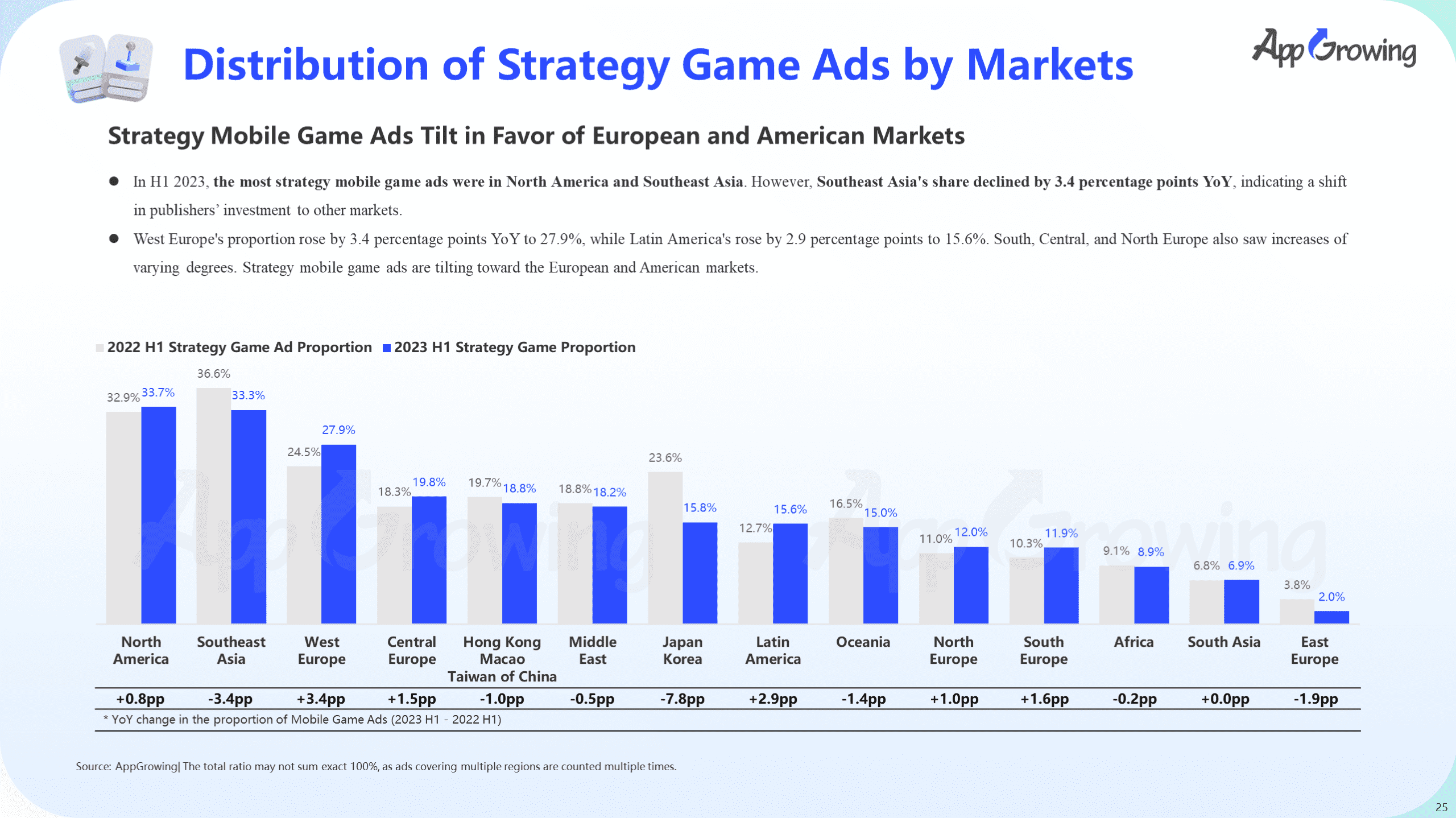 China's Mainland is the main source of strategy mobile games, accounting for 31.9% of the total apps, and 78.0% of the total ads, exceeding all other regions. It shows that China's Mainland publishers have an overwhelming advantage in the strategy mobile game market, both in terms of product supply and ad investment.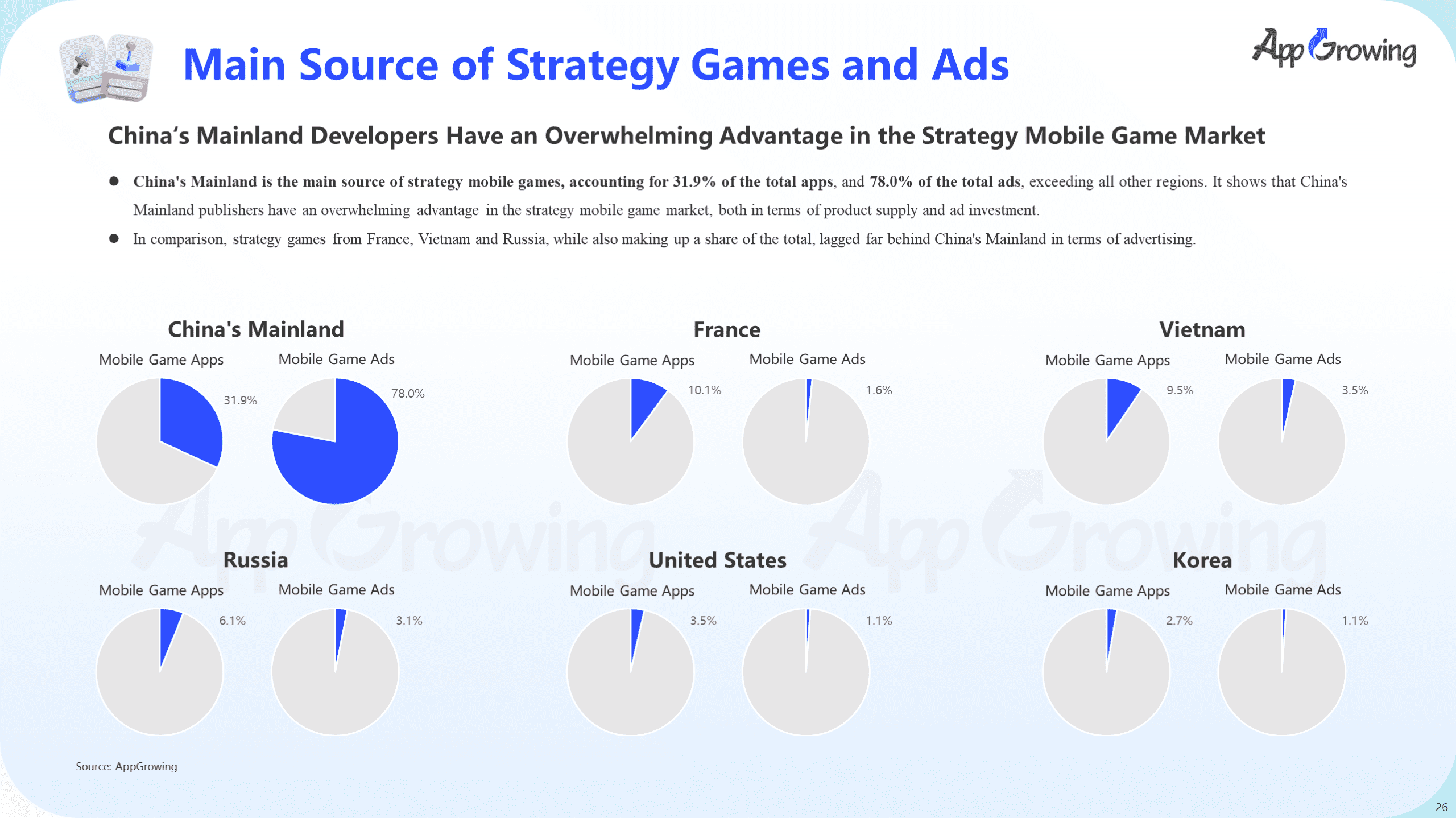 Looking at the ad volume ranking, we can clearly see the dominance of Chinese companies in this category, with more than half of the Top 40 games published by China's mainland companies, and the Top 10 even being swept by Chinese games.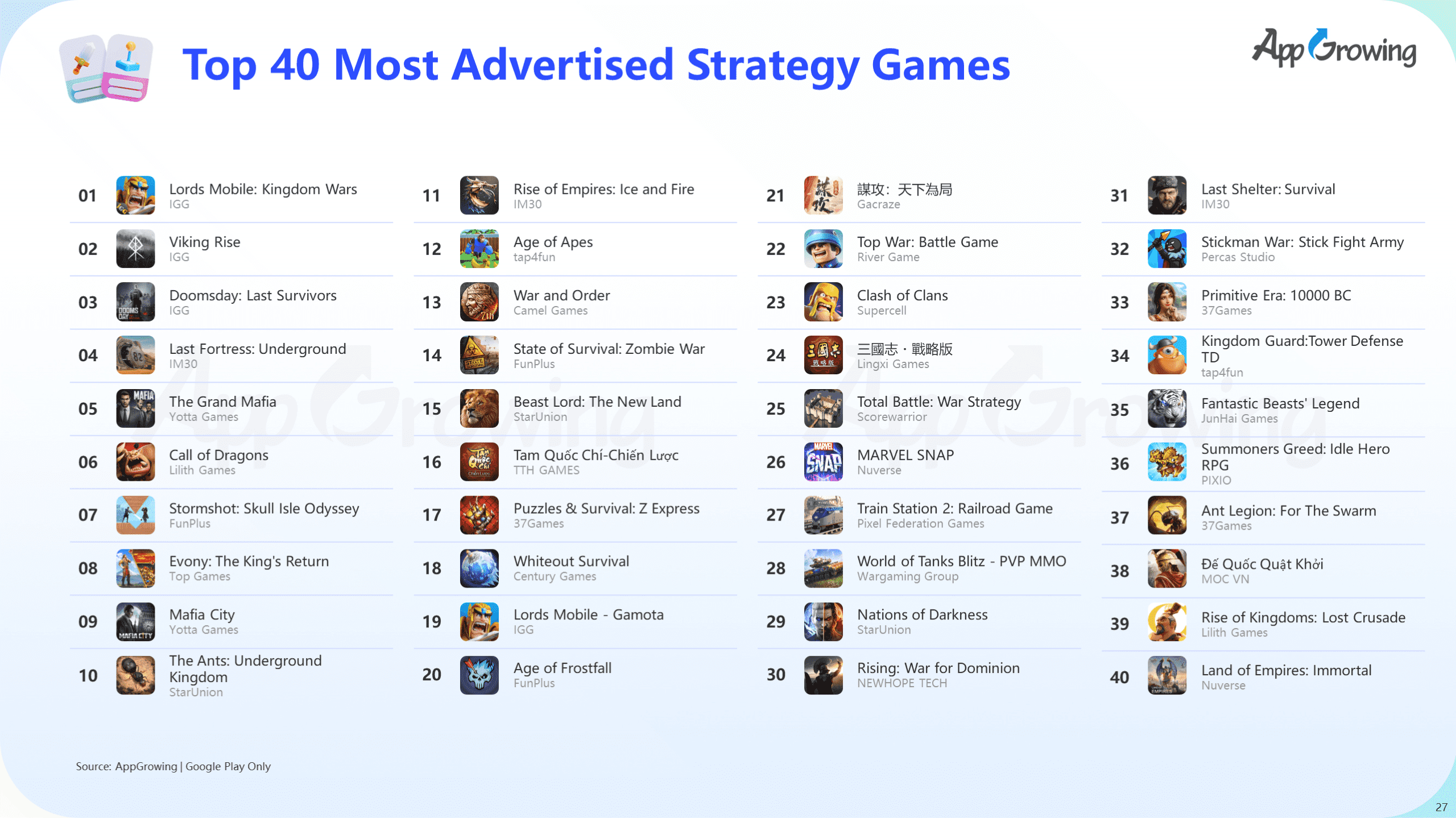 The Top 3 are all IGG's games, and the new game Viking Rise is ranked No.2. With massive advertising, the game once became the most downloaded Google play game in South Korea and Taiwan, and was also in the top 5 of Most Downloaded in 24 markets worldwide. Due to the long payback cycle of SLG games, the monetization performance of the game remains to be seen.
In addition to the familiar SLG developers, it's worth mentioning Nuverse's Land of Empires: Immortal at No. 40.
Beast Lord is an SLG mobile game by StarUnion, which utilizes the beast theme and realistic art style as its innovative point of the game as well as its ads. The game's advertising was focused on European, American, and Australian countries. The ad contents of Beast Lord centers around its theme and art, with high-quality UE videos showcasing the game's technical strength.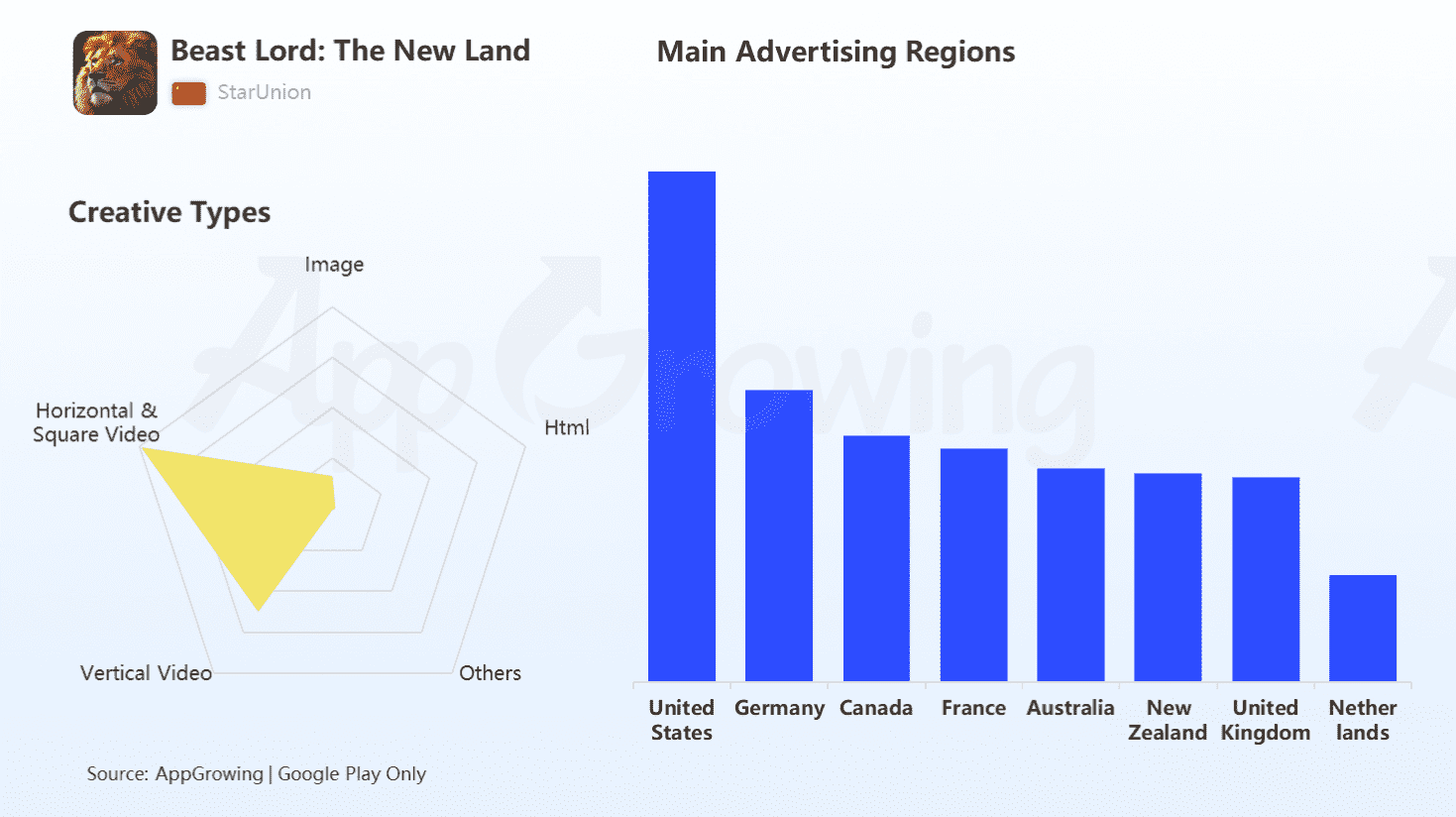 The ad consists of a square video in the center and two long images on the left and right. The images of lions and tigers highlighted the beast theme and realistic art style. The center is the UE animation that renders the revenge plot of "The Lion King", which demonstrates the technical strength of the game and awakens the audience's memory and interest in the game.
The trend of Board game ads is basically in line with the overall trend of the market. Both decreased in January and February, and then increased month by month. However, in terms of the growth rate, Board games only exceeded the overall level in February and March, and remained below in the remaining months.
The proportion of Board game ads once rose to 3.9% in March. But, as the growth rate in the later period was lower than the overall level, the proportion gradually fell.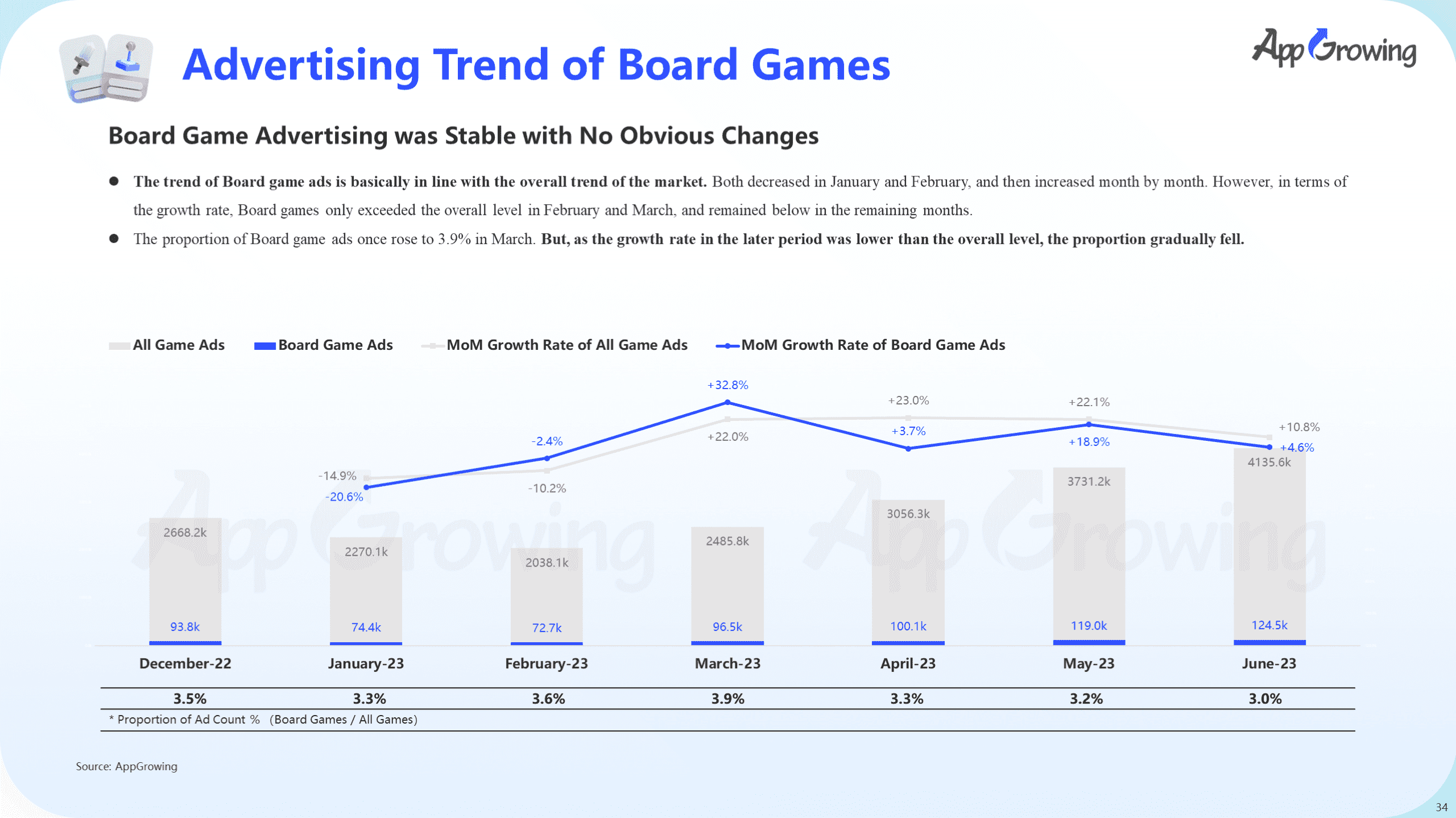 North America is the key market for Board game advertising, and about 37.6% of Board game ads covered this region. The board category is mostly lightcore and midcore mobile games, whose casual nature can better cater to the preferences of players in most markets around the world, so markets such as Western Europe, Southeast Asia, the Middle East, and Latin America also have a high advertisement volume proportion.
Board mobile games show significant regional differences in advertising in emerging markets. Among the regions with the highest proportion of Board game ads, two emerging markets, Southeast Asia and Latin America, experienced YoY decline, while the Middle East, which is also an emerging market, has increased by 3.1 percentage points YoY.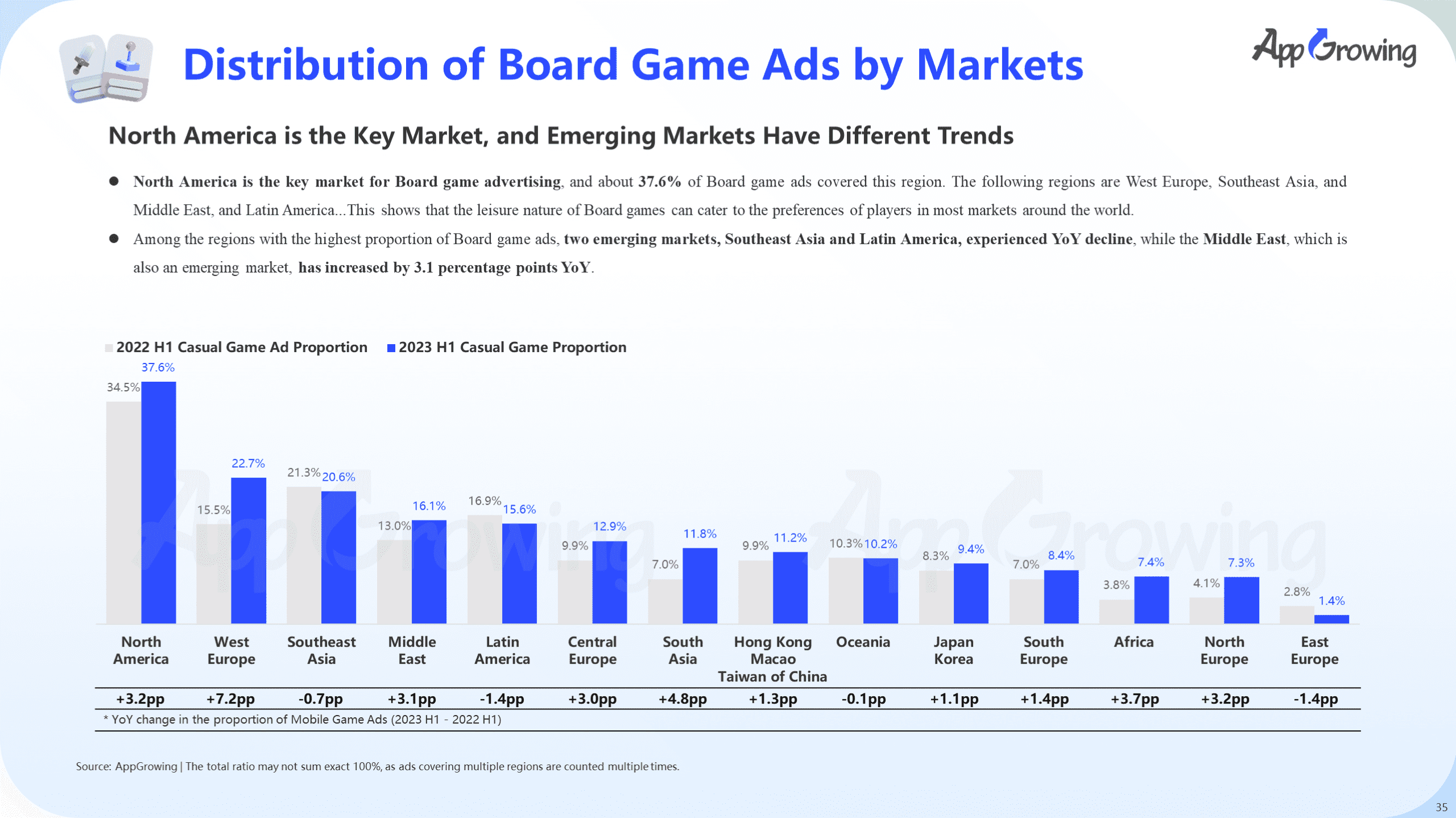 Top 1 in ad volume in H1 2023 is Inifinite Joy's Onet Puzzle, a match game launched in 2021. It's followed by Yalla's Yalla Ludo, which combines local Ludo and Domino gameplay with chat room integration. Yalla Ludo is currently the revenue driver of Yalla's game business. In addition, MONOPOLY GO!,  a casual dark horse of 2023, came in 3rd.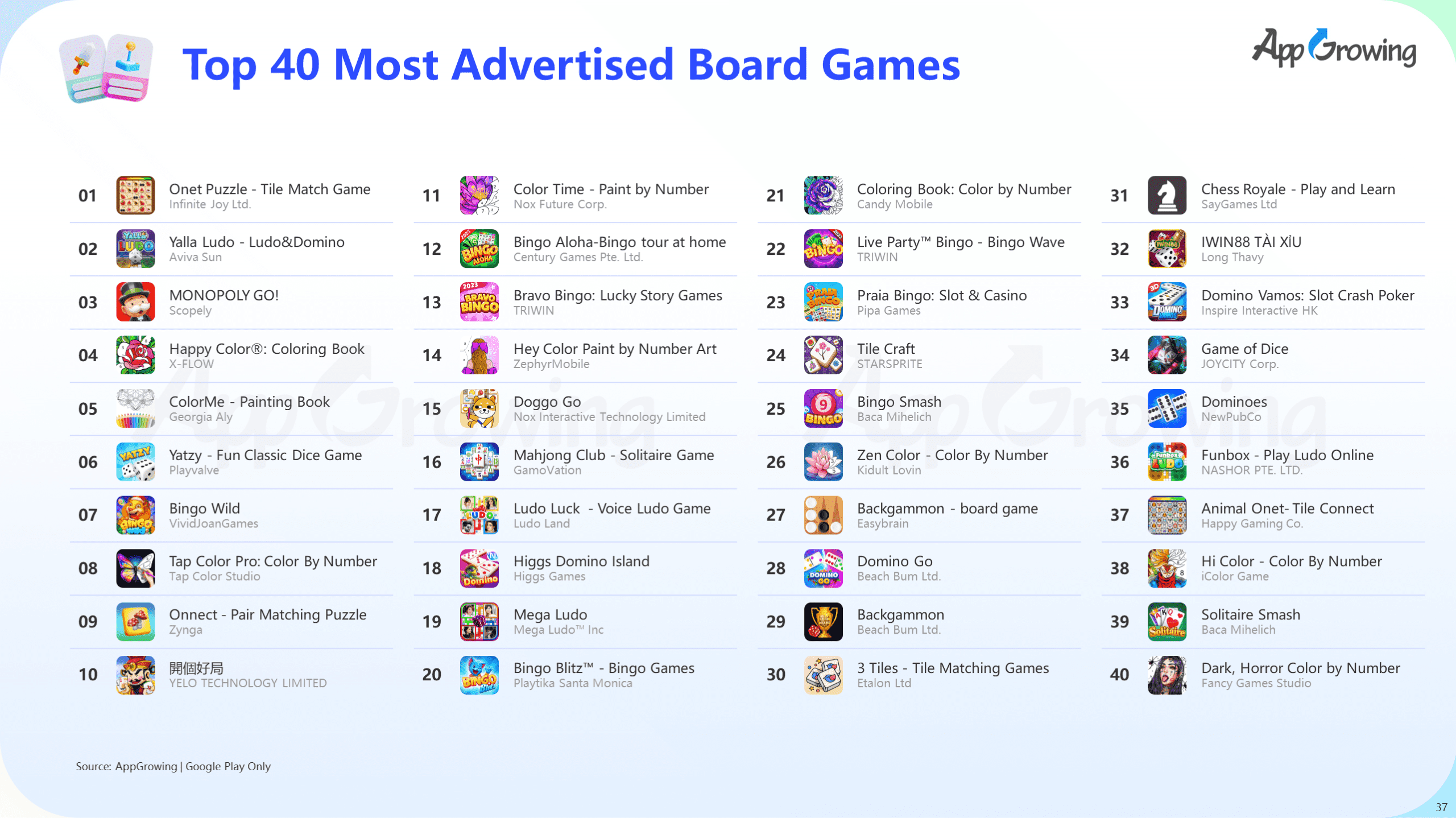 MONOPOLY GO! is a board game based on the popular IP "Monopoly" and has a wide range of potential players. Videos are the main form of its ads, showing the cartoon art style and relaxing gameplay. It has widely advertised in all major markets worldwide, which is a strategy that matches its casual and easy-to-play nature.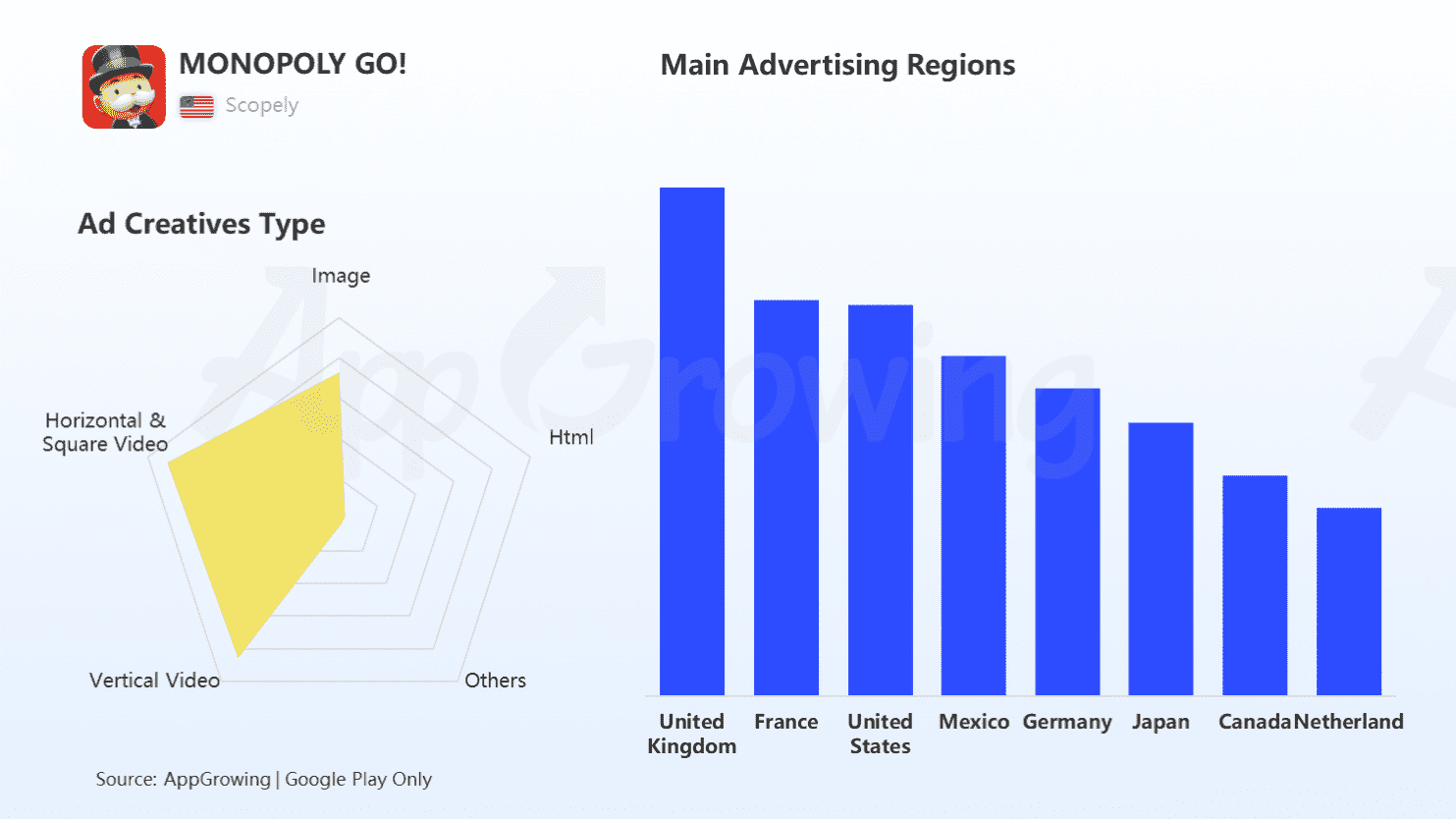 The advertising video uses 3D cartoons to reinterpret its mascot in a playful and lovely way. In this ad, Mr. Monopoly's body and face are adjusted to be more cute. The chessboard and props dance with the cheerful rhythm, creating a casual atmosphere. It not only satisfies the memories and emotions of old players, but also attracts new players.
03 Key Markets
The monthly ad volume of mobile games in North America has remained at a high level of over 800k. The MoM rise and fall were all within 10%, except for the 19.8% increase in March.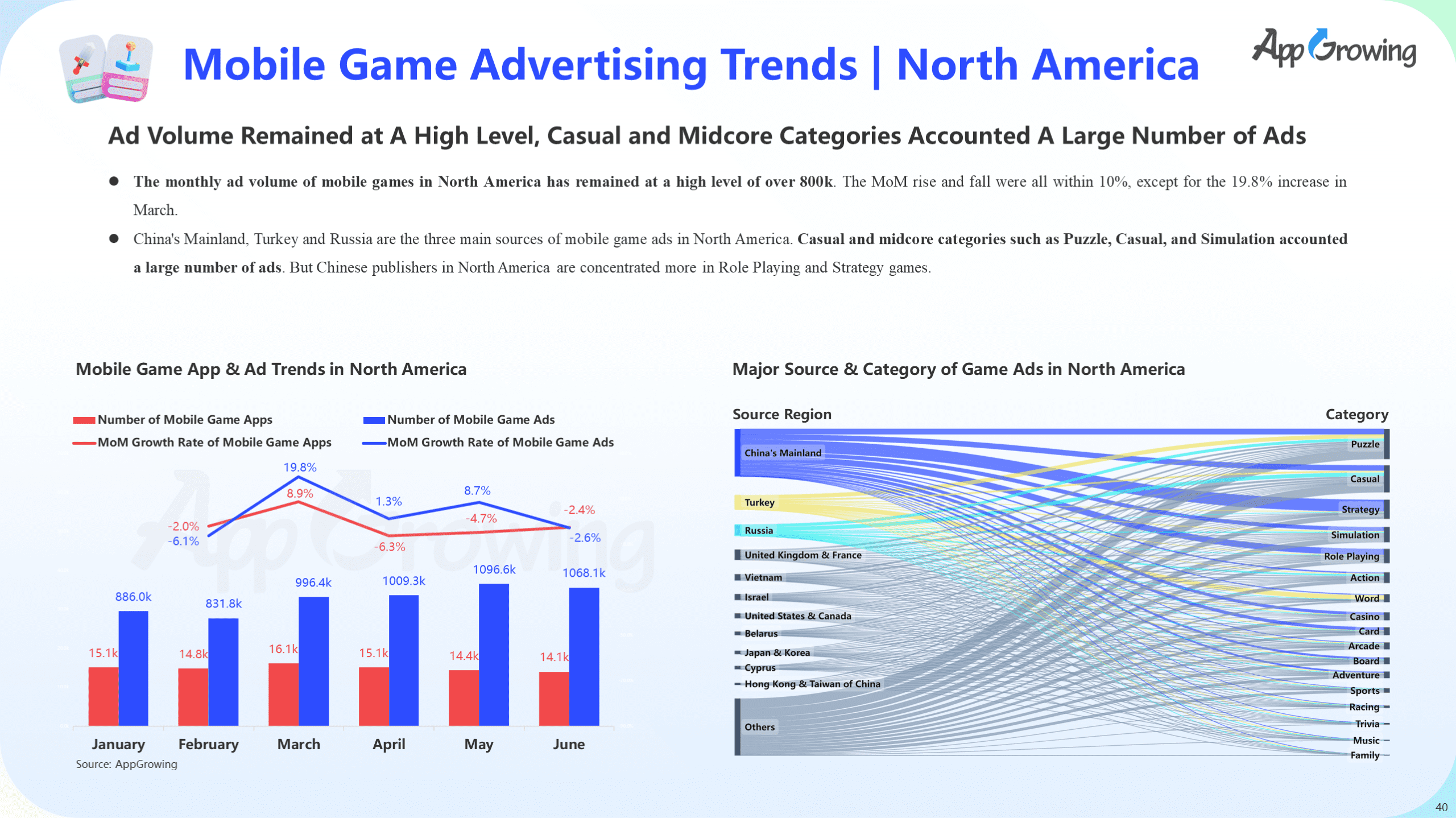 China's Mainland, Turkey and Russia are the three main sources of mobile game ads in North America. Casual and midcore categories such as Puzzle, Casual, and Simulation accounted a large number of ads. But Chinese publishers in North America are concentrated more in Role Playing and Strategy games.
The main advertising force in North American was casual and midcore games. In Q1, there were only 2 hardcore games. In Q2, the number increased to 3, but the rankings were all low.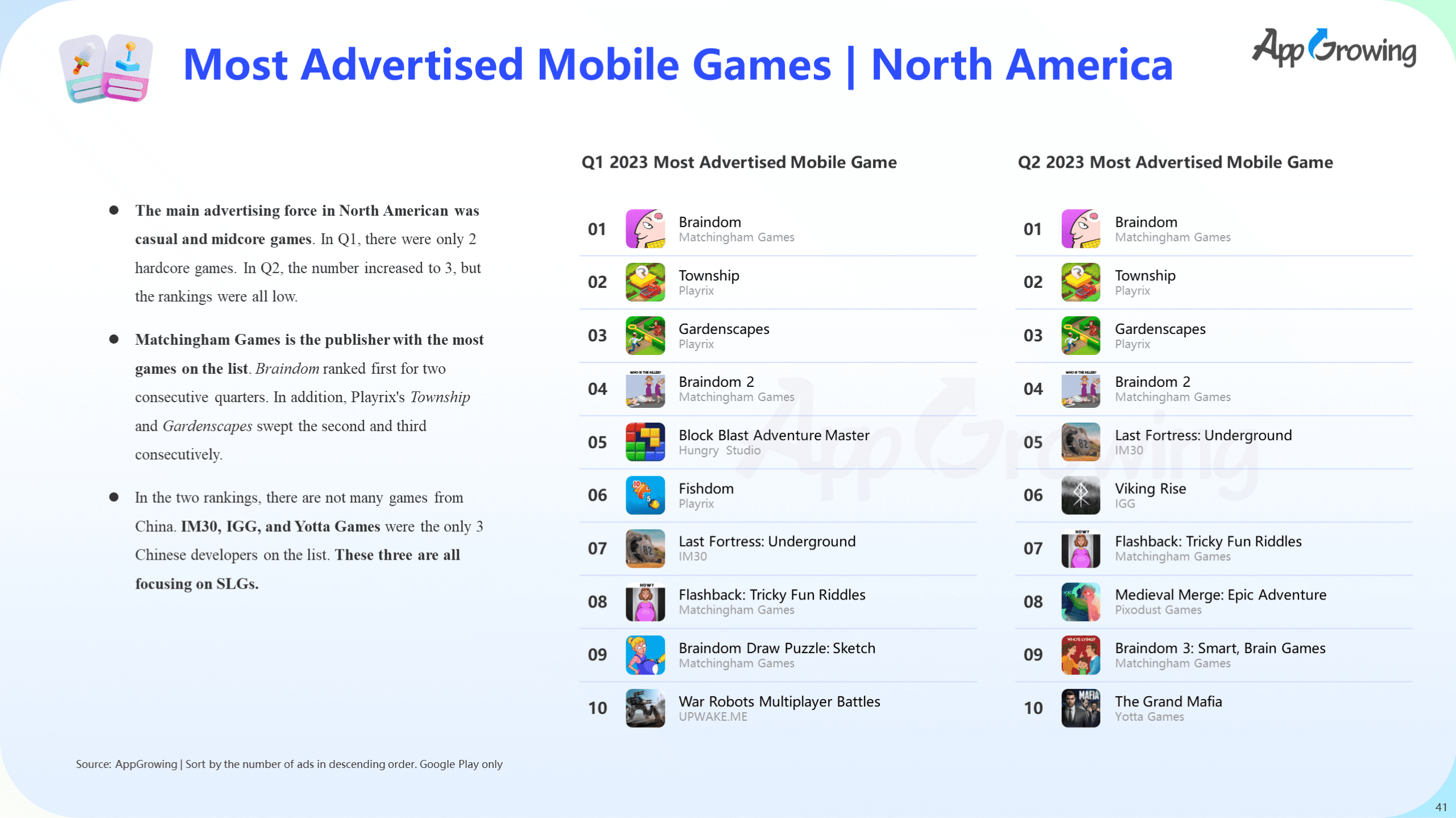 Matchingham Games is the publisher with the most games on the list. Braindom ranked first for two consecutive quarters. In addition, Playrix's Township and Gardenscapes swept the second and third consecutively.
In the two rankings, there are not many games from China. IM30, IGG, and Yotta Games were the only 3 Chinese developers on the list. These three are all focusing on SLGs.
On the creative hand, since Casuals are the main contenders for media buying in the North American market, the creative is basically driven by these advertisers. Under the fierce market competition, "Non-core Gameplay Advertising" is the main means for casual game advertisers to obtain downloads. This is especially evident in the North American market, which is keen on casual games. A typical example is the "Pin Pulling" ads of Gardenscapes.
In addition, most Live-Action Ads are used in Casino games. For example, attract users' attention through oral broadcasts, and stimulate players to download games with bonus benefits.
Mobile game advertising in Southeast Asia has grown rapidly, with a continuous growth of more than 20% from March to May, but a slight decline in June. The number of mobile game apps has not seen the same growth, which shows that the advertising competition in the Southeast Asian market has intensified, and the investment of advertisers has increased significantly.
Local publishers from Vietnam have created the second-most ads, and have fierce competition with Chinese publishers in Role Playing games.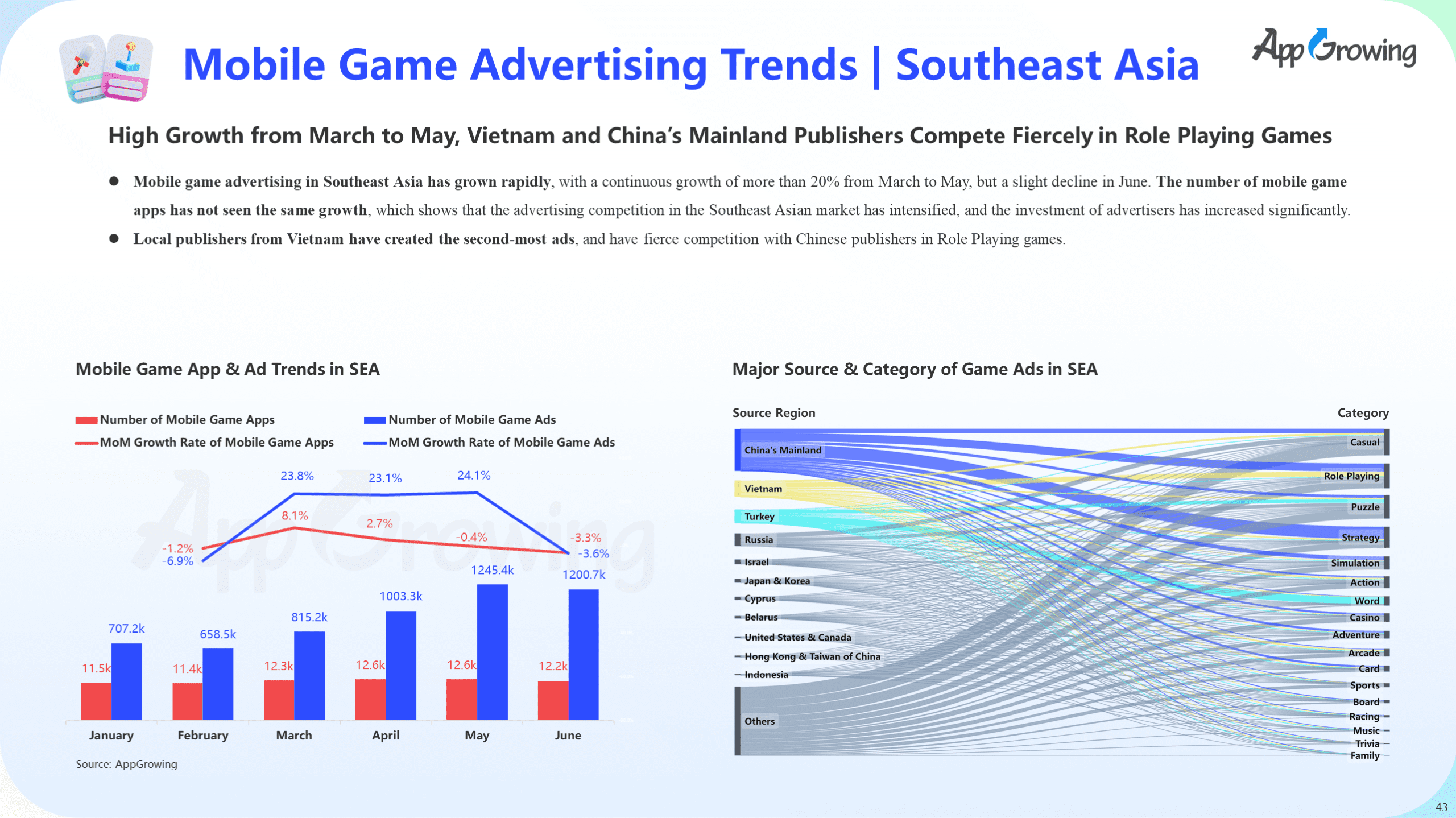 In the first two quarters of 2023, casual and midcore games dominated the advertising rankings in the Southeast Asian market. However, in the second quarter, there were 3 anime-style games on the list, namely Ever Song, Ragnarok Origin Global and Honkai: Star Rail.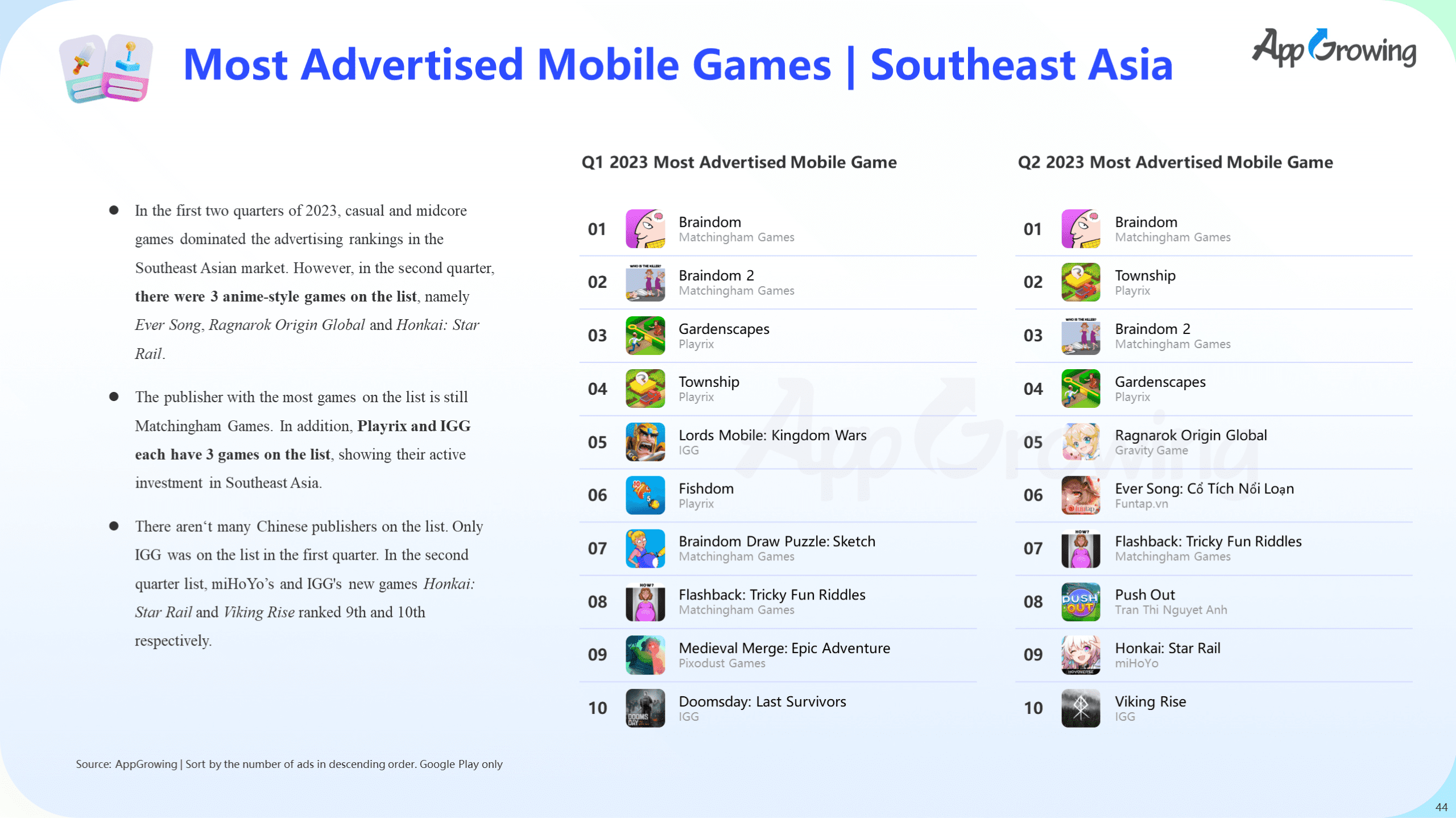 For ad creative trends, Southeast Asian players have always preferred live-action ads. In addition to conventional drama plots and live broadcasts, there were also "real-life social" ads in the first half of the year, focusing on the interaction between players and highlighting the social attributes of the game. Hardcore games such as MMOs tend to directly display gameplay and characters to attract users, usually combined with download benefits.
Mobile game advertising in Latin American saw a high MoM increase of 26.5% in March, and then continued to grow upwards despite a decline in the growth rate. However, the number of mobile game apps not only did not increase, but even decreased significantly. This shows that the traffic competition in Latin American market has intensified, and games are constantly being eliminated.
Latin American players have similar preferences for mobile games as European and American players. Puzzle and Casual games have the most ads.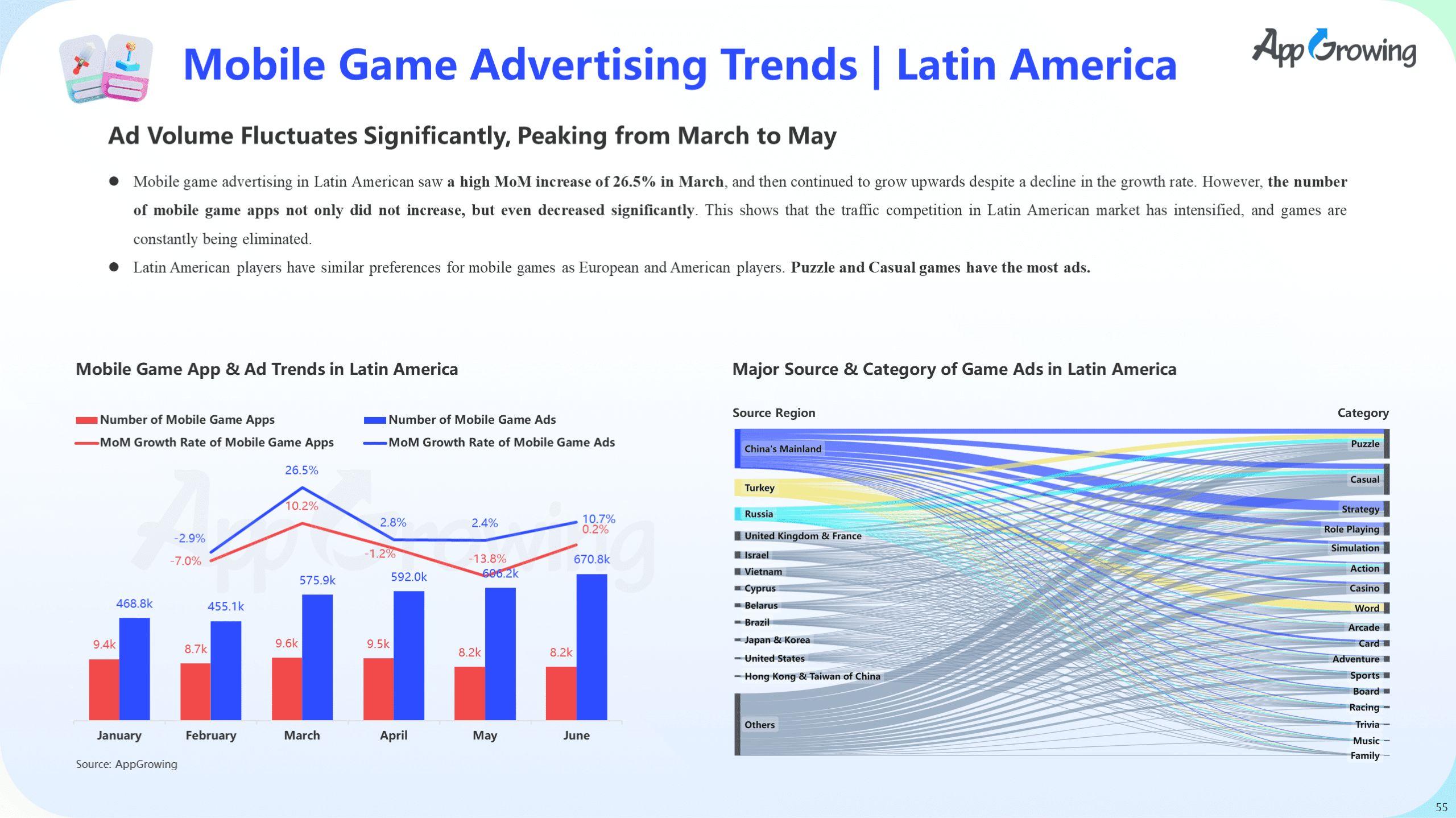 There are only 5 non-casual games on the lists, Lords Mobile, Mighty Party, War Robots, Viking Rise and Epic Heroes. In addition, Coin Master, which combines slot and construction gameplay, also invested heavily in advertising in the first half of the year.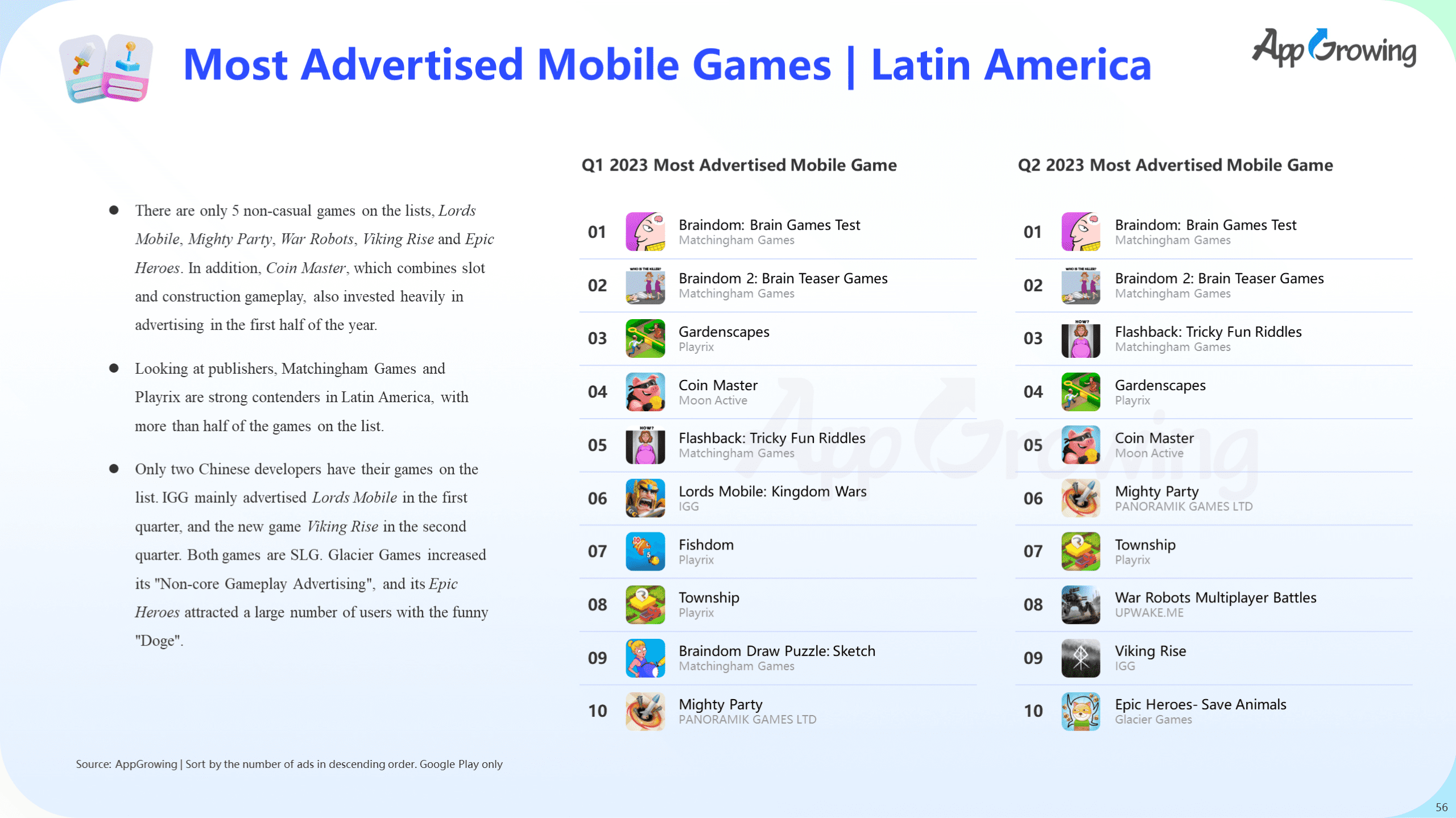 In terms of ad creative trends, Casual games mainly display the gameplay in their ads. And the ads often ended with failed operations or dramatic endings, arousing players' desire to challenge. Competitive games (such as Free Fire) prefer live-action ads. Most of the live-action ads are commentary, endorsement, and game display by influencers, which drive audiences to download through their influence.
04 Game Market in China's Mainland
As China's game license distribution has returned to normal, in 2023, new games were constantly being released with massive ads. Advertisers generally expanded their marketing budgets. The improvement of the macro environment has led to a rational recovery of China's mobile game advertising market. The monthly number of mobile games advertised remained at around 6k, but the ads have fluctuated considerably.
According to the Q1 financial report, the game business of giants such as Tencent and NetEase performed well. Tencent and NetEase accounted for more than 80% of the market share, and the Chinese game market has clearly differentiated.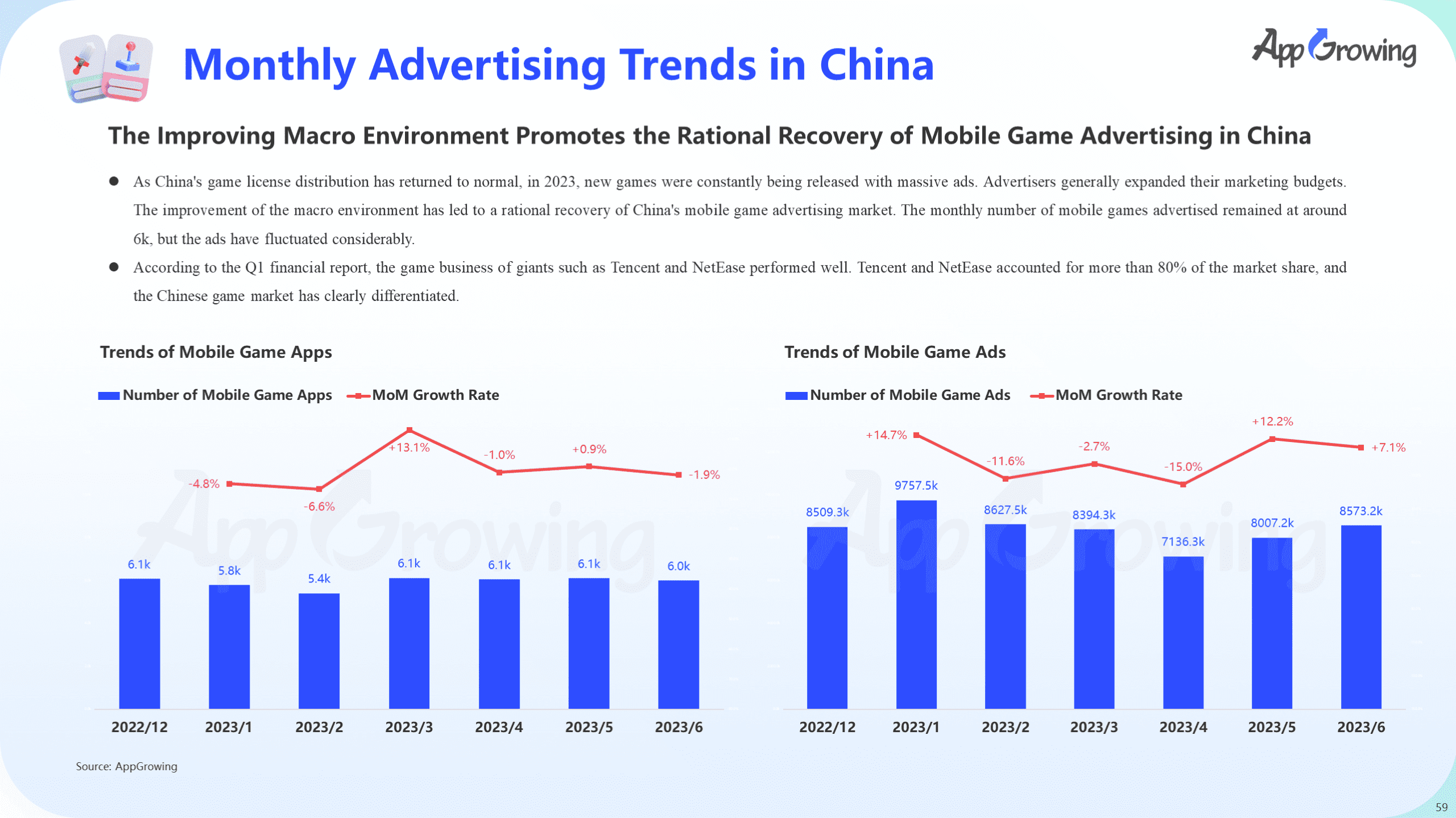 Chinese-fantasy games focus on repetitive editing. The ad creatives are mainly based on gameplay, worldview, character display, etc, or show grandeur and freedom by exploring the game world.
The ad creatives of traditional MMORPGs are mostly for displaying characters, monster killing and equipment collecting, or restoring the old screen and gameplay, creating a passionate, explosive, and classic heroic feeling. In addition, with the popularity of the TV series "The Knockout", many actors in the play became the spokespersons of these games.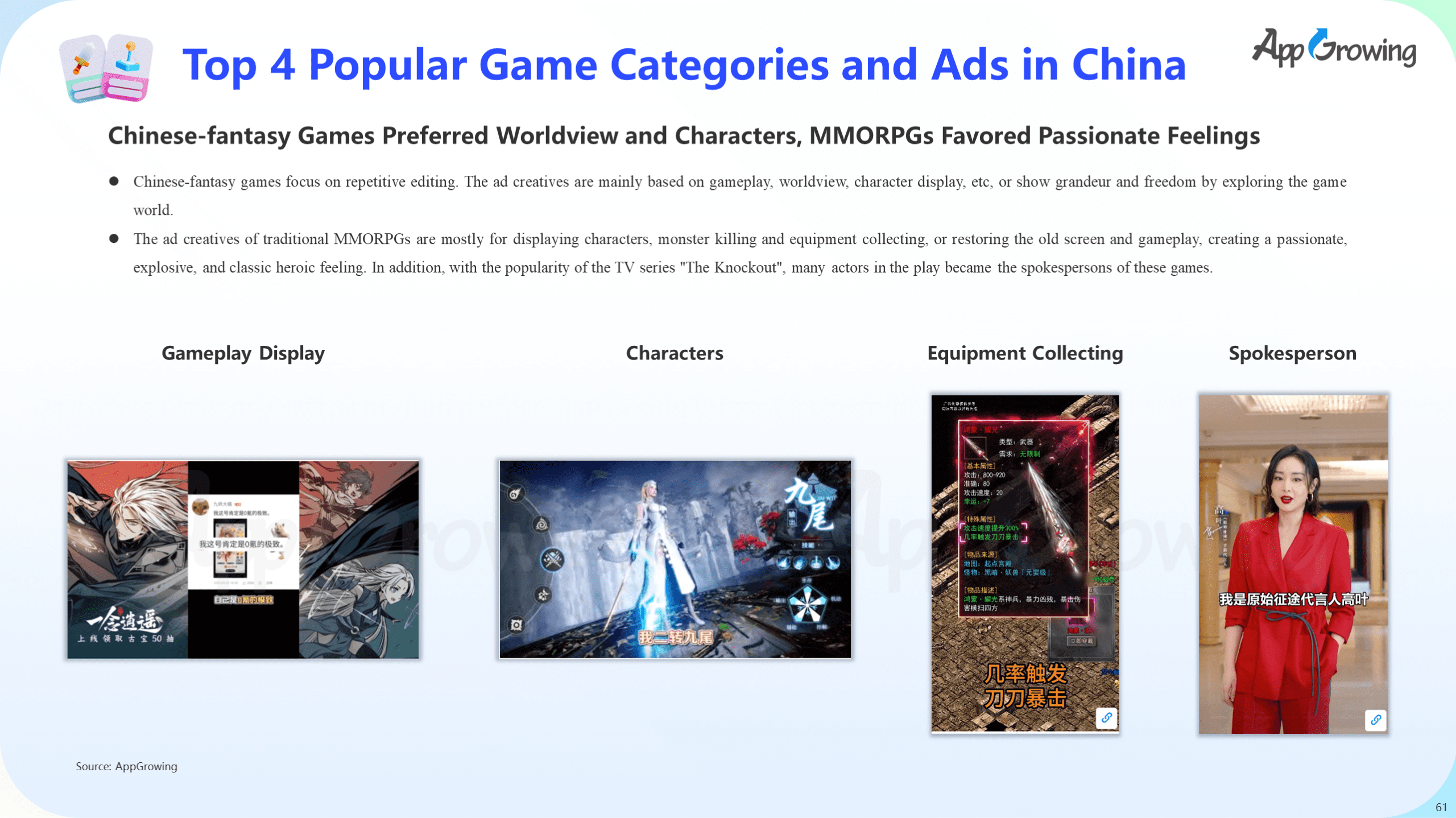 Most of the ad videos of war games takes land pioneering as the main storyline, creating a sense of "one person controlling thousands of troops" and emphasizing freedom and openness.
In the first half of 2023, there were constant hits in SIM games. From ancient themes to modern themes, the ingenious combination of "magic hand" and "choose one" elements allows players to quickly understand the gameplay, interface and core plot.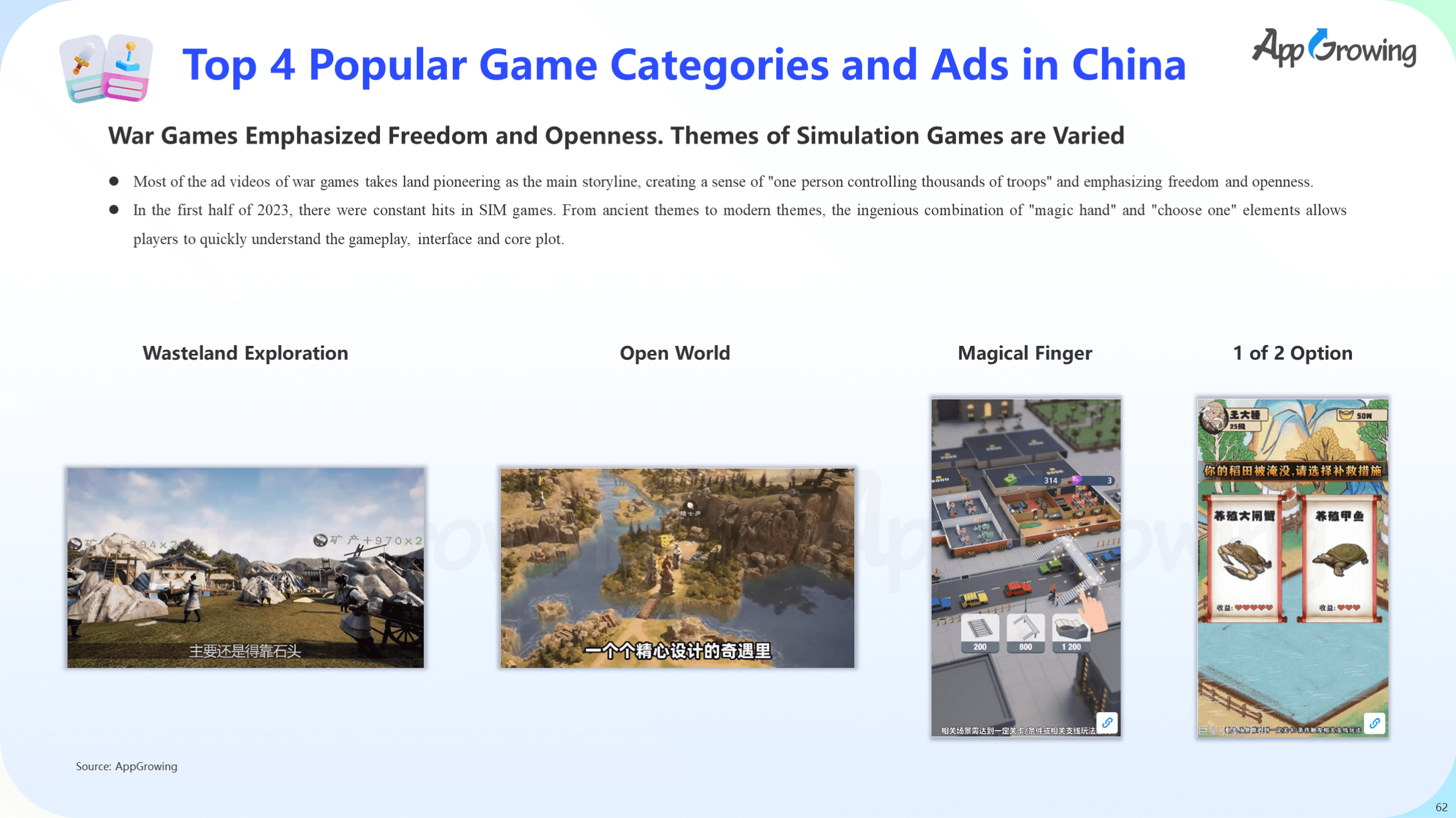 The above are some of the excerpts of H1 2023 Mobile Game Global Advertising Report. Click Here for a free copy of the full report PDF.
Follow AppGrowing on social media or sign up now for more global mobile advertising insights.