Here is AppGrowing's analysis of the global mobile game advertising markets in June 2023, based on advertising data from 25 global media platforms in 50 countries/regions.
01 Advertising Trend
Overall, the global mobile advertising market continued its growth trend in June. Compared to May (May 2023 Review), the increase in ad volume, app volume, and creatives volume decelerated.
The app volume in June 2023 was 24,774, a 3.5% MoM increase, slightly less than in May. Ad volume was 4.13M, a 10.8% MoM increase, and creatives volume was 1.08M+, up 4% MoM.
Both ad and app volume peaked in the early days, with the highest number of ads and apps on June 2, at 870K+ and 12,723 respectively. The app volume changed slowly during the whole month, and the weekly app volume stayed above 15K. From the view of ad volume, it remained above 1.20M each week, among which week 2 showed the most ad volume at nearly 1.80M.
In terms of the interval distribution of ad volume of a single game, 76.12% of games were in the range of 0~99, accounting for a slightly higher proportion than in May. 12.99% was in the range of 100~299 and 5.14% was in the range of 300~599, both of which were slightly lower than in May.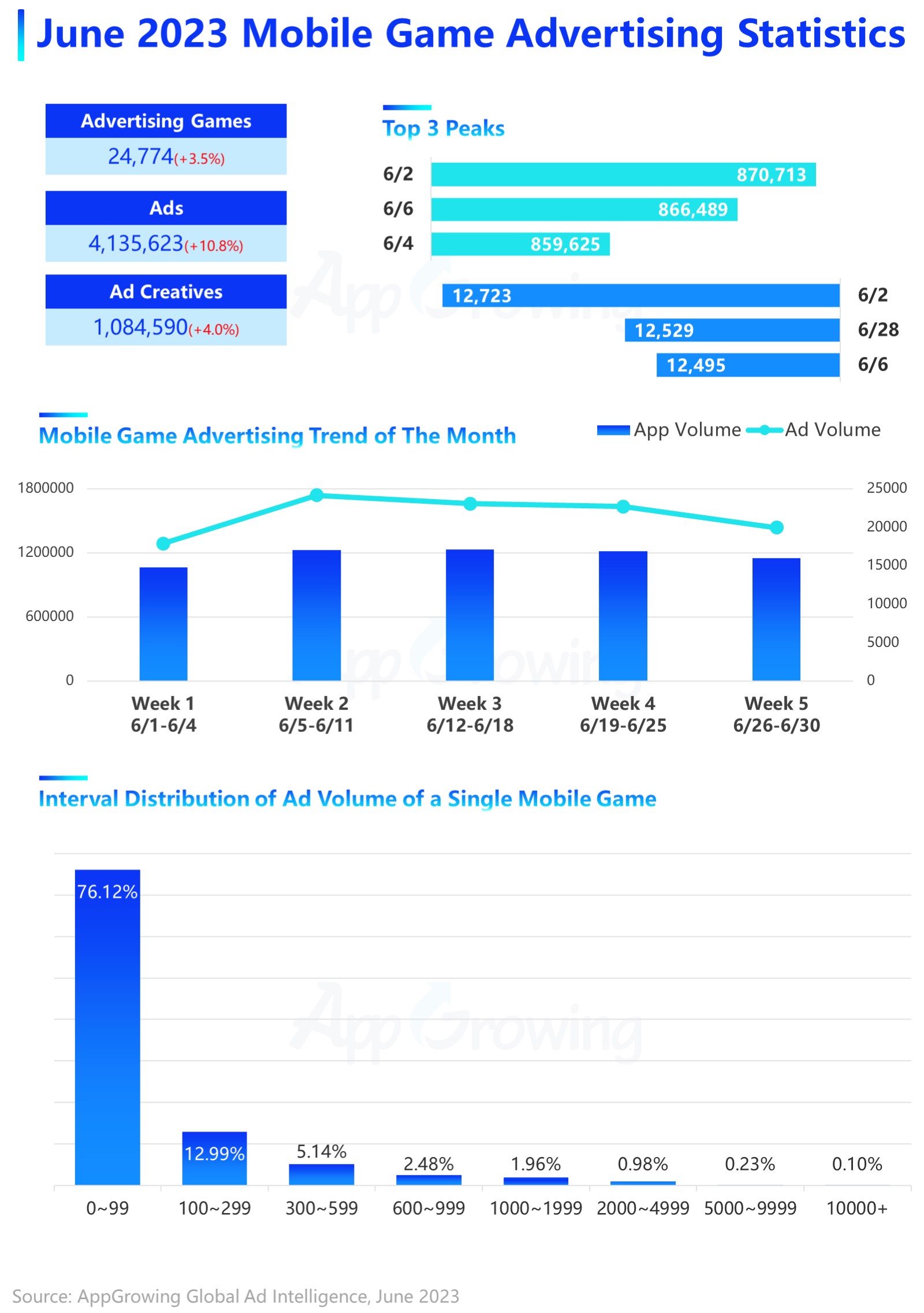 From the category point of view, Casual defended the No.1 spot in App Volume and Ad Volume in June 2023, accounting for 19% and 18.2% respectively, both slightly lower than in May. The puzzle ranked No.2, with App Volume accounting for 13.2% and Ad Volume accounting for 15.1%, the latter's larger increase reflecting the fierce competition for Puzzle game ads this month.
On the average ad volume of a single game, the top 2 are still Word and Strategy. The 3rd-5th places are Role Playing, Board, and Action, which differs from the May chart. Except for Board, all categories saw growth of more than 10% MoM.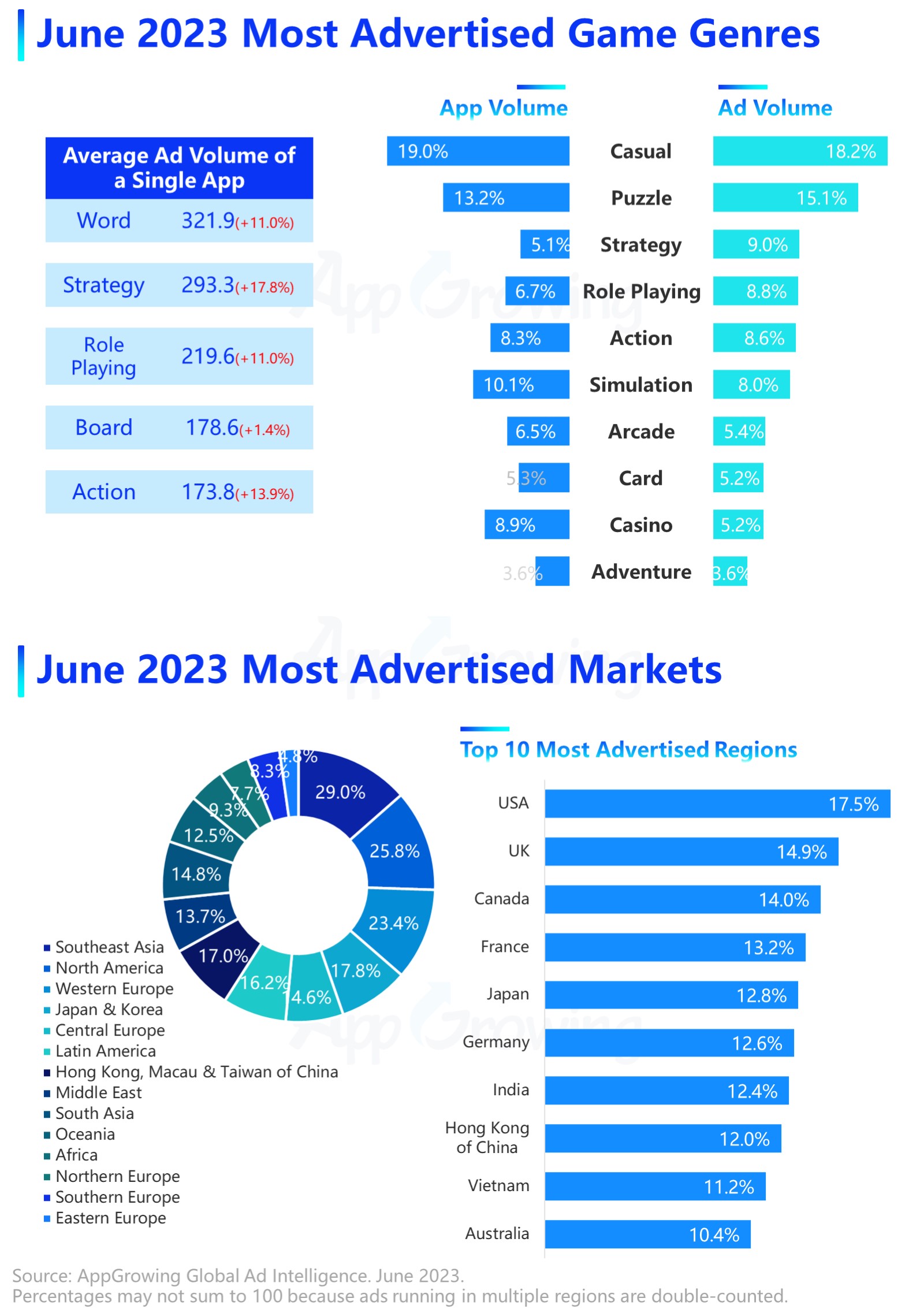 Regarding market regions, Southeast Asia was the TOP1 region, accounting for 29% of ad volume, a decrease of 3% compared to May, while the TOP2-5 regions were North America, Western Europe, Japan and South Korea, and Central Europe, which was the same as in May. Specifically, among the top 10 regions in ad volume, the USA accounted for 17.5%, continuing the downward trend. The UK stayed in 2nd place with a 14.9% share, while France, Canada, and Japan ranked 3rd to 5th.
02 Most Advertised Games
From the perspective of developer regions, Mainland China continues to lead in ad volume at 36.3% and app volume at 21.3%, with the former showing a slight increase compared to May. Vietnamese developers remained in 2nd place in ad volume, with a 12.6% share. But in terms of app volume, the No. 2 was taken by French developers with a 13.9% share.
Among the most advertised developers, SayGames, a company that mainly created hyper-casual games, topped the chart. The 2nd and 3rd places were taken by Matchingham Games and IGG, while IGG is still the only Chinese company on the list. All in all, the list is dominated by developers that focus on casual/ultra-casual games.
On Google Play, Puzzles were the most advertised, with 5 games on the list, 2 of which made it to the Top 3. Word game Braindom: Brain Games Test took the No.1, while IGG's 2 Strategy came in at No.4 and No.5, and HoYoverse Honkai: Star Rail slipped to No.10.
On App Store, OneSoft's 1945 - Airplane shooting games remained at No.1, while C4GAMES' Anime Card RPG 放置少女 landed at No.2, and the 3rd place was taken by the Casual dark horse MONOPOLY GO!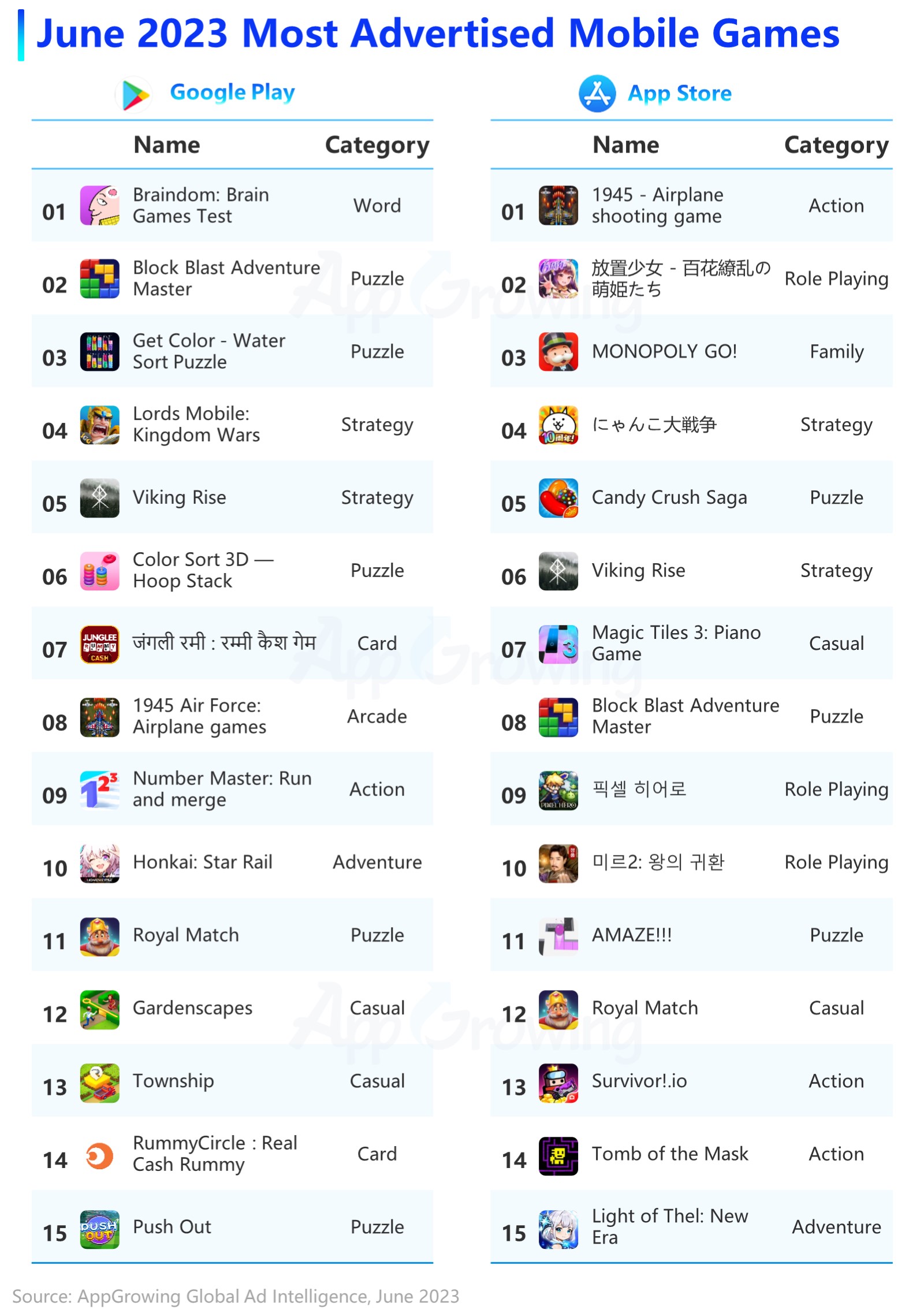 放置少女 was launched 6 years ago, and it has kept a good long-term achievement in Japan so far. In the recent 3 months, it has stayed in the top 50 of the iOS Top Grossing charts and has broken into the top 20 several times. The game has recently started its 6th-anniversary celebrations and a collaboration with Imada Mio(今田 美桜), thus a massive advertising campaign has been running to support the promotion.
Looking at the June top pre-registrations, Moonton's Watcher of Realms took the No. 1 on App Store, while Nuverse's Dragonheir: Silent Gods took the No. 1 on Google Play. AppGrowing recently analyzed the ad strategies of the 2 games from China, check out the in-depth article here(Watcher of Realms, Dragonheir: Silent Gods).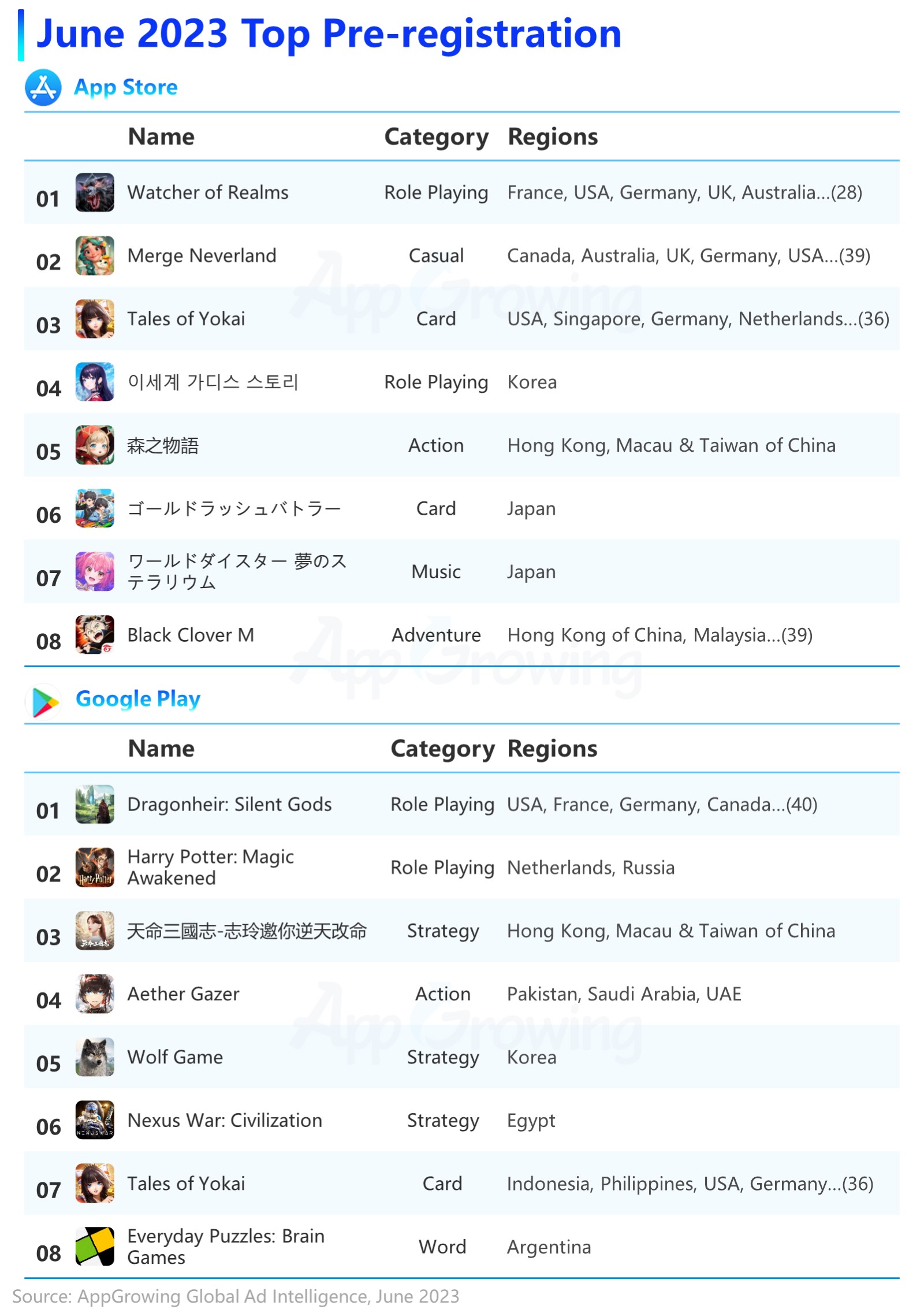 In general, there are more Anime games on App Store, while Google Play has more SLG appearing, such as 天命三國志, Wolf Game, etc. NetEase and Warner Bros. Games' Harry Potter: Magic Awakened was massively advertising worldwide during its pre-registration, and ranked 2nd on Google Play.
03 Mobile Game Advertising Case Analysis
Case1: MONOPOLY GO! 
Scopely's MONOPOLY GO! is a casual mobile game based on the "Monopoly" IP, which made it the most eye-catching casual dark horse. According to media reports, it achieved revenue of more than 100M in May 2023.
Simply put, the gameplay is "Monopoly + Coin Master". It was optimized on strategy considering the mobile devices. Paired with the exquisite cartoon art style, it offers a refreshing experience. Thanks to large-scale advertising investment, MONOPOLY GO! has shown quite favorable commercial results.
In terms of ads, MONOPOLY GO! mainly focuses on Europe and the USA, while it also places a certain ad volume in other major markets, reflecting the strategy of "global advertising". According to AppGrowing, it is mainly advertised in the UK, Japan, Germany, France, and the USA. The types of creatives were mainly images and videos, with vertical videos accounting for a slightly higher proportion than horizontal and square ones.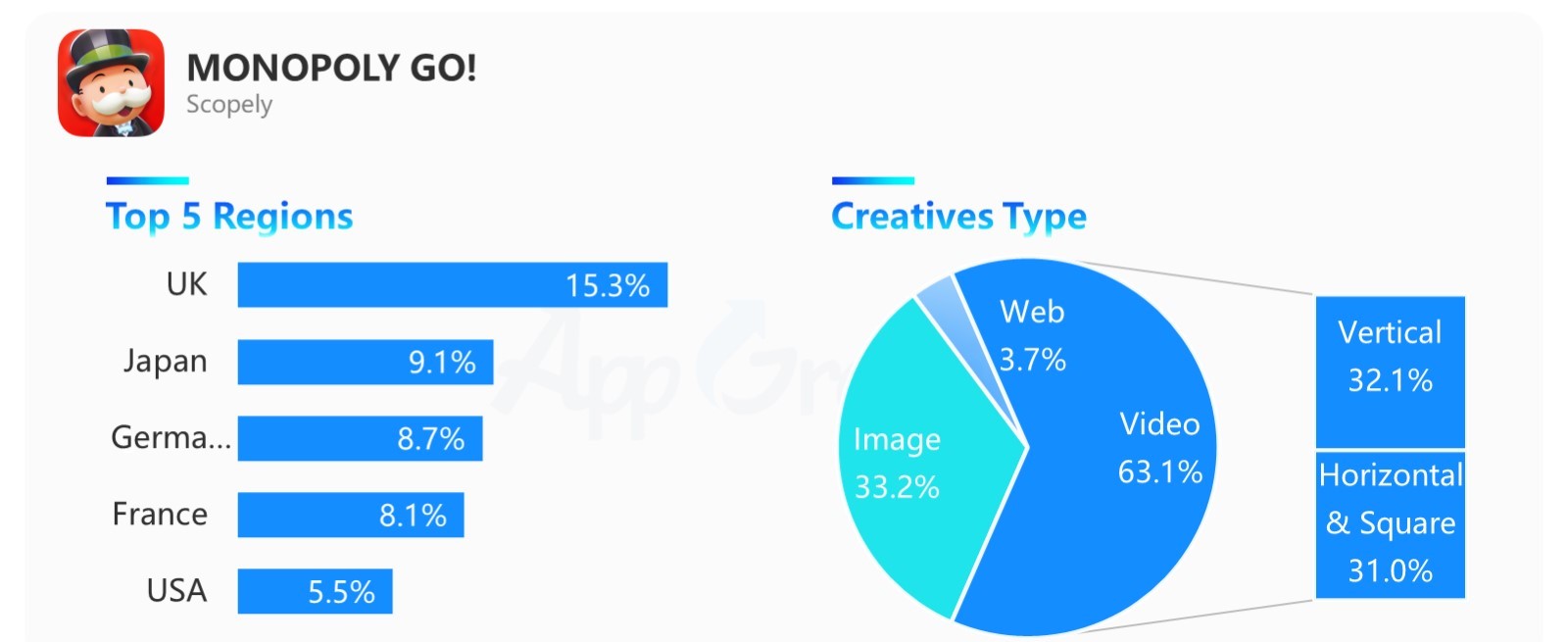 MONOPOLY GO! focuses on the strengths of the game itself, utilizing the "Monopoly" IP to attract players, and realizing differentiation with various videos including live-actions.
The following video shows the classic gameplay in animation, and creates a relaxing and joyful family game atmosphere with elements such as rolling dice, cashes, and playing with friends.
For live-action videos, female characters appear frequently. In the video,a woman introduced the game while playing, giving viewers a sense of low threshold and social friendliness.
Case 2: Merge Neverland
IvyMobile's Merge Neverland, a Merge mobile game that is due to launch in late July, is currently in the pre-registration advertising period, winning #2 on App Store top pre-registrations.
Merge has become a highly discussed genre among casual games in recent years. Including MicroFun's Gossip Harbor, which was analyzed by AppGrowing before, Merge Mansion, Love & Pies, and other pop-ups, all tend to drive the long-term growth with the plot. But the new Merge game by Ivy Mobile seems to focus on the gameplay itself and try to break through with the difference in art.
In terms of advertising strategy, Merge Neverland's ads are centered in Europe and North America, represented by Canada, Australia, the UK, Germany, and the USA, and the latter 3 are similar in percentage. For creative types, images dominated with a percentage of 83.2%.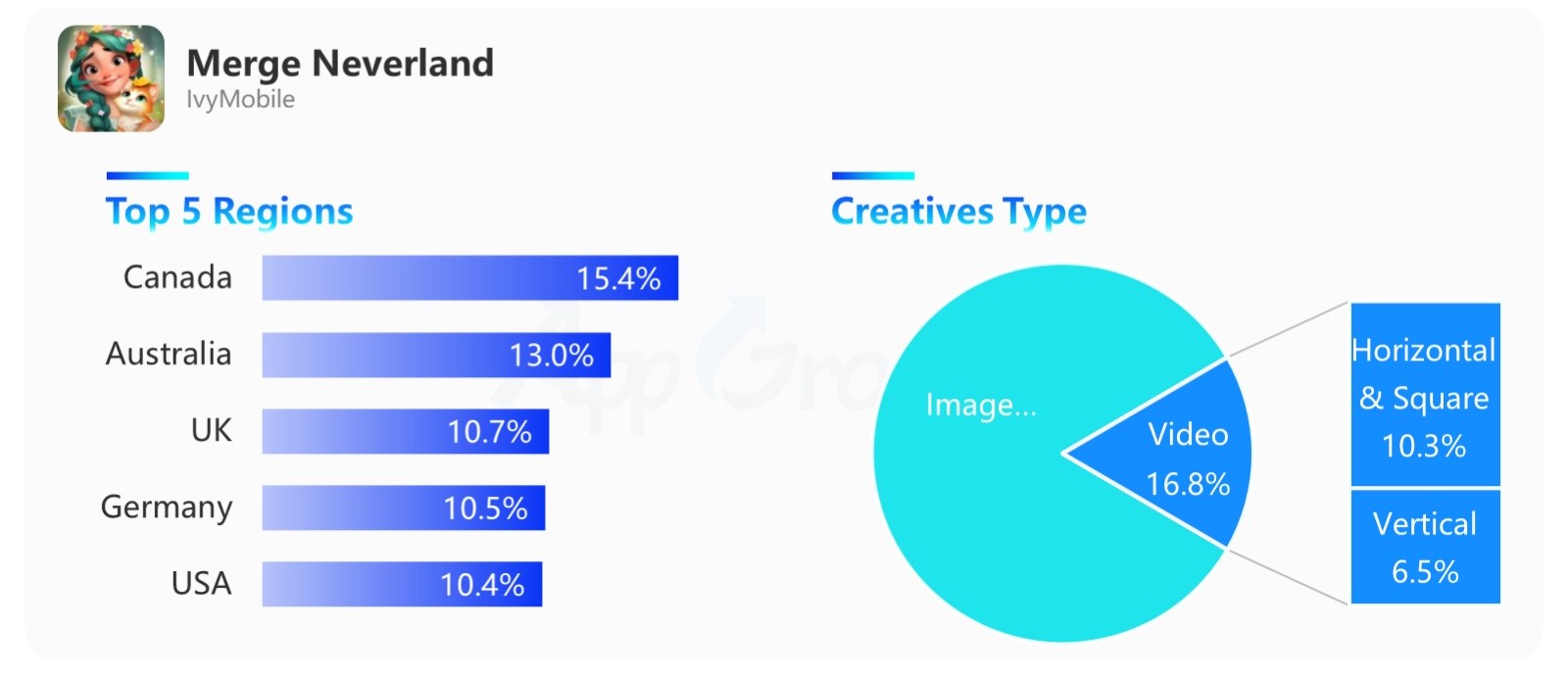 Merge Neverland takes the art as a breakthrough. For example, the ad bellow directly shows the delicate character with CG image. The fantastic animation style meets the preference of female players.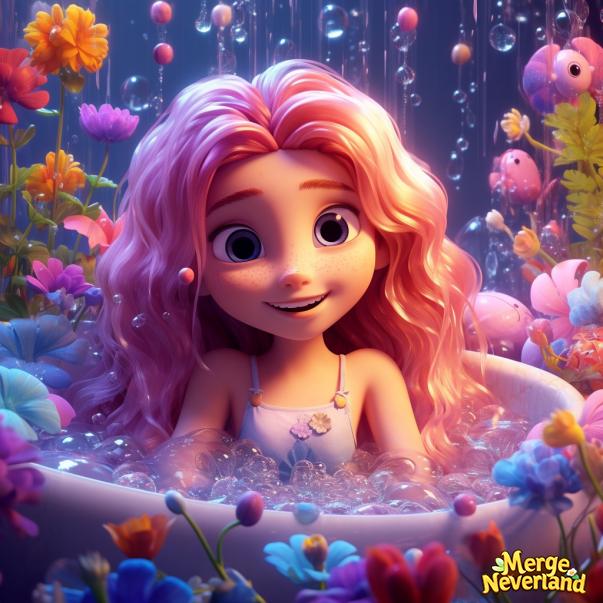 Source: AppGrowing
The video ads focus on showing gameplay. The uniqueness in this video is that it uses "Flower Fairy" to show the synthetic gameplay, with the shiny and dreamy background to arouse the interest of young female players.
---
*The above creatives are collected from public information by AppGrowing, and are only quoted for analysis and explanation, and the ownership belongs to the original author. The content is for general information only and should not be considered as an opinion or basis for specific matters.
Follow AppGrowing's social media accounts or register immediately at AppGrowing to learn more mobile advertising insights.