Gardenscapes is a casual game that combines match-3 puzzles with garden renovation. It was developed and published by Playrix, a Russian company that specializes in creating immersive and colorful games. Since its launch in 2016, Gardenscapes has become one of the most popular and successful games in the world, reaching millions of players across different regions and platforms. What is the secret behind Gardenscapes' global success? In this case study, we will use the advertising intelligence data from AppGrowing to analyze the advertising strategies and tactics of Gardenscapes.
01 The Global Reach of Gardenscapes
One of the most impressive aspects of Gardenscapes' advertising performance is its global reach. According to AppGrowing, Gardenscapes has created 175,217 ads in total, covering 50 areas and 13 media. This shows that Gardenscapes has a strong presence in various markets and channels, and is able to adapt its advertising content and format to different audiences and preferences.
For instance, as of July 2, 2023, Gardenscapes ranked among the top 10 casual games in the App Store charts in 28 countries, including the United States, the United Kingdom, Italy, Switzerland, Germany, Netherlands, Sweden, Spain, India, Japan, France, Canada, Russia, Korea, Malaysia, South Africa, Argentina, Pakistan, United Arab Emirates, Egypt, Kenya, Turkey, Kuwait, Oman, Nigeria, Qatar, and Bahrain. This indicates that Gardenscapes has a broad appeal across different cultures and regions, and that it can cater to various tastes and needs of casual gamers.
An example of Gardenscapes' ad creatives that reflect its global reach:
This is a sitcom about catching adultery in bed. Players help abandoned mother and daughter survive their difficult lives. The video capitalizes on people's curiosity about the plot and their enthusiasm for solving puzzles to attract attention.
Source: AppGrowing
Such ad creatives showcase the diversity and richness of Gardenscapes' gameplay and content. They also appeal to the curiosity and imagination of potential users who want to explore different cultures and styles through the game.
02 The Dominance of In-feed Ads and Vertical Videos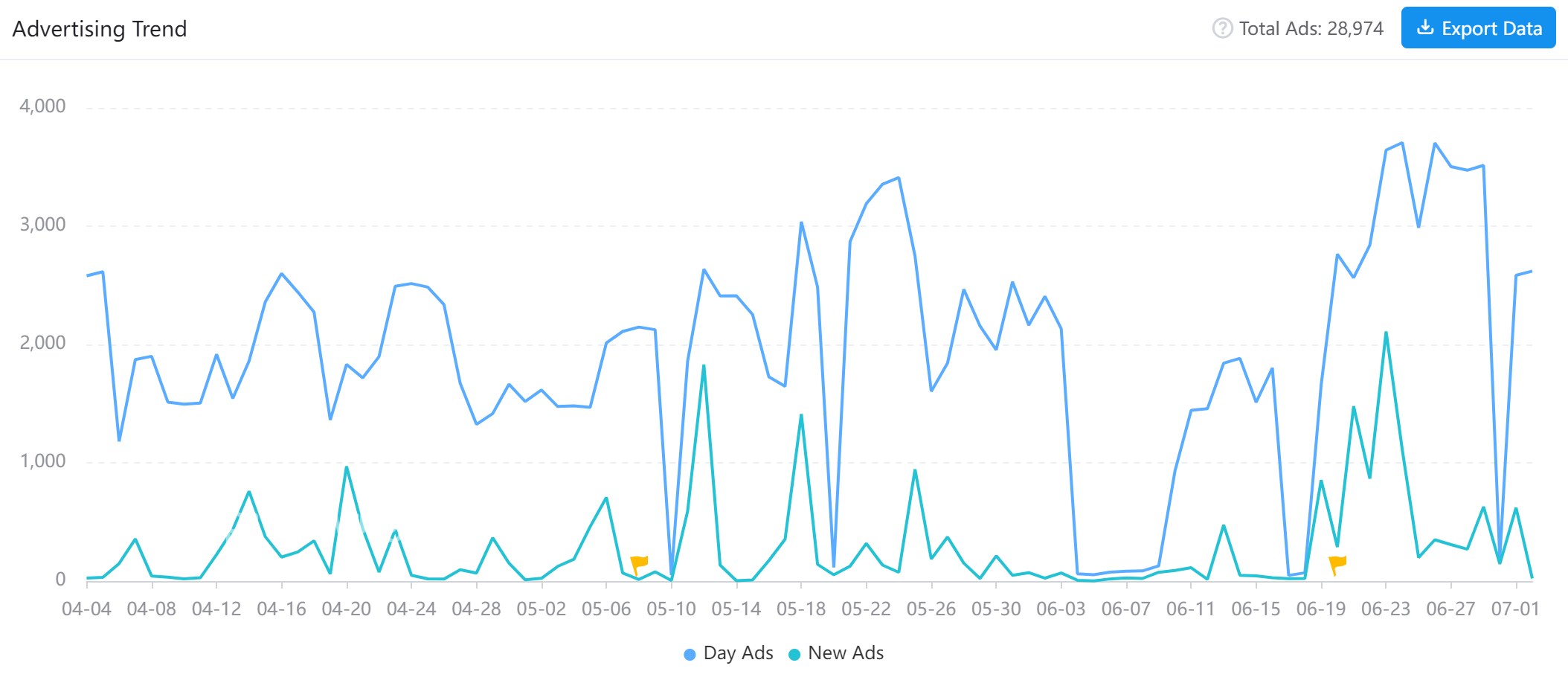 Source: AppGrowing
Another notable feature of Gardenscapes' advertising strategy is its preference for in-feed ads and vertical videos. According to AppGrowing, from April 4 to July 2, 2023, Gardenscapes created 28,974 ads in total, around 80.01% of which were in the form of in-feed ads. In-feed ads are ads that appear within the content stream of a social media platform or a news app. They are designed to blend in with the surrounding content and provide a seamless user experience.

Source: AppGrowing
In addition, ad creatives were mainly vertical videos. Their proportion was around 42.06%. Vertical videos are videos that are optimized for mobile devices with portrait orientation. They are more engaging and immersive than horizontal videos because they occupy the entire screen and eliminate distractions.
The dominance of in-feed ads and vertical videos suggests that Gardenscapes is well aware of the importance of mobile optimization and user experience. By choosing these formats, Gardenscapes can reach more potential users who are browsing social media or news apps on their smartphones. Moreover, by using vertical videos, Gardenscapes can showcase its colorful graphics and gameplay features more effectively and entice users to download the game.
03 The Focus on Facebook (FAN)
The third aspect of Gardenscapes' advertising strategy that we will examine is its focus on Facebook (FAN). According to AppGrowing, Gardenscapes advertised mostly on Facebook (FAN), with a total of 27.12% ads. Facebook (FAN) is a network of third-party apps and websites that display ads from Facebook's advertisers. It allows advertisers to extend their reach beyond Facebook's own platforms and access more diverse and high-quality inventory.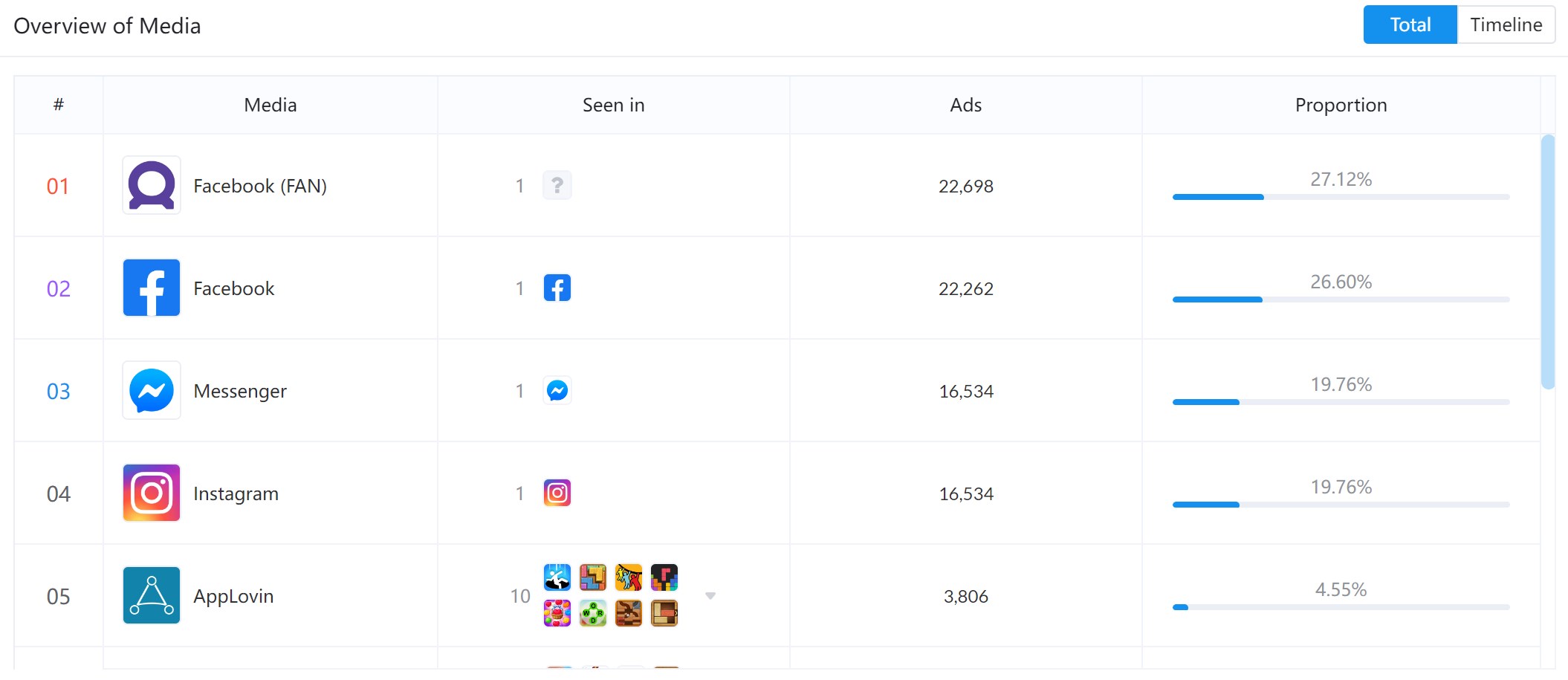 Source: AppGrowing
The focus on Facebook (FAN) indicates that Gardenscapes values the scale and quality of Facebook's audience network. By using Facebook (FAN), Gardenscapes can leverage Facebook's advanced targeting and measurement capabilities to reach more relevant and interested users across different apps and websites. Furthermore, by using Facebook's creative tools and best practices, Gardenscapes can optimize its ad creatives for different placements and devices.
---
*The content and media in this article are protected by copyright laws. Some information is cited from public sources for illustrative purposes only, with ownership retained by the original authors. This article provides general information only and is not meant as opinion or advice for specific situations.
Follow AppGrowing's social media accounts or register immediately at AppGrowing to learn more mobile advertising insights.