The following is AppGrowing Global's monthly review of global mobile game media buying in January 2023 based on the advertising data of 24 media platforms in 50 countries/regions around the world.
01

Trends in Mobile Game Advertising
Judging from the data of mobile game ads in January, there were 21,395 mobile games created 2,270,065 mobile game ads, with 725,884 ad creatives. The peaks of the number of apps and the volume of ads are concentrated in the middle and late ten days, among which the volume of ads on January 21 is the largest, reaching 572,080 in a single day.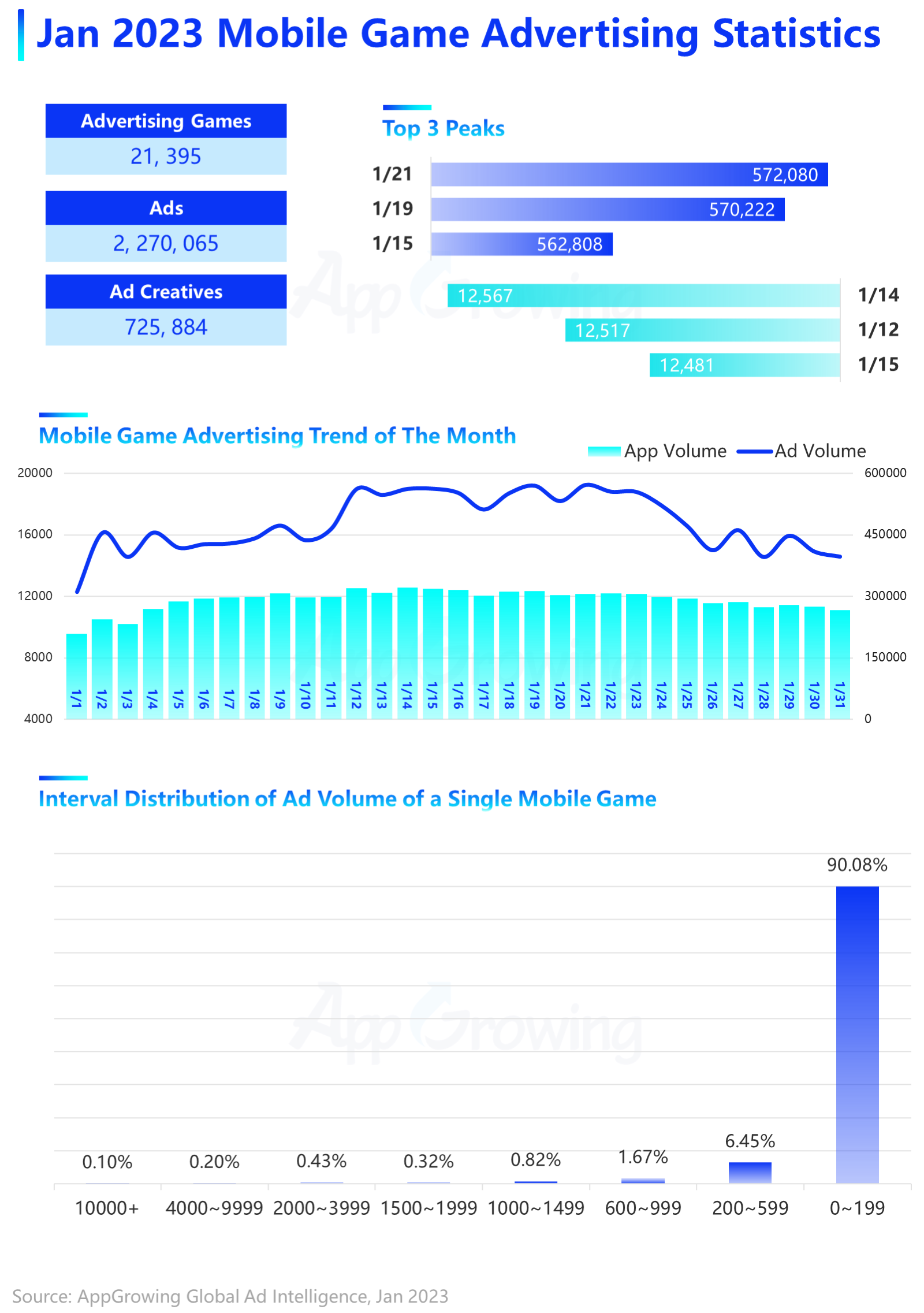 The number of apps being advertising throughout the month changes smoothly, while the number of ads shows an overall trend of first rising and then falling. 90.08% of the mobile game advertising volume is concentrated in the range of 0~199.
Among the most advertised categories, Casual games ranked first in terms of the number of apps and ad volume this month, accounting for approximately 19.7% and 15.1% respectively. The top three categories of ad volume are Casual, Puzzle and Role Playing. In addition, the top three average ad volume of a single app are Word, Strategy and Role Playing.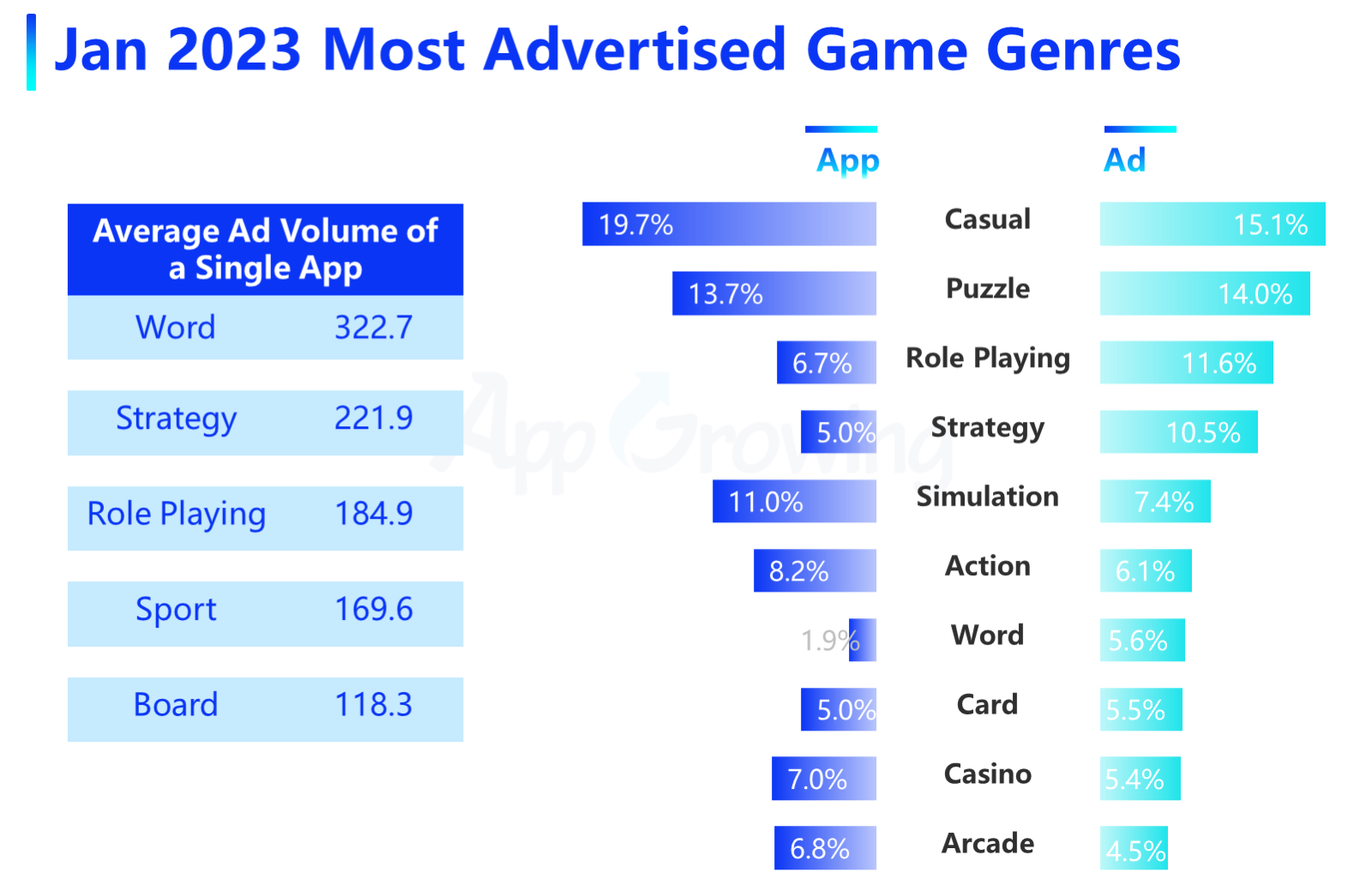 In January, North America was the top 1 market for mobile game advertising, followed by Southeast Asia and West Europe. Specifically, among the top 10 regions in terms of ad volume, the United States has a high share of 28.7% and the second place Canada accounts for 19.4%.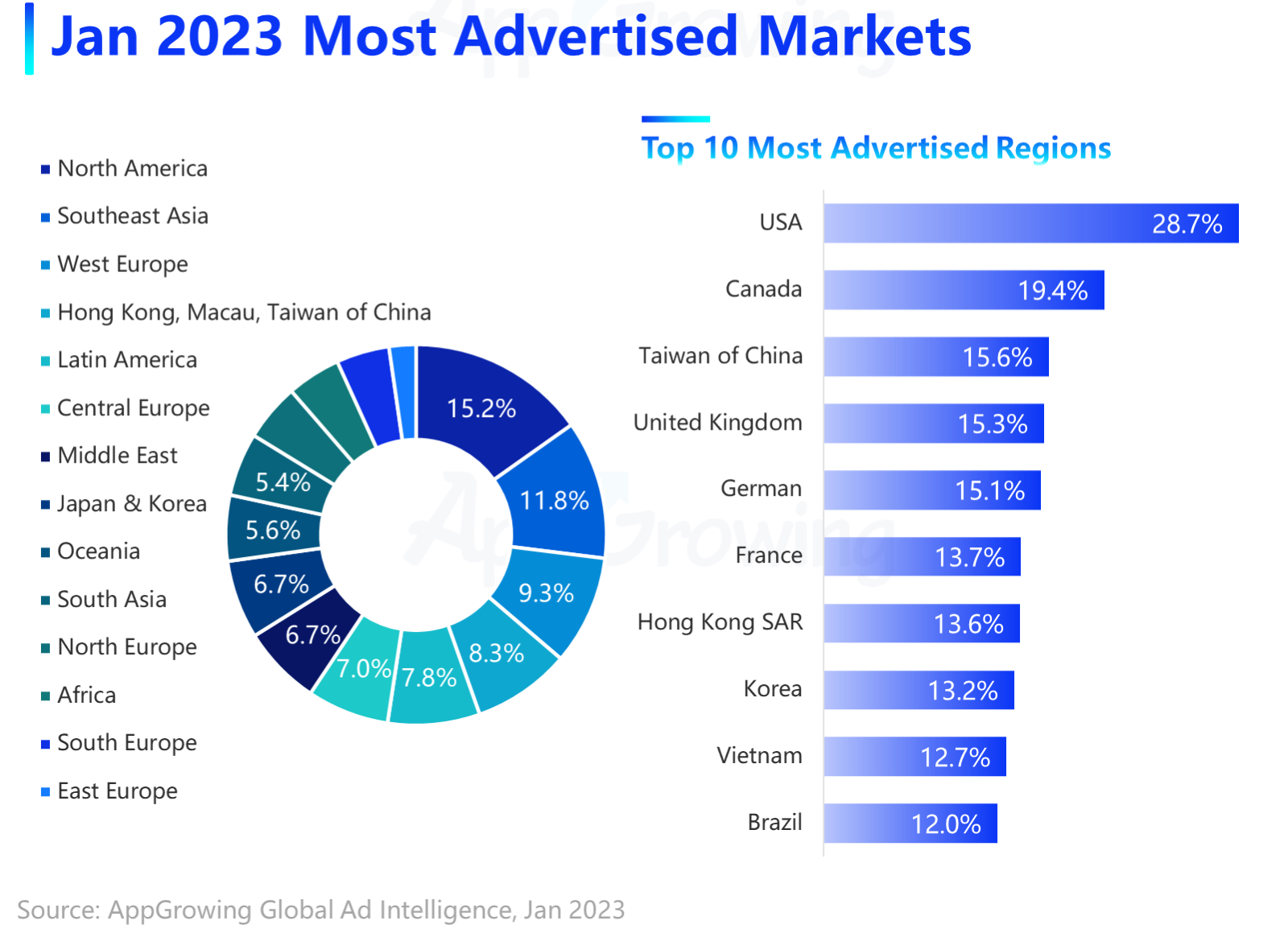 02 Most Advertised Mobile Games & Developers
Judging from the major regions of mobile game developers in January, mainland Chinese developers are in the leading position in both the proportion of ad volume and App quantity. Taking the proportion of ad volume as an example, there is a gap of about 20% with Turkey, which ranks second.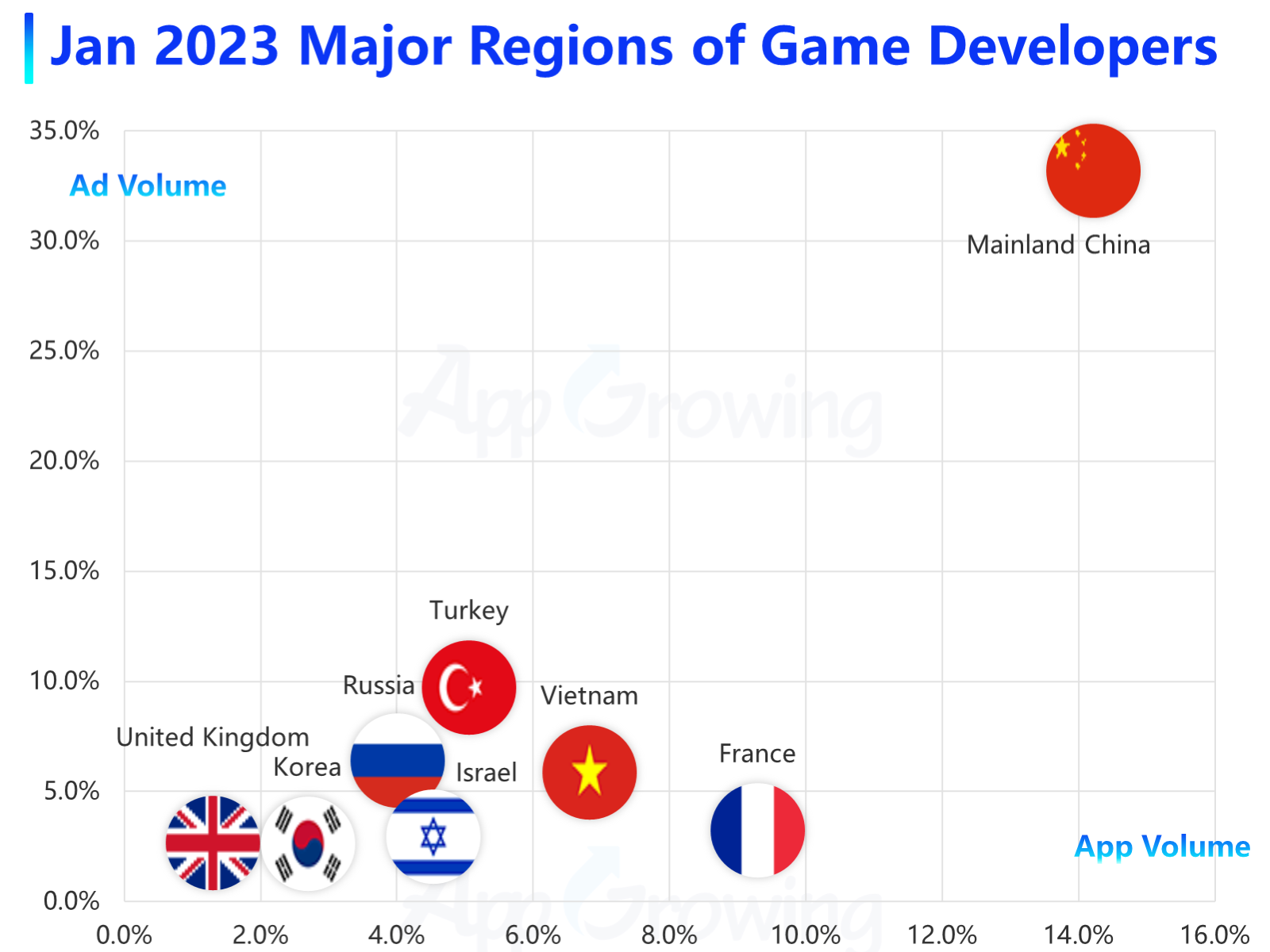 In terms of specific developers, Matchingham Games, Playrix and Rollic Games were the top 3 mobile game developers in January. In addition, there are 3 Chinese developers on the list, namely IGG ranked fourth, Yotta Games ranked seventh, and Junhai Games ranked tenth.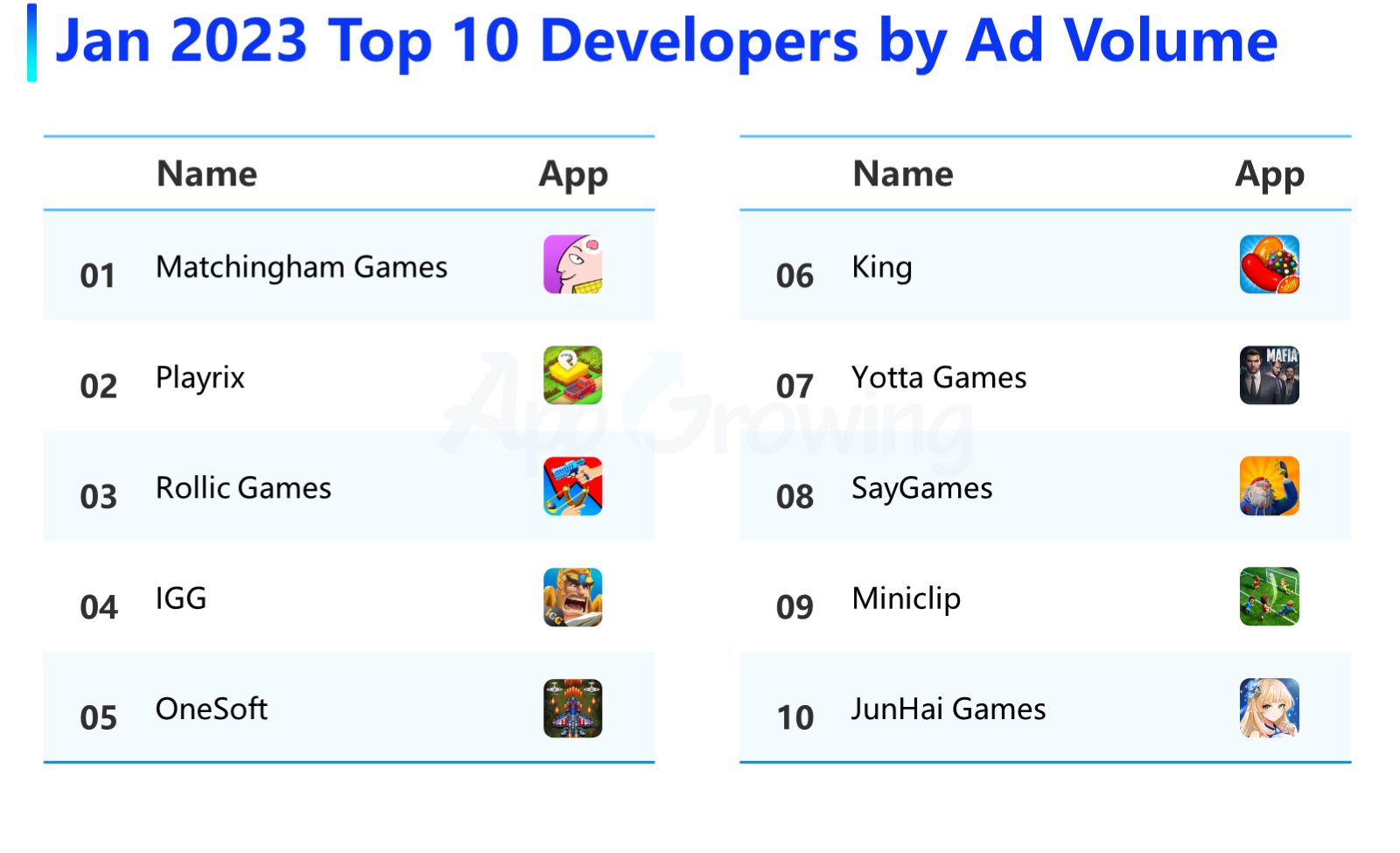 In the list of most advertised mobile games in January, on the Google Play side, light-core categories such as Casual, Word, and Puzzle seized more than half of the seats. " Braindom " under Matchingham Games won the top spot, and the veteran SLG "Lords Mobile" under IGG has maintained a high ad volume for many years, ranking second.
The categories on the App Store list show a trend of diversification. For example, the Top 2 "Train Simulator PRO USA" is a family game, and the sports mobile game "Top Eleven Be Football Manager" also squeezed into the top nine.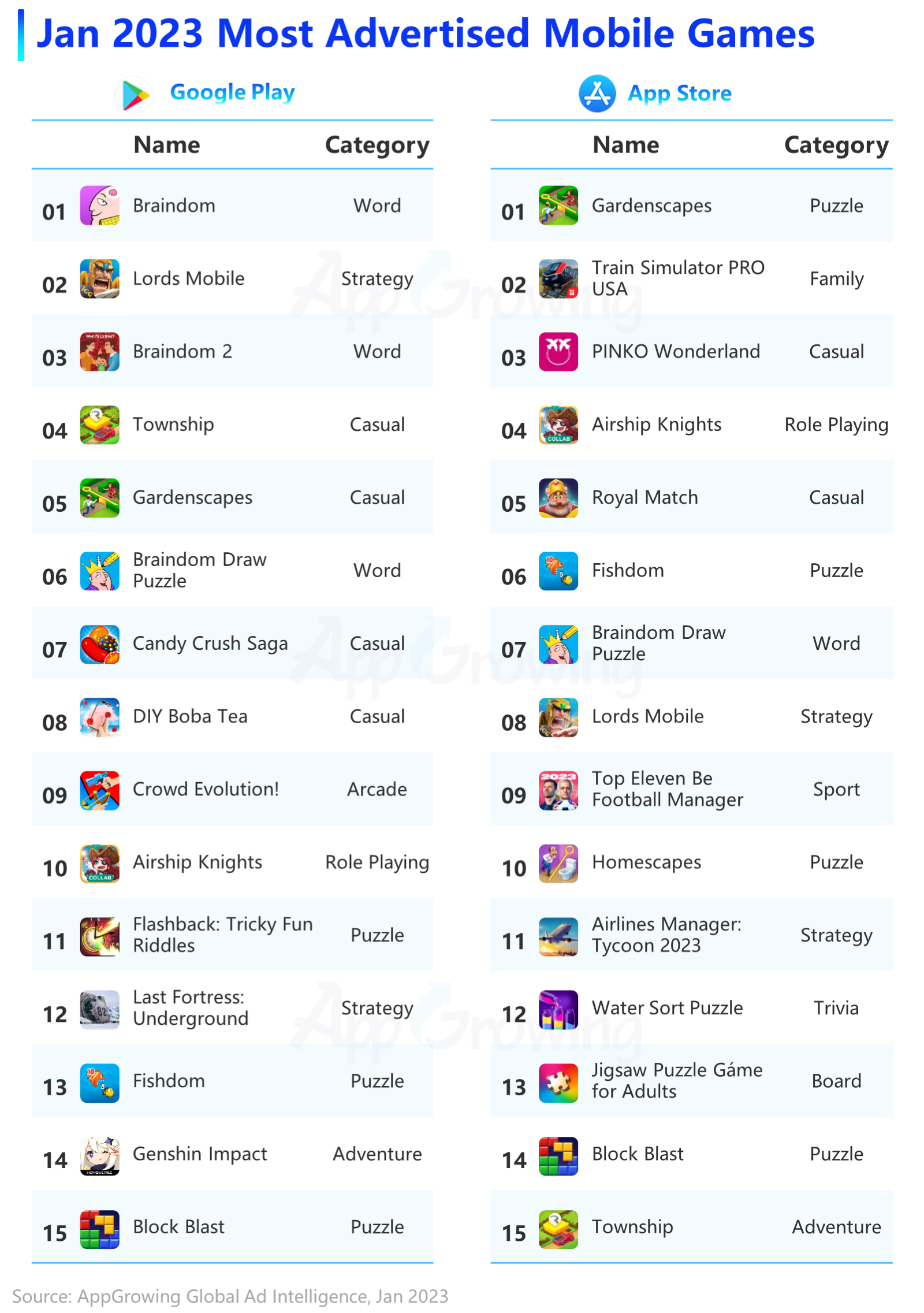 YOOZOO's ACG mobile game "Echocalypse" was launched in Japan, Southeast Asia and other regions last year. In January this year, it started pre-order in Hong Kong, Macau and Taiwan of China on App Store. The anime-adapted game "獵人×獵人" is also in pre-registration in Hong Kong, Macao and Taiwan of China, ranking second in Top pre-registration of App Store.
In addition, the SLG "Call of Dragons" co-operated by Legou and Lilith has began pre-order in many places in Asia, ranking second on Google Play list and sixth on App Store list.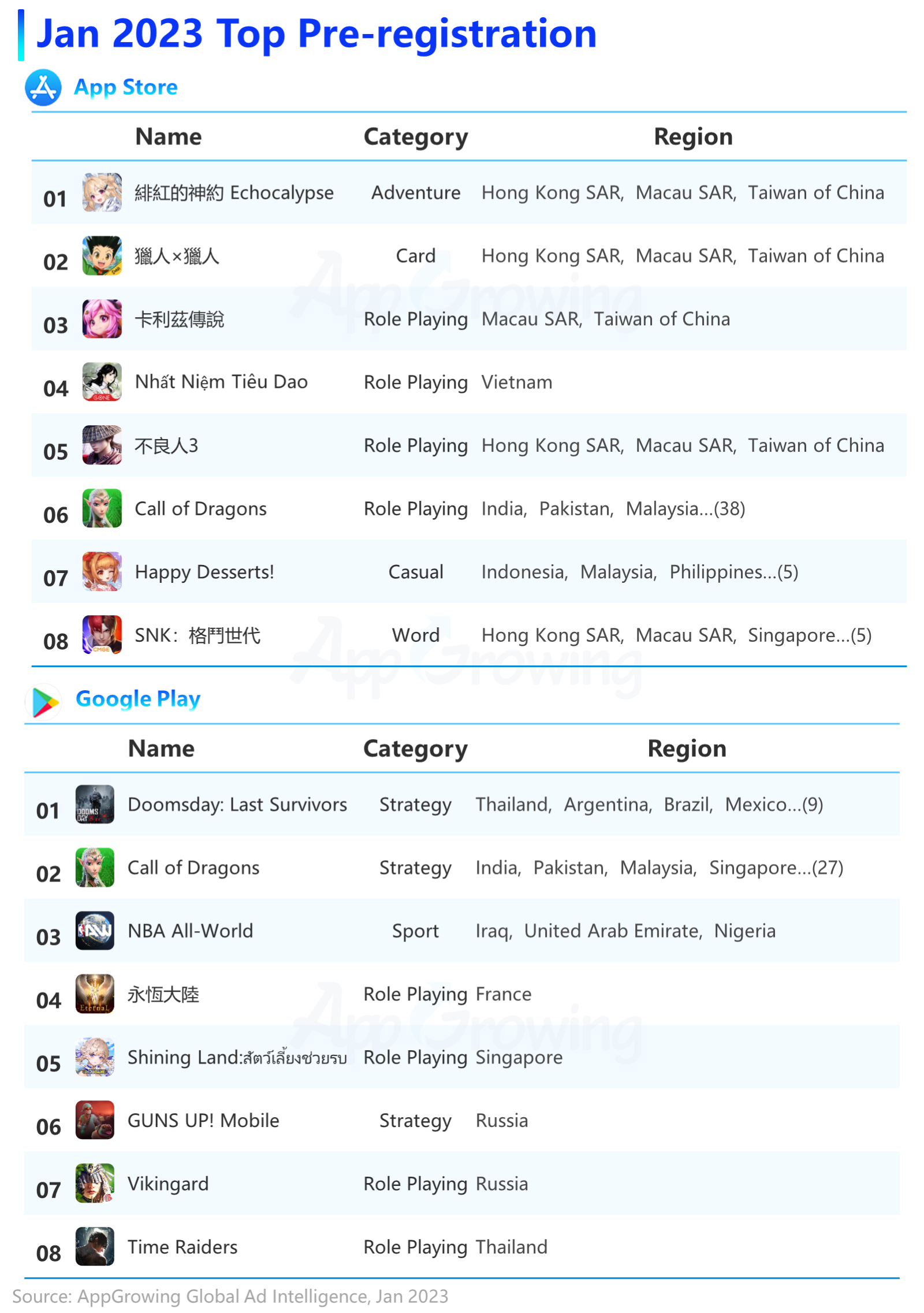 03 Case Analysis
Matchingham Games' word mobile game "Braindom Draw Puzzle: Sketch" advertised mostly in India, Bahrain, and the Philippines in January. The creatives type is mainly vertical videos, accounting for 99.7%.
In terms of ad creativity, it mainly focuses on highlighting the characteristics of the intelligence test of puzzle-solving games.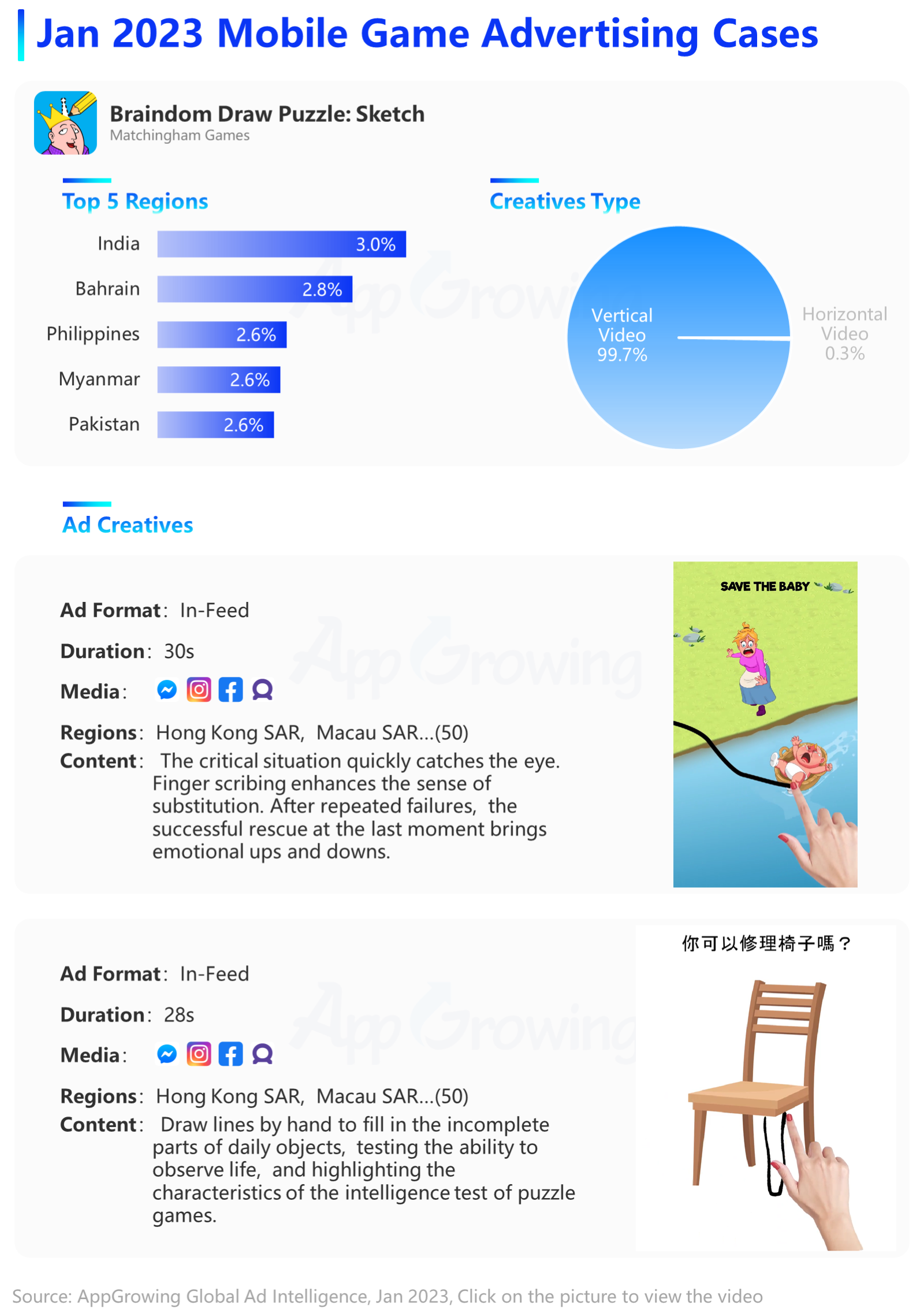 "Call of Dragons" released by Lilith Games was launched in Indonesia, Mexico, Brazil, the Philippines and Canada in January. Among the types of ad creatives, video accounted for 57.8%, image accounted for 22.3%, and other types accounted for 19.9%.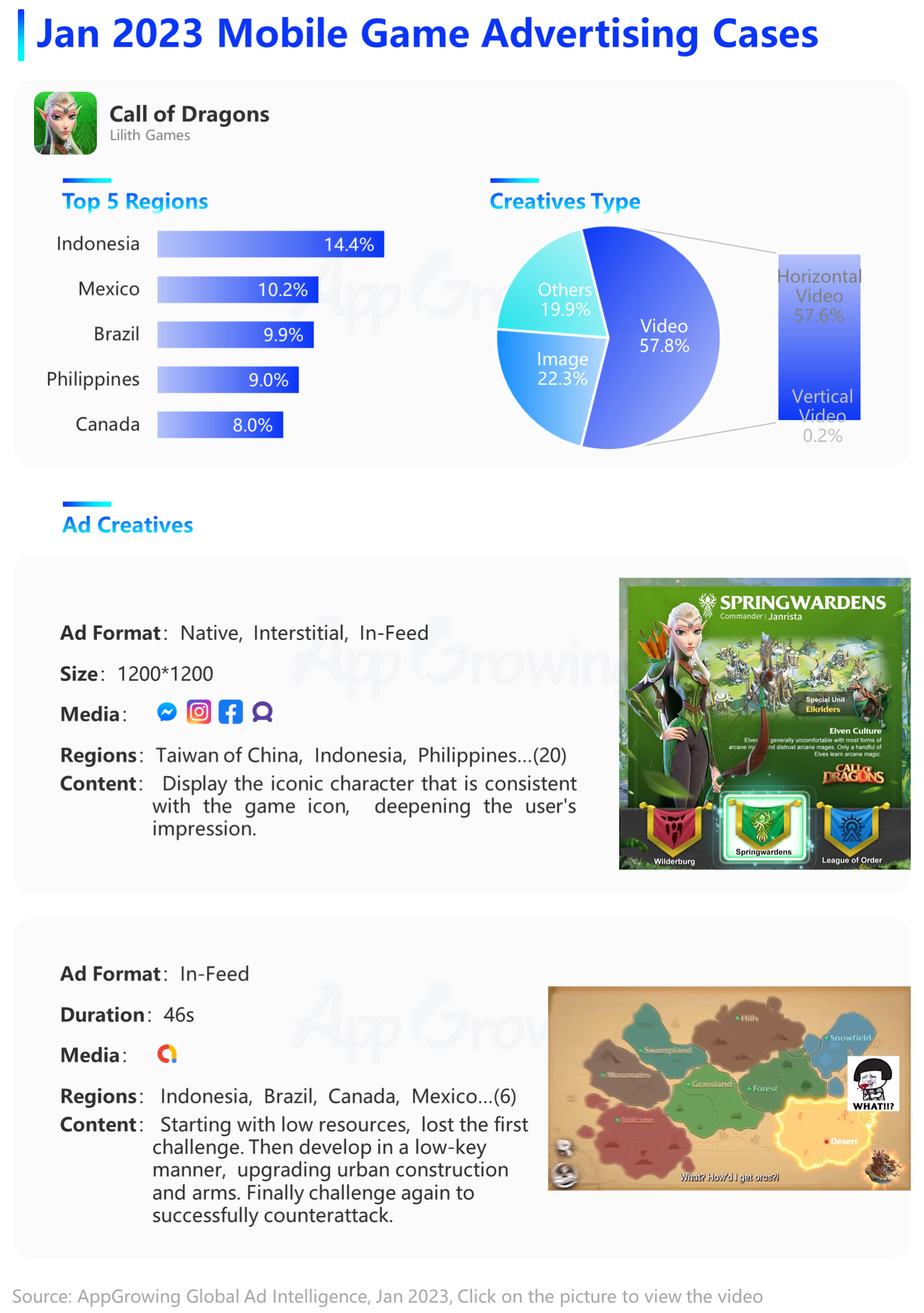 To get the full PDF file of "January 2023 Mobile Game Global Advertising Review", Please Click Here.
More intelligence on global advertising market can be found on the official website of AppGrowing Global.
*This report is produced by AppGrowing. All text, data, and graphics in the report are protected by laws related to trademarks and copyrights. Part of the data, text or images are collected from public information, and are only quoted for explanation, and the ownership belongs to the original author.
Without permission, no part of this report may be reproduced, plagiarized, photocopied or translated in any form or by any means. Anyone who reprints, extracts or uses the text, data and opinions of this report in other ways should indicate "source: AppGrowing", and the content cannot be deleted or rewritten.
The content of the report is for general information only and should not be considered as an opinion or basis for specific matters.