In continuation of the advertising competition trend in April, the global mobile game ad market in May showed a further recovery, according to AppGrowing. Not only the ad volume grew, but the App volume also rebounded significantly, indicating that game developers are more willing to do user acquisition with ads.
We can see some new games from China debuting globally and emerging as strong competitors in the ad market, such as Aether Gazer, an ACGN ARPG published by Yostar, and 流浪方舟 which made a breakthrough as a game from small studio last year. The latter is expected to be released in June and in May has begun massive advertising in the pre-registration period. IGG's SLG Viking Rise, launched in April, has also recently increased its advertising campaigns.
Here is AppGrowing's analysis of the global mobile game advertising markets in May 2023, based on advertising data from 24 global media platforms in 50 countries/regions.
01 Mobile Games Advertising Trends
Overall, the global mobile advertising market picked up across the board in May. The number of ads, apps and creatives all saw further growth.
In May 2023, App Volume was 23,943, up 3.7% MoM; Ad Volume was 3.73M+, up 22.2% MoM, slightly lower than April; Ad Material Volume was 1.04M+, up 30% MoM.
The peak of ad volume and App volume was in the last 20 days. The highest daily ad volume was on May 16, with over 840K, while the highest daily App volume was on May 18, with 12583.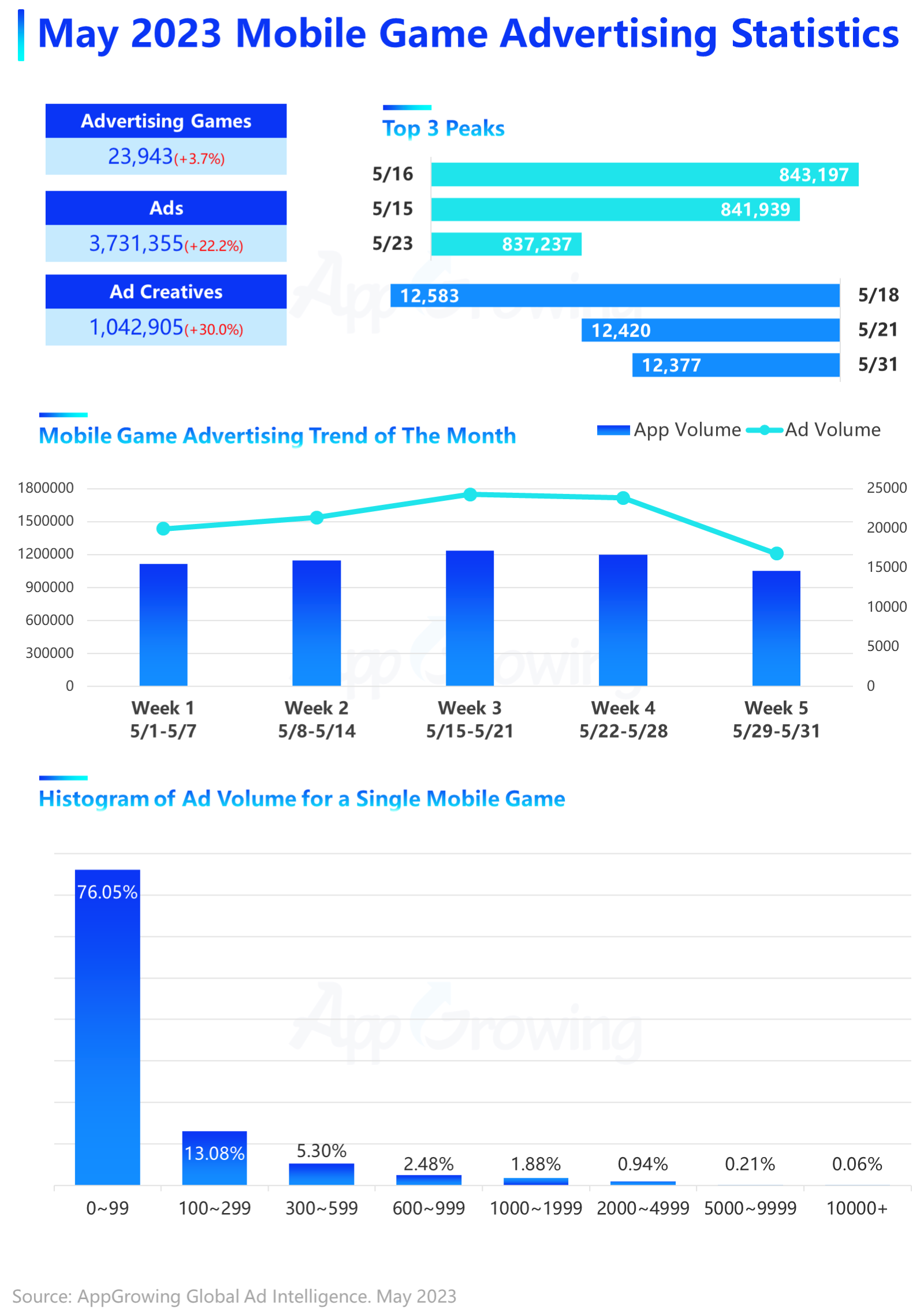 App volume changed gently, with a peak of over 15K in Week 3. The ad volume kept a large scale in the last 20 days but dropped considerably at the end of the month.
In the histogram of ad volume for a single game, 76.05% of mobile games' ad volume was in the range of 0-99, 13.08% in the range of 100-299, and 5.3% in the range of 300-599, latter two of which were higher than in April, reflecting that some head developers increased their advertising.
Among the key genres, Casual games remained the No.1 in App volume and ad volume this month, accounting for 19.2% and 18.9% respectively. The App volume is slightly lower than that of April, but the ad volume has increased, which means that the advertising competition for Casual mobile games is more intense in May.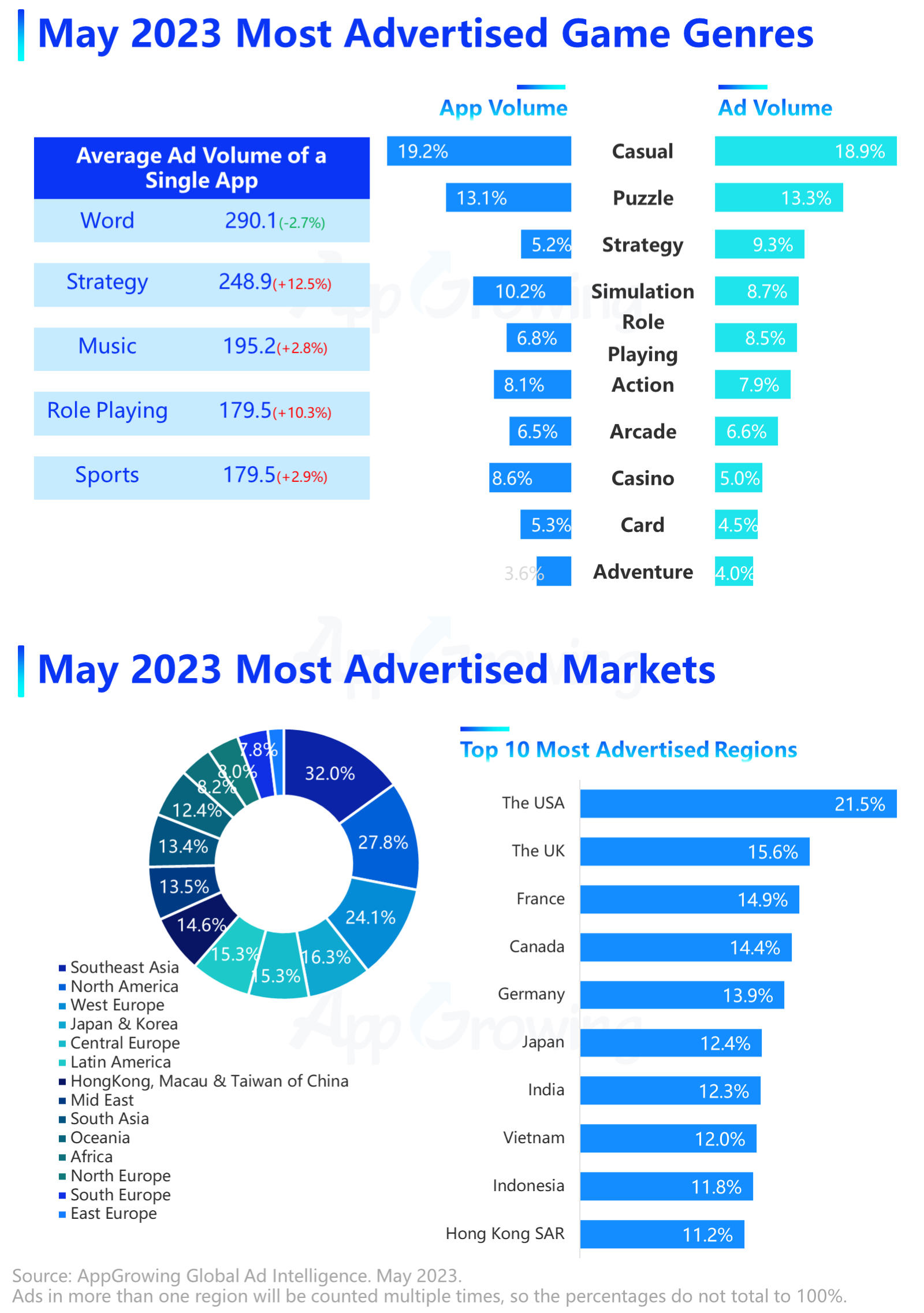 Puzzle followed with 13.1% of App volume and 13.3% of ad volume. In addition, the average ad volume of a single App Top 5 remained the same as in April, and that of Word Game was 290.1, down 2.7%, while the rest categories all increased in different degrees MoM.
From the perspective of regions, Southeast Asia replaced North America to take the TOP1 of the most advertised markets in May, accounting for 32%. North America, Western Europe, Japan & Korea and Central Europe were the TOP2-5.
Specifically, in the TOP10 most advertised regions, the USA accounted for 21.5% of the total, but the share dropped compared with April. The UK ranked 2nd with 15.6%. France, Canada and Germany are in 3rd to 5th place.
02 The Most Advertised Games
Looking at the major regions of mobile game developers in May, Chinese mainland developers are still in the leading position in both ad volume and App volume. However, compared to April, its share of ad declined a bit, and the gap with No.2 Vietnam was narrowed to 23.8%.
As for Top10 developers, as the new game Viking Rise has maintained massive advertising since its release in April, IGG replaced Matchingham Games to take the No.1 in the ranking, and is still the only one from China on the list. Matchingham Games, the former champion, dropped to No. 3.
In general, as in April, the ranking is dominated by Casual/Hyper-casual game developers. Homa Games is the new comer and its main product is Merge & Fight, a casual match game.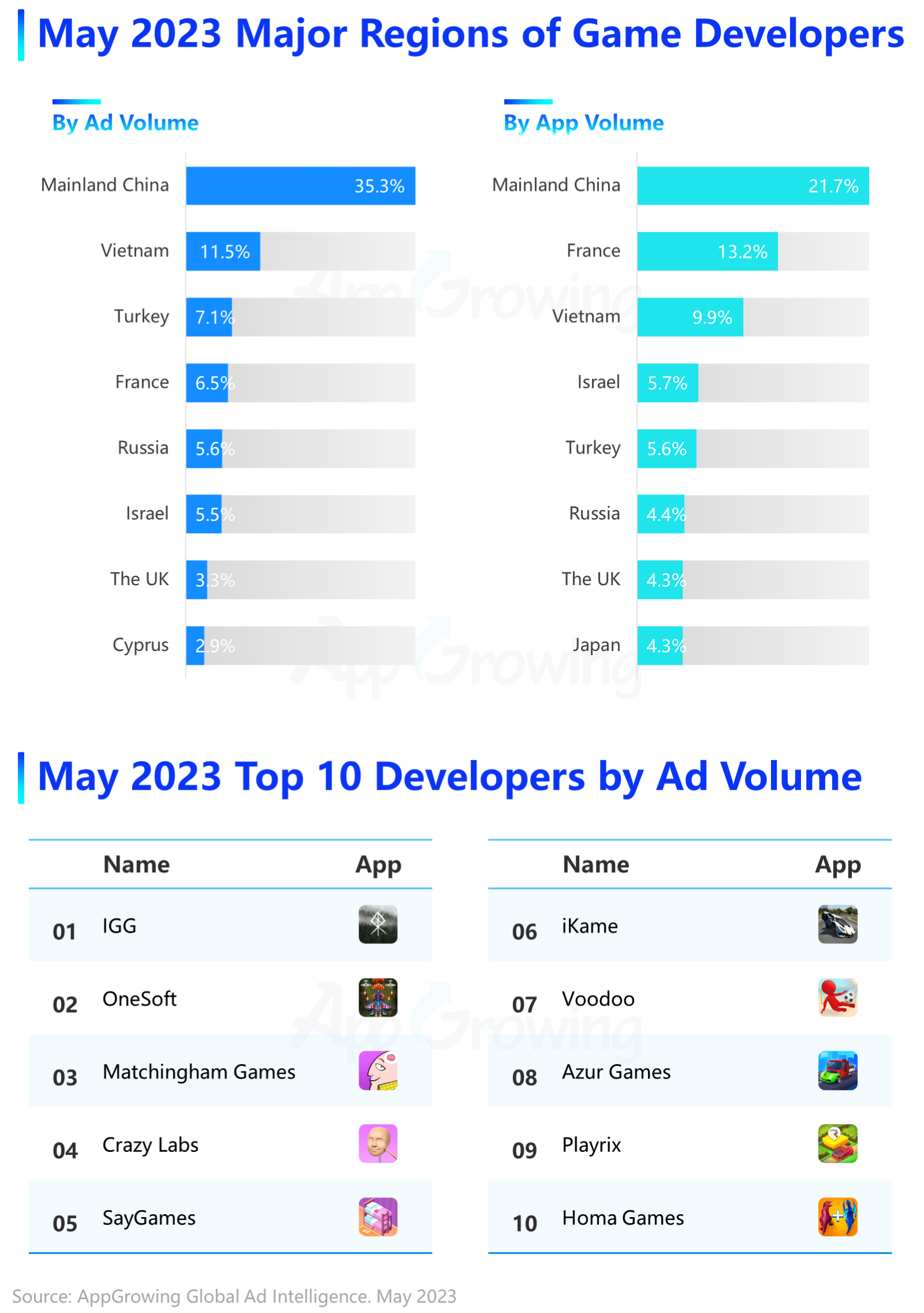 As for the most advertised games in May, Google Play is still dominated by light categories such as Word, Casual and Puzzle, but this time the top 1 game is Viking Rise, a strategy game. MiHoYo's new hit Honkai: Star Rail is No.4 and continues to see a massive ad campaign.
On App Store, OneSoft's 1945 - Airplane shooting game took the No.1, with IGG's two SLGs in the Top 5.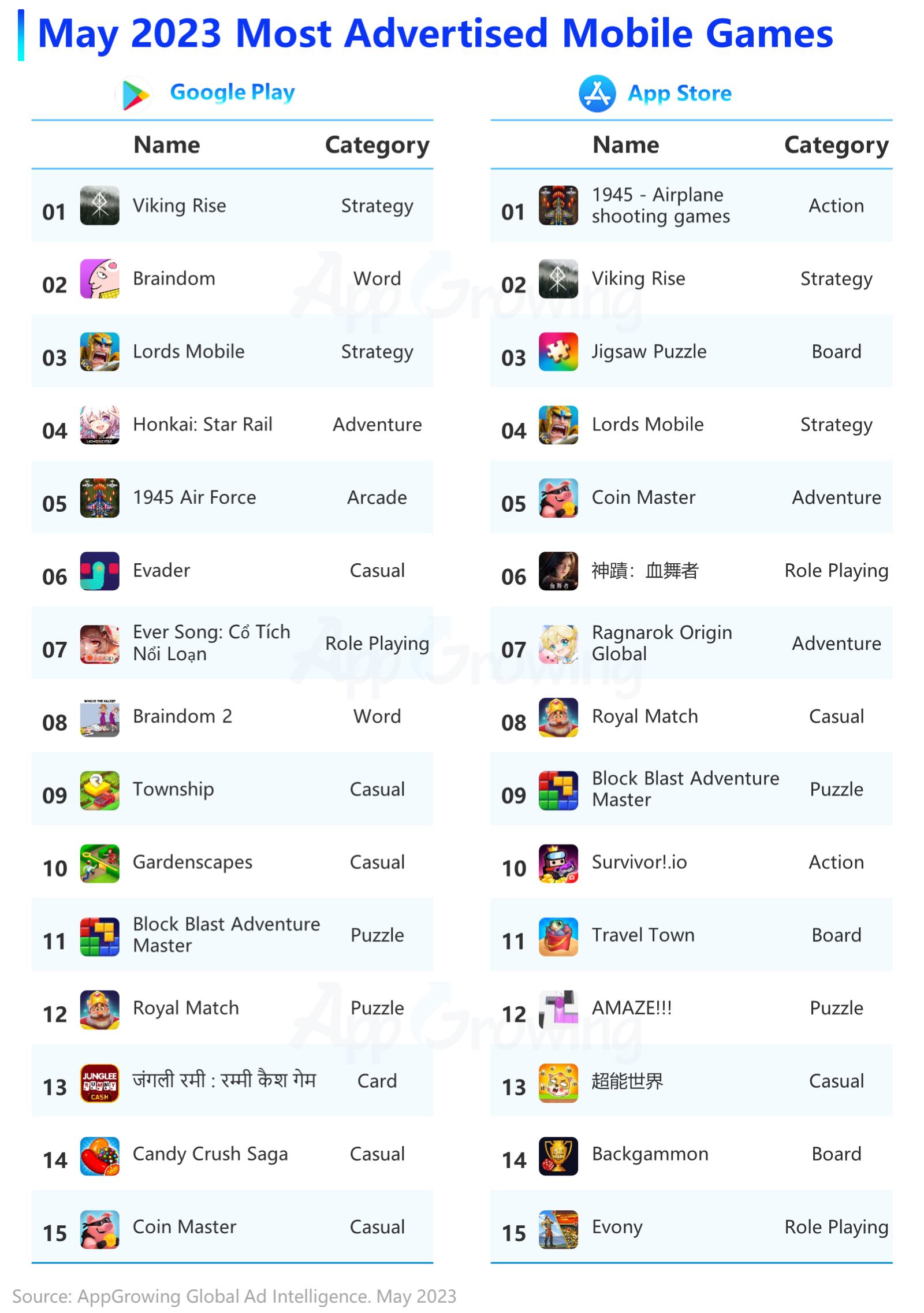 Eskyfun's 神蹟:血舞者 is No. 6 on the App Store ranking, and AppGrowing recently analyzed this new Korean-style MMO. (Click here for the article.) It was officially released on May 3 and has stayed in the top 10 of the iOS game revenue chart in Taiwan of China, once ahead of games such as Honkai: Star Rail and 暮色雙城. Eskyfun's "highly localized" marketing strategy is replicable and applicable, making it successful even in the fiercely competitive Hard Core category.
For the Top Pre-registration in May, App Store's top categories are Strategy, Role Playing, Card and Action, all of which are mid core & hard core. Google Play's top categories are mainly Role Playing and Strategy. One Action and one Puzzle are also listed in mainly medium-heavy genres overall.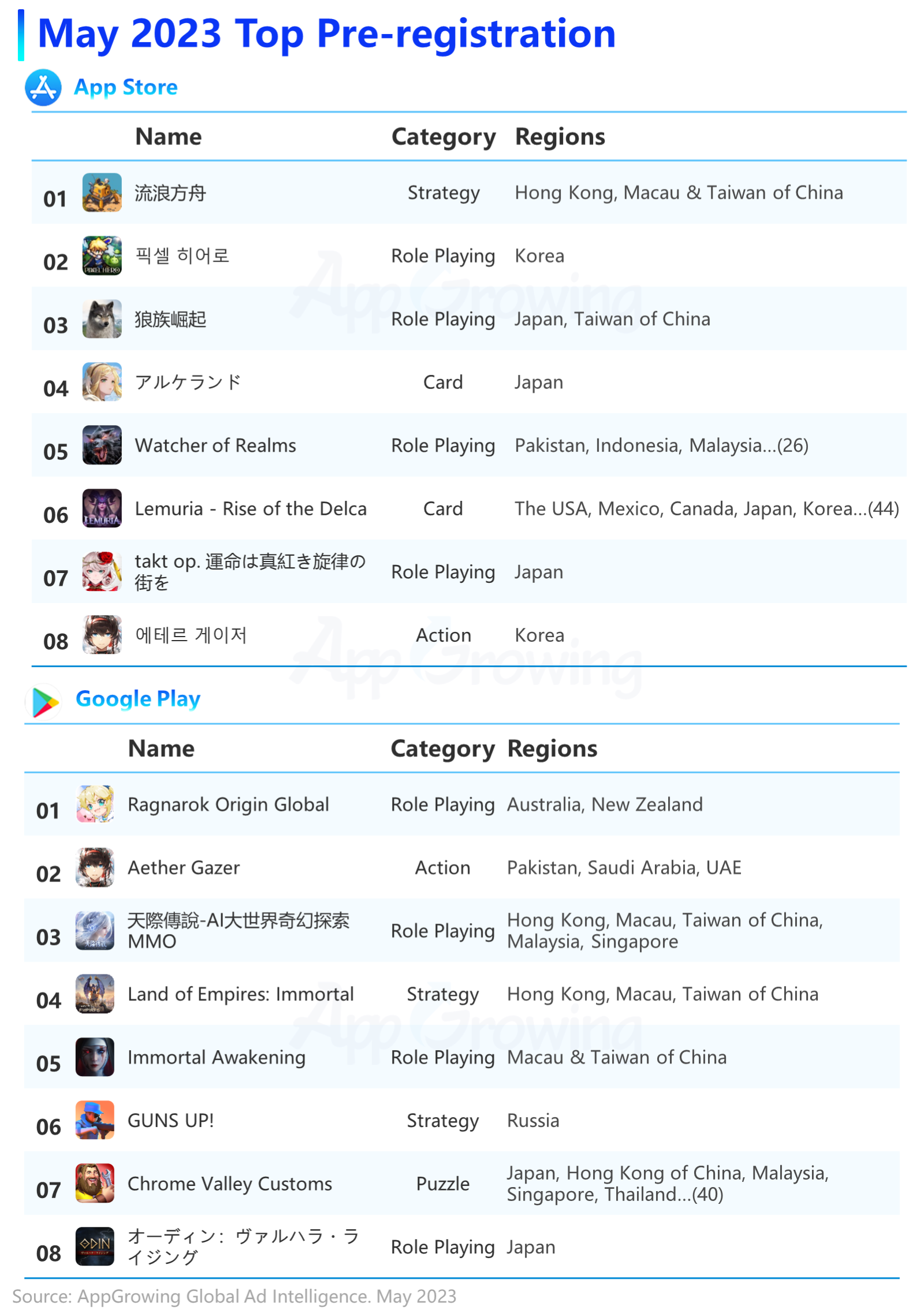 In particular, 流浪方舟 took the No.1 on the App Store's top pre-registration, with Hong Kong, Macau and Taiwan in the pre-registration region. It's a "Monster Strike-like" mobile game, which was launched in mainland China in July 2022 and topped the App Store free game chart on the same day and quickly entered the top 10 of the revenue chart, with official figures saying that the first-day revenue exceeded 10 million. Now the game is published globally by Electric Soul and is now advertised in pre-registration. It has invited Lin Xiang and Chen Handian as spokespersons and issued a lot of spokesperson-related ad creatives.
In addition, Aether Gazer, an ACGN action mobile game published by Yostar, hit the top 8 in both Google Play and App Store, even ranking Top 2 in Google Play. The game was launched globally on May 23. It was pre-registered in Korea on the App Store, and in Pakistan, Saudi Arabia and UAE on Google Play.
03 Mobile Game Advertising Cases
Case 1: Viking Rise
As a leading SLG developer, IGG chose to break through with the theme this time. Viking Rise is differentiated by the "Viking theme". The core gameplay of Viking Rise is not much of a surprise, as IGG has focused on the subject matter. Whether it is the in-game worldview, scenes and characters, or the out-of-game marketing strategy, all revolve around the "Viking theme" to impress players with a grand and deep historical sense.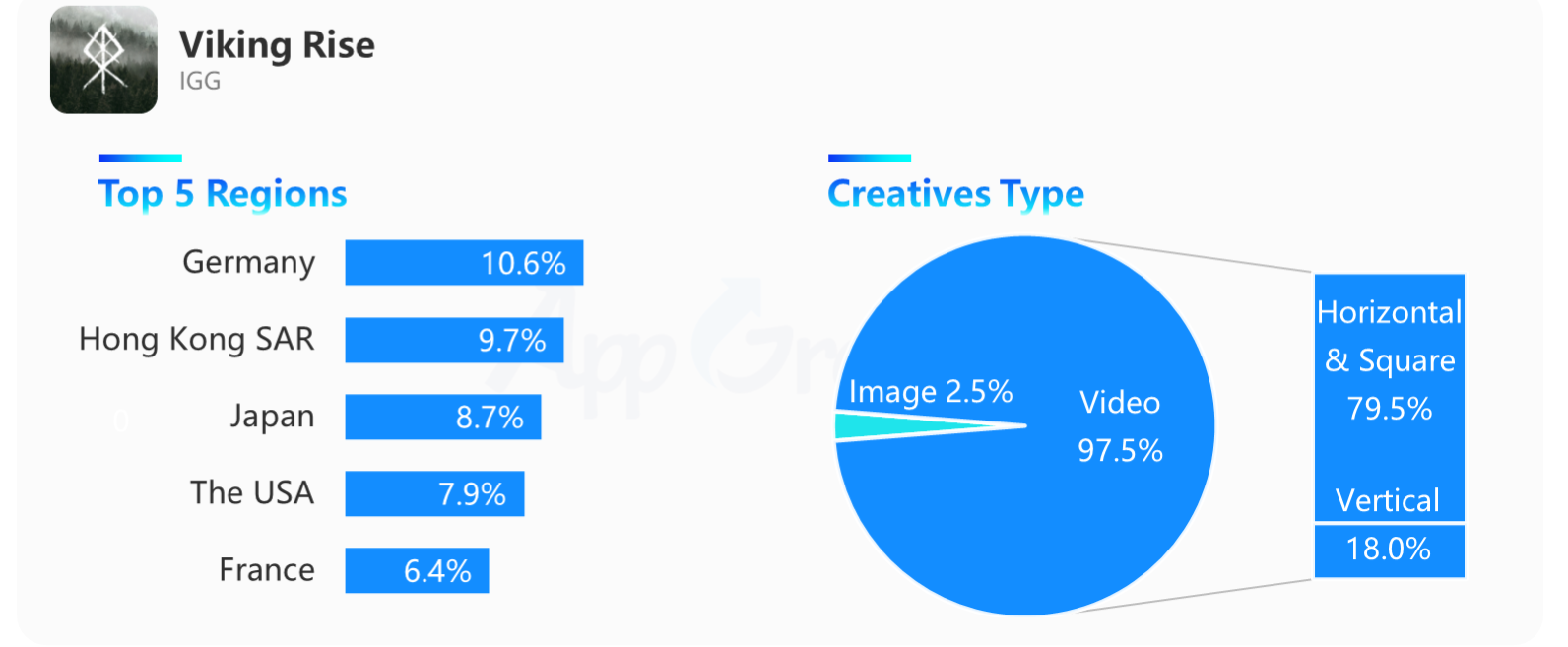 Viking Rise carries out IGG's usual massive advertising strategy. According to AppGrowing, its main advertising regions in May were Germany, Hong Kong of China, Japan, the USA and France, with an overall "global advertising" strategy and a relatively equal share of each. The main creative type is video, with more horizontal and square ones.
For creatives, Viking Rise not only combines brand marketing but also releases some common creatives that showcase gameplay and worldview.
For example, the following video shows multiple classic mythical beasts and monsters, bringing visual stimulus and evoking the viewer's imagination of the game's magnificent worldview.
This typical SLG game ad shows the gameplay such as land reclamation, facility building and resource collection, embodying elements of explore, expand and exploit.
Case 2: Aether Gazer
Aether Gazer, developed by Yongshi Technology and published by Yostar, launched globally on May 23rd. AppMagic data shows that the game has earned over $2 million worldwide since its launch, with Japan as the main contributing market.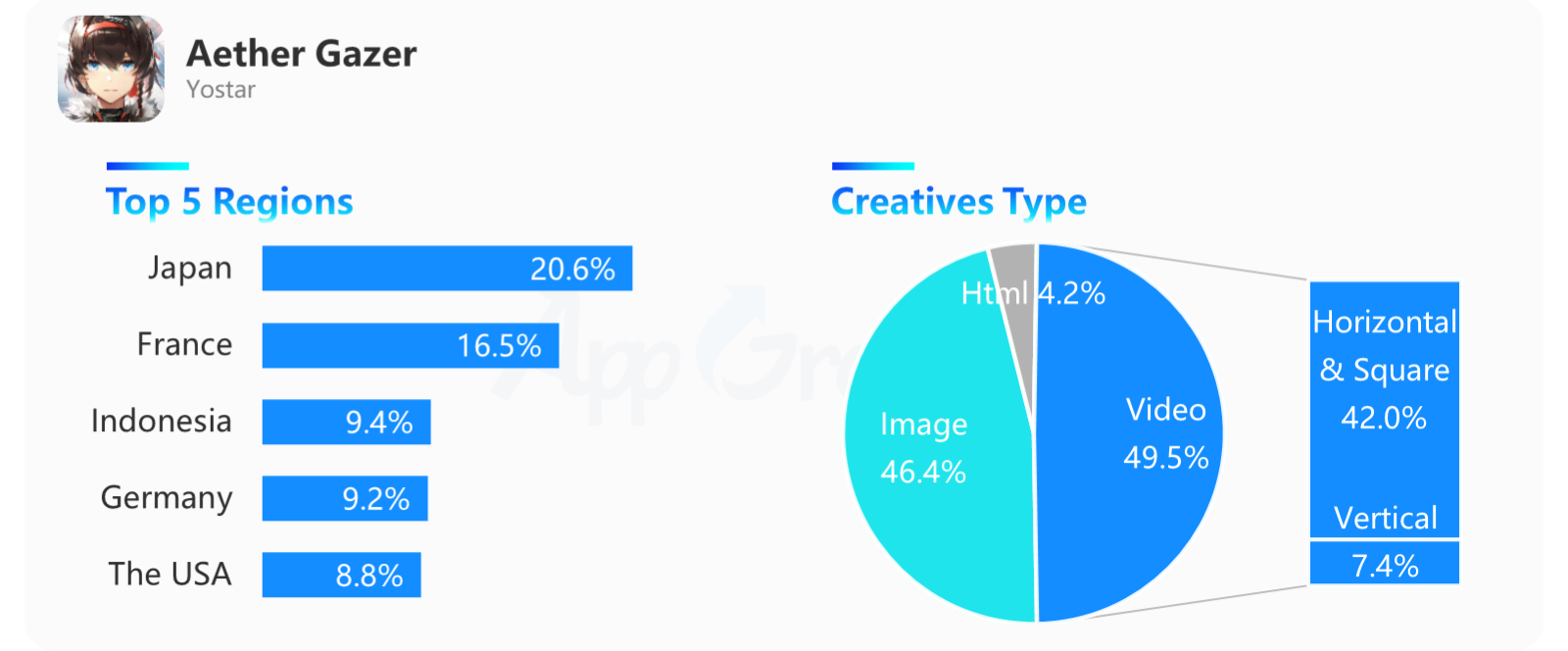 As mentioned above, Aether Gazer made it to the top 8 of the top pre-registration in May and kept a large scale of advertising after its launch. Its main advertising regions were Japan, France, Indonesia, Germany and the USA, among which Japan accounted for more than 20%, which shows that Yostar has focused on the Japanese market. The creative types are mainly video and picture, accounting for 49.5% and 46.4% respectively.
In terms of creatives, as an ACGN action game, Aether Gazer emphasizes the hardcore battle gameplay and character display, making some changes in the specific expression.
For example, in the following creative, the main content is the character 2D portrait pictures and 3D modeling display, but the 3D model is on a phone screen, highlighting the vivid and delicate character modeling. Also, the sliding hand adds a sense of interaction.
The video emphasizes the fighting excitement and high quality of the game with rapid and smooth battle scenes, which is appealing to action game players who like to win with personal operations.
*The above creatives are collected from public information by AppGrowing, and are only quoted for analysis and explanation, and the ownership belongs to the original author. The content is for general information only and should not be considered as an opinion or basis for specific matters.