Tiên Lữ Kỳ Duyên is a MMORPG game that takes players to a fantasy world of immortal cultivation and epic battles. The game has been well-received by Vietnamese players since its launch on July 11, 2023, ranking No.1 in the App Store charts. How did Tiên Lữ Kỳ Duyên achieve such success? What are the secrets behind its advertising strategy and performance? In this article, we will use AppGrowing, a professional mobile advertising intelligence platform, to reveal some insights and trends of Tiên Lữ Kỳ Duyên's advertising campaign.
01 Overview of Tiên Lữ Kỳ Duyên's Advertising Campaign
According to the data monitored and collected by AppGrowing, Tiên Lữ Kỳ Duyên has created 541 ads in total, covering 5 areas and 8 media. The areas include Vietnam, Thailand, Philippines, Japan, and Turkey. The media include Facebook, Instagram, Facebook (FAN), AdMob, YouTube, TikTok, Mintegral, and Messenger. The majority of the ads are targeted at Vietnam, which is the main market for Tiên Lữ Kỳ Duyên.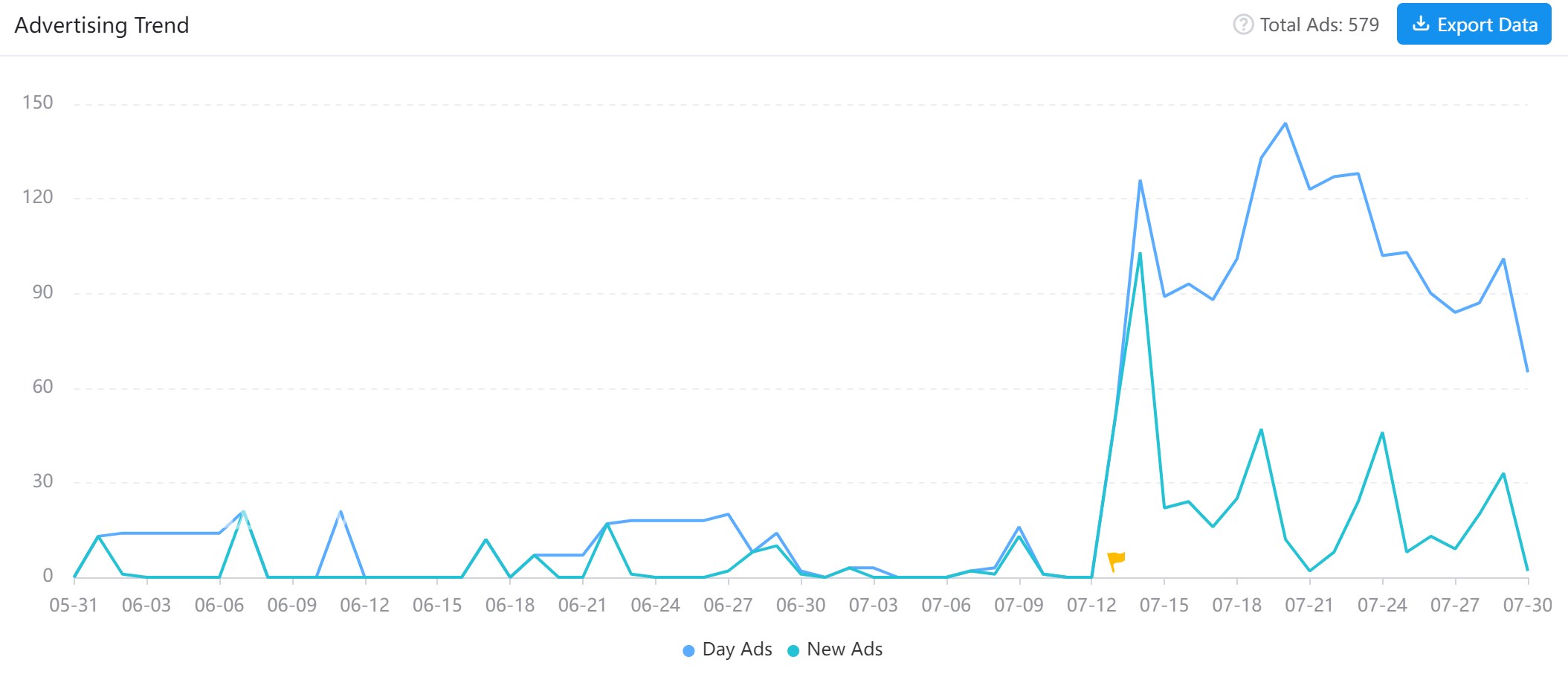 Source: AppGrowing
From May 31 to July 30, 2023, Tiên Lữ Kỳ Duyên created 579 ads in total, around 84.8% of which are in the form of In-feed. Ad creatives are mainly Horizontal and Square Video. Its proportion is around 71.16%. The peak of ad volume in a single day was 144, which appeared on July 20.

Source: AppGrowing
02 Analysis of Tiên Lữ Kỳ Duyên's Advertising Strategy
Tiên Lữ Kỳ Duyên's advertising strategy can be summarized as follows:
Focus on the core market of Vietnam and expand to other Southeast Asian countries with similar cultural backgrounds and preferences.
Use In-feed ads as the main format to reach a large and active audience on social media platforms and video-sharing platforms.
Use video ads as the main creative type to showcase the game's features, graphics, gameplay, and storyline.
Use different themes and styles of video ads to appeal to different segments of players, such as action-oriented, romance-oriented, comedy-oriented, etc.
Use catchy slogans, music, voice-overs, and sound effects to attract attention and create emotional resonance with the viewers.
Use social proof, such as user reviews, ratings, awards, and endorsements from influencers or celebrities to increase credibility and trustworthiness.
Use call-to-action buttons or links to direct viewers to download the game or visit the official website for more information.
03 Evaluation of Tiên Lữ Kỳ Duyên's Advertising Performance
Tiên Lữ Kỳ Duyên's advertising performance can be evaluated by using AppGrowing's data analysis tools. Some of the key indicators are:
Ad activity: This refers to the frequency and duration of ad exposure on different media platforms. A high ad activity indicates a high level of investment and effort in advertising. According to AppGrowing's data, Tiên Lữ Kỳ Duyên has a high ad activity on Facebook (including Messenger), Instagram, and AdMob. These platforms have a large user base and high engagement rates in Vietnam and other Southeast Asian countries.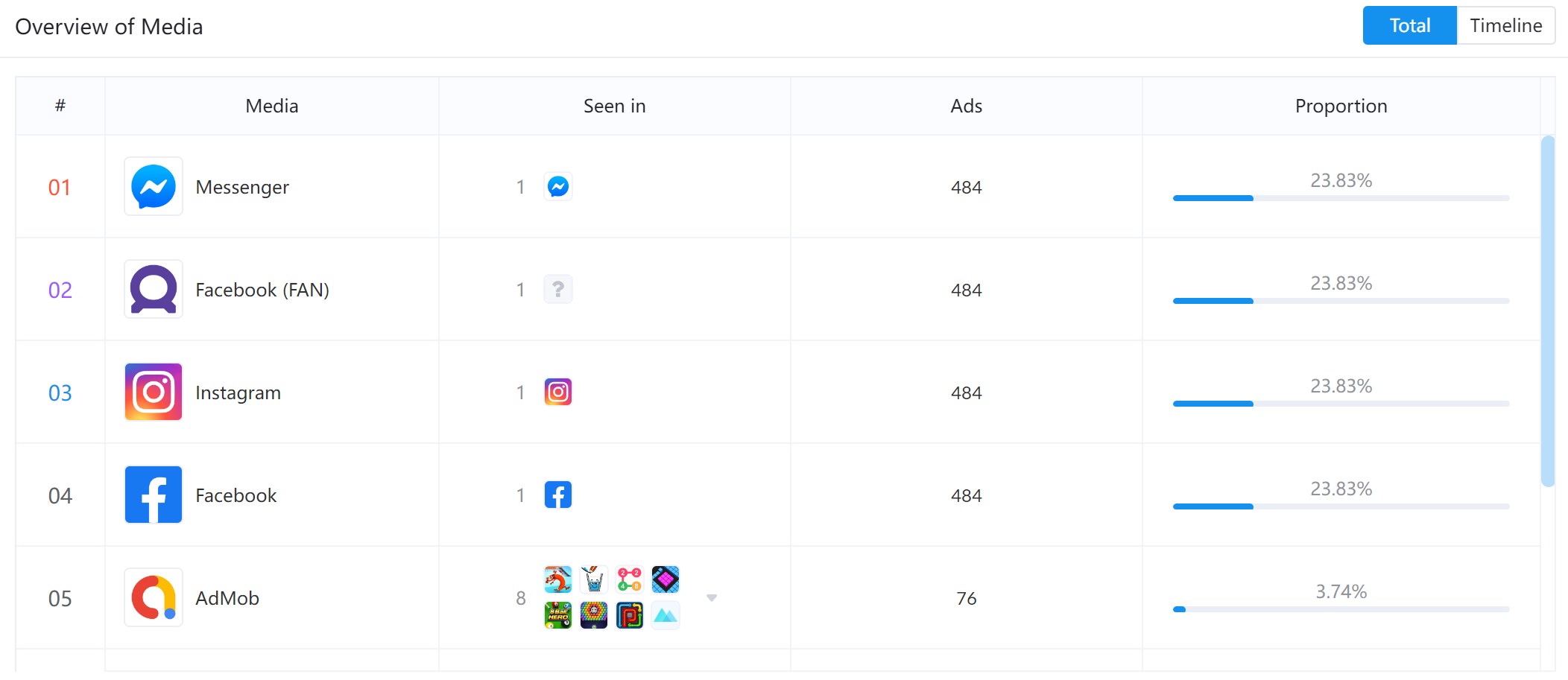 Source: AppGrowing
Ad effectiveness: This refers to the impact and outcome of ad exposure on the target audience. A high ad effectiveness indicates a high conversion rate and retention rate of players.
Ad competitiveness: This refers to the degree of competition and differentiation among advertisers in the same industry or category. A high ad competitiveness indicates a high level of challenge and opportunity in the market.
---
*The content and media in this article are protected by copyright laws. Some information is cited from public sources for illustrative purposes only, with ownership retained by the original authors. This article provides general information only and is not meant as opinion or advice for specific situations.
Follow AppGrowing's social media accounts or register immediately at AppGrowing to learn more mobile advertising insights.