Casino games are one of the most popular and profitable genres in the mobile gaming market. The global casino games market size was estimated at 231 billion U.S. dollars in 2021, and is expected to grow at a compound annual growth rate of 8.37% from 2022 to 2027. Among the various casino games, card games are especially popular in Southeast Asia, where players enjoy the thrill and challenge of competing with others online.
One of the leading card game publishers in this region is ZingPlay, a Vietnamese company that offers a variety of card games for different audiences and preferences. One of its flagship products is ZingPlay - Game bài - Tien Len, a game that simulates the traditional Vietnamese card game of Tien Len (also known as Thirteen or Killer 13). The game has been downloaded over 10 million times on Google Play, and has consistently ranked among the top free casino games in Vietnam and other countries.
Source: AppGrowing
In this article, we will use AppGrowing, a professional global mobile advertising intelligence analysis platform, to analyze the advertising strategy and performance of ZingPlay - Game bài - Tien Len. AppGrowing collects and analyzes millions of ad creatives from various media platforms and regions, and provides insights into the latest trends and best practices of mobile advertising.
01 The Secrets Behind ZingPlay - Game bài - Tien Len's Ad Volume and Distribution
According to the data monitored and collected by AppGrowing, ZingPlay - Game bài - Tien Len has created 5,607 ads in total, covering 23 areas and 6 media platforms. The game has a global reach, with ads appearing in countries such as Vietnam, Bahrain, Iraq, Macau of China, Thailand, Indonesia, Malaysia, Singapore, Philippines, Cambodia, Laos, Myanmar, India, Pakistan, Bangladesh, Nepal, Sri Lanka, Egypt, Saudi Arabia, United Arab Emirates, Kuwait, Qatar, and Oman.
The game's main media platform is Facebook (FAN), which accounts for 35.60% of its total ads. This is followed by Google AdMob (21.48%), Facebook (16.95%), Instagram (12.99%), and Messenger (12.99%). These platforms are widely used by mobile game developers and publishers to reach a large and diverse audience of gamers.
Source: AppGrowing
The game's ad volume shows a seasonal pattern, with peaks occurring around holidays and festivals. For example, the game created 265 ads on June 2nd, 2023, which coincided with the International Children's Day. The game also created more ads during the Lunar New Year period in February and March. These ads often feature festive themes and elements to appeal to the cultural values and emotions of the target audience.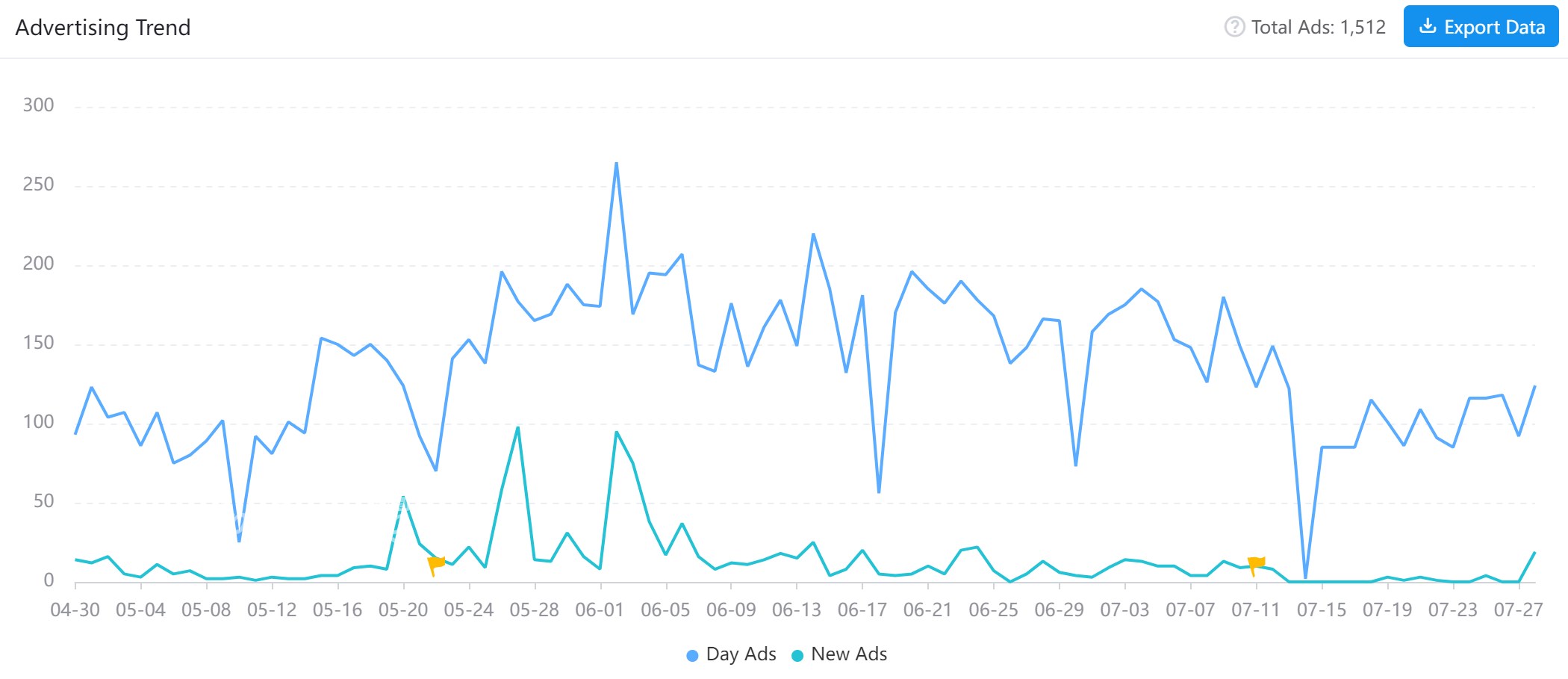 Source: AppGrowing
02 How ZingPlay - Game bài - Tien Len Uses Different Ad Formats and Creatives to Attract and Retain Users
The game uses various ad formats to showcase its features and benefits. The most common ad format is In-feed (26.63%), which is a native ad that blends in with the content of the app or website where it is displayed. The game also uses Interstitial, Banner, Rewarded Video formats.

Source: AppGrowing
The game's ad creatives are mainly Horizontal and Square Video (32.74%), which are effective for demonstrating the gameplay and highlighting the social aspects of the game. The game also uses Image, HTML5, and Vertical creatives.
The game's ad creatives often feature attractive graphics and catchy slogans to capture the attention of potential users.
The game also uses user testimonials, celebrity endorsements, and social proof to increase its credibility and appeal.
03 Conclusion
ZingPlay - Game bài - Tien Len is a successful example of how to leverage mobile advertising to grow and retain a loyal user base. The game has a clear understanding of its target audience and their preferences, and uses various ad formats, platforms, and creatives to deliver engaging and relevant messages. The game also takes advantage of seasonal and cultural factors to create timely and appealing ads. By using AppGrowing, we can learn from the best practices of ZingPlay - Game bài - Tien Len and apply them to our own mobile advertising campaigns.
---
*The content and media in this article are protected by copyright laws. Some information is cited from public sources for illustrative purposes only, with ownership retained by the original authors. This article provides general information only and is not meant as opinion or advice for specific situations.
Follow AppGrowing's social media accounts or register immediately at AppGrowing to learn more mobile advertising insights.