Biệt Đội Đùn Đùn is a popular action game developed and published by Funzy, a Vietnamese game studio. The game features a team of cute and chubby heroes who fight against evil forces in various scenarios. The game was officially launched on and has attracted millions of players in Vietnam and other countries.
How did Biệt Đội Đùn Đùn achieve such success in a competitive market? What are the secrets behind its advertising campaigns? In this article, we will use the data and insights from AppGrowing to analyze the advertising strategies of Biệt Đội Đùn Đùn and reveal some tips for app developers and marketers.
01 Biệt Đội Đùn Đùn's Advertising Overview
According to AppGrowing, Biệt Đội Đùn Đùn has created 997 ads in total, covering 2 areas and 6 media. The game mainly targets the Vietnamese market, but also expands to other regions such as . The game uses a variety of media channels to reach potential users, such as Facebook, Instagram, TikTok, YouTube, Messenger and Google Ads.

Source: AppGrowing
The game also leverages different ad formats to showcase its features and gameplay. AppGrowing data shows that around 87.52% of the ads are in the form of In-feed, which are native ads that blend in with the content of the media platform. The game also uses video ads extensively, accounting for 49.10% of the ad creatives. Video ads are effective for demonstrating the action and humor of the game, as well as attracting users' attention and curiosity.
02 Biệt Đội Đùn Đùn's Advertising Performance
Biệt Đội Đùn Đùn's advertising efforts have paid off in terms of app ranking and downloads. AppGrowing data indicates that on 2023-07-21, Biệt Đội Đùn Đùn ranked NO.1 in the Action category and NO.2 in the Overall category in the Vietnam App Store. The game also entered the Top 10 in in both categories.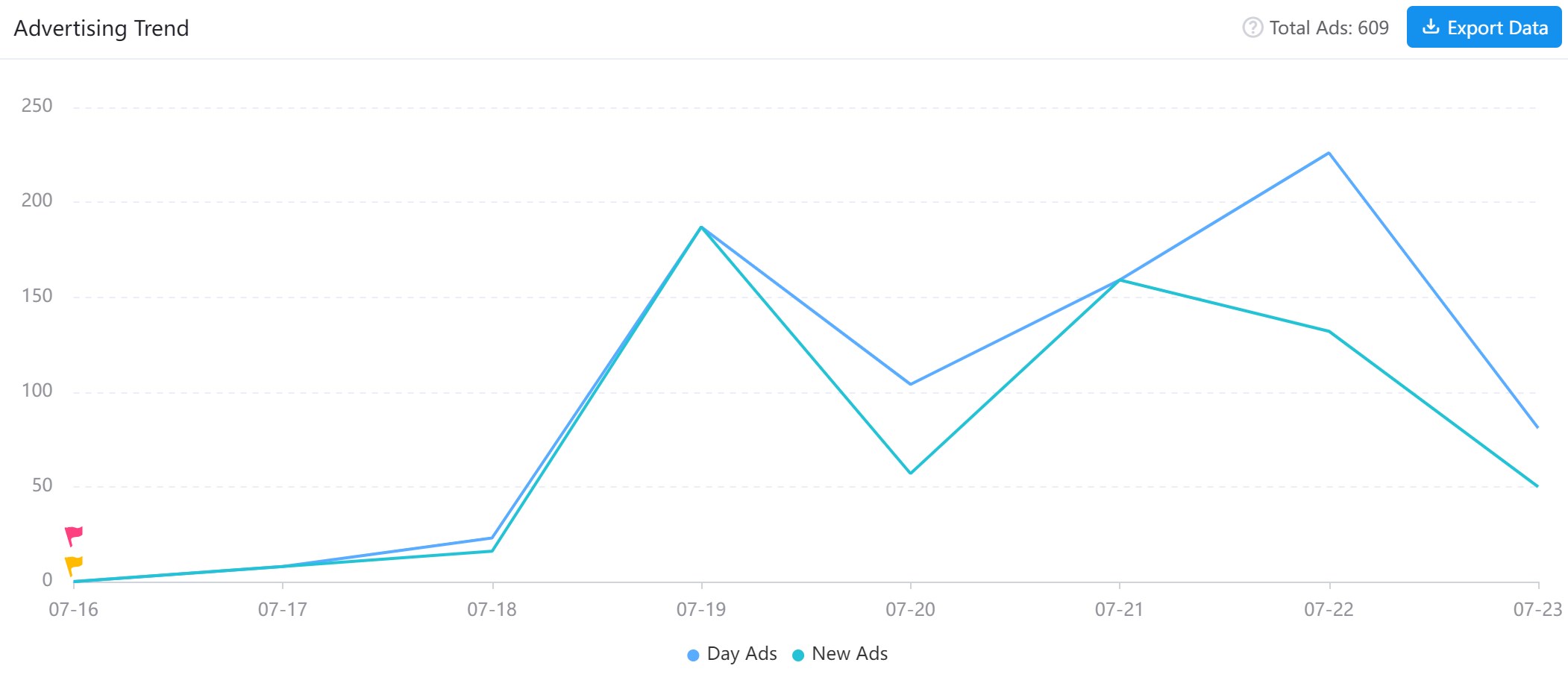 Source: AppGrowing
The game's ad volume also shows a positive correlation with its app ranking. From 2023-04-16 to 2023-07-23, Biệt Đội Đùn Đùn created 609 ads in total, with a peak of 226 ads on 2023-07-22, one day before it reached the top spot in the App Store. This suggests that the game increased its ad spending and frequency to boost its visibility and downloads during this period.
03 Biệt Đội Đùn Đùn's Advertising Highlights
Biệt Đội Đùn Đùn's ads are not only abundant and diverse, but also creative and engaging. Here are some of the highlights of the game's advertising campaigns:
The game uses catchy slogans and taglines to capture users' interest.
The game also uses humor and exaggeration to showcase its gameplay and characters.
The game leverages social proof and user-generated content to increase its credibility and appeal, such as featuring user reviews, ratings, comments and screenshots in its ads.
The game also creates seasonal and thematic ads to align with user interests and preferences, such as celebrating holidays, festivals, events and trends.
Source: AppGrowing
04 Conclusion
Biệt Đội Đùn Đùn is a successful example of how a Vietnamese action game can conquer the App Store with smart advertising strategies. By using AppGrowing's data and insights, we can learn from the game's advertising overview, performance and highlights, and apply them to our own app marketing campaigns.
---
*The content and media in this article are protected by copyright laws. Some information is cited from public sources for illustrative purposes only, with ownership retained by the original authors. This article provides general information only and is not meant as opinion or advice for specific situations.
Follow AppGrowing's social media accounts or register immediately at AppGrowing to learn more mobile advertising insights.