Toilet Monster Rope Game is a fun and addictive action game where you swing from one toilet to another using a rope. You have to avoid obstacles and enemies, collect coins and power-ups, and unlock new characters and toilets. The game was published by Zego Global Publishing, a Vietnamese publisher that specializes in casual and hyper-casual games. It was officially launched on June 27, 2023.
Source: AppGrowing
Since its launch, Toilet Monster Rope Game has achieved remarkable success in the global market. It has ranked No.1 in the action game category in 19 countries, including Japan, Mexico, Malaysia, France, Italy, Vietnam. It has also entered the top 10 in 25 other countries, such as the United States, Russia, Spain, Germany, Singapore, United Kingdom, Korea, Portugal.
How did Toilet Monster Rope Game achieve such impressive results in such a short time? What are the secrets behind its advertising strategy? Using AppGrowing's data and insights, we will analyze the following aspects of Toilet Monster Rope Game's advertising strategy:
01 The Number and Distribution of Ads
According to AppGrowing's data, from June 25 to July 4, 2023 (10 days after the official launch), Toilet Monster Rope Game created 530 ads in total. This shows that the publisher invested heavily in advertising to boost the game's exposure and downloads. The ads covered 19 areas and 4 media.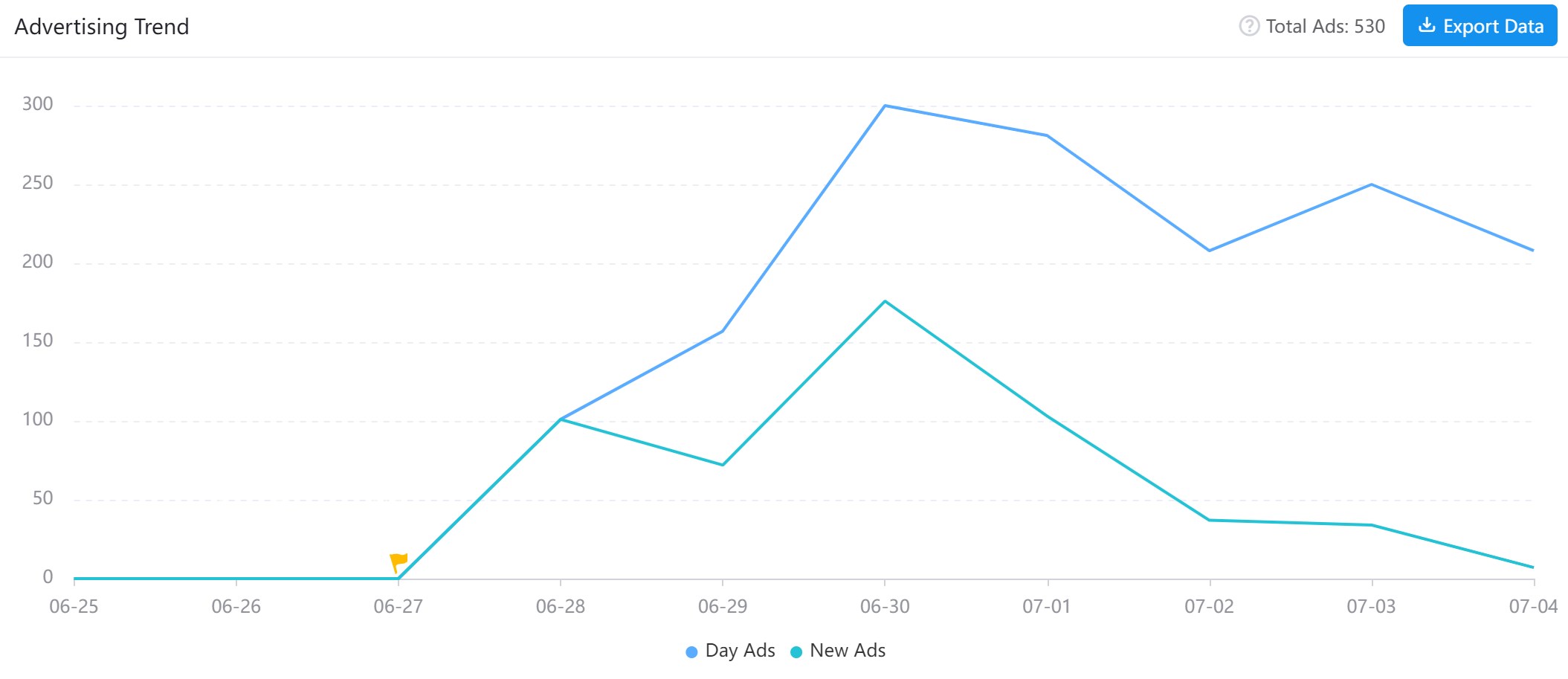 Source: AppGrowing
The distribution of ads across different areas and media reflects the publisher's target markets and channels.
02 The Types and Formats of Ads
According to AppGrowing's data, Toilet Monster Rope Game used Rewarded Video as the main type of ads. Rewarded Video accounted for 96.13% of the total ads. Rewarded Video is a type of video ad that offers users an incentive (such as coins or lives) to watch a short video clip of another app or game. Rewarded Video is a popular and effective way to advertise games because it can increase user engagement and retention.

Source: AppGrowing
The publisher also used Vertical Video as the main format of ads. Vertical Video accounted for 54.34% of the total ads. Vertical Video is a type of video ad that is optimized for mobile devices with portrait orientation. Vertical Video can capture users' attention better than horizontal video because it fills up the entire screen without any black bars or cropping.
The publisher's choice of Rewarded Video and Vertical Video shows that they understood the preferences and behaviors of mobile gamers. They created ads that were attractive, immersive, and rewarding for their target audience.
03 The Platforms and Networks of Ads
According to AppGrowing's data, Toilet Monster Rope Game advertised mostly on Mintegral, with a total of 83.58% ads. Mintegral is a mobile advertising platform that provides programmatic, interactive, and playable ads for app developers and publishers. Mintegral is known for its high-quality and high-performance ads that can deliver high conversion rates and ROI.

Source: AppGrowing
The publisher also advertised on other platforms and networks, such as Facebook Audience Network (FAN), Unity Ads, AdMob, Vungle, AppLovin, IronSource, Chartboost, etc. These platforms and networks offer different features and benefits for app advertising, such as global reach, advanced targeting, rich formats, analytics, etc.
The publisher's choice of platforms and networks shows that they diversified their advertising channels and sources to maximize their exposure and results. They also used AppGrowing's data and insights to monitor and compare the performance of different platforms and networks and optimize their advertising budget and strategy accordingly.
Conclusion
Toilet Monster Rope Game is a successful example of how a Vietnamese publisher can conquer the global action game market with a creative and effective advertising strategy. By using AppGrowing's data and insights, the publisher was able to:
Create a large number of ads to increase the game's exposure and downloads
Target the most promising markets and channels for the game
Use the most popular and engaging types and formats of ads for mobile gamers
Advertise on the best platforms and networks for app advertising
If you are an app developer or publisher who wants to achieve similar results for your app or game, you should try AppGrowing today. AppGrowing is a leading app marketing intelligence platform that provides comprehensive and accurate data on app advertising trends and performance across various channels and regions.
---
*The content and media in this article are protected by copyright laws. Some information is cited from public sources for illustrative purposes only, with ownership retained by the original authors. This article provides general information only and is not meant as opinion or advice for specific situations.
Follow AppGrowing's social media accounts or register immediately at AppGrowing to learn more mobile advertising insights.