Recently, many new games from leading developers have gone on an advertising spree. In addition to Moonton's Watcher Of Realms, according to AppGrowing, Nuverse's Dragonheir: Silent Gods started a massive advertising campaign, topped the Google Play Pre-registration, and became a Top 5 game among loads of games that are already released by top Chinese developers.

Source: AppGrowing
Dragonheir: Silent Gods is about to be launched  in September 2023, according to data.ai. After the release of the global version of Earth: Revival(《星球:重啟》) in February, Dragonheir: Silent Gods will be the second Nuverse game to be available worldwide this year, carrying the company's expectation of building a global brand.
01 An Open-world TRPG on 5-Year Development and $15 M
Dragonheir: Silent Gods is a D&D open-world semi-real-time strategy RPG. It is said to have taken five years to develop and cost over $15 million, making it the most "heavyweight" of the known Nuverse games.
In terms of art, Dragonheir: Silent Gods combines vintage oil painting with the widely accepted dark western fantasy style, differentiating it from the "cartoonish" games of the same genre. Delicate character and scene modeling make the game looks sophisticated.

Image Credit: Dragonheir: Silent Gods
Of course, in the case of the increasingly competitive game market, "appearance" alone is not enough to attract players. Officially, the game story text is now approaching 1 million words, and all the dialogue is in English voice-over, including the invited DND series "Critical Role" voice actor Mathew Mercer. Moreover, with the support of high-level music, Dragonheir: Silent Gods tries to revive the D&D-style fantasy world in all aspects.
Along with the vast worldview and plot, the main selling point of Dragonheir: Silent Gods is the "open world adventure" gameplay. Players can freely explore the game world, collect resources, solve challenges, and learn about the characters' stories.
Dragonheir: Silent Gods has little innovation in combat. The game adopts a normal turn-based model, incorporating auto chess gameplay to enhance strategy. Players select characters to arrange a team of 5 to fight, and there is a common TRPG "dice throwing" in the process.
Similar to Earth: Revival, Dragonheir: Silent Gods will be released on multiple platforms. According to the official website, the game will not only be available on the mobile platform of App Store and Google Play but also on Steam.
02 Advertising Strategy of Dragonheir: Silent Gods
According to AppGrowing, Dragonheir: Silent Gods began advertising on May 24, which coincides with the opening of the game's PC and Android beta test in Hong Kong, Macau and Taiwan of China.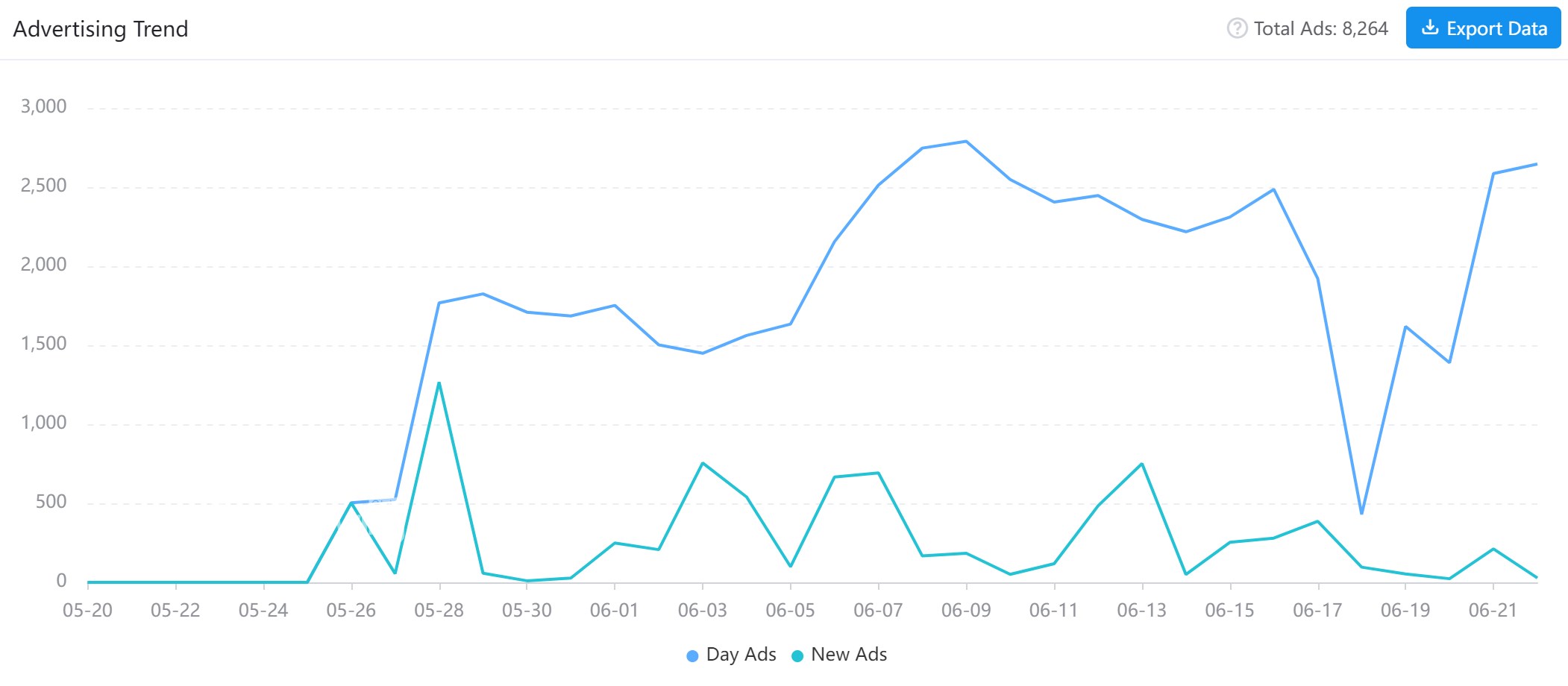 Source: AppGrowing
In terms of media, Dragonheir: Silent Gods mainly invested in Meta Audience Network, Messenger, Instagram, and Facebook, and the share of each is relatively average. Its target markets are in Europe and America. The ad format of the game is mainly in-feed, while creatives are mostly horizontal (including square) videos.

Source: AppGrowing
The creatives of Dragonheir: Silent Gods focus on the content of the game itself and did not go too far, probably because it is still in the early pre-registration advertising stage.
DND theme is appealing enough for European and American players. Dragonheir: Silent Gods focuses on the abundant and detailed surroundings in the video, labeling the game as "high quality" and attracting players interested in the genre.
Some creatives also combine the exploration gameplay. For example, the following video shows the beautiful scenes of several maps through "team exploration".
Characters have always been one of the promotional methods for RPG games. Dragonheir: Silent Gods stated that the number of heroes and NPCs in the game has exceeded 200, and the content is also used in ad creatives.
For example, this video shows the character's exquisite modeling at the beginning, and then turns to its combat skills, maximizing the audience's understanding of the character.
In addition to the direct display of characters, Dragonheir: Silent Gods also released many "character customization" ads. Besides the presets, the game supports a variety of detailed numerical adjustments, with a quality beyond the normal brutal character customization. It even shows the common "property points" of TRPG, highlighting the game's unique features.
From the advertising point of view, such character customization videos are mostly used for MMO games, which can capture a wide range of players. It may drive Dragonheir: Silent Gods to broaden its target audience.
Dragonheir: Silent Gods has created ads showing the strategic gameplay. For example, this creative shows the animation effect of characters coming on the battlefield and discharging their skills in turn. Elements such as kill clears and blast damage figures highlight the excitement of the fight and attract users interested in this kind of gameplay.
Generally speaking, the current creatives of Dragonheir: Silent Gods revolve around the three major directions of game art, characters and gameplay to do simple display, and the entire idea is rather restrained, more to advertise as an auxiliary means of brand exposure. But considering the various ads of Earth: Revival after its launch, perhaps we will see more interesting ad creatives when Dragonheir: Silent Gods is officially released.
03 Will it be "the Year of Game" for Nuverse?
Entering 2023, Nuverse has announced three games, the globally released Earth: Revival, Dragonheir: Silent Gods in pre-registration, and CoA(《晶核》), which is aimed at Mainland China and will be released on July 14. These three are different in art style and gameplay, but all present a high quality. Earth: Revival performed well in Hong Kong, Macao, and Taiwan of China, having taken the Top 2 in Taiwan iOS Top Grossing games. It was launched in Japan in April and once entered the Top 30 of the iOS Top Grossing games. The anime-style ARPG CoA have exceeded 9 million pre-registrations, according to the official website.
From the establishment of the Game Department in 2018, ByteDance has been exploring the game development for the past 5 years. Although there have been news of studio dissolution and project cancellation, Nuverse has done a lot of work, especially in mid core & hard core games, and some of them performed excellently. For example, the female-oriented game Flower Ariel (《花亦山心之月》)  and the Earth: Revival that confronted with Tencent and NetEase in the theme of doomsday survival.
The exposure of 3 new games in 2023 H1 reveals a clear increase in Nuverse's game productivity and self-development strength. Whether ByteDance's mid core & hard core games can gain more achievement this year is up to the performance of Dragonheir: Silent Gods and CoA.
---
*The content and media in this article are protected by copyright laws. Some information is cited from public sources for illustrative purposes only, with ownership retained by the original authors. This article provides general information only and is not meant as opinion or advice for specific situations.
Follow AppGrowing's social media accounts or register immediately at AppGrowing to learn more mobile advertising insights.