Recently, the most awaited new game is undoubtedly miHoYo's Honkai: Star Rail. The turn-based RPG has been available on April 26 on all platforms. According to AppGrowing, Honkai: Star Rail is already in the top 3 of the Google Play Pre-registration list. In the past 30 days, it has released over 2,000 sets of ad creatives, an extremely strong advertising campaign during the pre-registration period.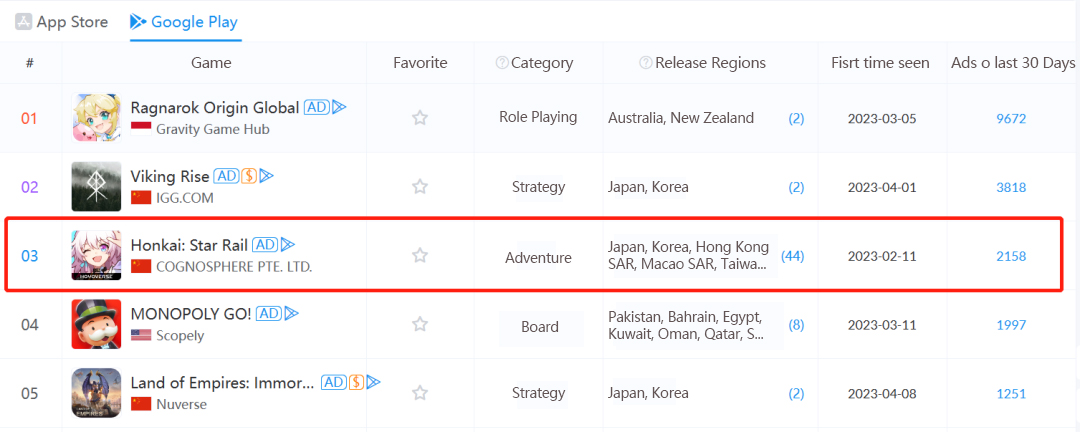 Source: AppGrowing
As the second globally released and console-ready game from miHoYo, Honkai: Star Rail is blessed with high expectations. Driven by massive advertising and a wide range of content marketing, it has officially announced that the game has exceeded 10M pre-registrations globally. From Genshin Impact to Honkai: Star Rail, miHoYo's global advertising and marketing strategy has become progressively sophisticated.
Image Credit: Honkai: Star Rail
01 Mature Community + Content Marketing
According to the official information, Honkai: Star Rail is a brand new Galaxy Adventure Strategy Game self-developed by miHoYo. Players will board the star dome railway in the game, and visit the cosmic universe, together with a variety of friends, to save the "Stellaron" causing all kinds of crises, to fight the enemies who intend to destroy civilization.
Image Credit: Honkai: Star Rail
In addition to the over 10M pre-registration, Honkai: Star Rail has also been gaining popularity on social media such as Twitter and Facebook. The official Twitter account now has 663K followers and the average number of likes on tweets is over 1K, while the Facebook account has over 290K followers.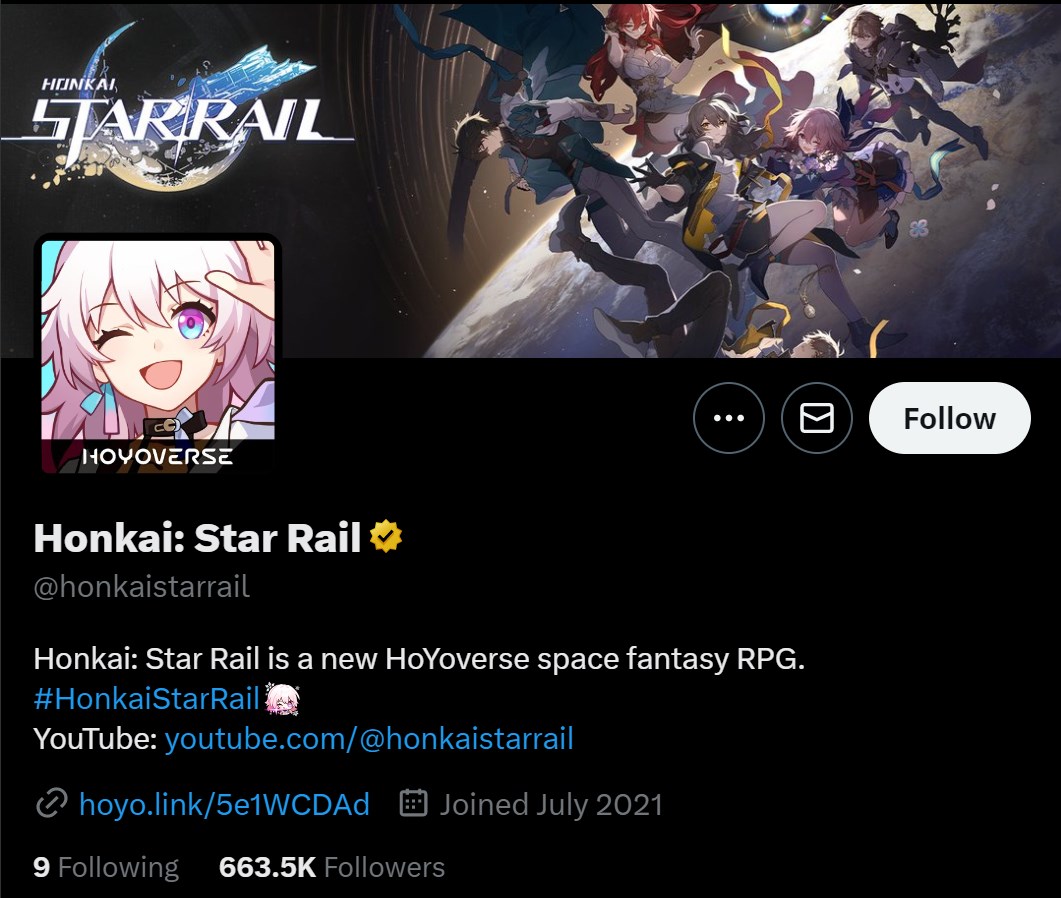 Generally speaking, the official accounts of Honkai: Star Rail  maintain a high update frequency. The tweets are mainly about the characters, worldview, and other game-related content, with high-quality cute pictures & mini-theater. In addition, carrying out official-led fan creation campaigns and simple interactive reward events raises topics and enriches game content to attract players' long-time attention and participation.
It is noteworthy that miHoYo has separately signed up official social media accounts for different market regions and post contents in local languages accordingly. For example, the official Twitter is divided into English, Japanese, Korean, and other accounts.
Beyond community marketing, miHoYo has also done a lot of content marketing for Honkai: Star Rail. For instance, a recent conversation between the game's producer David Jiang and the President of Falcom Japan, Toshihiro Kondo(近藤季洋), and Atlus producer Hashino Katsura(橋野桂), sparked a wide discussion among players worldwide.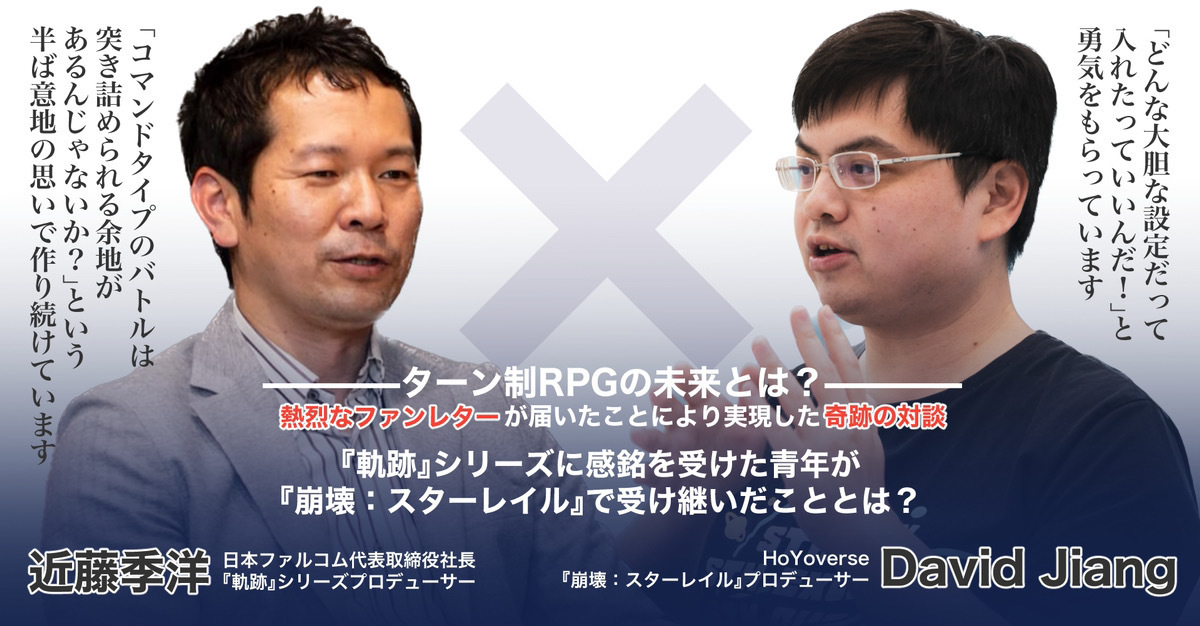 Image Credit: Honkai: Star Rail
In late March, the official science trivia program "Knowing the Universe" invited Nobel Prize winners and professional science experts as guests, further diversifying the game content.
All in all, miHoYo's community and content marketing strategy for ACGN games has been extremely mature. Together with the company brand and the influence of "Honkai" IP, it is reasonable that Honkai: Star Rail has triggered the enthusiasm of players.
02 Advertising Strategy of Honkai: Star Rail
In the sprint phase before the game release, miHoYo has invested heavily in advertising for Honkai: Star Rail.
According to AppGrowing, Honkai: Star Rail began its pre-registration on February 11 and started advertising in early March. Currently, it has over 2,000 sets of creatives published in Google Play, which are basically horizontal videos, mainly in the AdMob, accounting for over 90% of the total.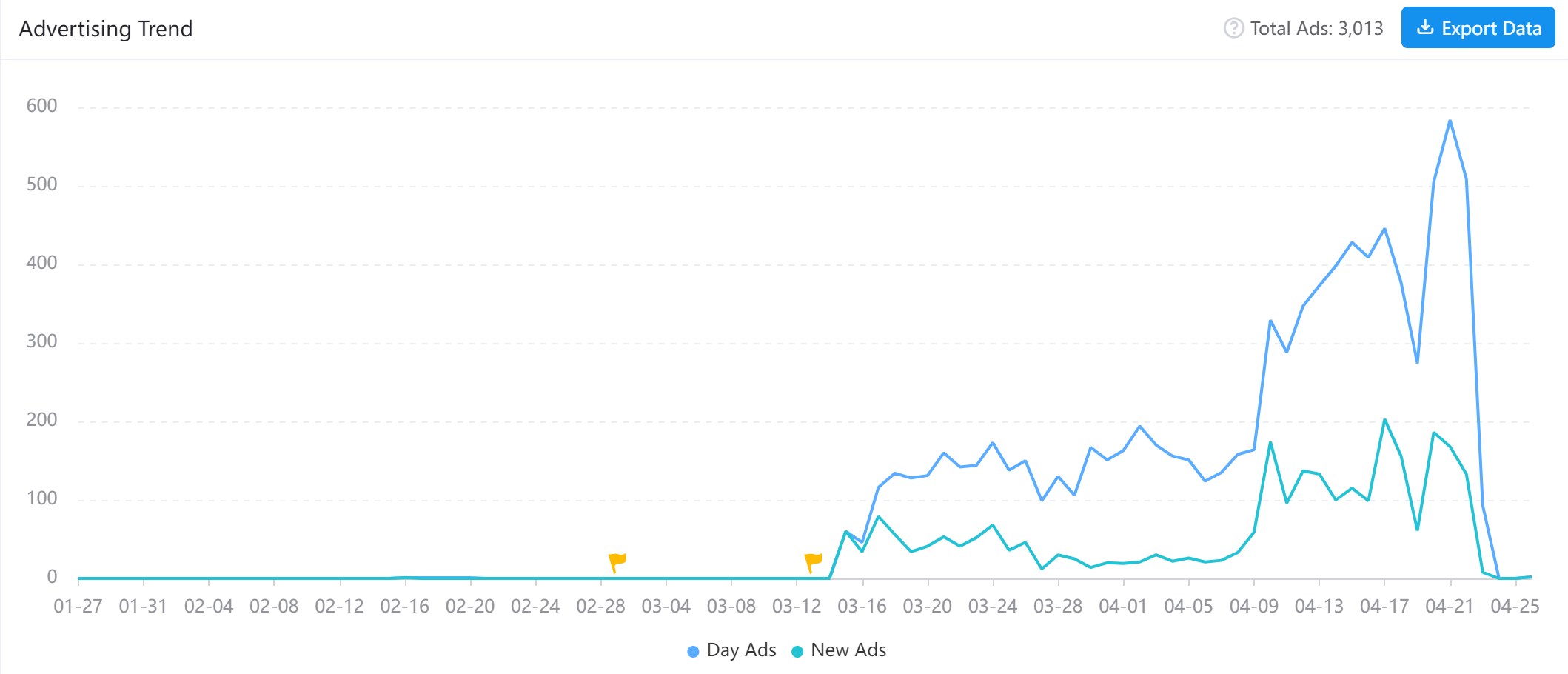 Source: AppGrowing
In terms of creatives, unlike many other game developers, including those similar games, the creatives of Honkai: Star Rail are "simple and brutal", mostly showing game characters and scenes, PV clips, etc., highlighting miHoYo's technical power and brand in detail. The creatives of Honkai: Star Rail are more like branding materials than conventional download oriented ones.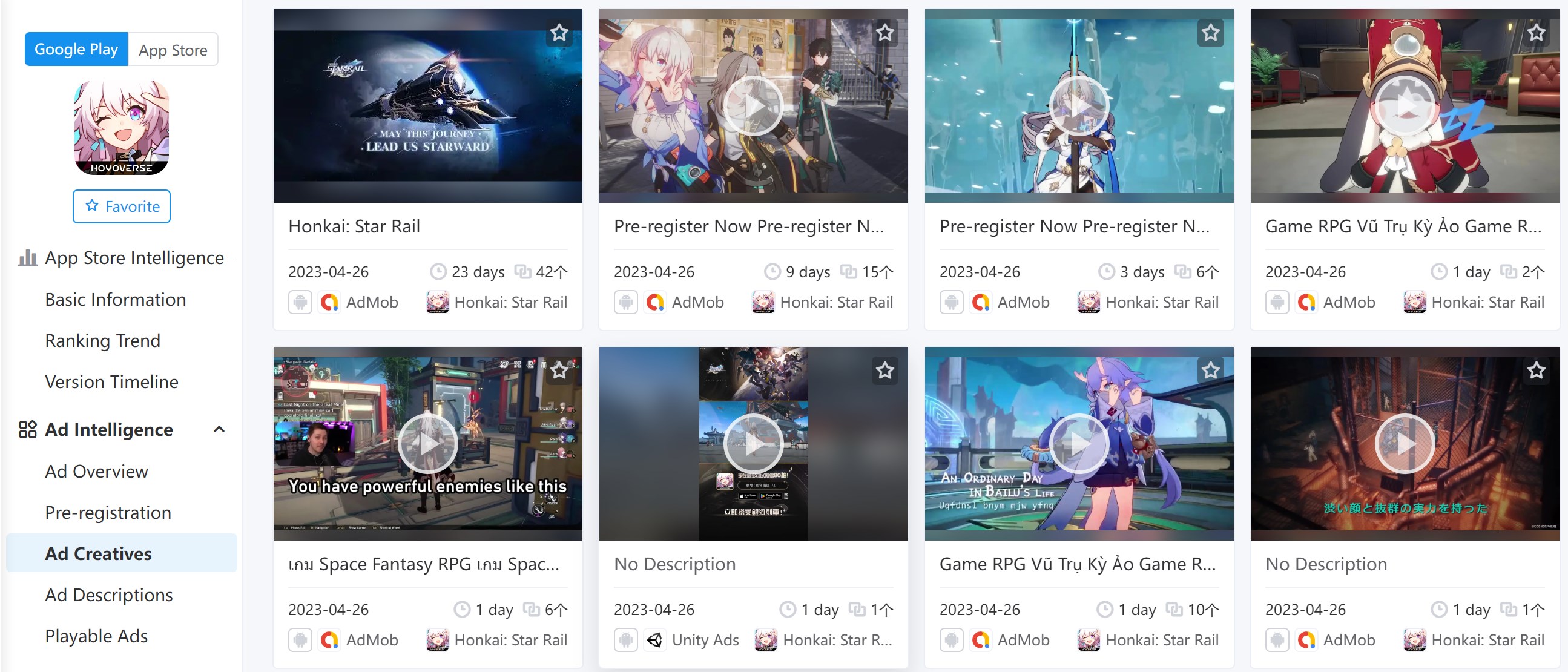 Source: AppGrowing
Take the following creative for example, the content is a usual character display. However, instead of directly showing the character drawings and Live2D images, Honkai: Star Rail begins with a PV-like rendition. It quickly switches the camera to show multiple drawings of the character to catch viewers' eyes. Then, it turns to the character battle screen, presenting the game's selling points and features.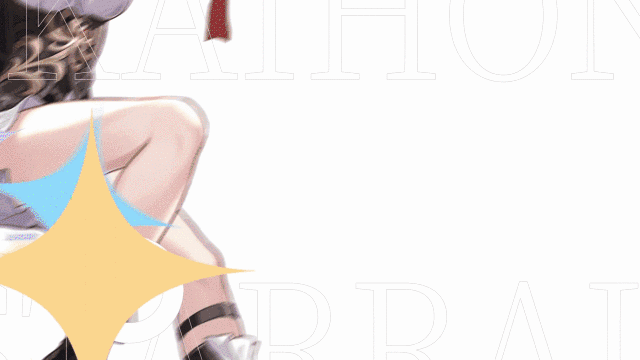 Source: AppGrowing
There is not only one way to innovate the game character display. The following creative, for example, starts with a simple interactive screen featuring 4 different character icons. When the player clicks on one of them, a small window playing the corresponding animation clip pops up. By cutting close to a distant scene and repeating a close-up of its face, the video shows the character's detailed expressions and also reflects the game's high technical quality.
Source: AppGrowing
Also, Honkai: Star Rail has a few "conventional" creatives. Such as the character continuously running/walking with scene switching, to highlight the game's extensive and abundant scenes.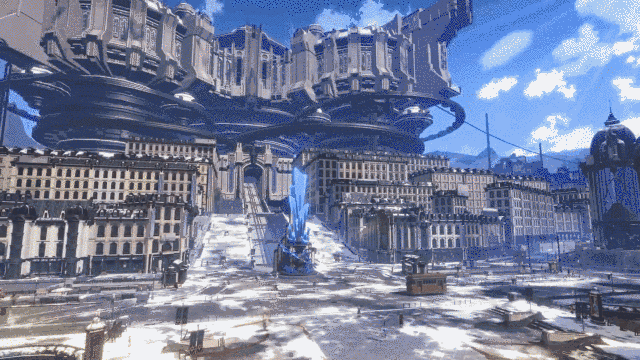 Source: AppGrowing
In conclusion, the ideas of Honkai: Star Rail's creatives are relatively simple. It's not hard to see that miHoYo intends to attract players through the game quality itself. From the view of media preference, the game is concentrated in AdMob and hardly advertised on social media, which also shows that Honkai: Star Rail's advertising strategy is more focused on overall exposure and more as a supplementary means of brand marketing.
03 Global Advertising Strategy of miHoYo
When it comes to developers, Honkai: Star Rail's advertising strategy is a continuation of miHoYo's "brand exposure-based" marketing strategy.
A case in point is Genshin Impact, which is still running massive ads according to AppGrowing. The game has posted more than 20K ads on Google Play in the last 3 months, and the volume of new ads remains constant throughout each day. Additionally, the game focuses on AdMob and Meta Audience Network, which similarly do not lean much on social media.

Source: AppGrowing
Regarding creative ideas, Genshin Impact doesn't use the "formula" to attract players to click. Instead, it impresses players with the excellent quality of the game itself. The creatives show the characters, gameplay, and scenes. PVs and clips also appear frequently. The videos highlight the outstanding content of Genshin Impact through excellent camera work and detailed expressions, and at the same time reflect the brand influence of miHoYo.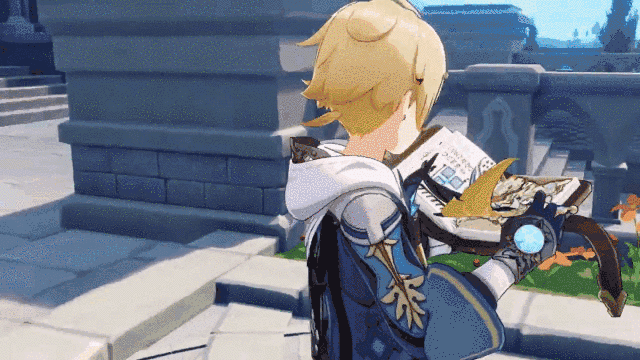 Source: AppGrowing
From a third-party perspective, the marketing strategy of miHoYo relies on its years of accumulation in ACGN games and the support of the core player base. Once the new game is launched, it quickly gets the attention of the player group. Therefore, they don't need to rely on large-scale advertising to acquire clicks and downloads. Media buying is more like an adjunct to brand exposure for miHoYo, designed to be paired with content marketing to enhance the influence of the game as well as the brand. miHoYo is spreading its premium brand image from the player base to a wider audience.