2022 was a year of advertising contraction for the global mobile gaming industry, a trend that continues into Q1 2023, with developers showing a more cautious approach to new releases and advertising campaigns.
AppGrowing, together with Youxiputao.com and diandian.com, released Q1 2023 Mid Core & Hard Core Mobile Games Global Advertising Report in order to help practitioners in the mobile game industry to better grasp the changes in the global market. The report provides a systematic review and analysis of market revenue and download volume, advertising, game categories and market development.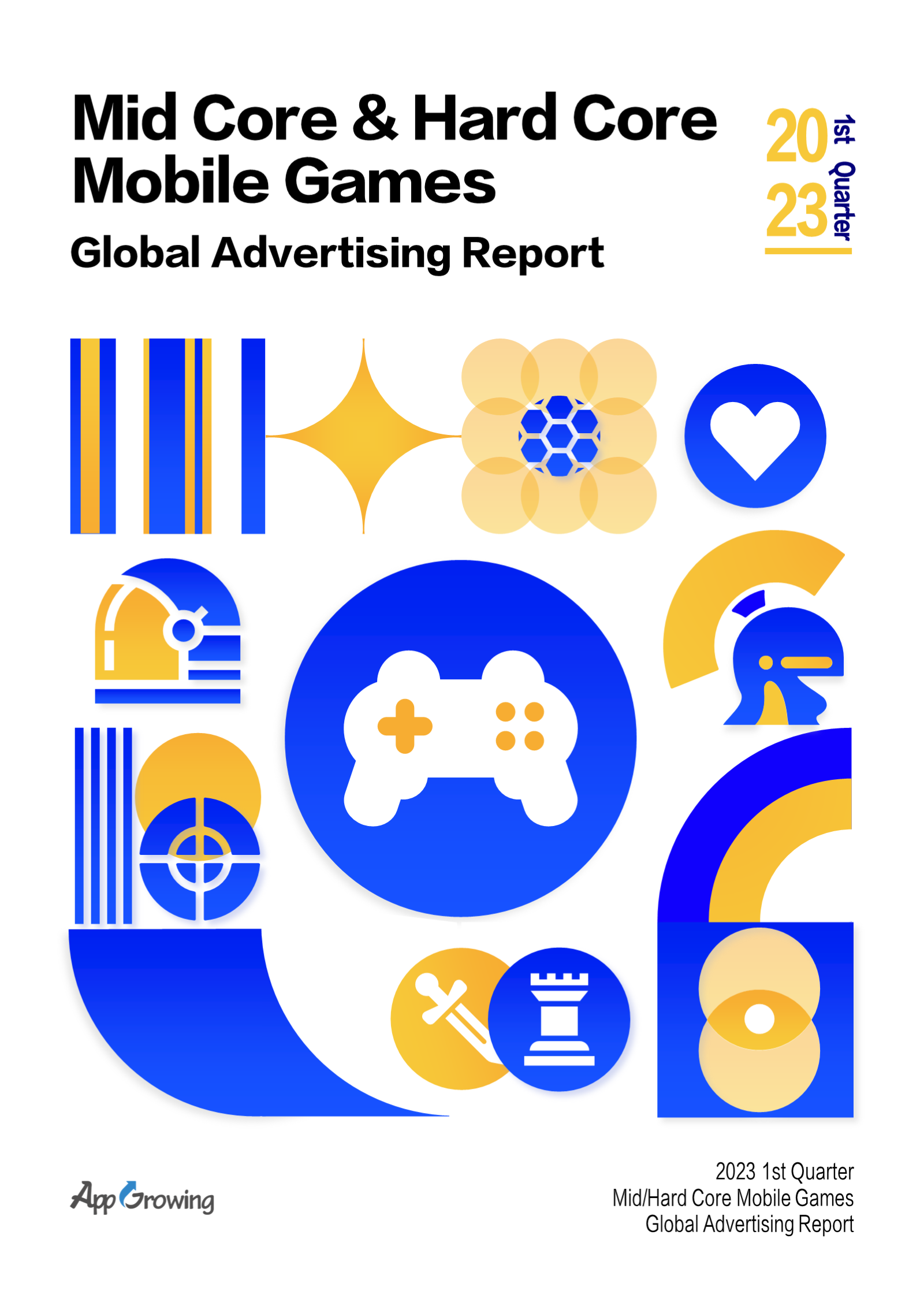 The following are extracts from the report, and the full report is available at the end of this article.
01 Mobile Game Market Summary
According to diandian.com, in Q1 2023, the overall download volume of global mobile games decreased by 5.31% YoY, and the download volume of Mid Core & Hard Core games accounted for slightly more than other games by about 2.6%. Specifically in the categories, Action Games were downloaded the most, Casino Games were downloaded the least, and there was no significant gap in the rest.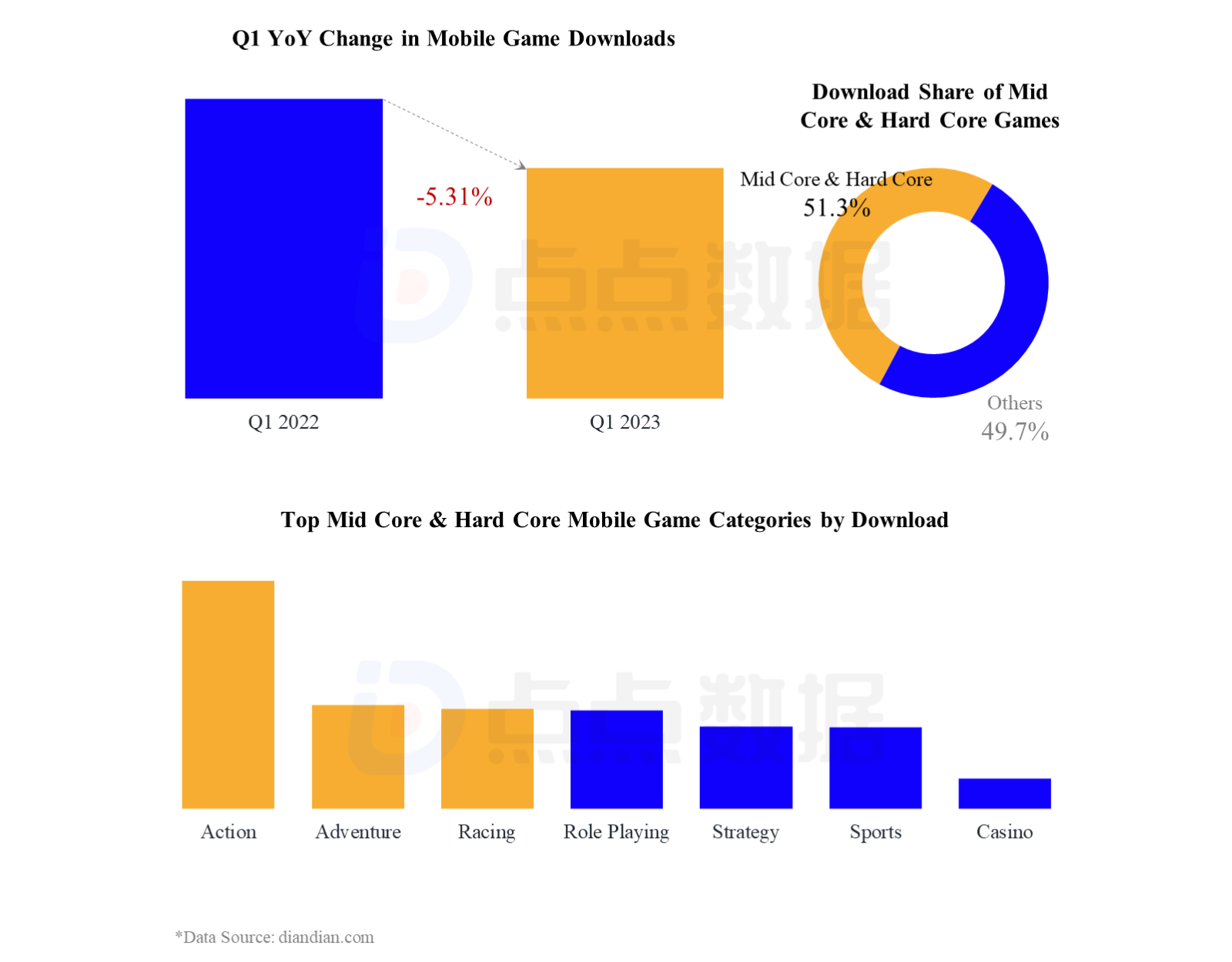 Global mobile game revenue also showed a downward trend in Q1 2023, with a YoY decline of approximately 3.69%. Mid Core & Hard Core games accounted for 77.7%, with Role Playing Games being the dominant, followed by Action and Strategy Games.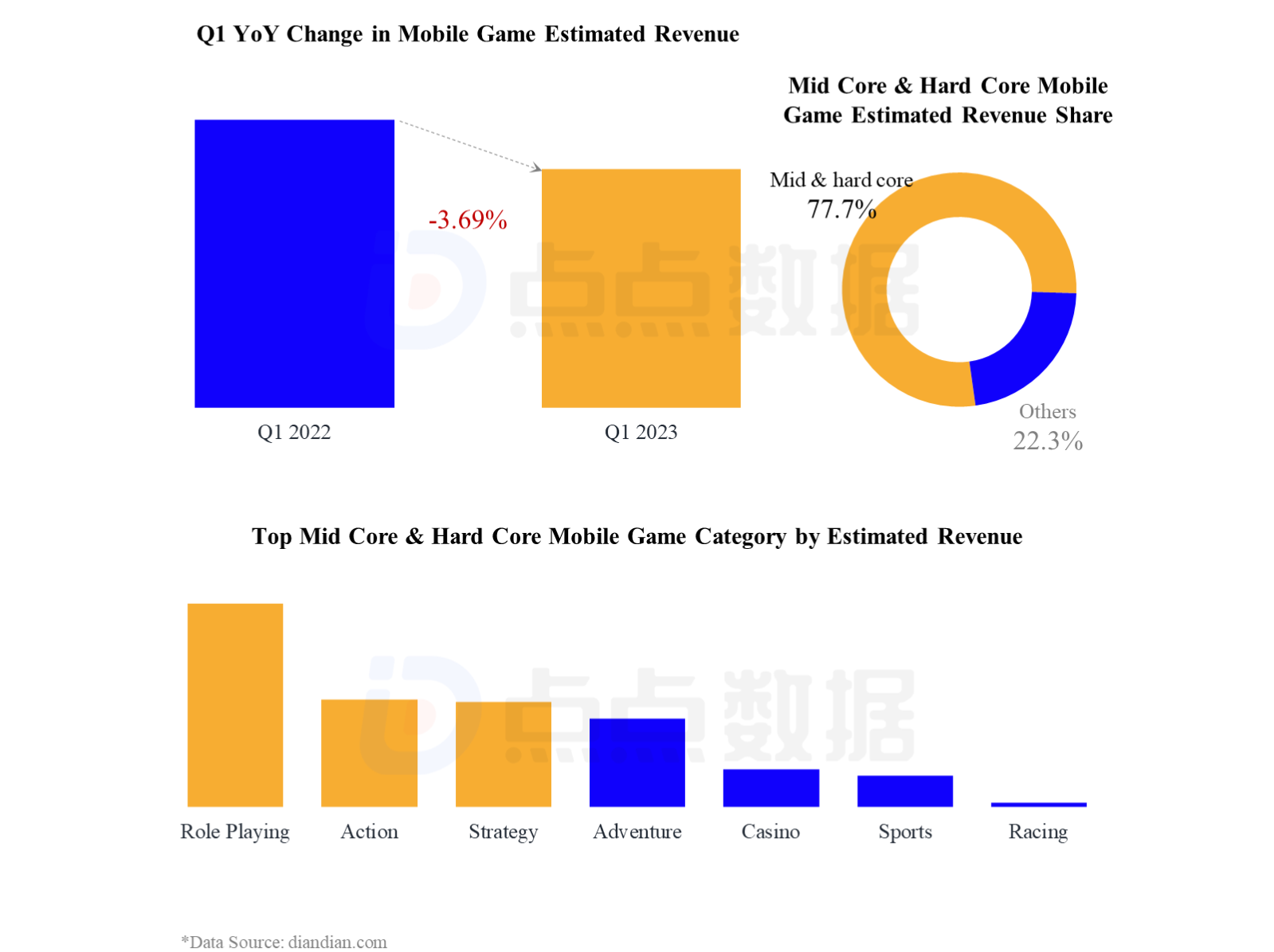 According to the market region, The mature markets represented by Japan and Korea, North America and Europe are still the main revenue sources of Mid Core & Hard Core mobile games. The 3 took up more than 84.2% gross revenue, but declined seriously YoY.
Meanwhile, the emerging ones, such as Middle East, showed counter-trend growth. The Q1 estimated revenue of mobile game in Qatar increased by more than 161.36% YoY.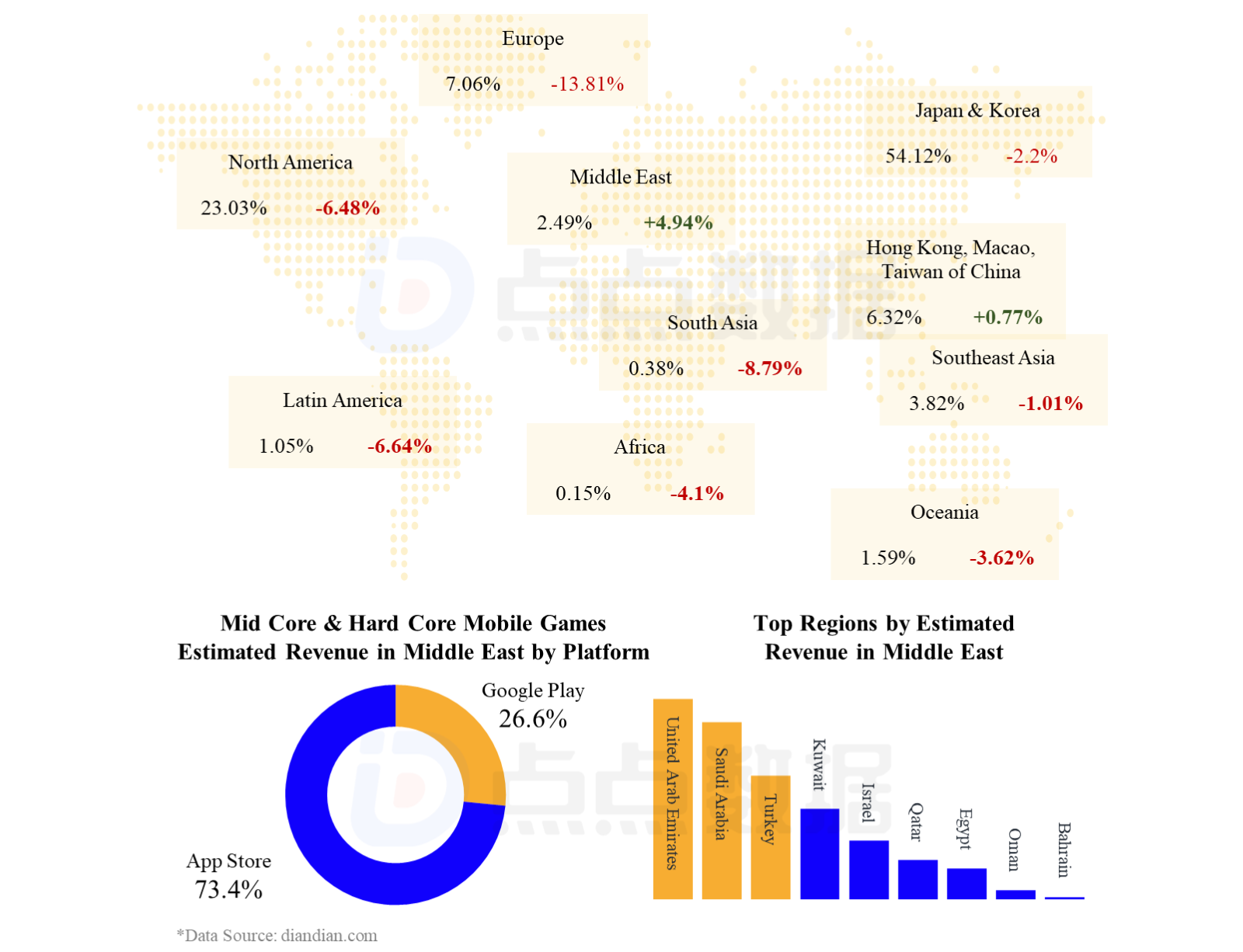 In Q1 2023, Mid Core & Hard Core games accounted for less ads than Casual Games. Casual Games ranked first in terms of ad volume, followed by Puzzle Games. Among the Mid Core & Hard Core games, only two categories, Role Playing and Strategy, accounted for more than 10% of the whole.
In terms of the advertised mobile game quantity, the gap between Mid Core & Hard Core games and Casual Games is obvious. The quantity share of Mid Core & Hard Core is below 10%, generally lower than the corresponding ad volume share.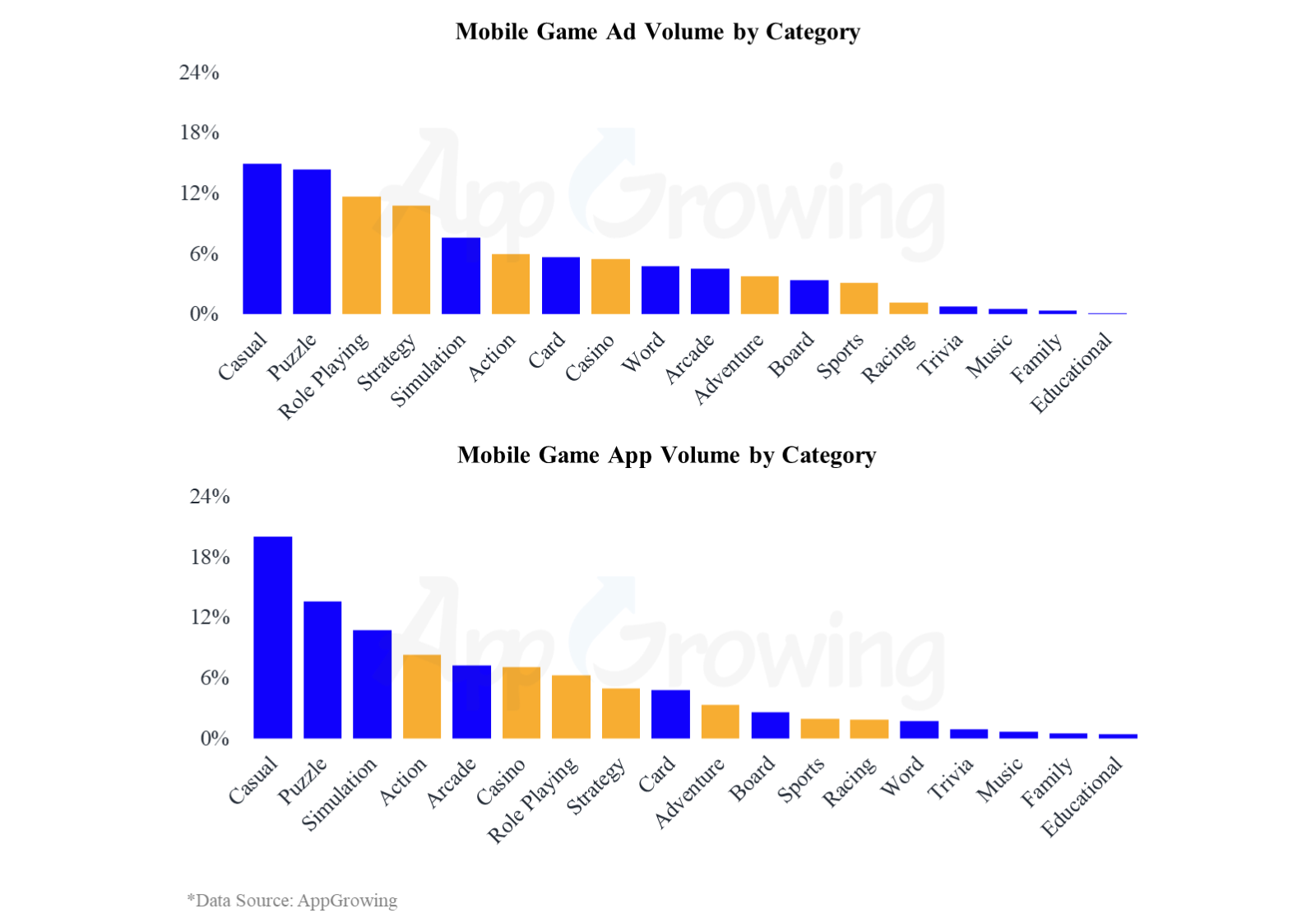 Putting together the two data, we can easily see that for Mid Core & Hard Core games, the concentration of ad volume for a single game is higher than that for Casual Games. The high threshold of these games limits the quantity, while the characteristics determine strong demand for advertising.
Comparing the ad volume and app volume share of mobile games by category in Q1 2023 YoY, except for Role Playing, Action, and Casino, there was no significant change in Mid Core & Hard Core games. The greatest decline was in Role Playing, with the ad volume falling by 3.7 pp and app volume falling by 0.9 pp YoY. The most notable increase was in Casino, where ad volume rose 1.5 pp and app volume rose 2.4 pp YoY.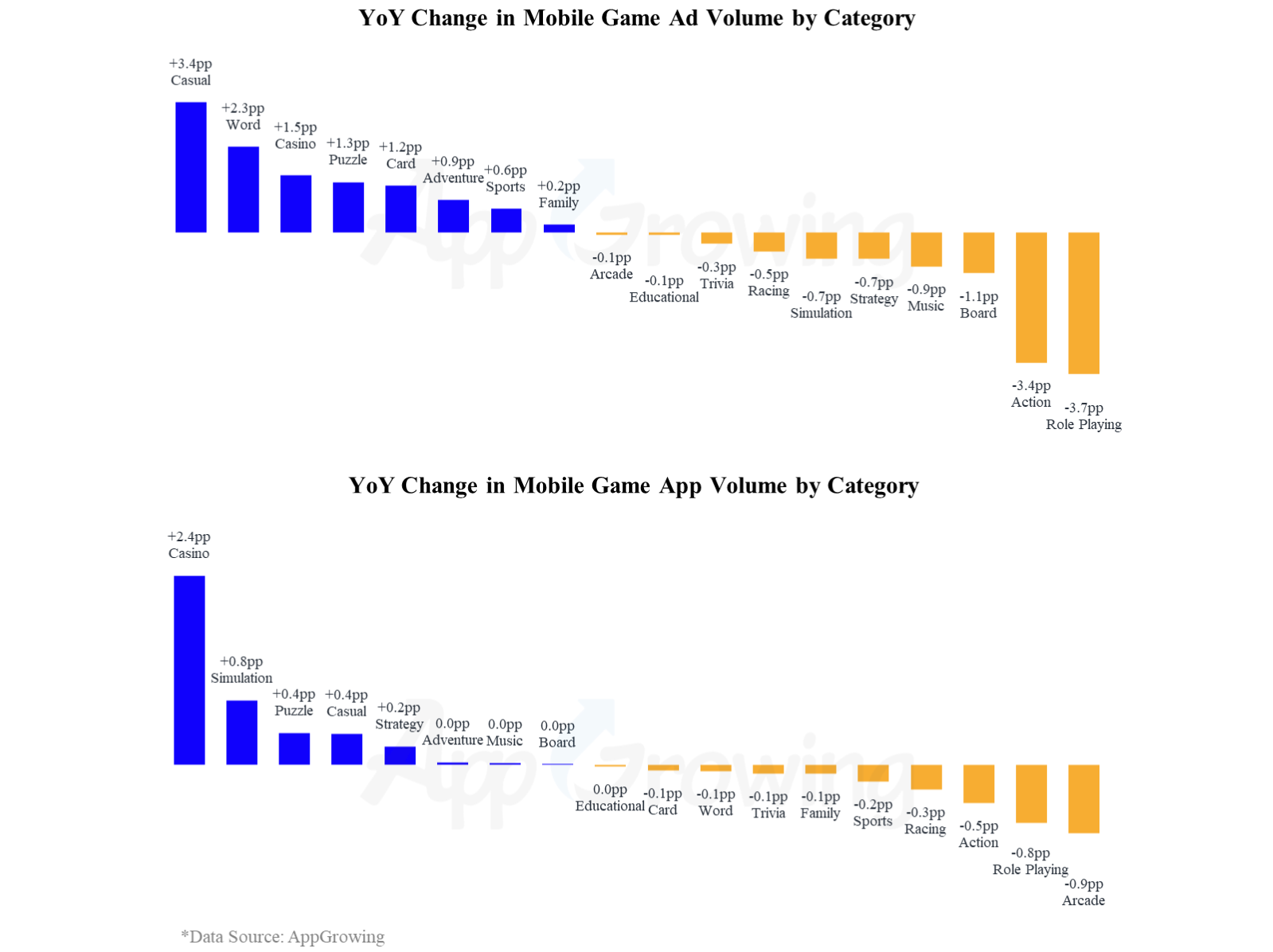 This market trend is even more evident in the monthly average ad density by categories. According to AppGrowing, the average monthly ad density index for all categories in Q1 2023 was 63.2, and the median was 46.9. Specifically for the categories, the index for both the Strategy and Role Playing exceeded 110, nearly twice the average for all, which means the competitions for the two are extremely fierce.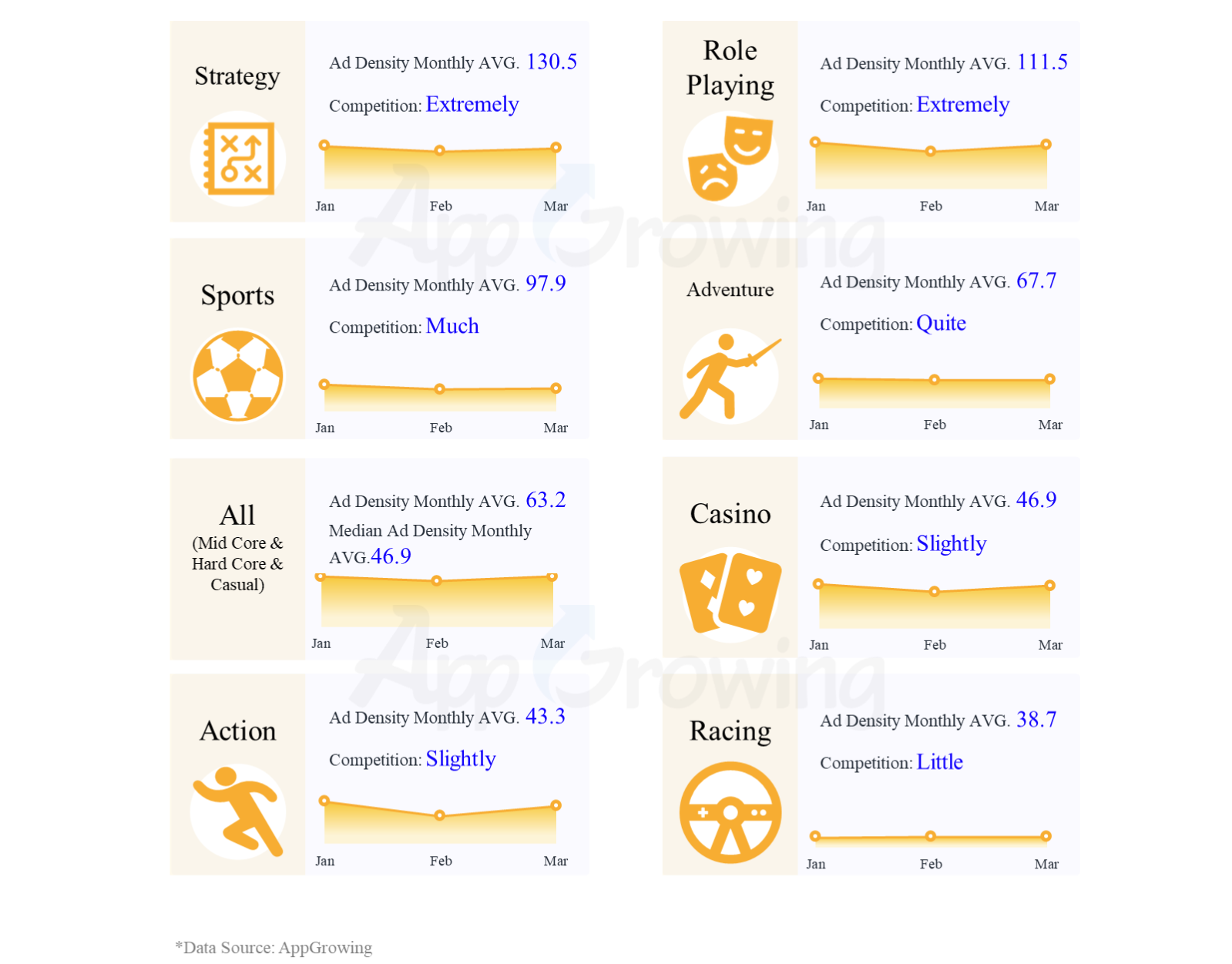 Sports has not received much attention before. However, with the fever of Qatar World Cup 2022, a group of games emerged with massive advertising. The competition is heating up rapidly, with the index reaching 97.9.
By advertiser sources, Mainland China was the main source of Mid Core & Hard Core mobile game ads, creating more than twice the volume of second place Russia. The main targets for them were in order North America, Europe, Southeast Asia and Hong Kong, Macau, and Taiwan of China. Russia unexpectedly advertised heavily in Latin America. In contrast, Chinese developers' advertising in Latin America is at a similar volume to the Middle East, Japan and Korea.
According to market regions, compared with the ad data of Mid Core & Hard Core mobile games YoY, LA shows a bright growth, with the ad and app volume share rising by 3.3 pp and 2.4 pp respectively, and both are sharply ahead of others. Among the regions with declining, Japan and Korea saw a drop in both ad and app volume, ranking 1st and 2nd in the two statistical dimensions respectively.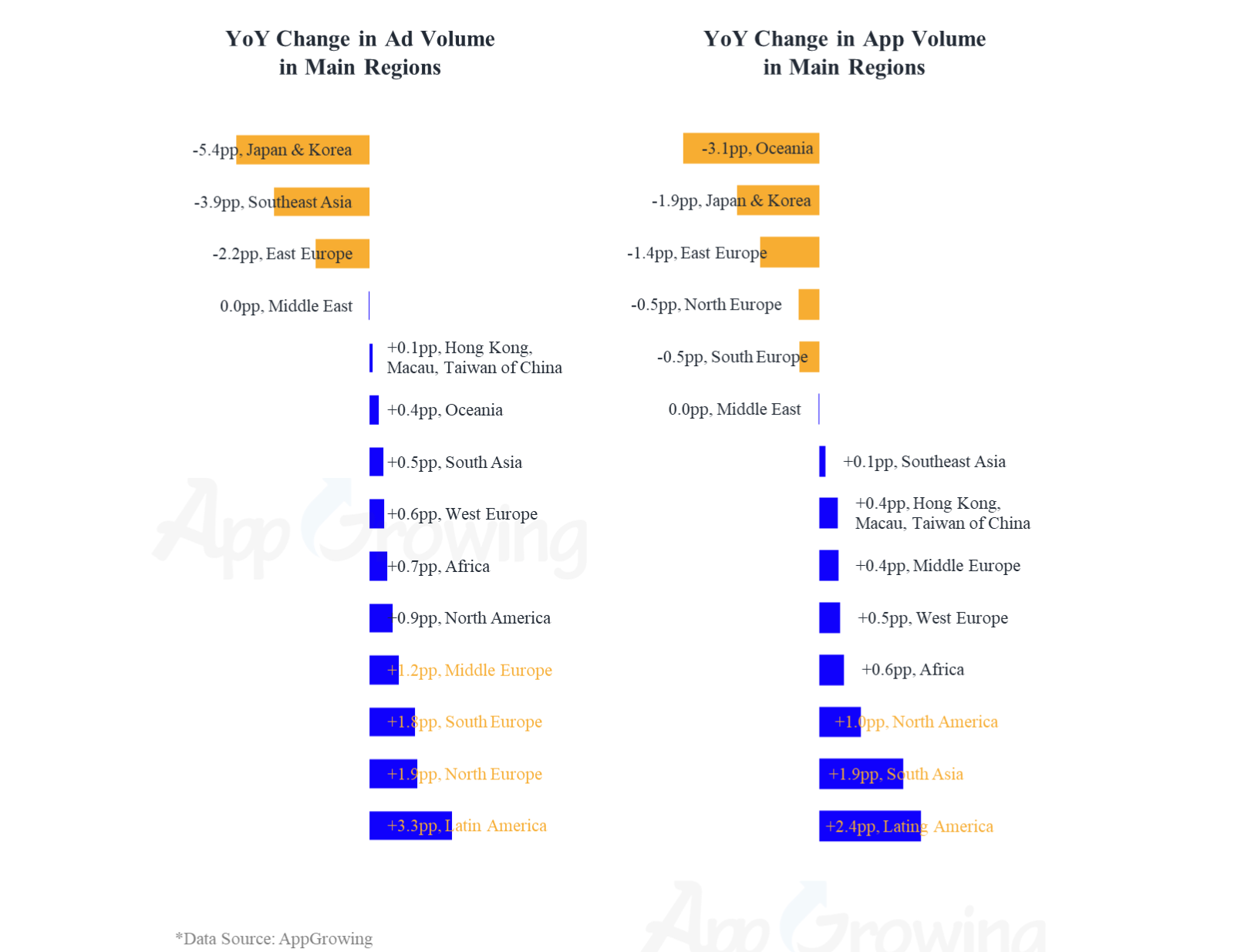 As for ad format, according to data in Q1 2023, the majority of Mid Core & Hard Core mobile game ads continue to favor in-feed ads. In terms of creatives, horizontal & vertical video, and single image are most used. For platforms, Google Play accounts for about 72% of the total app volume, while the corresponding ad volume accounts for 77.8%, which indicates that advertisers is tilting toward Google Play.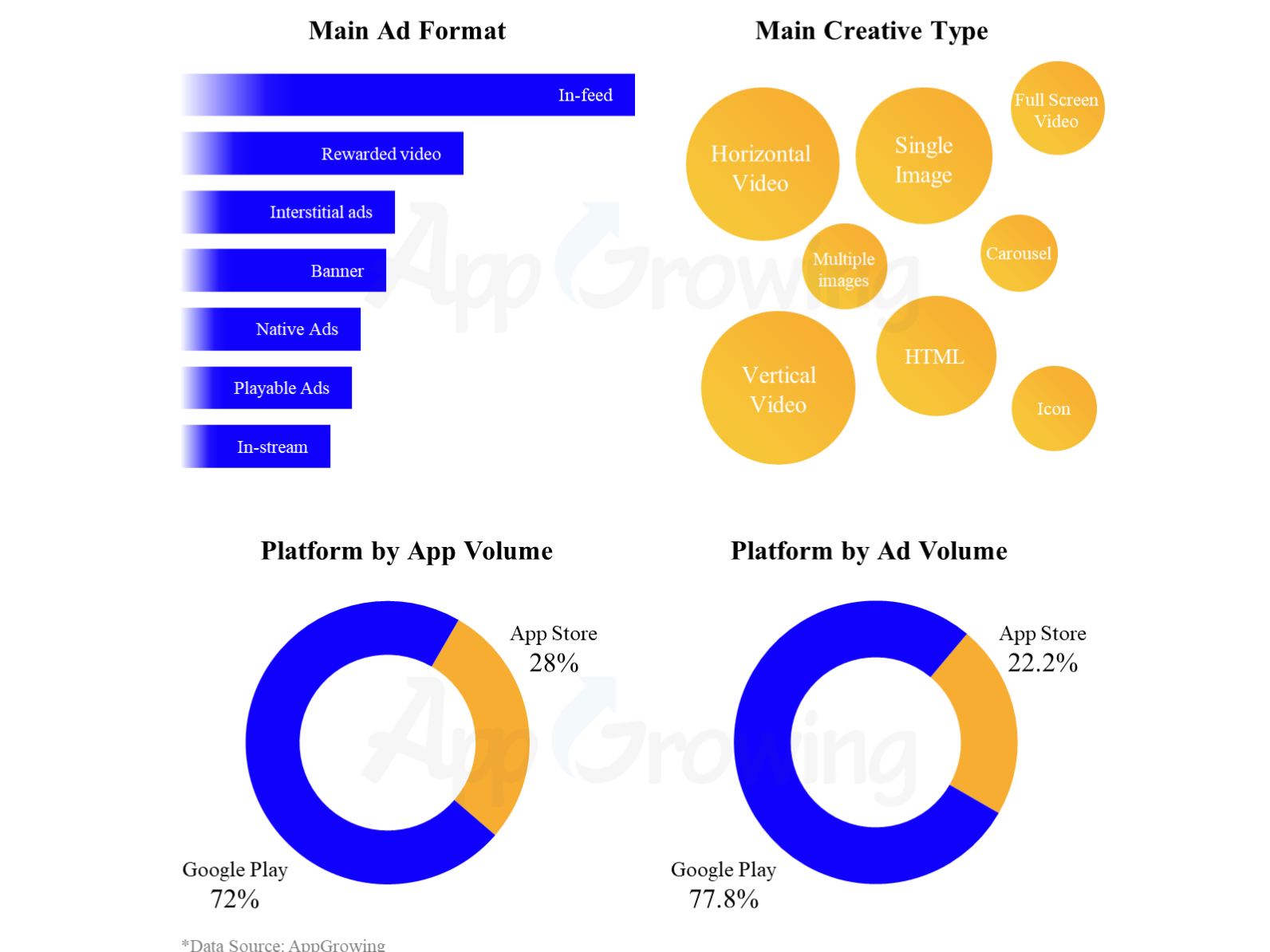 02 Advertising Ranking
In Q1 2023, IGG's two SLGs took 1st and 2nd place in the global ad volume ranking of Mid Core & Hard Core mobile games, namely Lords Mobile and Doomsday: Last Survivors.
From the category point of view, SLG is still the most advertised globally. nearly half of the Top 30 are SLG games, and the head gathering is quite obvious. Four of the top 5 are SLG games, and only miHoYo's Genshin Impact breaks the monopoly, ranking third.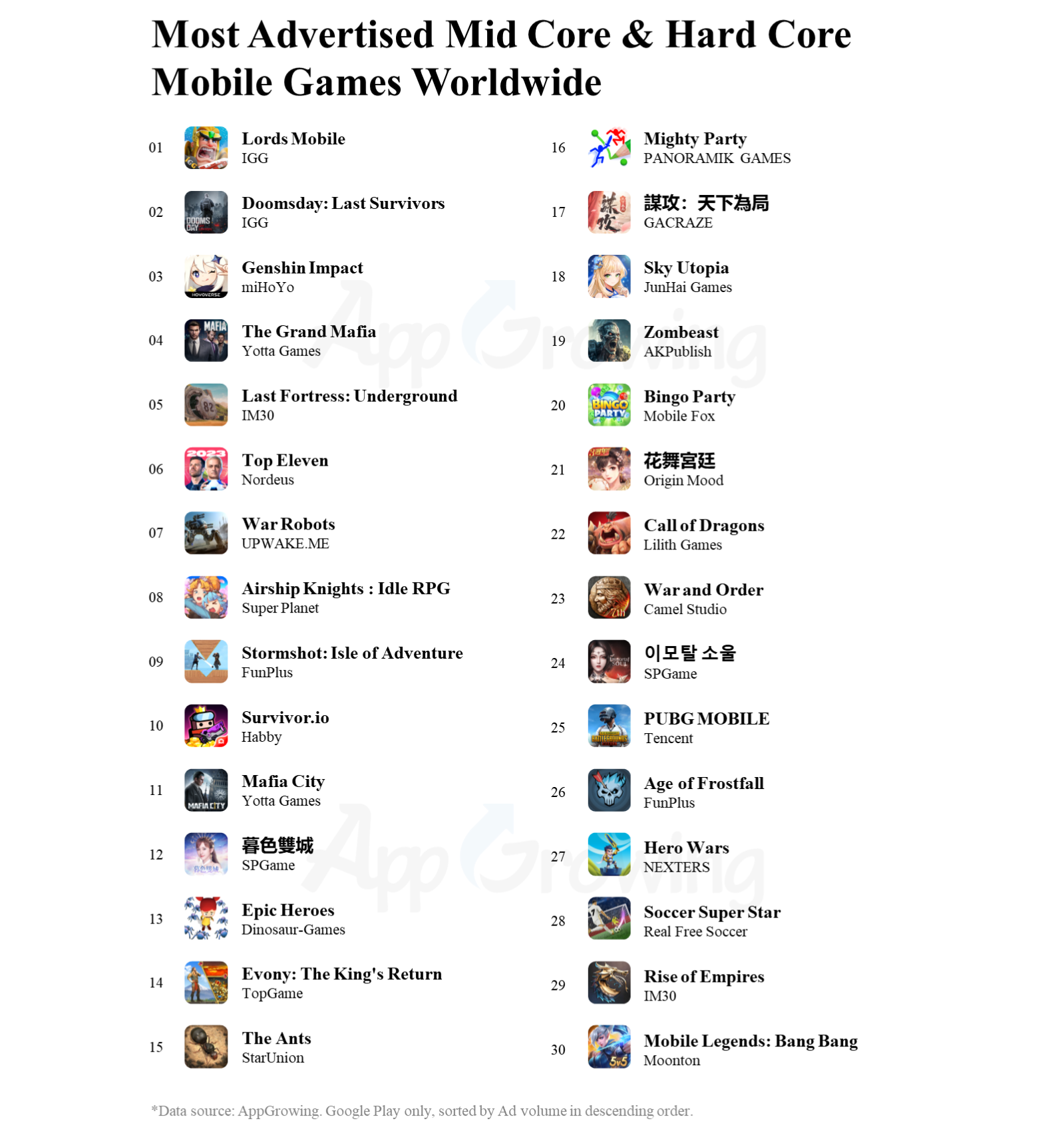 In the fierce competition of advertising, "casual/hypercasual gameplay ads" is a way to break through, while some games still focused on the brand power of quality to grow. On the other side, the Qatar World Cup fever has boosted Sports Games, even after the event, and brought Sports back into the industry's view.
Let's look at the ad ranking for a single market.
IGG's two SLG games still took the 1st and 2nd place in the ranking of Mid Core & Hard Core mobile game ad volume in Southeast Asia. Besides the SLG category, there are some "Xianxia" style fantasy MMOs on the ranking, such as NetEase Revelation and Doki Studio's 靈蛇奇緣. Such MMOs still have good competitiveness in Southeast Asia.
In terms of ad creatives, the Southeast Asian market, as a latecomer, has absorbed the experience from China on the one hand, and put the localization ability of Chinese products abroad to a new test on the other.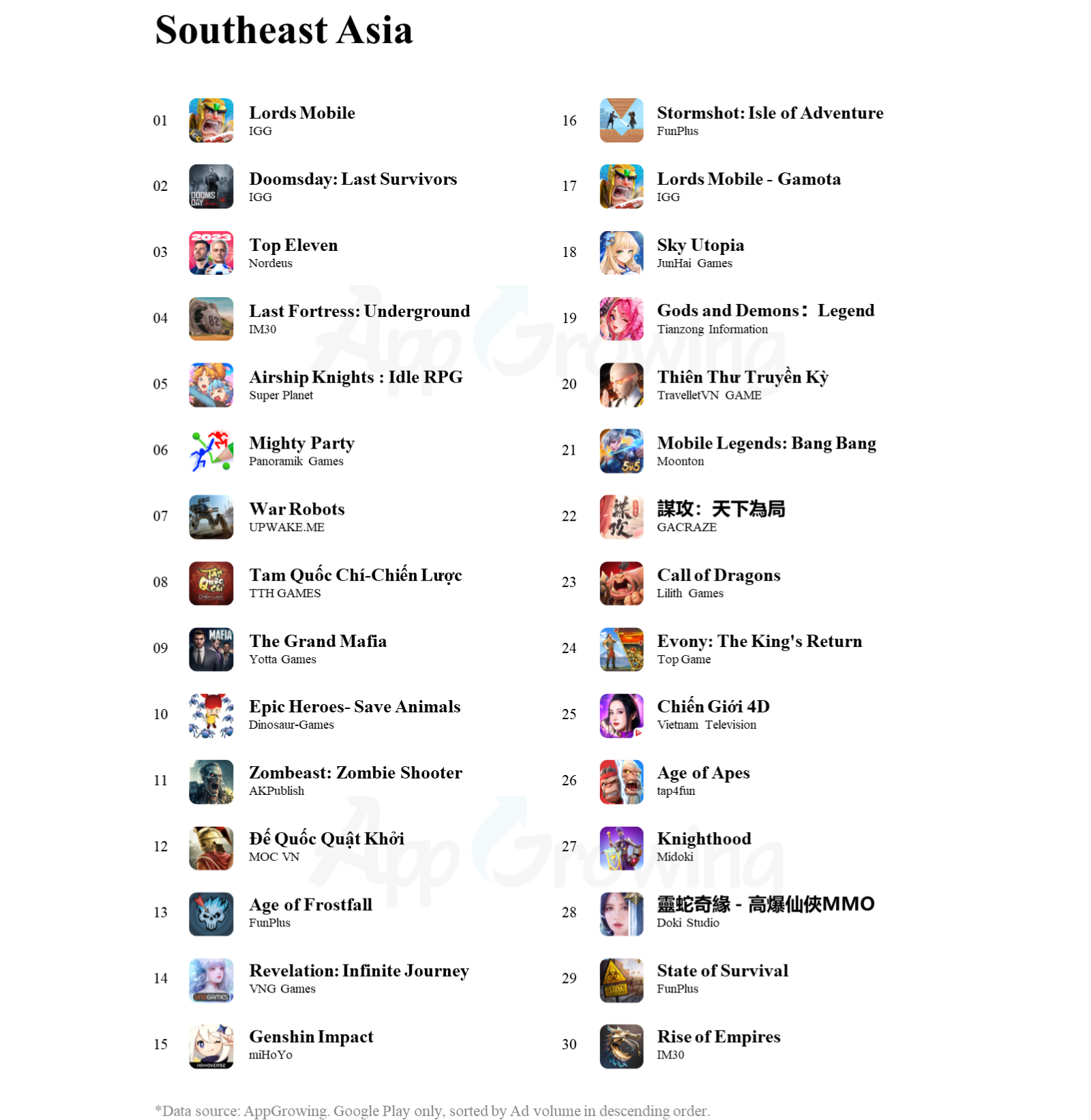 In North America, SLG is still the head of Mid Core & Hard Core games. Casino and Sports are also the main force of advertising. The survival theme is very popular and gradually merged with other gameplays. For example, Zombeast: Zombie Shooter, ranked 10th, is a zombie shooting mobile game rather than SLG.
In the trend of gameplay and theme style solidification, developers seek breakthroughs from the perspective of "casual/hypercasual gameplay ads", category integration, etc.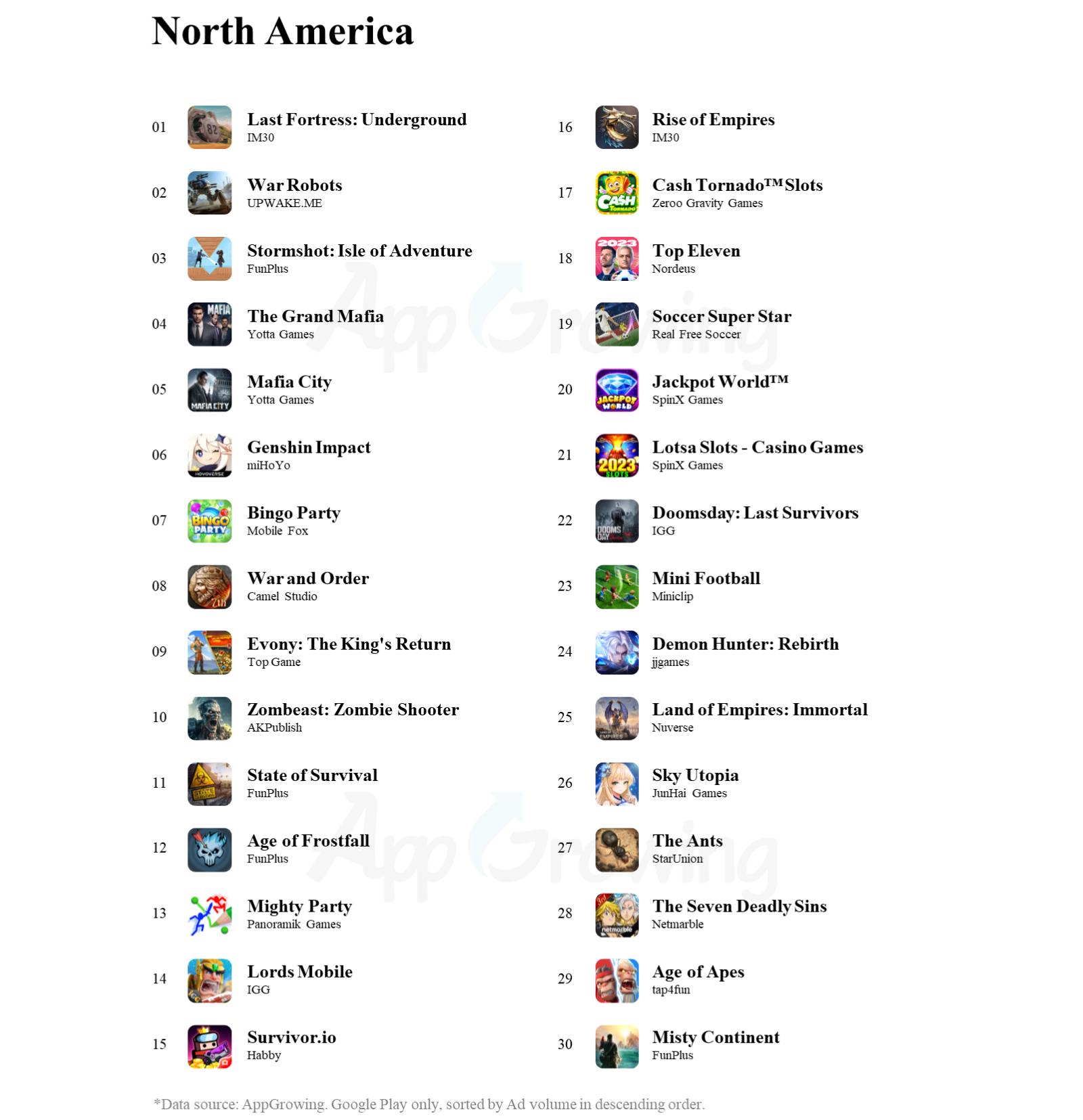 In Japan and Korea, Mid Core games account for a large proportion. Topping the ranking is Habby's Survivor.io. In terms of gameplay, there is a trend of diversification, including casual, sports, and doomsday survival theme and SLG, which are more popular in North America. In addition, games with local culture, such as Japanese-style anime games and Korean-style "M" series MMOs, occupy a major position in the ranking.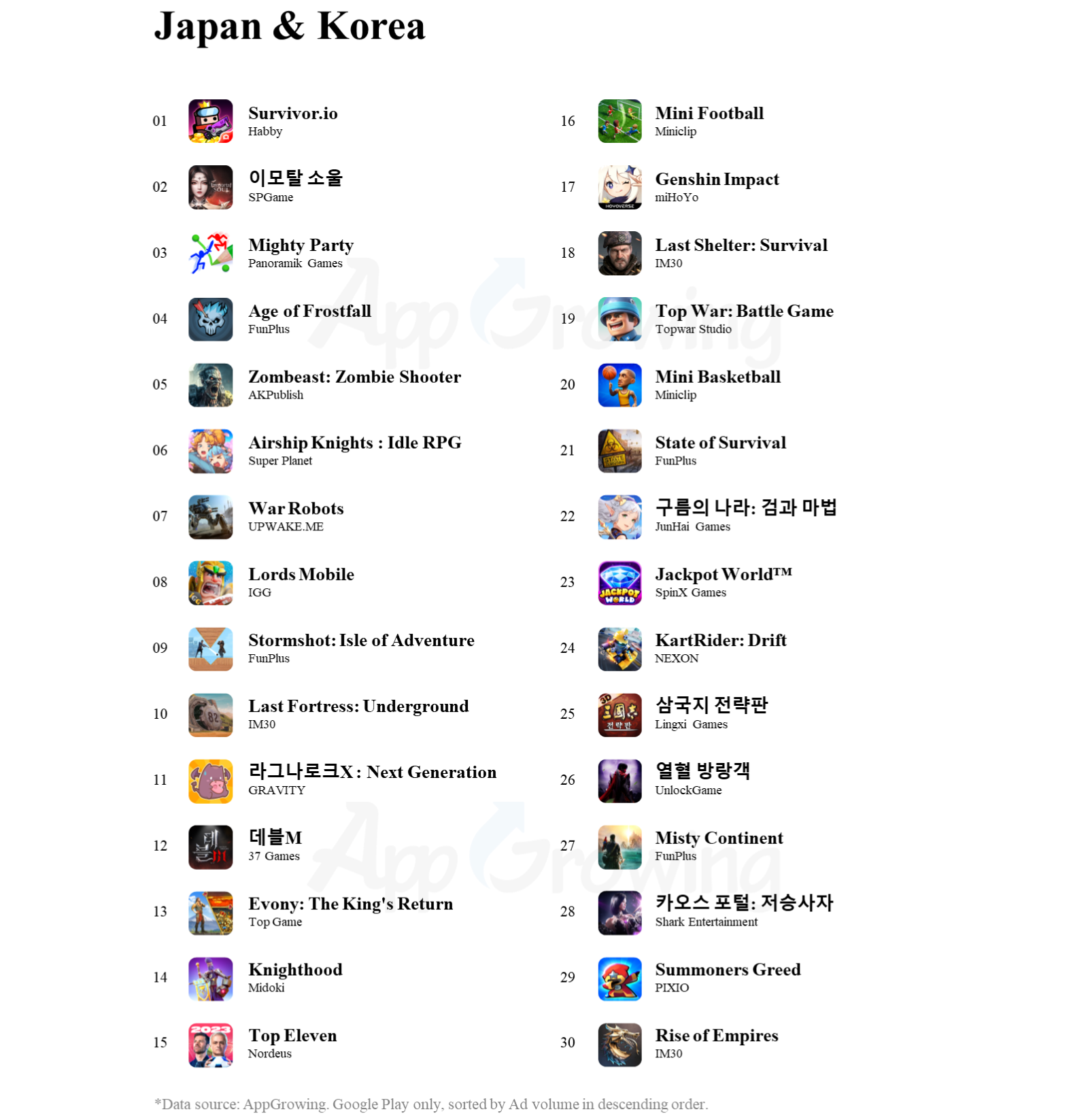 Compared with others, there are obvious differences in the listed games in Hong Kong, Macau and Taiwan of China in the ranking of Mid Core & Hard Core mobile game ad volume. RPGs took most of the seats in the ranking. Games involving Chinese specialties such as officialdom and palace performed well. The advantages of local games are in Casino games, for example, IGS has 3 games on the list.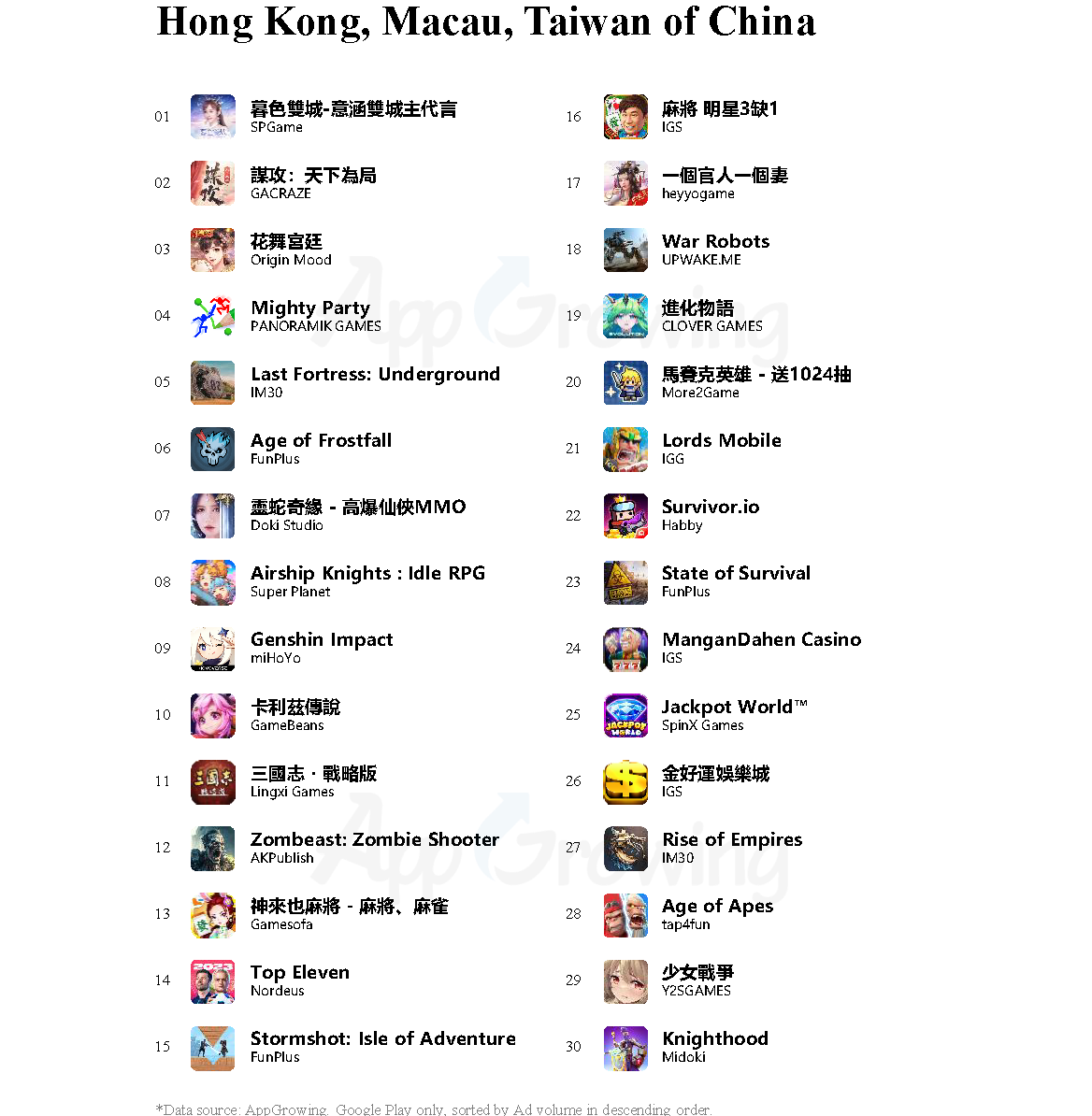 As an emerging market, Latin America shared a similar ranking chart with North America due to its geographical location and cultural attributes, such as IGG's Lords Mobile, which also took the top spot in the Latin American ad volume ranking. SLG and Casino games account for a large proportion. In addition, some 3D cartoon style mid-core games are on the list. However, the complex and diverse local customs and player preferences have become an important test for advertisers' localization capabilities.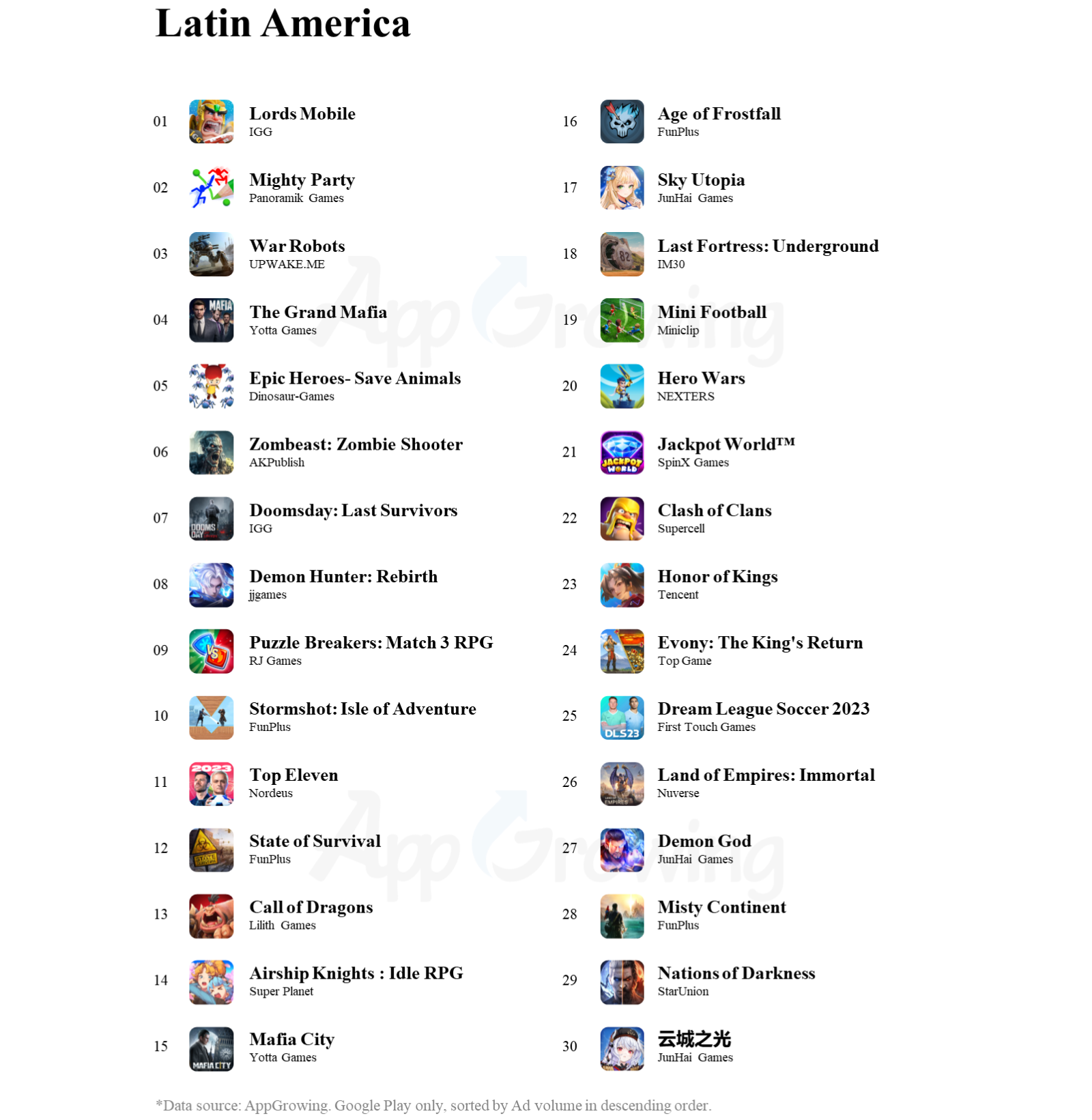 03 Games from China
Focusing on the Chinese game industry, Strategy and Role Playing are the main categories of advertising. The proportion of ad and app volume of both is much higher than the average. Especially in terms of ad volume, the two together accounted for nearly 40%. When it comes to app volume, the number of Role Playing games is higher than that of Strategy games.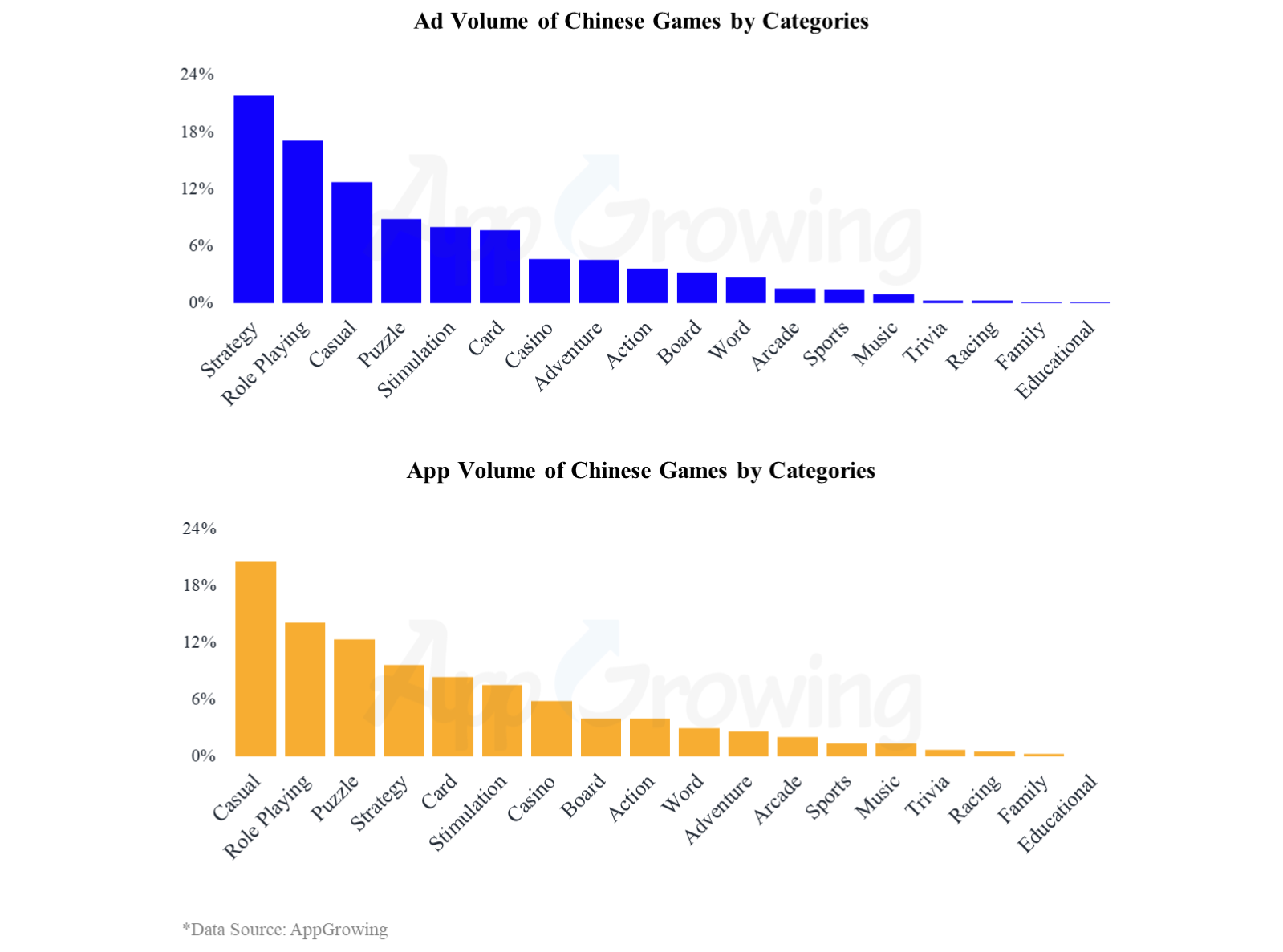 An analysis of the ad flow created by Chinese Mid Core & Hard Core games shows that Southeast Asia, North America, Europe, Hong Kong, Macao and Taiwan are the main target markets. They received over 50%ads. For categories, Strategy focuses on Southeast Asia, North America, and Europe. The distribution of RPG game ads is much broader. In addition to the above three, Hong Kong, Macau, and Taiwan also account for a considerable proportion.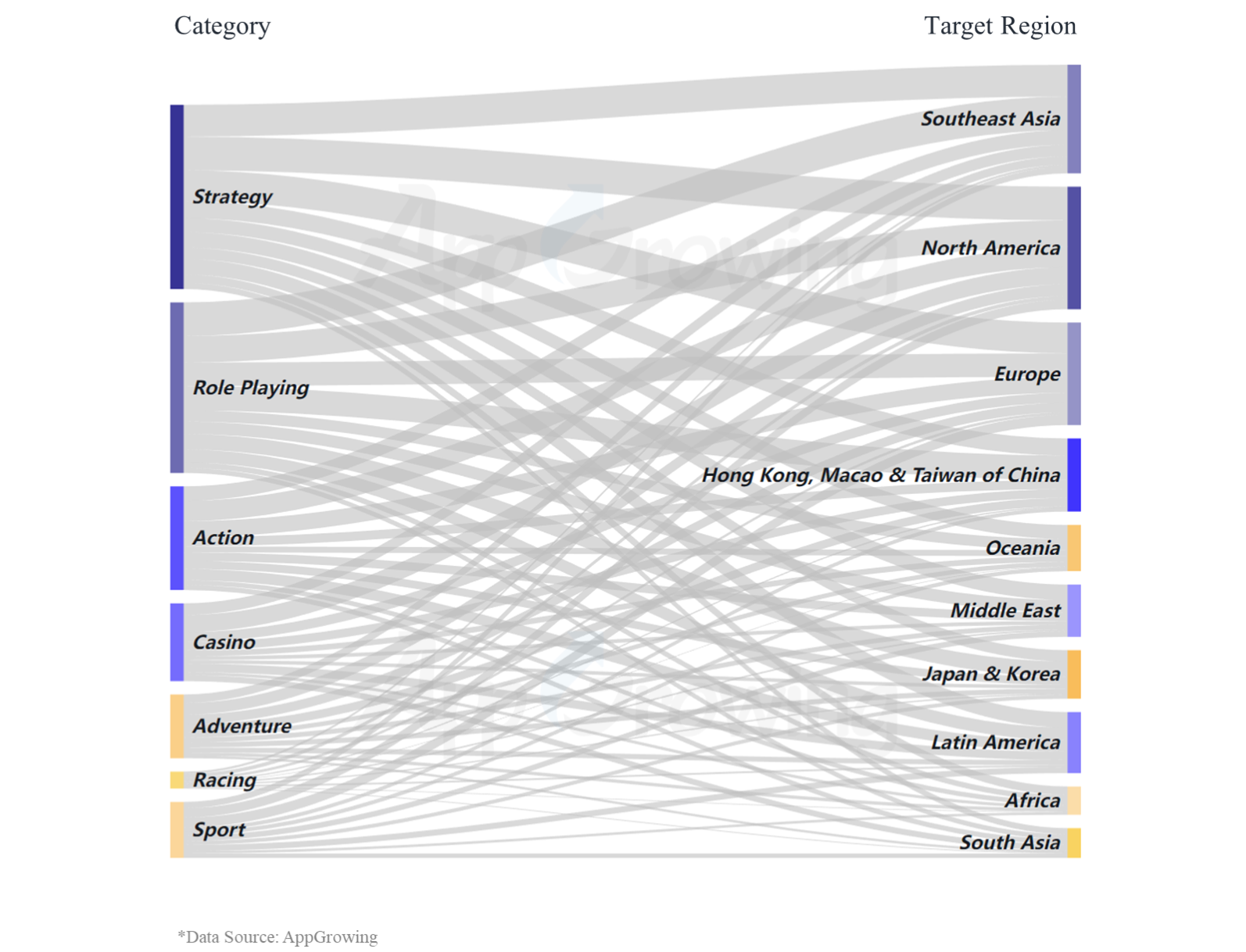 The Strategy and Role Playing categories occupy most of the seats in the ad volume ranking of Mid Core & Hard Core games from China, and only miHoYo's Genshin Impact is a non-SLG game in the TOP5.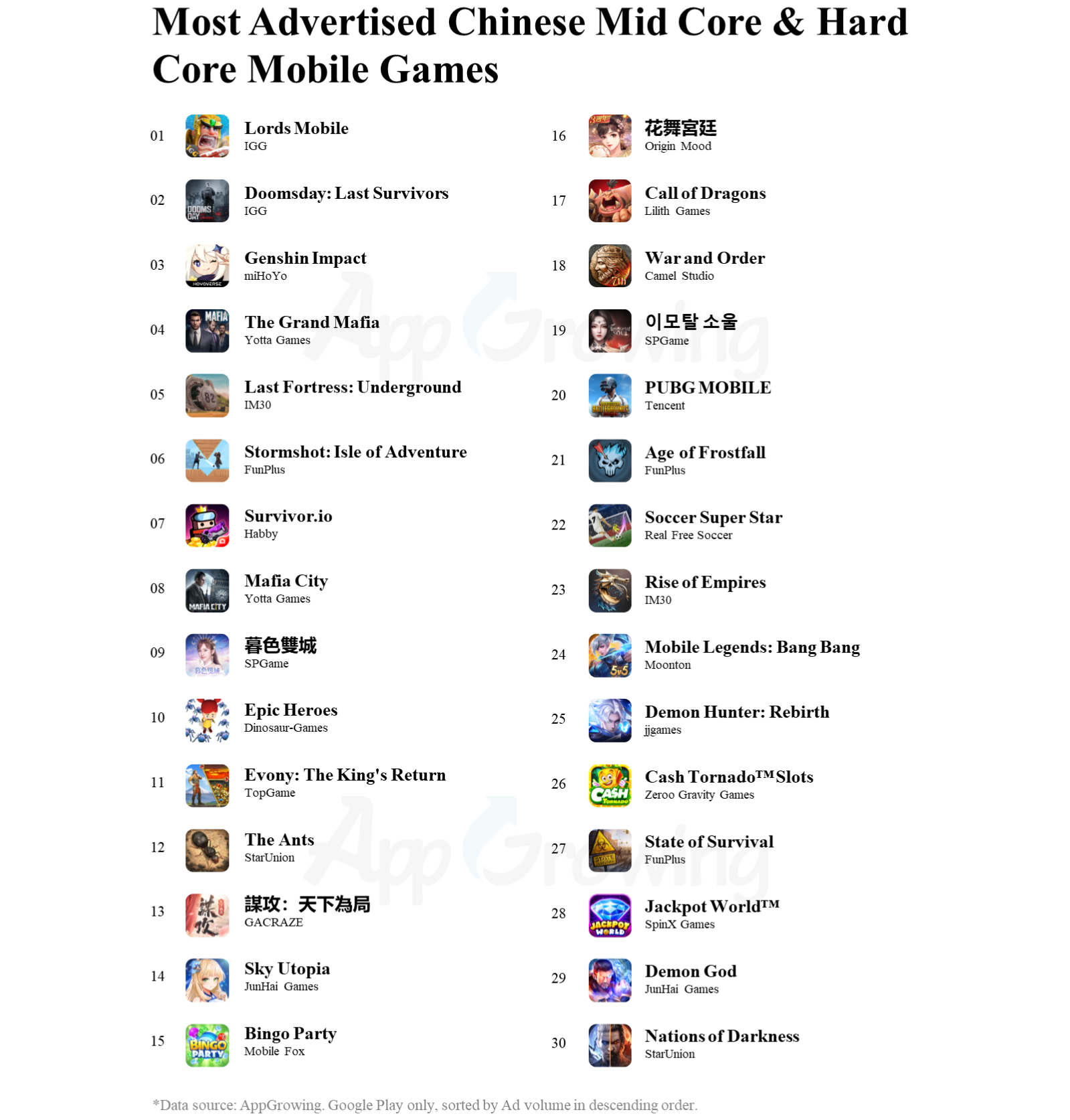 04 Excerpts of Case Analysis
Strategy: Stormshot: Isle of Adventure
Stormshot: Isle of Adventure by FunPlus is representative of the recent trend of hybrid gameplay advertising. Its creatives are showing the hyper-casual gameplay of "bullet shooting". This strategy has brought a substantial increase in downloads and revenue. Its main advertising target market is Europe and the USA, and its revenue mainly comes from the USA, Japan and Korea.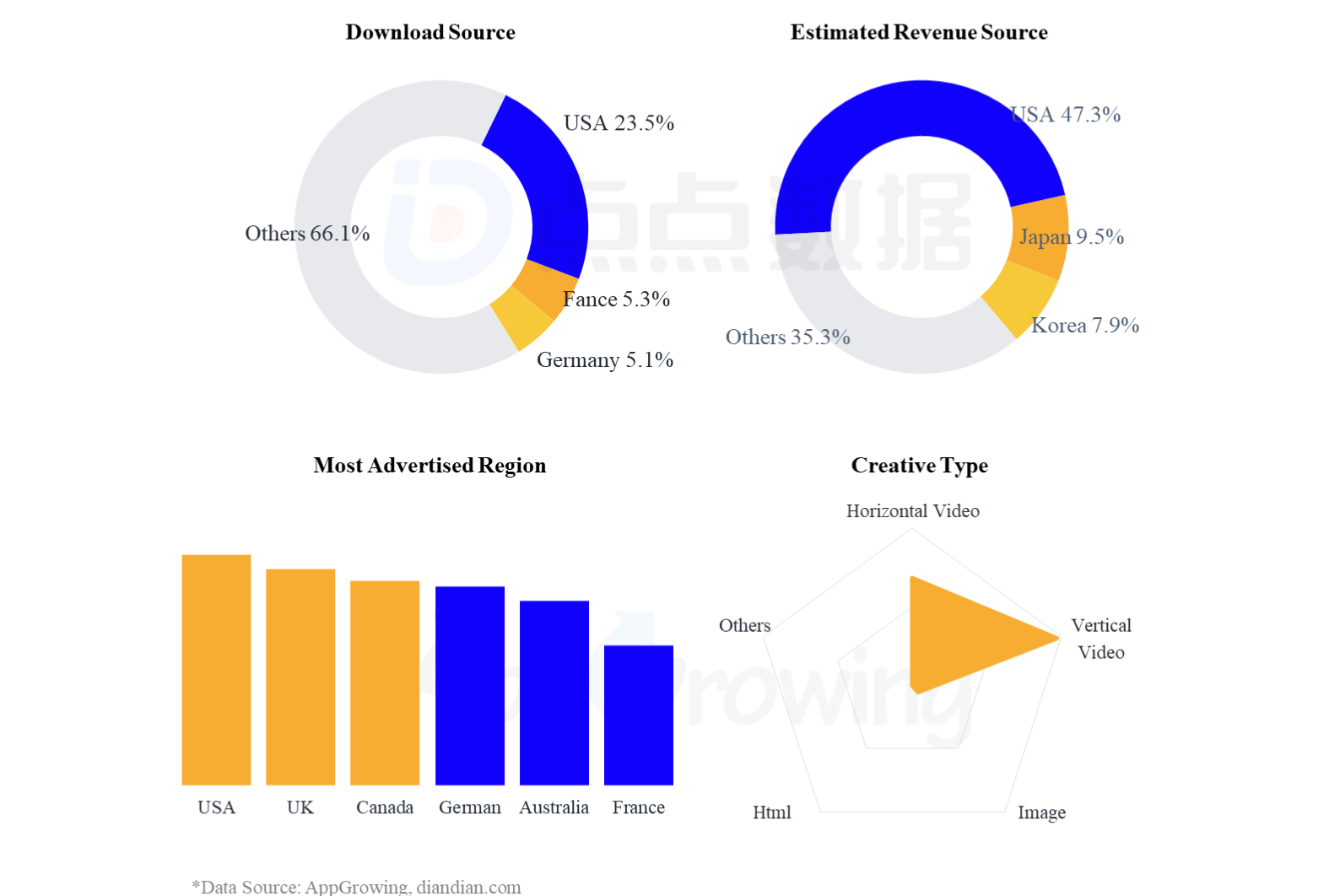 Action: War Robots Multiplayer Battles
War Robots Multiplayer Battles is a MOBA game from Russian developer Pixonic. It can be seen from the distributions of downloads, estimated revenue, and target regions that it does not rely much on a single market and has truly achieved a global ad strategy.
MOBA games have strong e-sports and social features, and acquiring users through advertising is a common operation method. Creatives of War Robots Multiplayer Battles are also taking many types besides videos.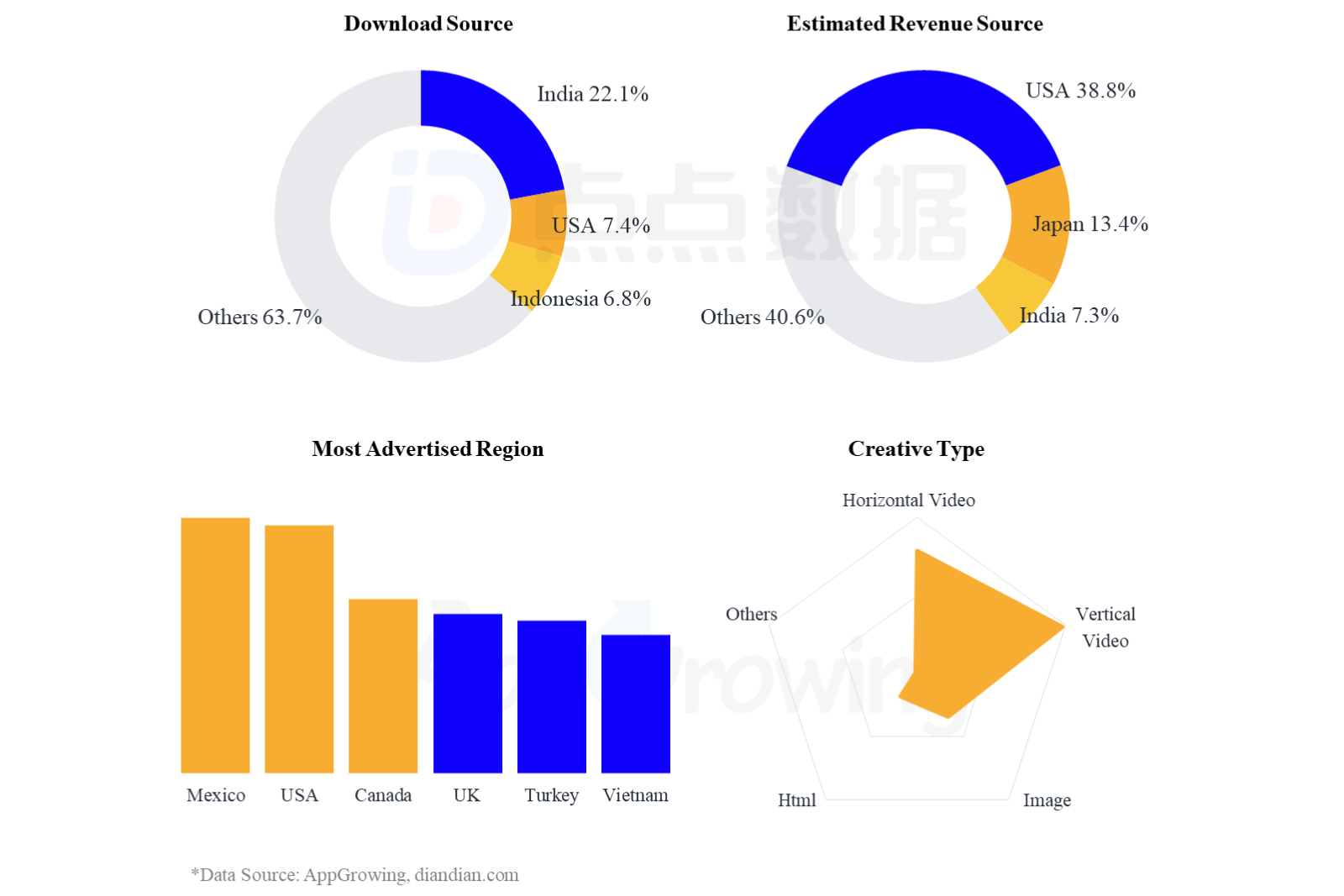 Sports: Soccer Super Star
The Soccer Superstar launched in 2021 took advantage of the 2022 World Cup in Qatar, and reaped downloads by updating the game screen and UI, combined with a large number of advertisements. The game adds strategy and shooting to campaign gameplay, complemented by tactical planning. The charm of fingertip football allows it to reach fans of all ages, from novice rookies to professional players.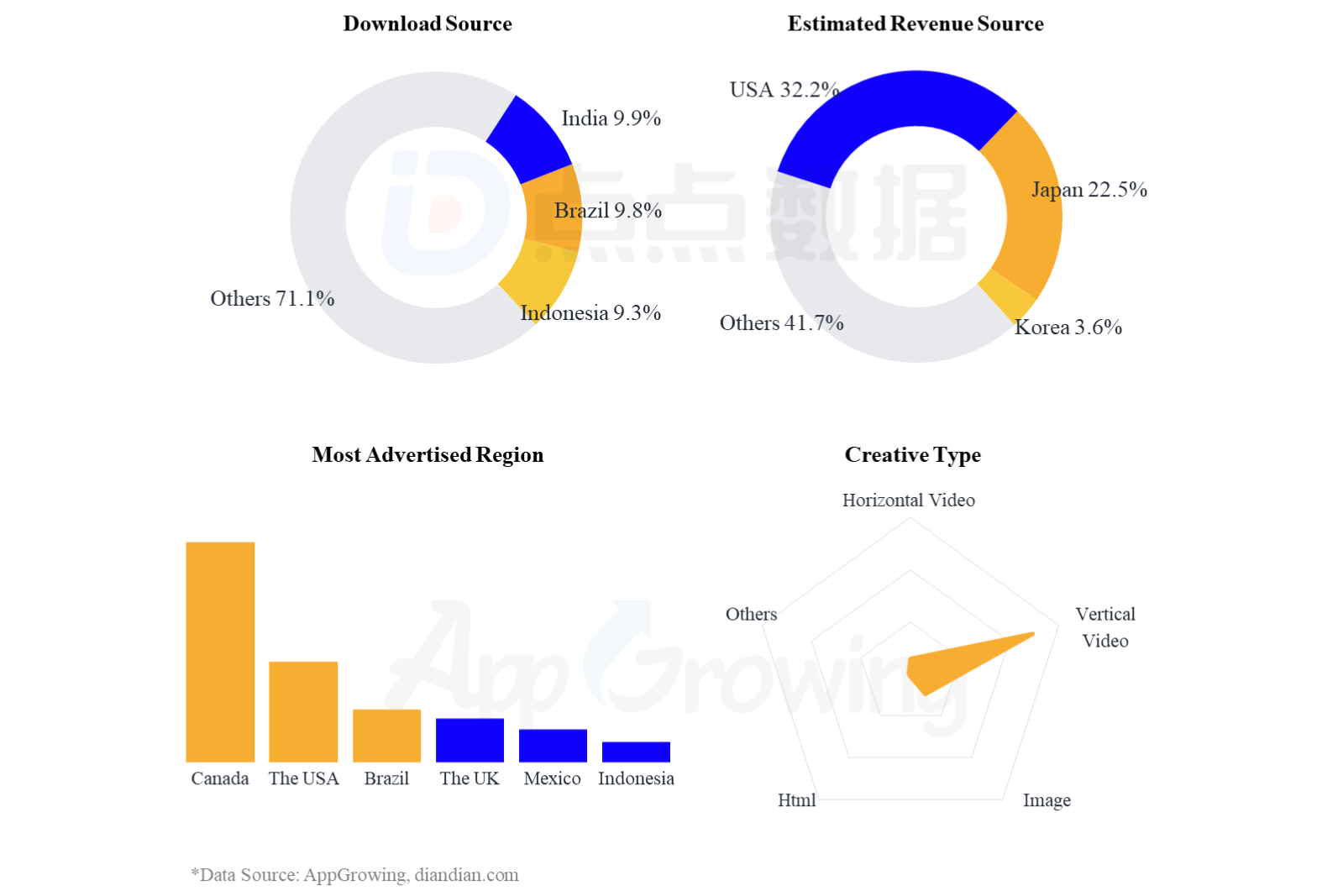 To get the FULL Report PDF FREELY, please follow us on Twitter or LinkedIn and DM us.
Twitter: @ag_global_
LinkedIn: AppGrowing