As the world's second-most populous country, India has a young population structure and a fast growth rate. It is a potentially huge user pool for the gaming industry. According to Statista data, in 2020, India's mobile gaming revenue reached US$ 2.4 billion.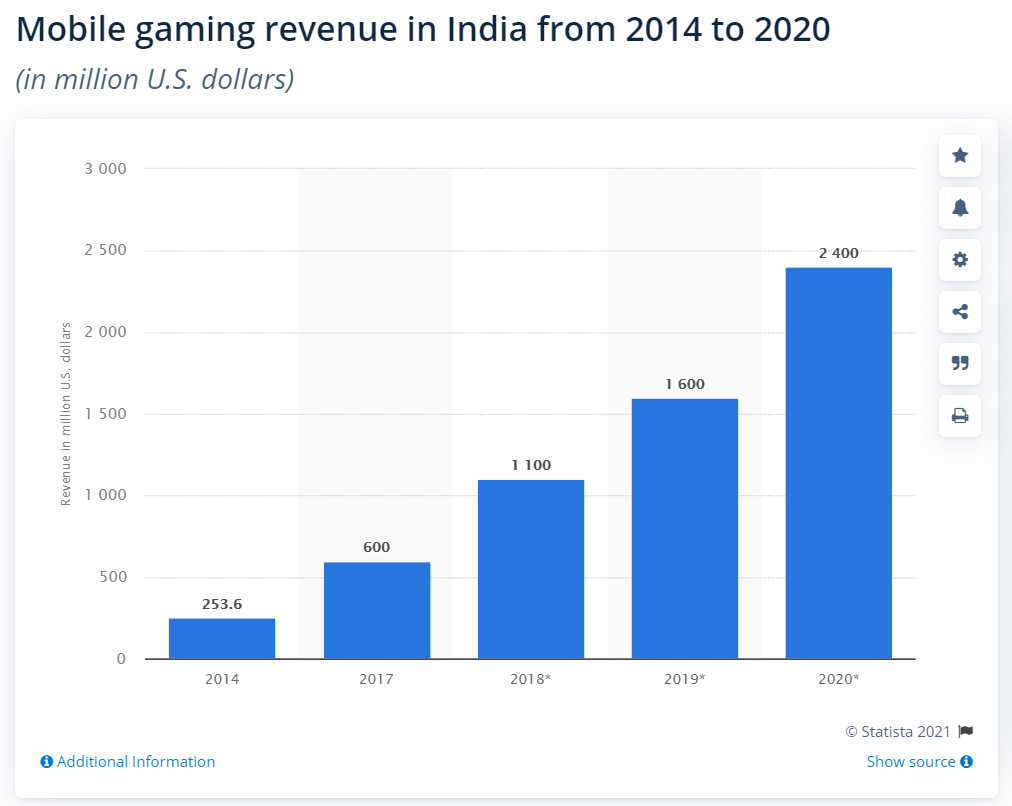 But for Chinese game makers, due to the volatility of bilateral relations and the frequent occurrence of "black swans", the Indian market is not regarded as the market of the top tier.
However, there is one type of game that has flourished in the Indian market, and even the epidemic has not affected its upward momentum. At the same time, it has attracted many Chinese game manufacturers to enter the game. This is the real money game.
According to the "Public Gambling Act", gambling is illegal in most states of India, but if a game is deemed to be a game of skill that relies on skill rather than luck, it can be excluded from the gambling prohibition, such as Fantasy Sports and Rummy games.
Although the legal nature of these games is still controversial, Internet giants with a good sense of smell have already begun to seize the opportunity.
Tencent, in 2018, was the lead investor in India's famous fantasy sports gaming platform Dream11. At the same time, Alibaba's Yabo Technology also launched Paytm First Game, an online game platform, cooperating with India's largest mobile payment platform Paytm. The platform also covers a series of real money games including fantasy sports, rummy, and other poker games of skill.
This article will focus on Real Money Poker Games, based on mobile advertising data monitored by App Growing Global, and analyze the operating strategy of this type of game in the Indian market from the perspective of media buying.
01
Rummy & Teen Patti
Rummy games have a long history in India and have become a popular form of entertainment before smartphones became popular.
Because players need to pay more attention to the flexible use of strategies in the game, Rummy is classified as a game of skill, which means that in India, users can legally play Rummy games, and manufacturers do not need to apply for a license to issue Rummy games.
The popularity of Rummy games in India can also be seen through the advertising materials. Some videos show people's love for Rummy games. In the gap between work and life, they will pick up their mobile phones to play Rummy.
Source: App Growing Global
Source: App Growing Global
Since real money transactions can be carried out legally in Rummy, the advertising materials of Rummy games often unabashedly display all kinds of money-related elements, such as gold coins, diamonds, and rapidly growing account balances, constantly suggesting that users can "make big money" through the game.
Source: App Growing Global
Some Rummy games will also add social features to the game, advertising from the perspective of casual gambling, highlighting themes such as "friends", "online chat", and "multiplayer competition" to gain more user groups.
Source: App Growing Global
Teen Patti is another kind of popular poker game in India.
Although it cannot be directly presented in the form of real money games because it is not a game of skill, the vague attitude of supervision has made manufacturers still monetize and achieve high turnover through means such as virtual currency exchange for cash.
Teen Patti has a high degree of overlap in the player groups with Rummy, and also shows a similar strategy to the Rummy game in terms of advertising and promotion.
Source: App Growing Global
By posting the withdrawal records, it is straightforward to tell users that this game can make money. Under the sluggish environment of the Indian economy due to the epidemic, it directly and rudely addresses the needs of users and quickly arouses users' desires.
Source: App Growing Global
The TVC in the form of interviews reflects that players of Teen Patti are spread across all walks of life, among which there are many high-end people with successful careers that further enhance the trust of players.
02
Unique Distribution Characteristics
The landing page of mobile games ads is usually the detail page in the app store, which guides users to download the game. But through App Growing Global, we can see that some real money game ads in India use different CTA.
Because Android devices account for more than 95% of the Indian mobile device market, the configuration is generally not high, and the app store rules are sensitive to real money games, Indian publishers usually do not rely on Google Play as much as game publishers in other regions.
Source: App Growing Global
On App Growing Global's website promotion page, you can find that some real money game ads do not direct users to the app store, but other web pages. Among these web pages, one part is a game that can be run directly on the website, and the other part is the product official website or marketing H5.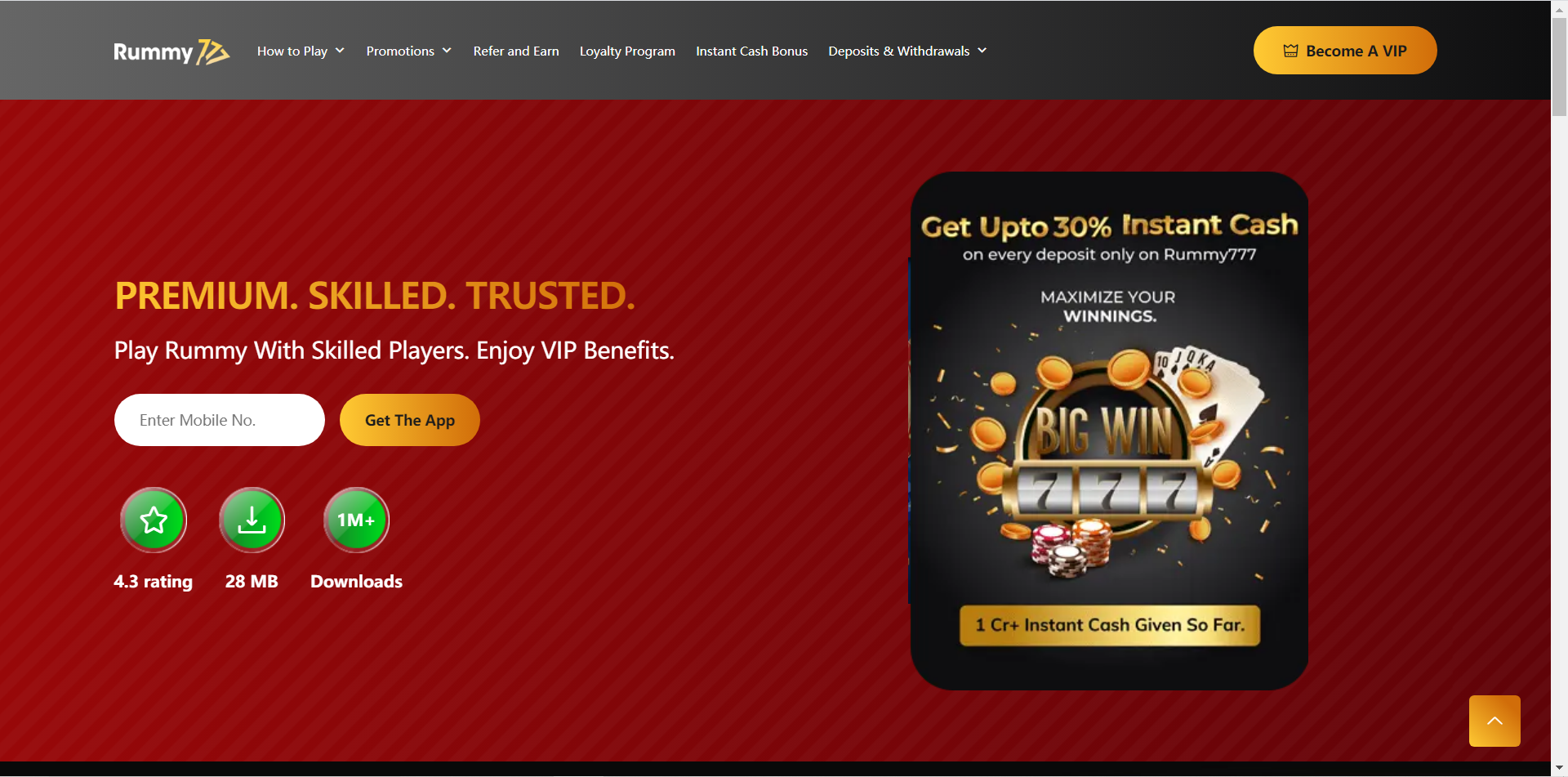 Source: App Growing Global
On these landing pages, users can fill in the phone numbers to get a text message with a download link or download the APK file directly from the website to install the game, thereby skipping the Google Play.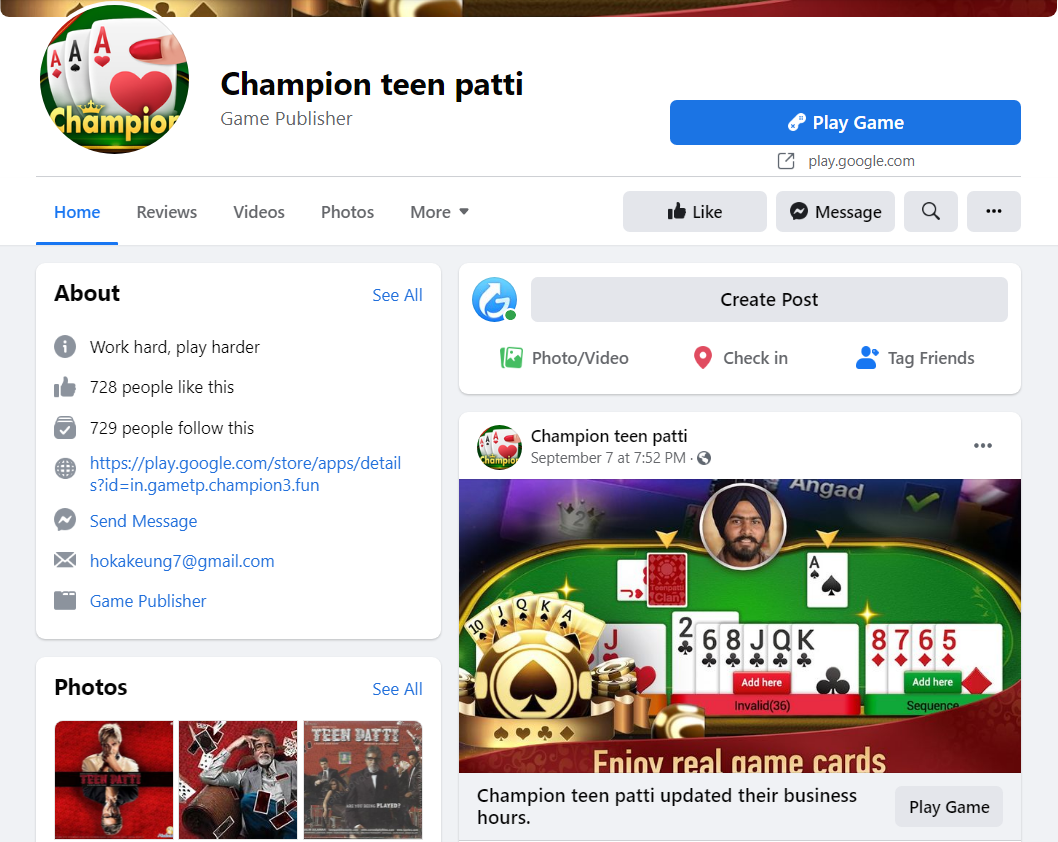 There are also some ads that take advantage of the social nature of Indians to direct traffic to the Facebook homepage, and then guide users to download and register through content on social media and make full use of the user's social network to spread the game.
03
Media buying suggestions for real money poker games in the Indian market
3.1 Multi-language Localization Processing
There are 10 large ethnic groups and several small ethnic groups in India. The language is very complex. There are 29 languages ​​spoken by more than one million people. Therefore, in addition to the official languages ​​Hindi and English, the language of the copy should be adjusted in time according to the user's preference, and regional localization should be done.
Some popular copywriting:
?GET ₹5000 Bonus + ₹500 Instant Cash ?जलद आणि सुलभ पेआउट्स ?100% सुरक्षित ?इन्स्टंट बँक पैसे काढणे ?व्हायब्रंट रम्मी टेबल्स
Marathi: GET 5000 Bonus + ₹ 500 Instant Cash ? Quick and Easy Payouts ?100% Secure Instant Bank Withdrawal Vibrant Rummy Tables
ರಮ್ಮಿ ಪ್ಲೇ ಮಾಡಿ ಮತ್ತು ದೊಡ್ಡದನ್ನು ಗೆದ್ ? ₹5000 ಬೋನಸ್ + ₹500 ತ್ವರಿತ ನಗದು ಪಡೆಯಿರಿ ? ವಿಐಪಿ ಕೋಷ್ಟಕಗಳು, ಬಹುಮಾನಗಳು ಮತ್ತು ಬೆಂಬಲ ? 20 ಮಿಲಿಯನ್ + ಆಟಗಾರರಿಂದ ಇಷ್ಟವಾಯಿತು
Kannada: Play rummy and win big ? 000 5000 bonus + ₹ 500 get instant cash ? VIP tables, prizes and support ? 20 million + loved by players
? GET ₹5000 Bonus + ₹500 Instant Cash ? வேகமான மற்றும் எளிதான அதிவேக பண ? பரிவர்த்தனை. ? 100% பாதுகாப்பானது மற்றும். ?ஃப்ரீ ரோல் & ரொக்கப் போட்டிகள்
Tamil: ? GET ₹ 5000 Bonus + ₹ 500 Instant Cash ? Fast and Easy High Speed Cash Transaction. 100% safe and. Free Roll & Cash Matches
3.2 Product Integration & Gameplay Innovation
Although the core gameplay is different, the user portraits of Rummy and Teen Patti are very similar. Both of them have high popularity. Some games will contain two or more other types of card games at the same time, covering a large number of search keywords to reach more users.
Source: App Growing Global
In terms of gameplay, most games choose to follow the traditional gameplay in reality, do not make too many adjustments to the core gameplay, and at the same time use non-core gameplay such as room creating, treasure chest, turntable lottery, and point rankings to enrich the user experience and improve retention and LTV.
The above is "Discover the Unexpected Operating Details of Indian Real Money Poker Games from A Media Buying Perspective", log in App Growing Global now to get more mobile advertising information.
The above-related advertising creatives are sourced from App Growing Global, which are only used for research and analysis. All Rights Reserved.