Are you looking for a fun and challenging word game that can boost your vocabulary and brain power? If so, you might want to check out Word Surf, a popular word game from Marul Games, a Turkish publisher. Word Surf is not only a great game for word lovers, but also a smart case for advertisers who want to reach a global audience. In this article, we will use the data and insights from AppGrowing to analyze how Word Surf has achieved its success through effective advertising strategies.
01 How Word Surf wins over players from different regions and markets with localized ads
Word Surf is a word game that combines crossword puzzles and word search. Players have to swipe and connect letters to find hidden words on the board. The game has over 4000 levels with different themes and difficulties, as well as daily challenges and rewards. Word Surf is available in 19 languages, including English, Spanish, French, German, Italian, Turkish, Arabic, and more.
According to the data from AppGrowing, Word Surf has created 14,714 ads in total, covering 42 areas and 11 media. The game has a strong presence in Europe, the Middle East, and Asia. On 2023-07-02, Word Surf entered the Top 10 Google Play charts in 16 countries, such as Sweden, Norway, Netherlands, Germany, Italy, Macao of China, Portugal, Turkey, Korea, Thailand, Israel, Iraq, Egypt, Bahrain, Saudi Arab, and Kuwait.
One of the possible reasons behind this impressive performance is that Word Surf adapts its ads to different languages and cultures. It features words or topics that are relevant or appealing to the target audience. For instance, some ads show words related to anime in countries where it's popular.
02 How Word Surf boosts engagement and conversion with playable ads and HTML formats
Another key factor that contributes to Word Surf's success is its use of playable ads and HTML formats. Playable ads are interactive ads that allow users to try out the game before downloading it. HTML formats are web-based formats that can run on any device or browser without requiring additional plugins or software.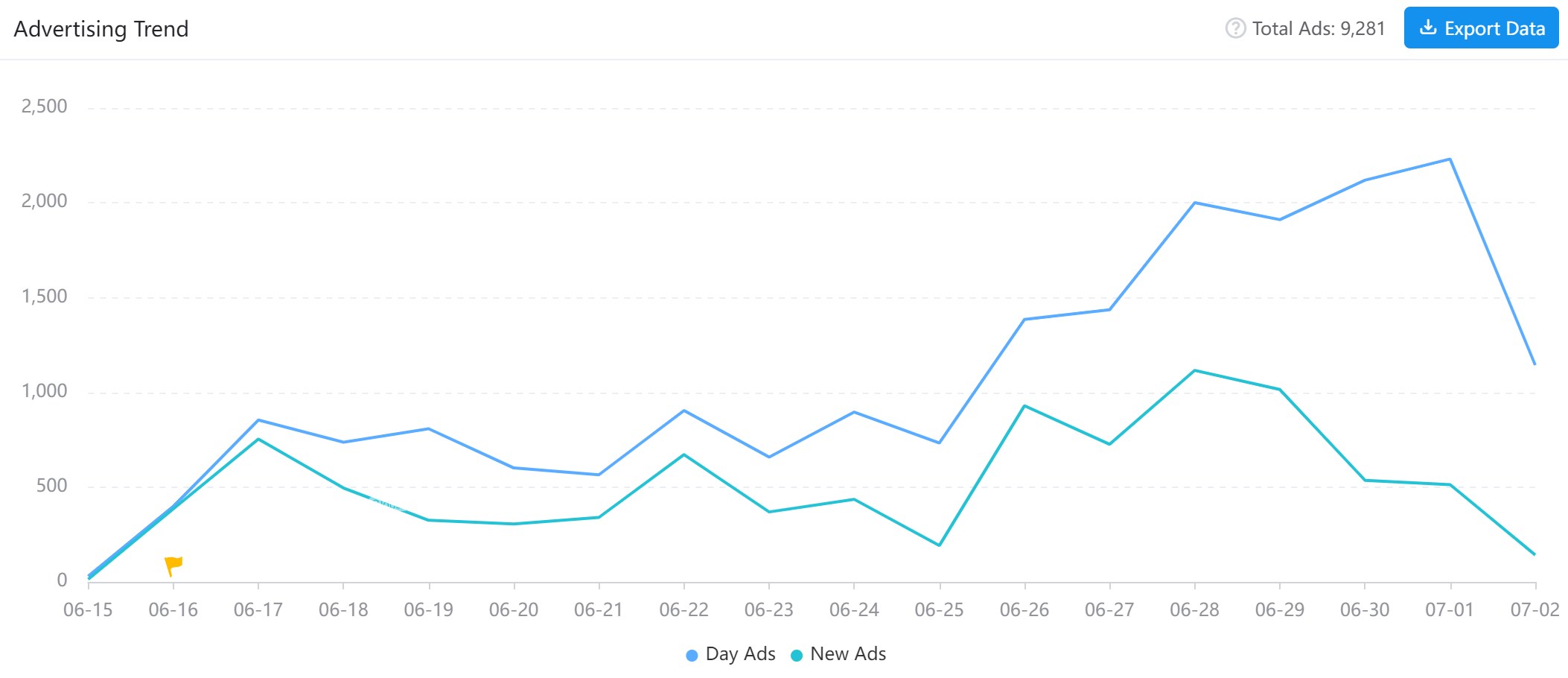 Source: AppGrowing
According to the data from AppGrowing, from 2023-04-04 to 2023-07-02, Word Surf created 10,763 ads in total, around 79.79% of which are in the form of playable. Ad creatives are mainly HTML. Its proportion is around 79.95%. The peak of ad volume in a single day was 3085, which appeared on 2023-06-23.

Source: AppGrowing
The advantages of using playable ads and HTML formats are obvious. They can provide a realistic and immersive experience of the game to the users. They can also showcase the features and benefits of the game in a more engaging and persuasive way. They can also reduce the friction and hesitation of downloading the game by allowing users to test it first. Moreover, they can optimize the loading speed and compatibility of the ads across different platforms and devices.
03 How Word Surf maximizes its ad distribution and performance on AppLovin
The last aspect that we will analyze is how Word Surf optimizes its ad distribution and performance on AppLovin. AppLovin is one of the leading mobile advertising platforms that connects advertisers with over 2 billion users worldwide. It offers various solutions for app developers and marketers to grow their user base and revenue.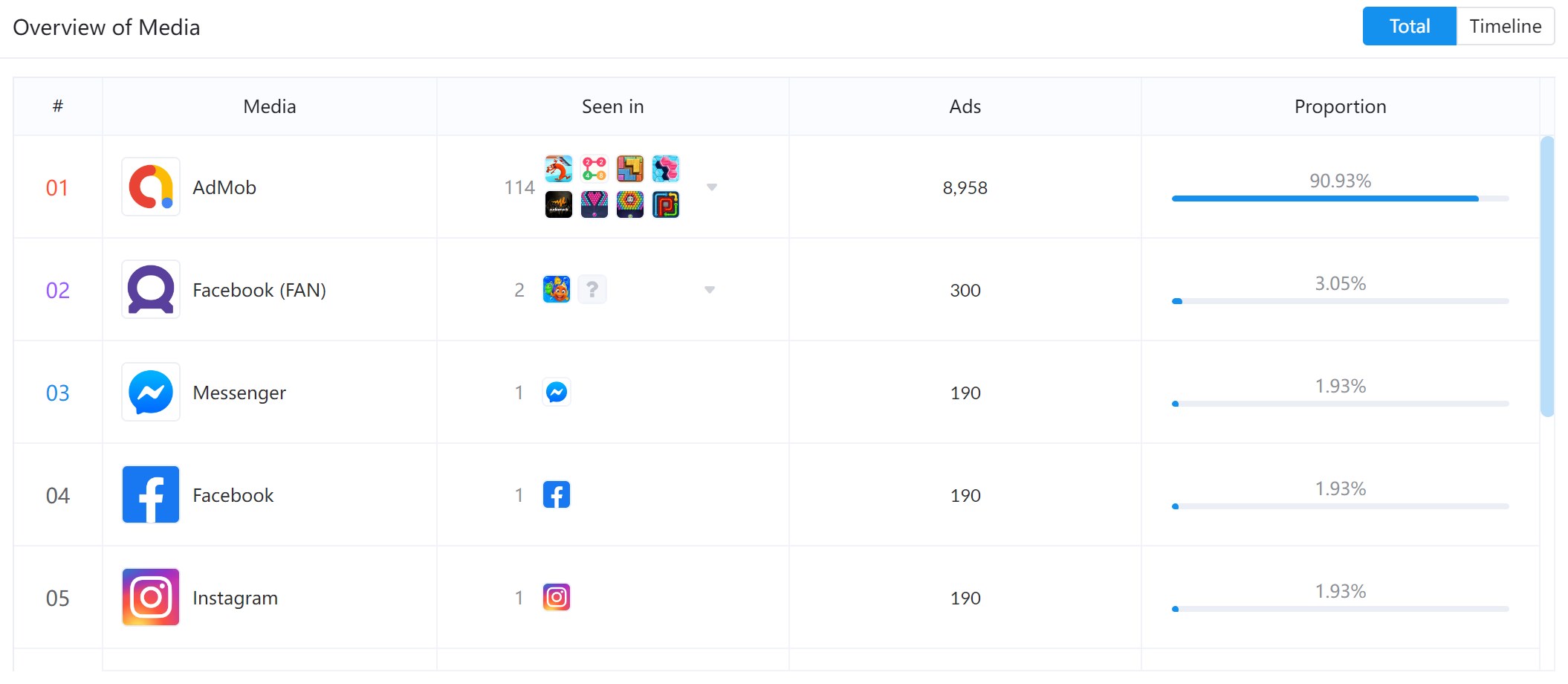 Source: AppGrowing
According to the data from AppGrowing, Word Surf so far advertised mostly on AppLovin, with a total of 53.22% ads. This indicates that Word Surf has recognized the potential and value of AppLovin as a partner for its advertising campaigns. By advertising on AppLovin, Word Surf can benefit from its large and diverse audience network, its advanced targeting and optimization tools, its rich and varied ad formats, and its transparent and real-time analytics.
---
*The content and media in this article are protected by copyright laws. Some information is cited from public sources for illustrative purposes only, with ownership retained by the original authors. This article provides general information only and is not meant as opinion or advice for specific situations.
Follow AppGrowing's social media accounts or register immediately at AppGrowing to learn more mobile advertising insights.
Meta description: