Vietnam is one of the fastest-growing and most promising markets for mobile games in Southeast Asia. For mobile games, it's crucial to utilize social media for marketing for their growth and monetization. Facebook is dominant as data published in Meta's advertising resources indicates that Facebook had 70.40 million users in Vietnam in early 2022. The huge user base has facilitated mobile game advertising, but the single platform has led to intense competition. Facing such challenges and risks, will Vietnamese publishers keep choosing Facebook?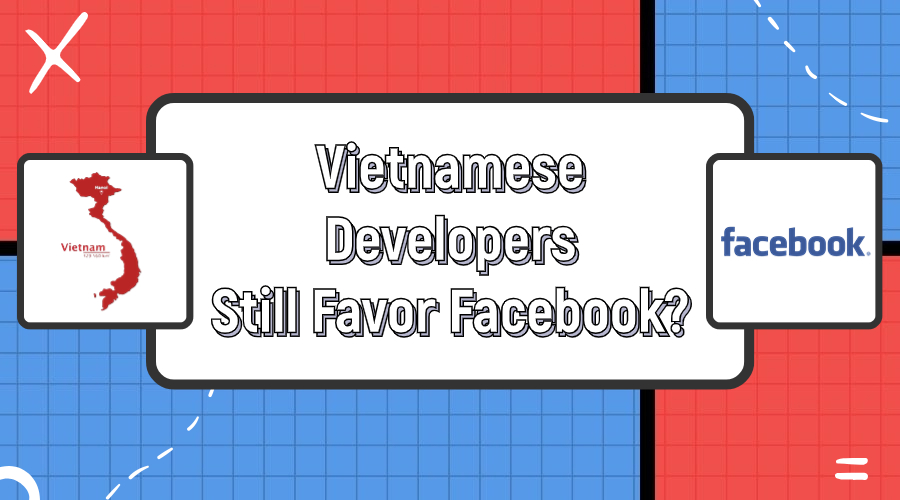 01 Why Do Vietnamese Mobile Games Prefer Advertising on Facebook?
The primary consideration for mobile game publishers is the large user base mentioned above. They can leverage Facebook to reach a wide and diverse audience in Vietnam, which is crucial for increasing brand awareness and user acquisition. Meanwhile, the game solidifies player loyalty as ads can be linked to Facebook pages and communities.
Secondly, there is a well-established commercial advertising system on Facebook. Facebook offers various ad formats and features that suit different marketing objectives and budgets. Video ads, playable ads, app install ads, carousel ads, collection ads, and more are supported for advertisers to showcase their games and drive engagement. Also, Audience Network, the official tool specially designed for marketers, allows mobile games to extend their reach beyond Facebook and into other apps and websites, as well as helps publishers measure and optimize their ad performance.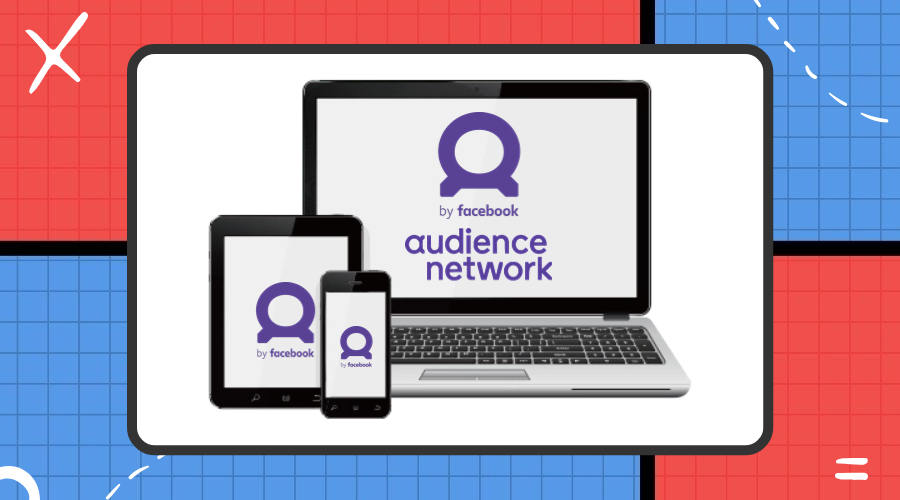 For leading mobile game publishers, the official business partnership with Facebook is also a key reason why they always side with it. Facebook provides a strong local presence and support in Vietnam, providing tailored solutions and guidance for mobile game publishers such as VNG, Appota, Adtima, and Yeah1 Network. Facebook also hosts events and workshops, such as the Facebook Gaming Summit Vietnam 2020, to share insights and best practices on mobile game marketing and monetization.
02 Who has Heavily Advertising on Facebook Recently?
According to AppGrowing, 64.8% of Vietnam's mobile game ads were posted on Facebook in 2023. Not only do local publishers such as Funtap, VNG, and SOHA Game trust Facebook, but international publishers such as Matchingham Games and Playrix also contribute a lot of ads.
When searching for the most advertised mobile game developers in Vietnam in the last 30 days on AppGrowing, the Top 3 are Matchingham Games, Playrix, and Fan Hua, which focus on light-core games such as Word, Puzzle, and Casual.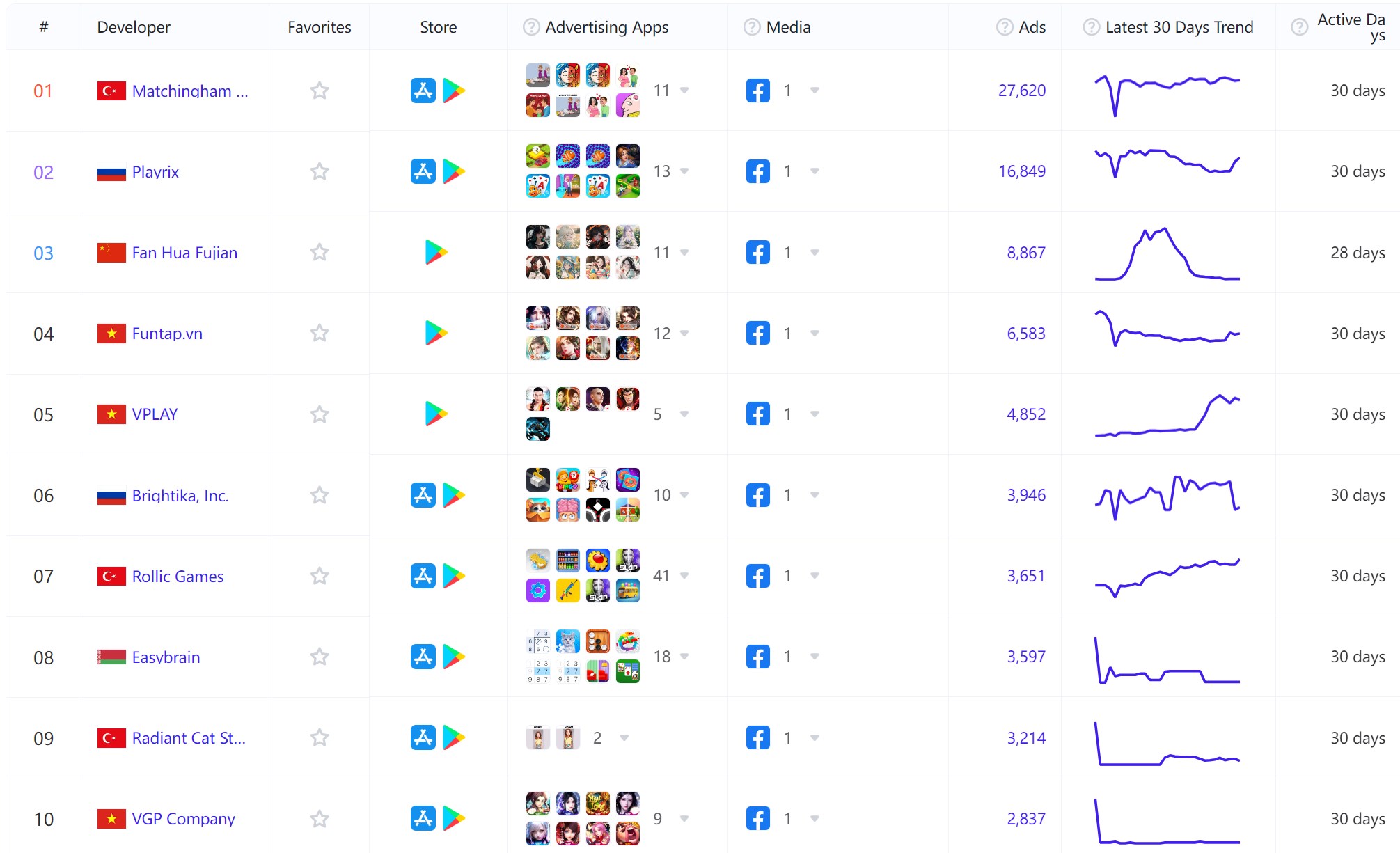 Source: AppGrowing
Generally, light-core games are easy to play and require little skill or time. Therefore, they can efficiently create ads in various forms to showcase the game content. Facebook is a perfect way to spread these commercials because there are full of potential players to be reached, which is the basis for the success of these games.
Playrix's Gardenscapes, for example, saw the most viewed ad in the last 30 days featuring an animated puppy and text. Such tactics as using a single art element and a download button to attract players may be the envy of non-light-core games.
Interestingly, none of the 3 publishers are local in Vietnam, which can be inferred that Facebook is one of the most rapid and effective ways to connect Vietnamese players with foreign games. Accordingly, the quality of localization of ads is one of the keys to enabling them to stand firm in the Vietnamese mobile game market.
The experienced Matchingham Games created many Vietnamese ad creatives for the star product Braindom: Brain Games Test here.
Differently, most of the top-ranked local publishers run large advertising campaigns for MMORPGs. The 3 Vietnamese publishers Funtap, VPlay, and VGP that made it to the Top 10 are both like that and market leaders.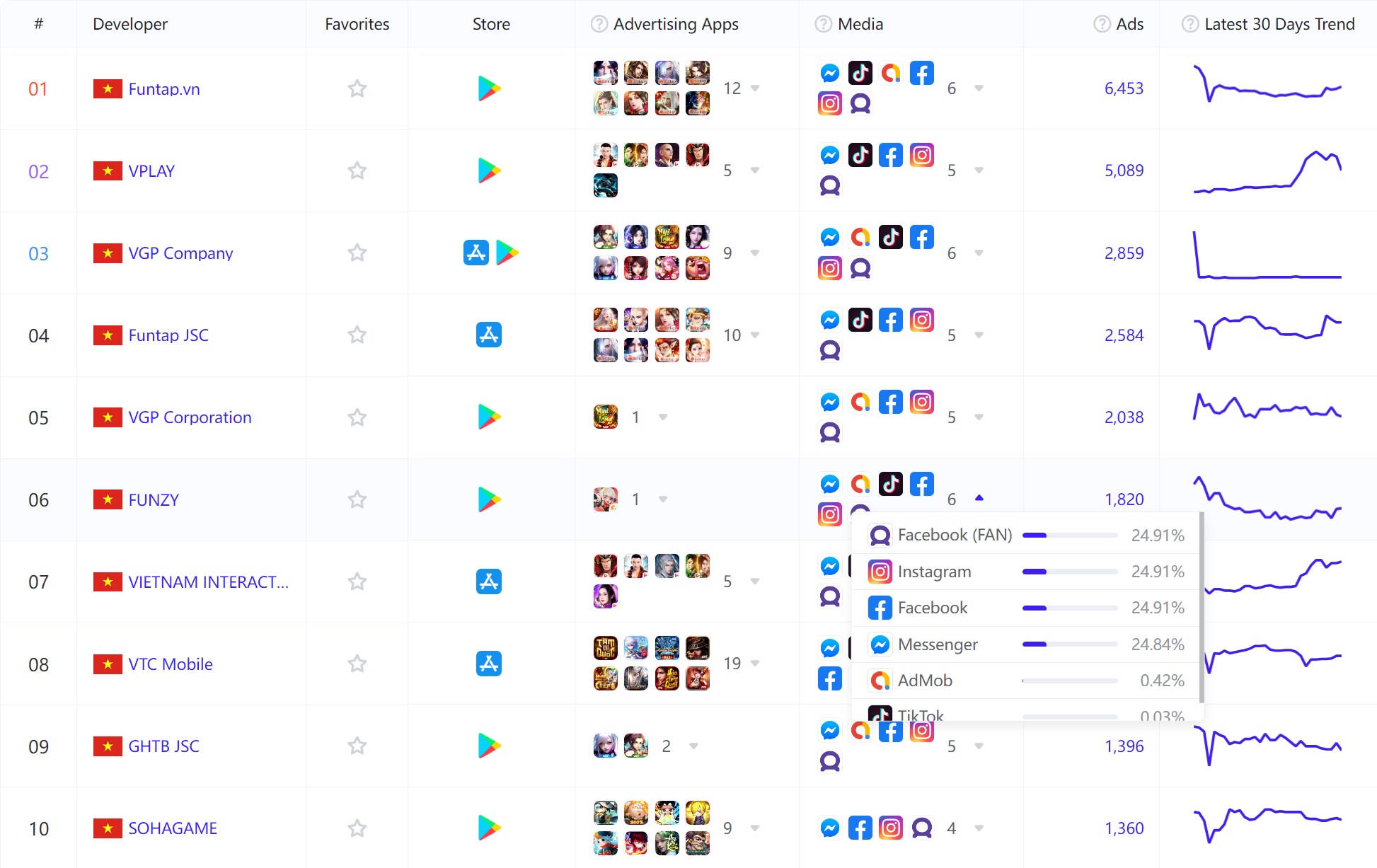 Source: AppGrowing
On the one hand, it is associated with Vietnam's well-developed MMORPG industry. On the other hand, the previously mentioned trust relationship that local publishers have built with Facebook contributes to the situation.
Social is one of the attractions of MMORPGs, and Facebook's ads and community can greatly amplify the element. However, fierce competition has caused publishers to shift from the usual display of characters and rewards to more distinctive advertising creatives.
The most observed trend is the expansion from Chinese Fantasy to other themes. For example, VGP's Cyber Punk-style mobile game Kỷ Nguyên GenZ, which was previously analyzed by AppGrowing, breaks out with mecha-style and futuristic art.
The video below is from VPLAY's new game Kiếm Hiệp 4.0, featuring the addition of behind-the-scenes footage. Gameplay scenes and character motion capture work-in-progress are interspersed to show players a more comprehensive view of the game.
Recently more mobile game genres have been well accepted in Vietnam, with Strategy, Card, Action, and Sports being the better developed ones. At first, the providers of such games came mainly from international publishers, especially those from China.
Whiteout Survival by Century Games is one of the examples of Strategy mobile games that have recently hit Southeast Asia. In general, the ads posted on Facebook for games of the genre are relatively disciplined. Showing the game itself and non-core gameplay is a common trick, as experience with MMORPGs suggests that users on the platform are less resistant to simple and straightforward advertising content.
Funtap is one of the furthest-reaching local publishers in terms of exploring game genres. Lục Giới AFK and Danh Tướng AFK, both recently released mobile games, are in the Strategy genre. As AppGrowing pointed out in its analysis of Lục Giới AFK, youthfulness is at the core of its recent advertising strategy, and live-action elements and memes are also common in Danh Tướng AFK's ad content.
ZingPlay Game Studios, a sub-brand of leading publisher VNG, shines in the Vietnamese Card mobile game. The mobile game of the same name, ZingPlay, focuses on real-life battles, and Facebook is the best runway for its advertising.
Sports mobile games are still led by ball sports-themed games from Miniclip, a Switzerland-based publisher. In the ads for the billiards mobile game 8 Ball Pool, the transition from a live-action performing advanced snooker skills to an in-game scene is the secret that drives players to download.
03 What is the Next Trend for Mobile Game Advertising on Facebook?
Now we can answer the initial question: Yes, Facebook is still currently favored by publishers running ad campaigns in Vietnam. One other thing is also clear: they are facing fierce competition and correspondingly great challenges.
Deciding on a more refined advertising strategy is more valuable for publishers who are performing well. Global publishers need to invest more in ad localization for Vietnamese players. Local ones should consider how to break the limitations of advantageous titles and bravely try unconventional ad campaigns.
Targeted and systematic ad creative production and advertising campaigns lead to more effective monetization. In-depth insight into competitors and precise positioning of target groups have become more important in the current Vietnamese mobile game market. Mass released stereotypical and patterned ad creative may not be better than a few finely crafted contents. Mobile game marketing teams need to improve their overall industry understanding and workflow efficiency to match the higher requirements.
More diverse genres are accepted is the trend in Vietnam's mobile game market. MMORPGs used to be the river that spawned many success stories, but now the waters seem a bit crowded. The fact that some publishers are turning their attention to Strategy, Card, Action, and hard-core games is a positive sign. Based on predictions from the Chinese market, which is also in Asia and has a strong influence on Vietnamese gaming culture, anime style and female-oriented games may be waiting to be sparked.