Vietnam is one of the most important and promising mobile game markets in Southeast Asia and even the world. According to Statista, the Vietnamese mobile game market revenue will reach $700M in 2023. The H1 2023 Global Mobile Game Advertising Report by AppGrowing points out that Vietnamese developers have made the Top 3 in both Game App Volume and Ad Volume. For mobile game developers and marketers, it's critical to follow the trends of Vietnam market, especially the ad campaigns of Vietnamese developers and publishers.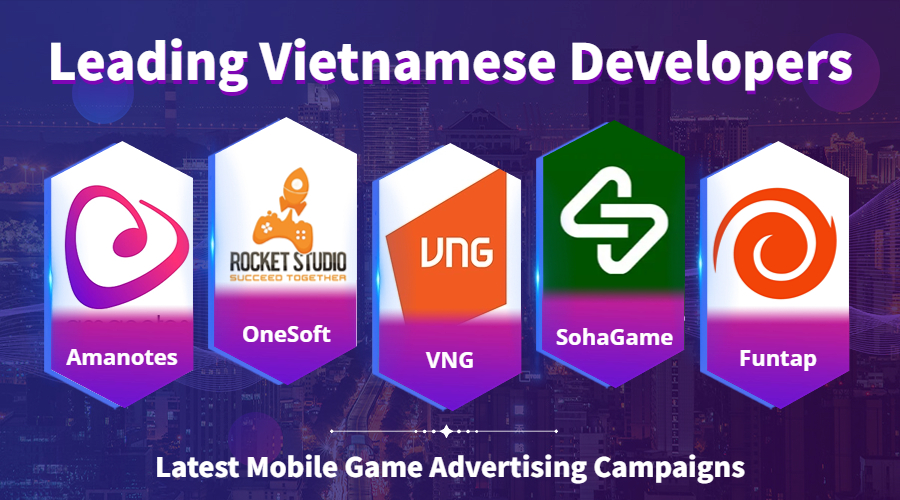 01 Amanotes: The Leading Vietnamese Publisher in Music & Hyper-Casual Mobile Games
Amanotes is the largest music mobile game publisher in Southeast Asia. The Vietnamese company specializes in creating and publishing interactive music games, with Magic Tiles 3, Tiles Hop, and Dancing Road as its iconic titles. The three have been released for years and still remain on the top of the App Store and Google Play charts in more than 20 regions, standing out as the evergreens of music mobile games.

Source: AppGrowing
In July 2023, Amanotes announced that it have reached 3 billion downloads, likely thanks to its continuous and massive ad campaigns. According to AppGrowing, it had 10,948 ads in the last 30 days, which is No. 3 among all Vietnamese developers and No. 1 on the App Store. Recently, it spends the most on the star game Magic Tiles 3, with ad volume peaking on August 5 at 1,039.
In early 2023, Amanotes released a new game, Duet Cats, which was an immediate global success, topping the App store charts in at least 30 countries including the US, Canada, Japan, Korea, and the UK. It is clear that Amanotes possesses a strong dominance in music mobile games. Unlike the previous minimalist and electronic art style, the new game is designed around cute animated cat images.
Source: AppGrowing
02 OneSoft: Publisher of Popular Casual Games & the Funder of Falcon Games
Airplane shooting game may be one of the oldest popular casual games, which is familiar to gamers who have experienced the 3G era. OneSoft has made a lot of mobile games in the genre, so that people nowadays can play the classic game on their smartphones. 1945 - Airplane Shooting Game is one of the biggest successes. Years after its release, it kept be on the Top Free Chart on App Store and Google Play in over 10 regions. There's no halt to its massive advertising campaign, which reached 63,912 ads in the last 90 days, focusing on Asian regions such as India, Japan, and Singapore.
Source: AppGrowing
In addition, OneSoft has established Falcon Game Studio to develop more kinds of lightcore mobile games, such as Adventure game Bob's World and Arcade game Cooking Star. The most popular one is Color Water Sort Woody Puzzle, which has posted 21,967 ads in the last 3 months. Like most games from OneSoft and Falcon, it mainly leverages the traffic on AdMob.

Source: AppGrowing
03 VNG: the Most Comprehensive Vietnamese Publisher of Mobile Games
VNG is one of the largest scale mobile game publishers in Vietnam. With Lightcore games such as Casual, Midcore games such as MMORPG, and Hardcore games such as Action, VNG has published almost all types of mobile games. It is worth mentioning that VNG has especially established a brand ZingPlay, dedicated to publishing Casino games, which is distinguished in Vietnamese mobile games market. The eponymous game ZingPlay, Buraco Zingplay Plus and iCá - Bắn Cá are the 3 most representative products.
Source: AppGrowing
On August 20, VNG's new game Metal Slug: Awakening was released. Since its pre-registration from July 15, it gradually scaled up the ad campaign, with more than 8K ads in a month. It immediately topped the App Store Game Chart in Vietnam after its release. It also stayed in the Top 10 in Hong Kong, Macao & Taiwan of China and other Southeast Asian regions where it heavily advertised. According to the Stage Analysis of AppGrowing, Metal Slug: Awakening basically kept the same ad strategy in terms of ad creative type, ad region and media selection before and after release.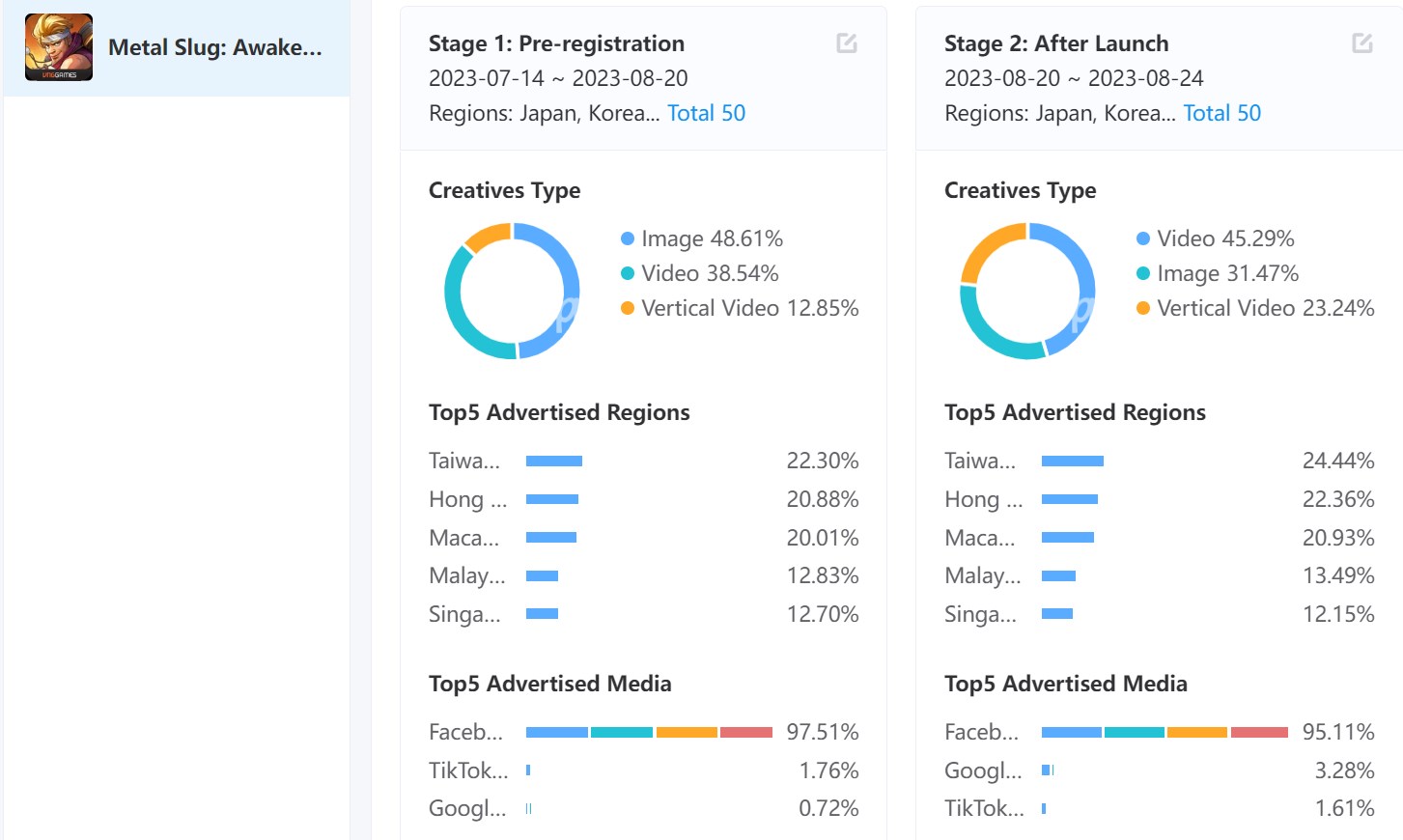 Source: AppGrowing
04 SOHAGAME: Leading MMORPG Publisher Seeking for Chances in Casual Games
Publishing more than 30 popular Mobile MMORPGs, SohaGame is a Vietnamese publisher known for this genre. The names familiar to Vietnamese gamers such as Đại Vương Cứu Giá, Đại Bang Chủ, and Đại Náo Ô Long Viện are the pride for SohaGame as a frontrunner. It is Hoa Và Kiếm that it has recently invested a lot of in advertising. In the last 90 days, the game has generated 1,375 ads. According to AppGrowing, the game has posted most ads on Facebook social media with corresponding in-feed ad format, which is verified to be the most effective for MMORPGs' Ad campaigns. Moreover, it didn't tilt to either side of image or video, but rather divided its budget equally between the two.

Source: AppGrowing
Surprisingly, a Casual game Gun X Mobile has seen 1,193 ads in the last 3 months, which is about reach Hoa Và Kiếm, and even exceeds it as the most advertised game from SohaGame on App Store. While people may be unfamiliar with such a SohaGame, it has shown maturity in Casual game advertising. It has created a number of live-action videos for Gun X Mobile that appeal to different audiences than MMORPGs. The video below, for example, begins with a street interview, a format that attracts a much wider group of players than a direct introduction to gameplay.
Source: AppGrowing
05 Funtap: Another MMOROG Empire Exploring more Fields
There's probably no Vietnamese Mobile MMORPG player who doesn't know Funtap. The publisher has released many popular games and maintained a high release frequency in recent years. It's one of the strongest competitors in Vietnam's mobile game market. The star game, Tình Kiếm 3D, is the most advertised Funtap mobile game in the last 30 days with 2009 ads. It's followed by Hoa Kiếm Mobile, a new game released in June this year, with 899 ads posted and the everyday ad volume at around 300. Also a new mobile game released in 2023, Ever Song: Cổ Tích Nổi Loạn, an anime-style MMORPG, had massive ads within the first month of its release, and then drastically reduced the scale. AppGrowing has analyzed the ad campaigns of the two games before.

Source: AppGrowing
Although most of its games are MMORPGs, other genres have also achieved brilliant results with Funtap's work. For example, Ant Legion: For The Swarm, a strategy game by Chinese developer 37 Game, is a huge hit in Vietnam, perennially sitting in the Top 10 on the App Store and Google Play. Ant Legion is the the best argument when anyone doubts Funtap's ability to succeed with non-MMORPGs.
Source: AppGrowing