Published by VGP, Vietnam's first post-doomsday style MMORPG Kỷ Nguyên GenZ (Gen Z Era) was released on July 13th. According to AppGrowing, the game has topped App Store and Google Play and consistently stayed in the top 20 and top 10 of each download chart respectively. Massive advertising made it the most advertised Vietnamese developer in the last 30 days.

Source: AppGrowing
01 Ultimate Niche: Cyberpunk Art of Kỷ Nguyên GenZ
If someone says that Vietnamese mobile MMORPGs are ruled by Chinese-fantasy theme, no one will doubt it. But that doesn't mean that other themes and art styles can't win. In recent years, more genres of MMORPGs have been born in Vietnam, and some of them have gained impressive results, such as the anime-style Chiến Thần AFK (God of War AFK), which was released by VNG a while ago. Ambitious developers would be proud to break out of this seemingly solidified thematic ecosystem.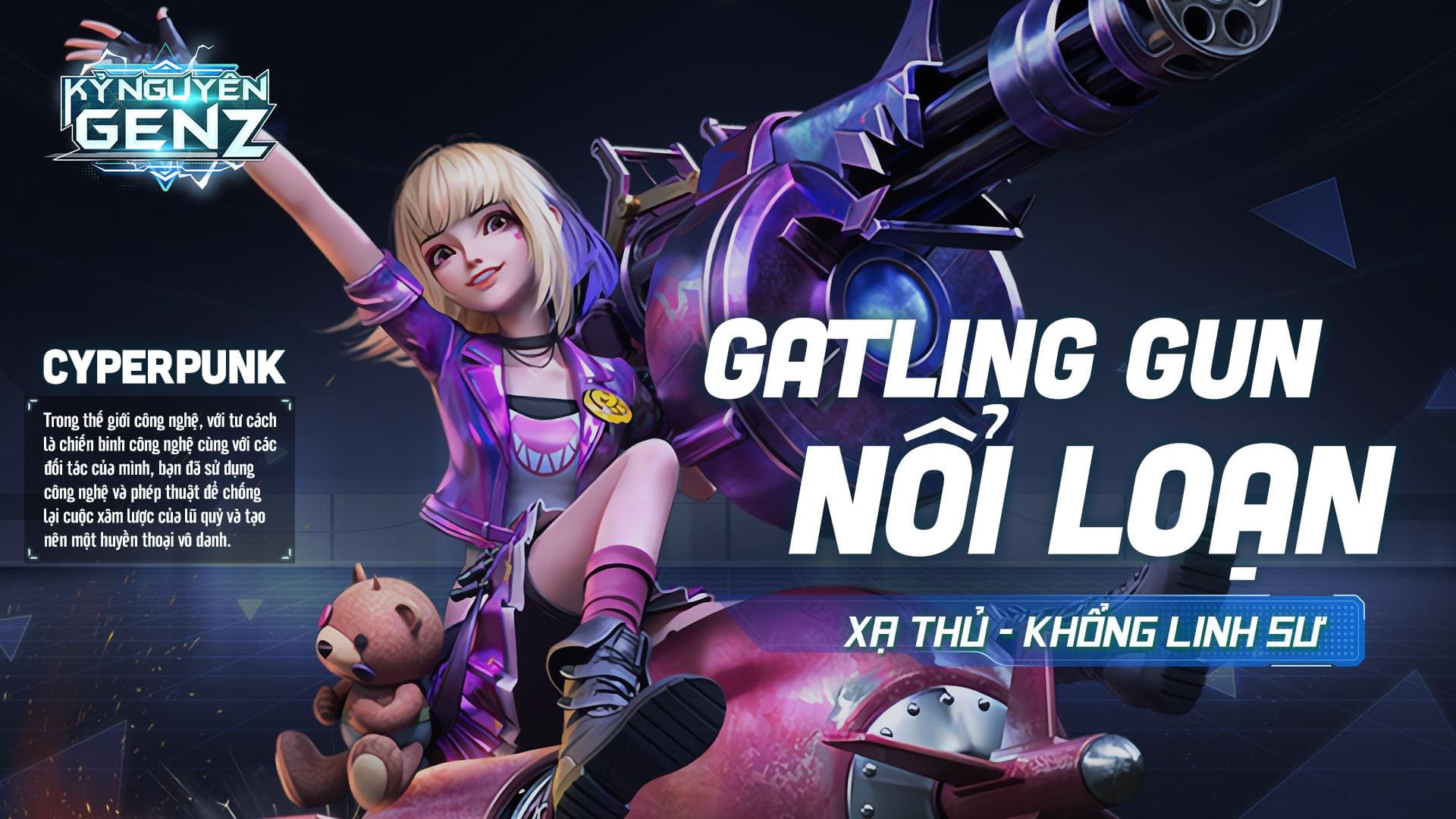 Source: AppGrowing
VGP's attempt on Kỷ Nguyên GenZ has yielded surprisingly favorable results. According to AppGrowing, nearly a month ofter its release, the game is still ranking highly on the iOS App Store and Google Play. Such success should boost the confidence of publishers who are hesitant to release niche style MMORPGs in the Vietnamese market.

Source: AppGrowing
Inspired by many well-established and successful doomsday and cyberpunk games (e.g. Cyberpunk 2077), despite being the first Vietnamese mobile game in this genre, Kỷ Nguyên GenZ is highly refined in terms of its worldview, art style, graphical quality, and gameplay.
In a doomsday where energy is scarce and technology is stagnant, players need to fight monsters to defend the city. Wearing brightly colored, mech-armed battle suits and discharging dazzlingly cool, electrifying skills, players can immerse into the cyberpunk world of the game. Whether it's a fierce battle against monsters or a leisurely stroll across the city, it's all perfectly rendered in 4K Ultra HD. Players can rotate the screen 360° to fully enjoy the game's combat effects and scenes in detail.
02 Art & Tech Centered: Mass Advertising of Kỷ Nguyên GenZ

Source: AppGrowing
According to AppGrowing, Kỷ Nguyên GenZ started a massive ad campaign 3 days before its launch. The ad volume for a single day was usually over 300, reaching a peak of 744 on August 2nd.
Source: AppGrowing
It has put almost all of its ads in the form of in-feed into Meta Ads like other Vietnamese MMORPGs. The social media realm with the largest active users in Vietnam always shows its excellence in mobile game advertising.
Horizontal and Square Video is the most used ad creative format, accounting for more than half of the total, followed by Image. As a hardcore mobile game, Kỷ Nguyên GenZ didn't invest too much in Vertical Video. Despite the huge audience for short videos, it's more important for it to choose a more suitable format to showcase the game.

Source: AppGrowing
On the creative side, Kỷ Nguyên GenZ amplified the "first cyberpunk" tag and spared no effort to emphasize it in the ads. Sparkling skills, colorful armor, and doomed city scenes are all featured in the image ad below. The depth-of-field setting and color palette make the characters and scenes, which are captured from an ongoing battle, stand out even more and immediately grab players' attention.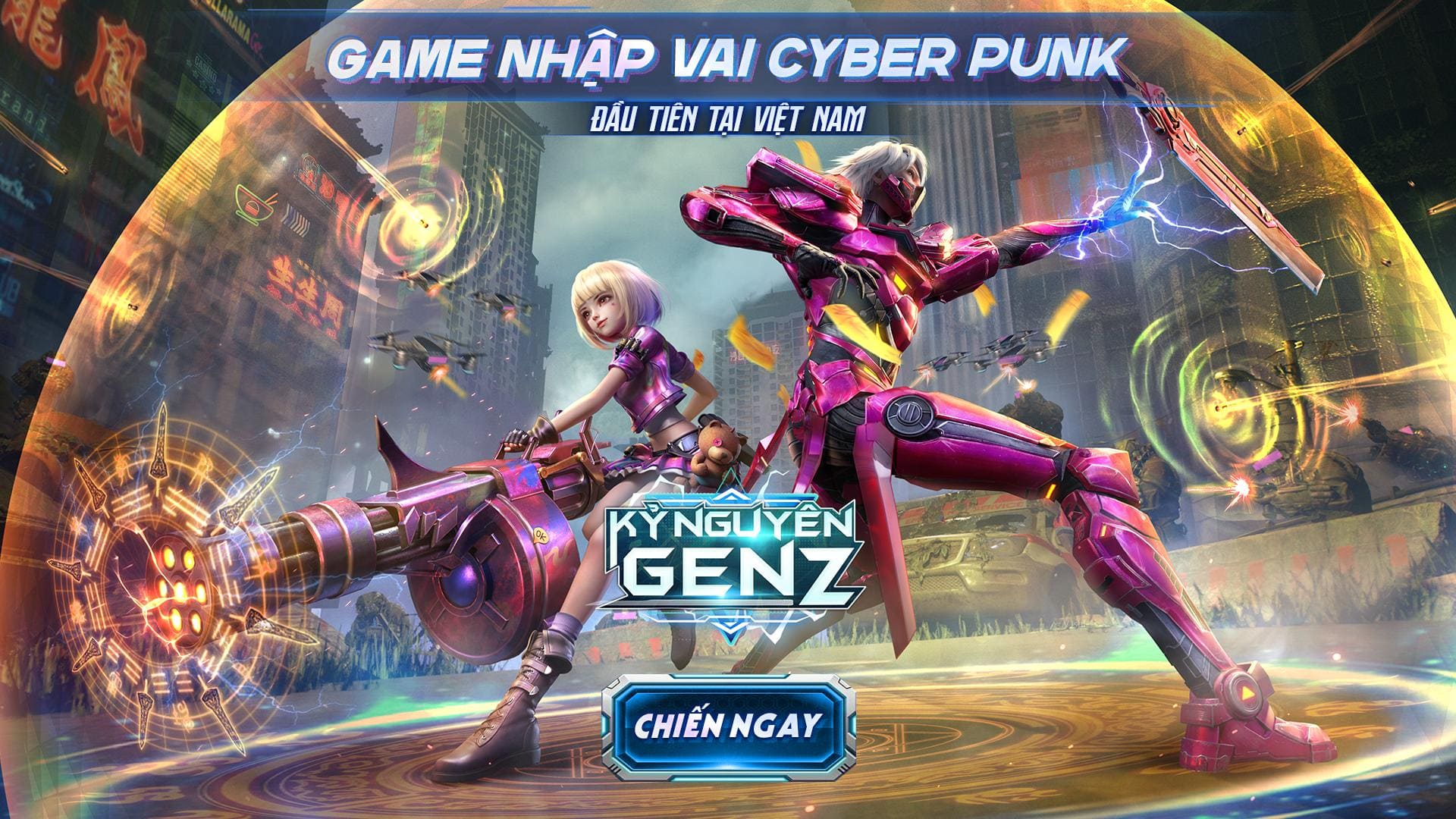 Source: AppGrowing
In video ads, Kỷ Nguyên GenZ utilizes more time and methods to show refined art and powerful technology. The video below, for example, combines animation with battle scenes in a short storyline to display the characters and graphic quality. From whole bodies to close-ups, from a single character to multiple roles, and from players assembling to monsters attacking, the video is composed of rhythmic and tightly articulated frames. Ending just as the battle is about to begin, the video leaves a quest to be solved to drive players to download.
Ads combined with reward codes are indispensable for Vietnamese MMORPGs. The video catches the attention with a character image and code opening, interspersing character displays and battles.
In addition, Kỷ Nguyên GenZ has also created many videos with live-action elements that Southeast Asian gamers favor. The video below is presented in the "people playing in front, game background in the back" format, which is popularized in the Southeast Asian market in H1 2023. The main screen presents the game, and the player's voiceover at bottom right corner both adds more information of the gameplay.
The live-action video ad, which includes social elements and PVP gameplay, is noteworthy. 3 players are traveling to the game world and choosing their characters to fight. The video creates a strong VR sense and presents characters and rich skins during character selection and explanation.
Overall, Kỷ Nguyên GenZ's choices of ad creative are centered on cyberpunk art and strong technology. Revolving around the two, leading publisher VGP leverages proven ad experience and techniques, enabling the game to continuously acquire users and downloads.
03 Clear Marketing Positioning: Game Tag Choice of Kỷ Nguyên GenZ
Some game developers are reluctant to have their games labeled, but add varied content into their ads in order to cater to as many players as possible, which sometimes results in an unclear image in the player's mind. Although the ads gained massive impression, the game failed to establish brand coherence.
It is especially the case for midcore and hardcore games. The wealthy game content may make it difficult for marketers to choose what to present.
Kỷ Nguyên GenZ is decisive in this regard. It was quicker than anyone to label itself as "Vietnam's first cyberpunk" and "super high-quality graphics" and arrange most of its ad campaigns around both. In this way, large-scale ads are not fragmented, and the diverse formats and techniques make creatives not one-dimensional.
For a new game, don't worry about how labels will limit you, at least in the early days. Only accurate, distinctive labels will stand out in a competitive market. As time passes and the game grows, you will of course need to add more labels or tear down some of them, but that's an afterthought.