Here is AppGrowing's analysis of the global mobile game advertising markets in October 2023, based on advertising data from 25 global media platforms in 50 countries/regions.
01 Advertising Trend
In October, the overall trend of global mobile game advertising is positive. The ad volume is above 1.2M every week, with the most in Week 4, which is more than 1.8M. The App volume continues to grow, with the latter 3 weeks exceeding 20K. The creative volume is relatively stable, which is basically above 600K.
In terms of single-day data, ad volume and app volume peaked in the latter half of the month, with the most on October 31, with 1.07M+ ads and 18,717 games respectively, a significant increase compared to September.
In terms of key markets, the TOP3 are North America, Southeast Asia and Western Europe, with North America accounting for 34.9% of the ad volume, while the TOP4 all accounted for more than 20%. Specifically, the USA accounted for 27.3% of the total advertisement volume, remaining the first place, and the TOP2-5 are Germany, Canada, France and the UK.
From the perspective of categories, Casual still ranked No.1 in both app volume and ad volume, with 17.4% and 16.6% respectively. Puzzle is still No.2, accounting for 14.5% of app volume and 15.1% of ad volume. The top 3-5 in ad volume are Role Playing, Simulation and Strategy, while the top 3-5 in app volume are Simulation, Role Playing and Action.
In terms of average ads for a single app, Music jumped to No.1, followed by Word, Strategy, Sports and Role Playing, with midcore & hardcore games dominating.
Looking at advertising by media in October, Meta Media rounded out the Top 4, with AdMob in No. 5, all with over 40% of ad volume. Looking specifically at Facebook, Casual, Puzzle, Role Playing, and Strategy were the main categories, consistent with September.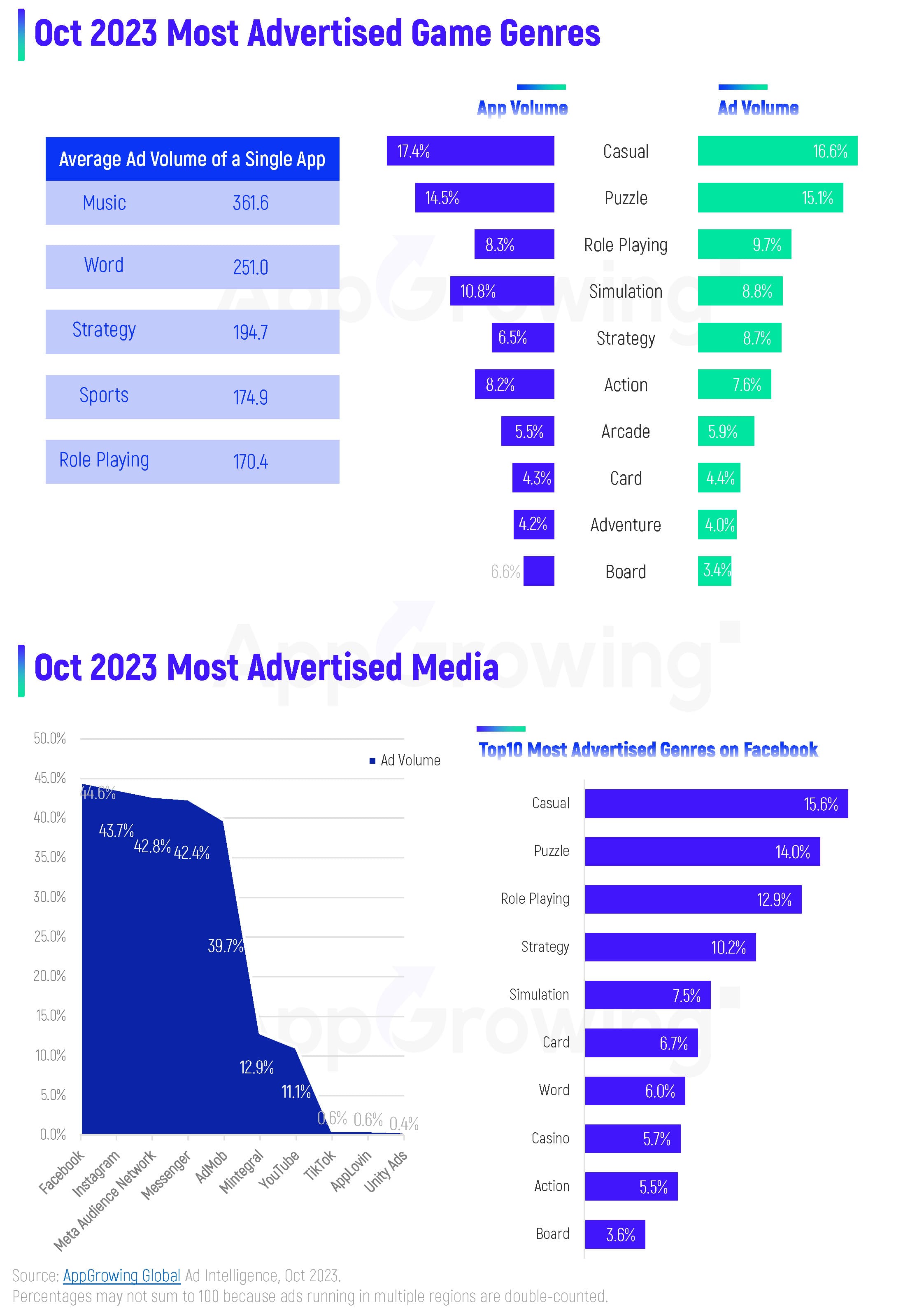 02 Most Advertised Games
In terms of developer regions, China's Mainland remained the No.1 in terms of ad volume and app volume, although the share of both declined MoM. Its Ad volume fell to 34.5% and App volume to 20.9%. Turkey was 2nd in ad volume with 15.1%. French publishers remained 2nd in app volume, followed by Vietnam, both with more than 10%.
The Top 10 advertised developers in October were a mix of casual and hyper-casual games, with Matchingham Games still at No. 1 and only one developer from China, IGG, on the list.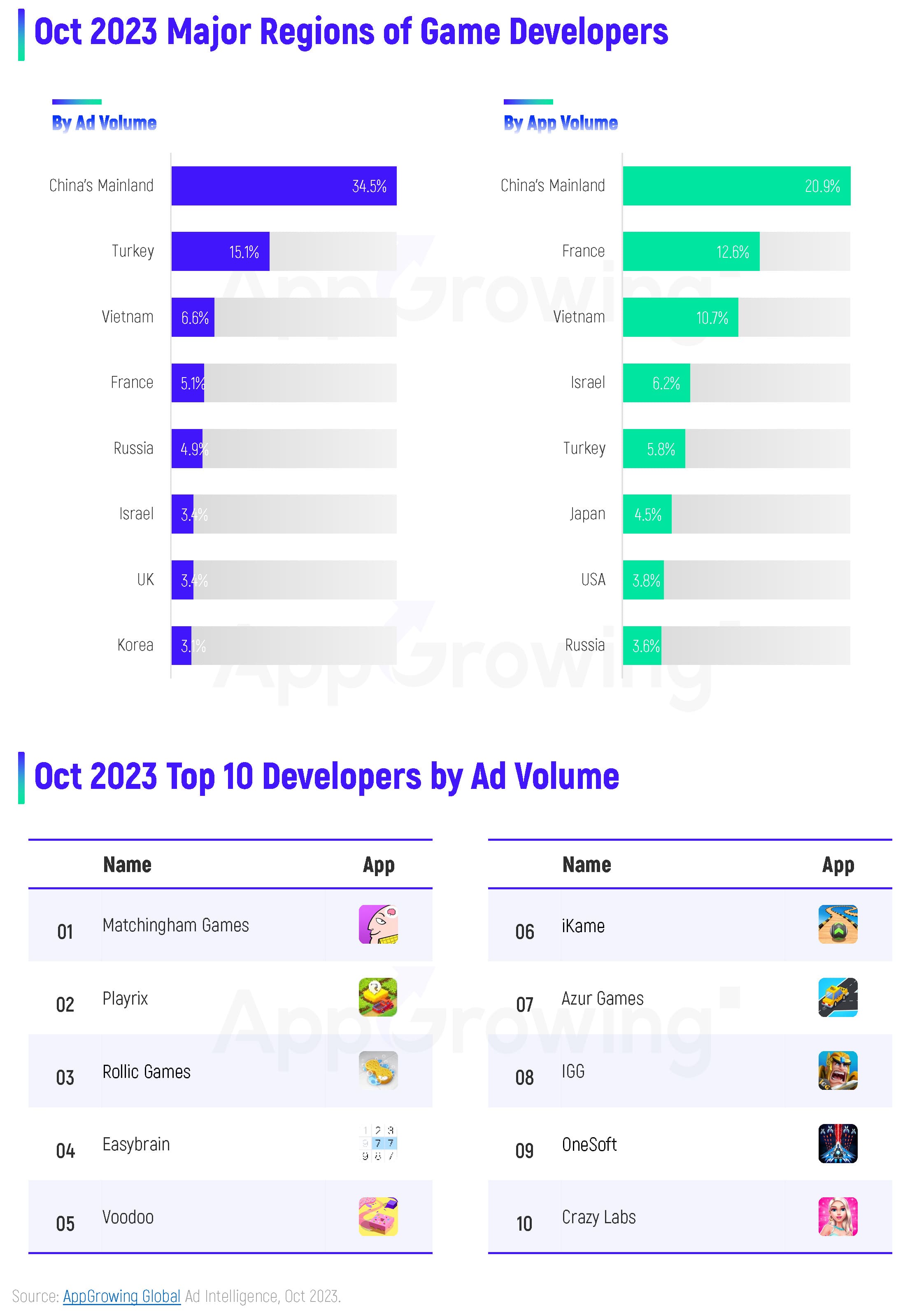 AppGrowing has analyzed the advertising strategy of Dragonheir: Silent Gods. As Nuverse Games' second global hardcore masterpiece this year, the game started pre-registration marketing in May and launched a large-scale ad campaign in the first week of its official release. According to a third-party platform, the game's estimated revenue for the first month exceeded 70M.
The App Store saw more hardcore games on the charts, with MONOPOLY GO! at No. 1, followed by 《神魔傳說:靈山遺跡(Gods and Demons: Legend)》, a new MMORPG aimed at Hong Kong, Macao & Taiwan of China, and Goat Games' Dungeon Hunter 6 at No. 3.
In addition, Tencent's Arena Breakout, which officially launched globally back on July 31, still maintains a high ad volume.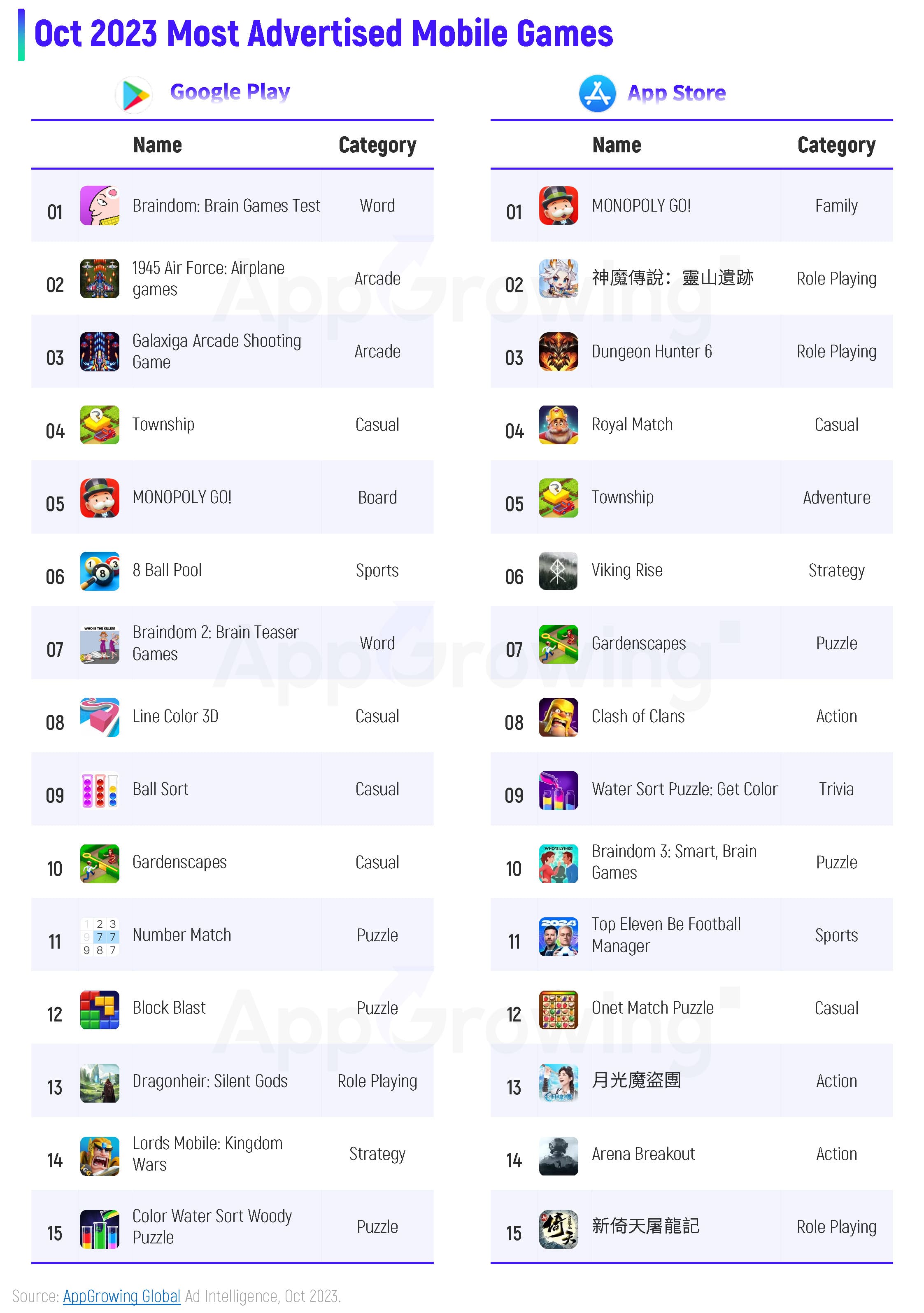 Among the Top Pre-registrations, 《新倚天屠龙记(The New Heaven Sword and the Dragon Saber)》 took No.1 on App Store, aiming at Hong Kong, Macao & Taiwan of China, Singapore and Malaysia, with a target audience of global Chinese. The games on the list are all midcore and hardcore, with a focus on Role Playing. Also on the list are two IP-based games adapted from comics, Tokyo Ghoul: Break the Chains and 「黒子のバスケ Street Rivals」.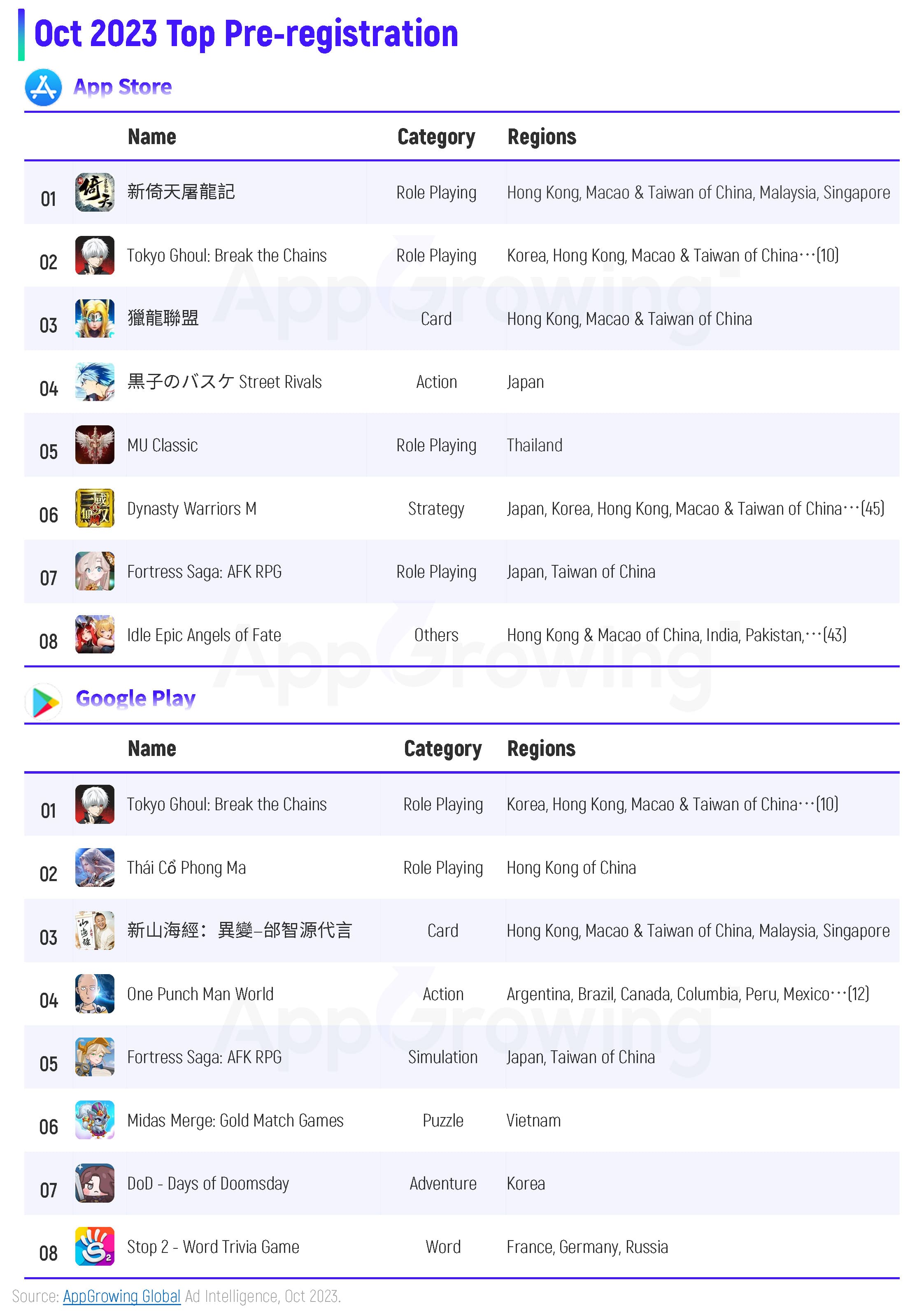 On Google Play, it was Tokyo Ghoul: Break the Chains that took No. 1 on the list, with the comic adaptation advertised heavily for pre-registration on both App stores. In terms of art and themes, the list features a lot of anime games such as One Punch Man World, Fortress Saga: AFK RPG, and DoD - Days of Doomsday.
03 Mobile Game Advertising Case Analysis
Case 1: Dungeon Hunter 6
According to AppGrowing, Dungeon Hunter 6 opened its pre-registration and ad campaign on August 21st, and was officially launched on October 13th. In the Sep 2023 Global Mobile Game Advertising Review, it is the Top 2 Pre-registration on App Store and Top 5 on Google Play, which shows that Goat Games has invested huge marketing costs in the classic IP-based title.
In addition to the digital ads, the game also appeared at Gamescom, featuring Canadian rock band Nickelback for promotional purposes.
Looking at the pre-registration advertising strategy, the TOP3 regions of Dungeon Hunter 6 are the USA, Germany, and France, focusing on Europe and America. The creative type is mainly images, accounting for 71.2%.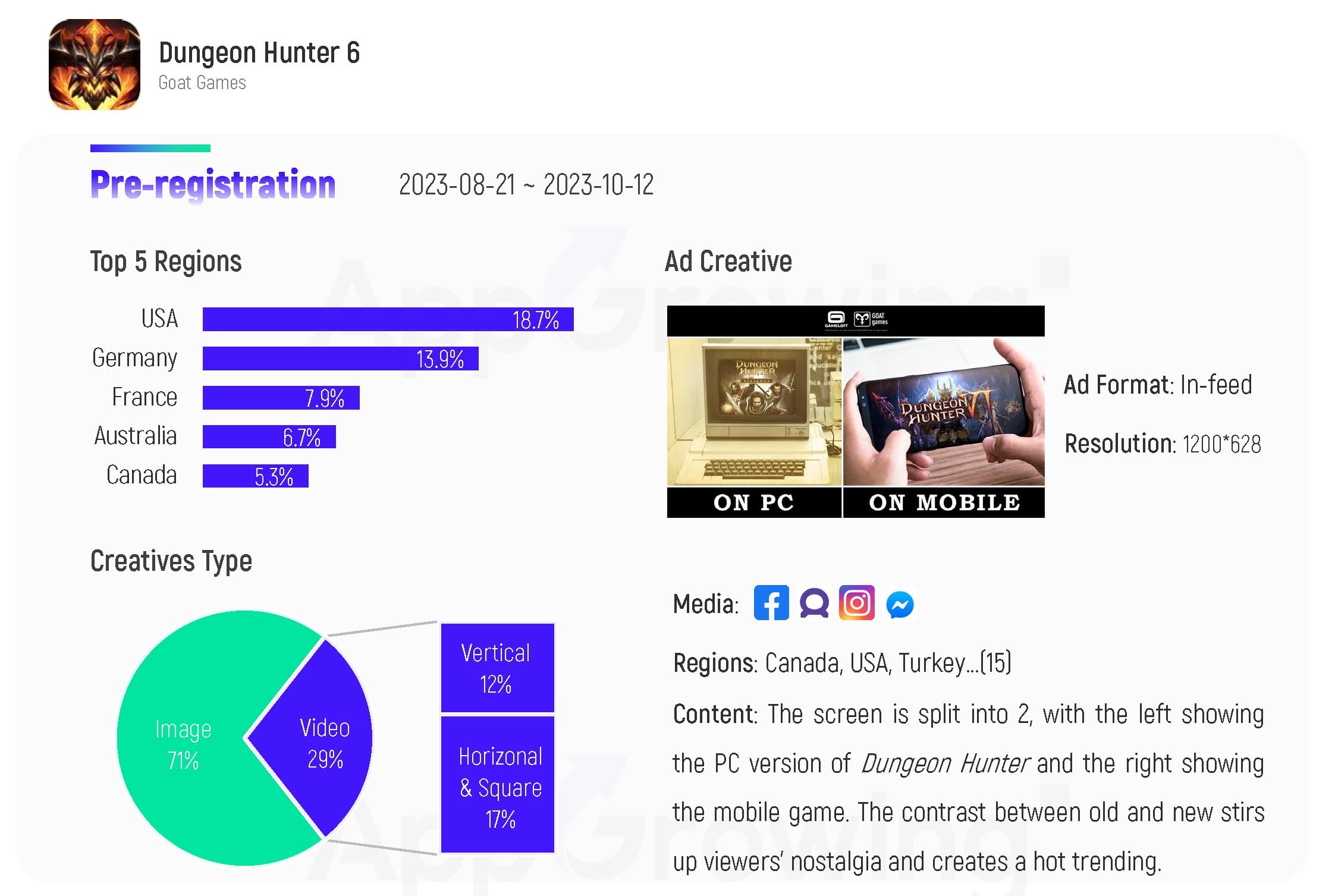 In terms of creative, Goat Games focused on "IP nostalgia" for the pre-registration ads. Both the images and videos emphasize the Dungeon Hunter IP content to quickly bring back memories. For example, in the picture, the screen is split into 2, with the left showing the PC version of Dungeon Hunter and the right showing the mobile game. The contrast between old and new stirs up viewers' nostalgia and creates a hot trending.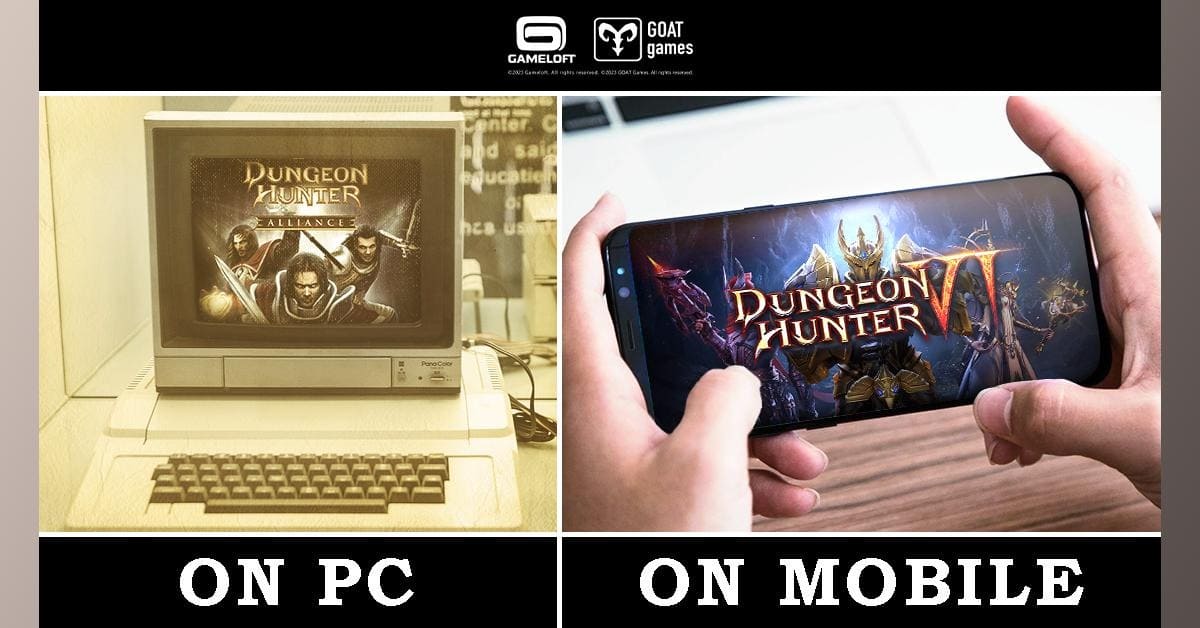 Source: AppGrowing
After its official launch, the ads of Dungeon Hunter 6 tilted towards European markets such as France, Germany, and the UK, with the percentage of video creatives significantly increasing and surpassing that of images. At the same time, the proportion of live-action elements has also increased significantly, with street interviews, battle competitions and other common forms being used.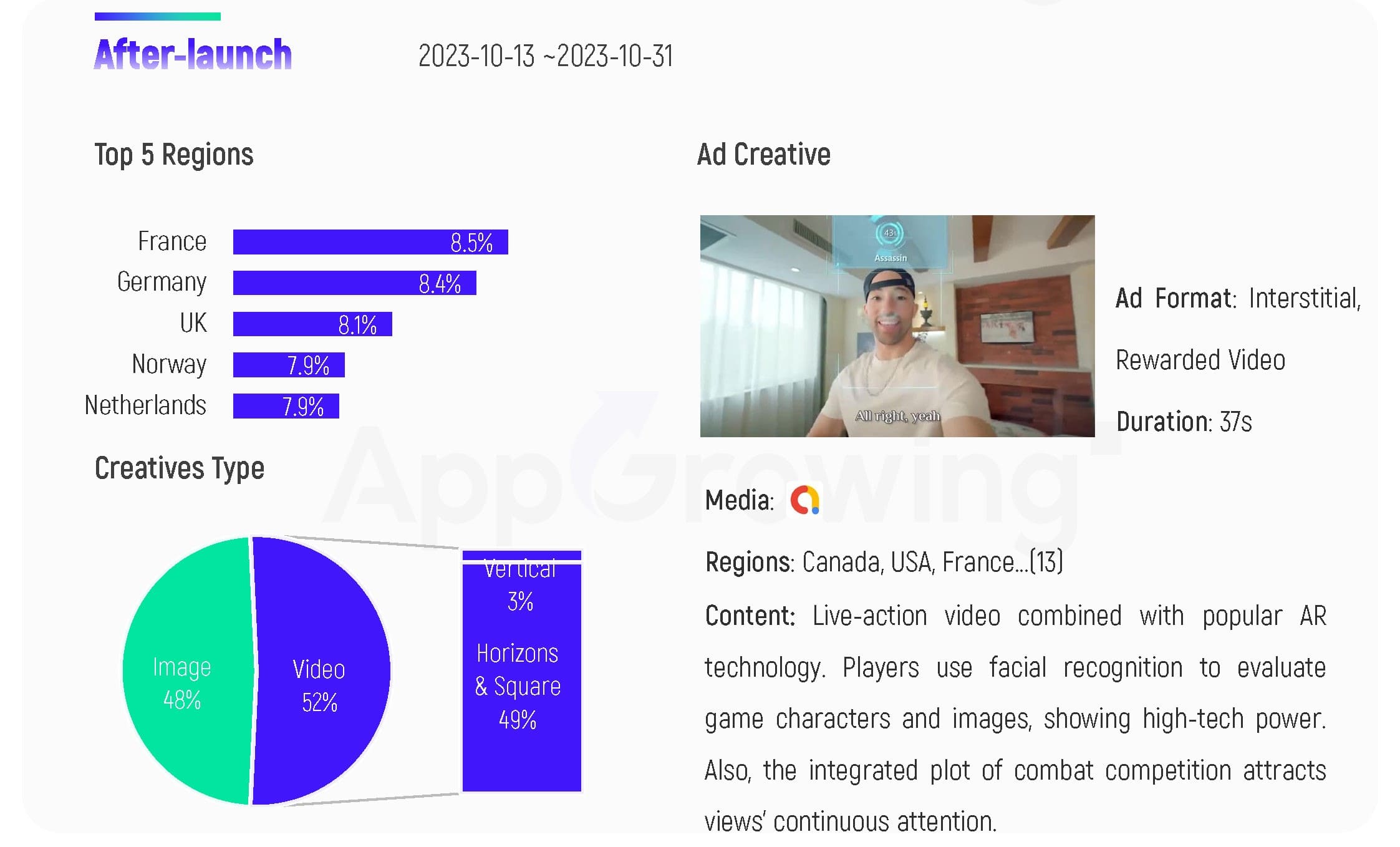 This is a live-action video combined with popular AR technology. Players use facial recognition to evaluate game characters and images, showing high-tech power. Also, the integrated plot of combat competition attracts views' continuous attention.
Case 2: 《神魔傳說:靈山遺跡(Gods and Demons: Legend)》
TianZong Games' Gods and Demons: Legend, a xian xia themed Idle RPG mobile game, was launched on October 12 in Hong Kong, Macao & Taiwan. According to AppGrowing, the game's main target region in October was Taiwan, accounting for 40. 5% of the total. Creative types were mainly images and videos, with little difference between the two.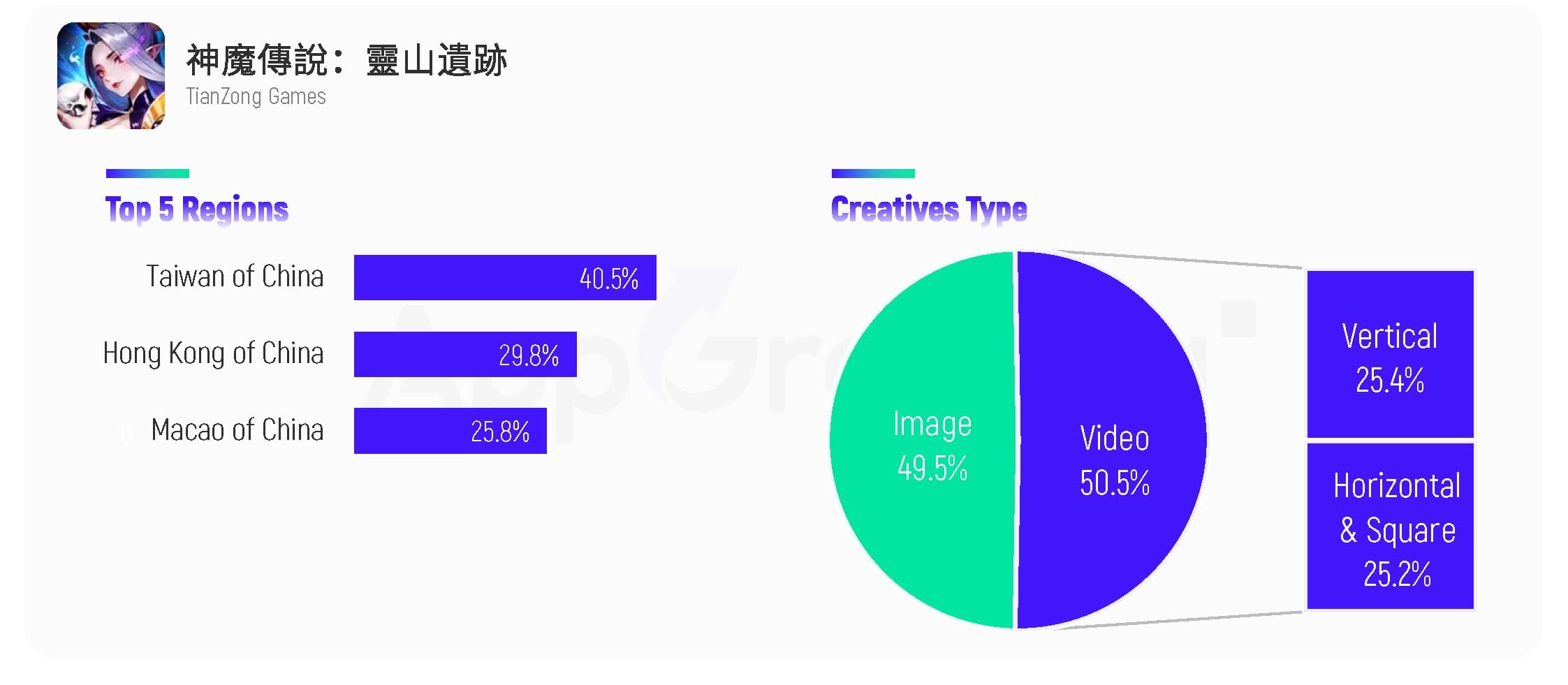 Creatively, in addition to the live-action elements favored by Hong Kong, Macao & Taiwan, such as most videos featuring attractive women, the game produces a large number of popular Casual non-core gameplay "shooting" creatives, combined with the common elements of xian xia theme.
The Following video utilizes the popular "shooting" non-core gameplay with common elements of wuxia theme. What's noteworthy is the text, which begins with the words "don't swipe away" to keep users. It then explains where the real entrance to this kind of game is and drives users to download it.
Additionally, the game has released some creatives that resembles branded ads. For instance, this is a clip from the game's promotional PV. Images and scenes from classic myths such as the Monkey King, White Bone Demon, and Tathagata Buddha attract attention and highlight the high quality and technology of the game.